Fresh Hell
Weeeeeeed, Get Your Fresh, Social Justice-Infused, 100 Percent Legal Weed Here!
Legal cannabis finally arrives in New York City.
11:51 AM EST on December 30, 2022
The first person to legally buy marijuana in New York was a state employee, appointed by the governor. On Thursday morning, Chris Alexander, the head of New York's Office of Cannabis Management and an occasional cannabis user, purchased a pack of watermelon THC gummies and a vial of Banana Runtz nugs in front of a swarm of journalists jostling to get a shot of an unremarkable transaction that usually occurs in living rooms, parks, or bodegas. 
Alexander was one of the hundreds of people packed into 750 Broadway to celebrate the opening of the state's first retail store, operated by the nonprofit Housing Works, one of eight nonprofit groups who will get a legal weed license. 
The mood in the room felt triumphant, if a little bewildered. A plant that had been used as an excuse to arrest millions of Black and Latino New Yorkers during the 1990s and 2000s, despite its decriminalization in the 1970s, was now being treated as a resource to uplift those same populations. The word "opportunity" was repeated again and again. Alexander, who had to compose himself twice during his remarks, spoke of "using this fight to uplift other fights, creating opportunity in a new way."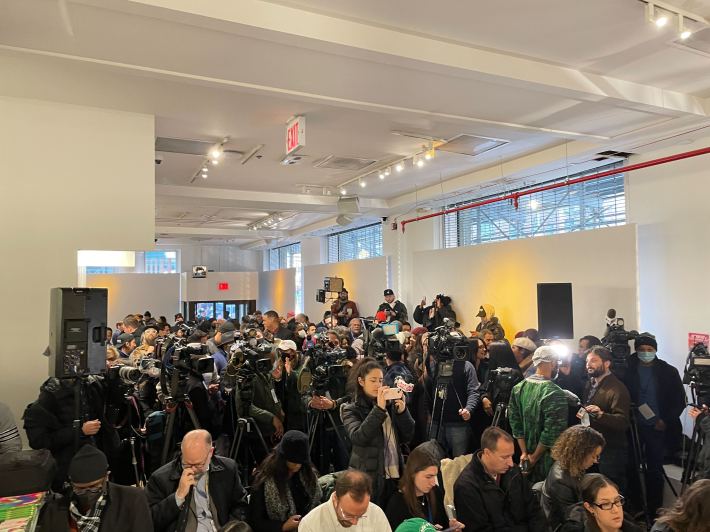 State Senator Liz Krueger, one of the main co-sponsors of the 2021 law that legalized cannabis, along with Buffalo Assemblymember Crystal Peoples-Stokes, called Alexander "the most popular man in New York right now." She hailed his work at the Office of Cannabis Management, and Cannabis Control Board chair Tremaine Wright, for creating a legal weed market from scratch in the span of a year, and for keeping their promise of opening a retail store before the end of 2022, if just barely. 
"I'm so confident that—everyone who said, 'You'll never get it done. You'll never get it done right. You'll never succeed at the social equity center of your goal. It's all going to just be owned by Coke and Pepsi in 10 minutes.' They are wrong," Krueger said to cheers. "We are right."
But if you're one of the 28 legal cannabis license holders with criminal drug histories who are attempting to open a retail store right now, the current outlook is less rosy. While Governor Kathy Hochul promised earlier this year that one of these New Yorkers would be the first to open a retail store, their path to opening has been marred with bureaucratic delays and false-starts. 
Asked about this, Alexander told Hell Gate that the retail rollout has always been on "two tracks," one for nonprofits and one for individuals with convictions, and that he was working to get them up and running as quickly as possible, but he had no specific updates on when the individual license holders could start opening up shop.
When we caught up with Senator Krueger, we wondered if she would have done anything differently with how her legislation was written.
"I would have been more careful about building in being able to stop illegal stores from opening. I think we're gonna get our arms around that with a bill in January," Krueger said. "But that's been a real problem, all of the illegal stores, who are not selling legal product, not checking for age, and basically giving this whole program a bad rap. But it's not this program. It's others."
The state had been slow to react to the grey market weed bodegas that proliferated throughout many parts of the city. These are small business owners, many of them coming from the communities that the legal cannabis market is professing to include. Alexander's chief equity officer told Hell Gate that this tension is "one thing that keeps me up at night."
Earlier this month, the Adams administration announced that the state and local sheriffs had seized more than $4 million in cannabis products from more than 50 of these stores. Alexander said that the seizures and raids would continue. "It's just making sure that we don't have this untested product on the streets and people really being confused by storefronts opening as if they are regulated businesses," Alexander said.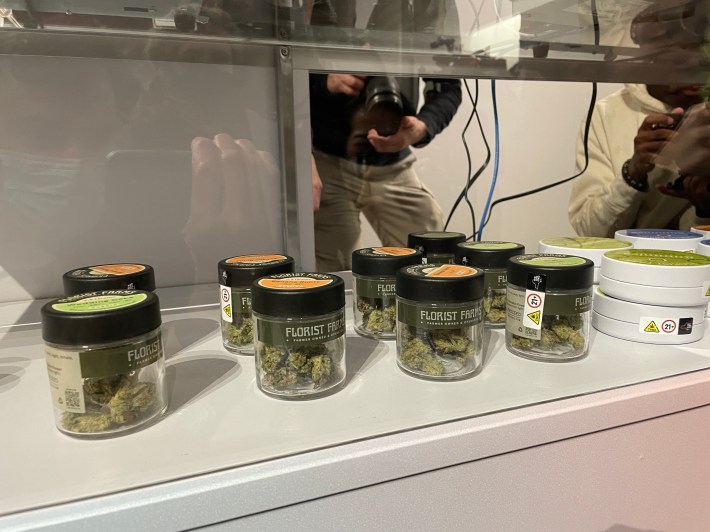 Charles King, the CEO and co-founder of Housing Works, described his product as "lab-tested, completely unadulterated, and high-quality." The money generated from Housing Works cannabis sales would go into providing reentry resources for people who were recently incarcerated for drug offenses, as well as the advocacy work necessary to open safe injection sites, and fight harsh drug laws. Of the 30 employees at the store, three have convictions for drug offenses. "We believe in safe supply. We believe in full decriminalization. We believe that people ought to be able to be allowed to live their lives in full," King said.
Initially, the store will carry six brands of cannabis, expanding to 30 or more in the coming months. Due to the federal ban on marijuana, customers won't be able to pay with their credit cards. Debit card capability is on the way, but for now the store is cash only. King insisted they had enough stock to meet a seemingly insatiable demand. Thousands of people had RSVP'd for the store's official opening at 4:20 p.m. "We'll have enough to get you through the weekend," King said. 
A little before the anointed hour, the line to enter the store stretched down Broadway, curled around Astor Place, and then back uptown on Lafayette, before stopping just short of where it began.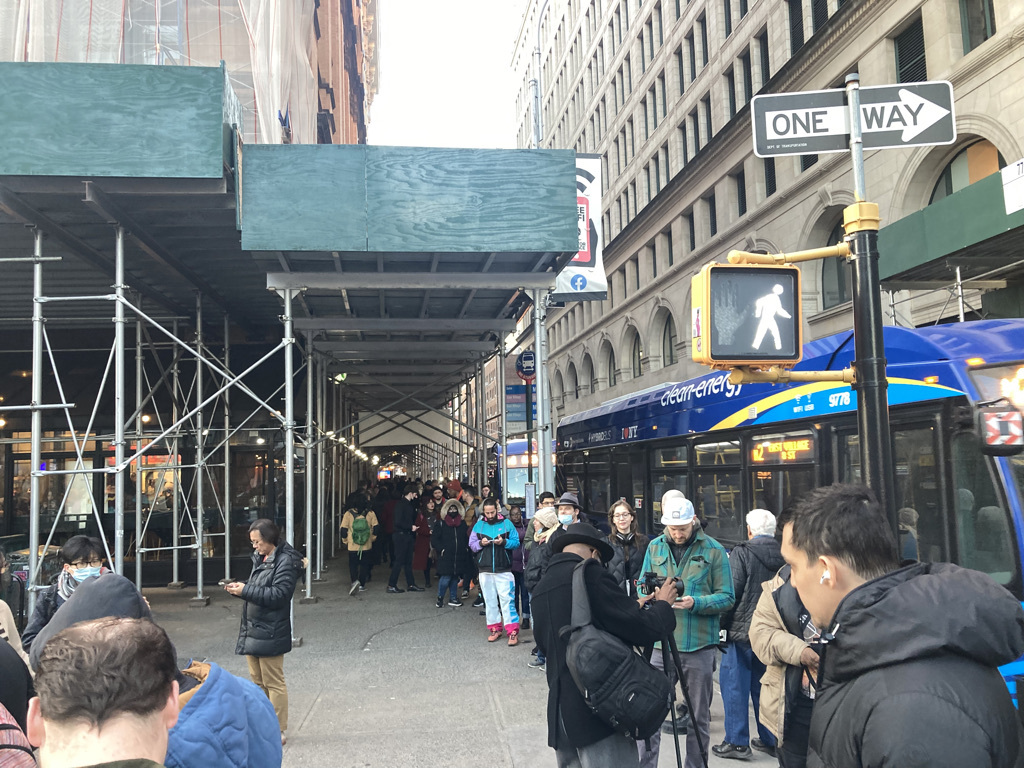 Mark Riley from the East Village had been waiting in line for an hour for the store to open. 
"I've been smoking for 52 years," he told Hell Gate. Riley had a medicinal weed license from the state, but hated the process for buying, where the state actually crushed up the plant before selling it. He'd been using his normal underground dealer and had taken trips to buy legal pot in Massachusetts. "I'm not surprised there's a lot of people here. You know a lot of people smoke what's now going to be called 'bogus weed.'"
Riley hoped to buy some Blue Dream sativa. Housing Works employees were handing out cards with QR codes where people could look at the menu before they walked into the store. 
Further up the line, Tegan Reed was also waiting for the store to open. She's from North Carolina but has been visiting family for a few weeks in NYC. 
"I love that there's this social justice element to it, so I really wanted to come out today. Not a lot of states that have done this have really been interested in equity," Reed said. 
Hell Gate asked if she'd considered buying weed at any of the gray market dispensaries and bodegas. 
"I really want to know where the plant is coming from, because a lot of times you don't know what's in it when you buy from a place like that. My throat always catches on fire whenever I smoke from there," she told me. 
At 4:20, a cheer went up from the crowd as illicit smoke wafted underneath the shed that covered customers on Broadway. Housing Works employees handed out snacks to those waiting on line. A few minutes later, Amy Deneson walked out from the store. The process, she told Hell Gate, was "seamless."
"We've been talking about this day for a long time," Deneson said. "I'm just thrilled to support Housing Works and especially appreciate how they're intentionally sourcing products from black and brown-led companies." She had bought weed gummies from Florist Farms, with an even mix of THC and CBN. 
Gloria Gartenlaub was standing outside with employees of Florist Farms, which is based outside of Cortlandt, and is one of the companies heavily featured on Housing Works' menu. Her husband and other employees were giddy to see their merchandise finally on shelves. 
"The sky's really the limit," Gartenlaub said. "That's if you can see through all this smoke." 
—With reporting from Max Rivlin-Nadler
Chris is an editor at Hell Gate. He spent nearly a decade working for Gothamist, and his work appears in New York Magazine and Streetsblog NYC.
Stay in touch
Sign up for our free newsletter