Eric Adams
Just How Close Is This Straw Donor Scandal to Eric Adams?
You have questions, we have answers (and some revelations!).
2:08 PM EDT on July 10, 2023
Last week ended with a bang in local political news—six of Eric Adams's supporters were indicted on charges of creating "straw donor" contributions to the Adams 2021 mayoral campaign, in an alleged effort to gain contracts and influence by gaming the City's public financing system.  
The indictment filed by the Manhattan DA's office does not name Adams, and a spokesperson for Adams's campaign, Evan Thies, told Hell Gate that the Adams team will cooperate with the authorities.
"There is no indication that the campaign or the mayor is involved in this case or under investigation. The campaign always held itself to the highest standards and we would never tolerate these actions," Thies said in a statement.
But Mayor Adams and one of the defendants go way back, and that defendant has ties to the current deputy mayor for public safety. What does it all mean? How big of a deal is this?
This afternoon, before Adams faces the media for the first time since the indictment dropped, we'll bring you up to speed.
Wait, so Mayor Adams actually knows one of the people who was charged? 
Defendant Dwayne Montgomery is a retired NYPD deputy inspector whom Adams has known for years. Montgomery and Adams served in the NYPD together, and both testified during the landmark stop-and-frisk trial at the end of the Bloomberg era. Montgomery also donated cash to Adams's reelection campaign for Brooklyn borough president, and Politico dug up a photo of Montgomery with Adams that was taken at a party in 2014.
"Montgomery was a colleague of the mayor in the police department whom he knew socially and worked on criminal justice issues with," Thies told Hell Gate. "Dozens of former police officers and criminal justice advocates hosted events for the mayor over the course of the campaign."
Before we go any further, what was the alleged scam? 
A group of people allegedly tried to use the City's campaign finance system to boost the amount of public cash that was flowing into the Adams 2021 campaign.
For every $250 donated by a New York City resident, the City's Campaign Finance Board (CFB) would match that donation eight to one, so a $250 donation could turn into $2,000 from the CFB.
According to the Manhattan DA's office, the people named in this indictment were using straw donors—more than two dozen people they tapped and gave money to, who then made individual donations to the campaign so that the campaign would receive more money. The defendants could then take credit for those donations, and use it to their advantage once Adams took office. While some straw donors were allegedly in on the scam, others were unaware.
"You could use a straw man," one defendant is quoted as telling another in the indictment, allegedly directing them to use money orders to donate cash on behalf of unwitting people working for a construction company.
In an email to Montgomery about a $1.5 billion state construction project in Brooklyn, that same defendant, Shamsuddin Riza, laid out how he allegedly wanted to use the power these straw donations would garner with the new mayor.
"FYI ! This is the one I want , Safety , Drywall , and Security one project but we all can eat ! Please show to him before Event it will start when he's in office," he wrote.
Montgomery and Riza have both pled not guilty.
How much money did the Adams campaign get as a result of these straw donations?
The indictment doesn't say, and this gets complicated, because these matching donations technically go to the CFB, which then processes them and disburses the matching cash to campaigns. But based on the donation amounts listed in the indictment, it looks like we're talking mid-five figures. 
And Adams didn't know about any of this? 
The mayor isn't named in the complaint, and his campaign denies any wrongdoing, but it appears that he at least knew about one of the two fundraisers that the defendants held.
Indeed, Montgomery is quoted in the indictment saying, "[The Candidate] doesn't want to do anything if he doesn't get 25 Gs."
Is that damning?
In the electoral system that we live in, one that is awash with cash and influence, this is how things work: Candidates agree to appear at events if they know that a certain dollar amount will be raised.
Does Montgomery have any other ties to the Adams administration?
Yes. Back in 2015, he sold a security company, Overwatch Services LLC, to Philip Banks III, the current deputy mayor for public safety.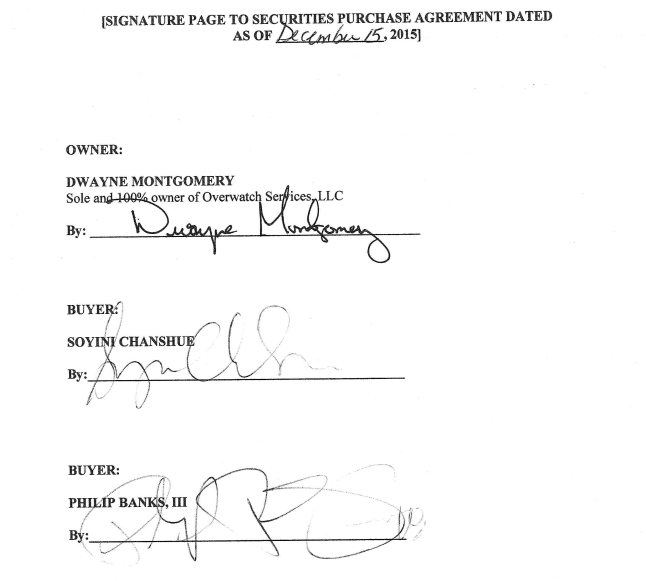 Phil Banks…that name sounds familiar.
Back in late 2014, Banks was a rising star in the NYPD under then-Commissioner Bill Bratton, and apparently was in the running for the top job. When Mayor Bill de Blasio moved to elevate Banks to the second-highest position in the NYPD, he abruptly resigned. 
Turns out that Banks was under investigation for a long-running bribery scheme in which Banks was showered with gifts from Brooklyn businessmen in exchange for favors from the NYPD. According to Bloomberg, he received "steakhouse dinners and $6,000 worth of basketball tickets to an all-expense paid trip to Israel and two trips to the Dominican Republic," in exchange for police escorts, special parking spots, and "a gold card entitled 'Family Member of Chief Philip Banks III,' which could be used to get special treatment from police officers."
The head of New York City's correction officers' union went to federal prison as part of this scheme. Banks did not, but he was labeled an "unindicted co-conspirator" by federal prosecutors—someone who was involved with illegal activity but not charged with a crime.
Banks was a private citizen for a few years, investing in real estate and cryptocurrencies. When Mayor Adams took office in 2021 and appointed Banks to his current position, Banks had tripled his net worth to some $6 million, Bloomberg reported. 
After Adams hired him, Banks wrote an op-ed in the Daily News, denying any wrongdoing, but admitting that his associations had been a "mistake."
"I need a partner in government who understands what it takes to keep New Yorkers safe," Adams said in a release announcing his appointment. "Phil Banks is that person."
Philip's brother, David, was appointed schools chancellor by Adams.
What does Philip Banks do, exactly?
As deputy mayor for public safety, he oversees almost 30 percent of all City employees, including those who work in the NYPD, FDNY, Correction Department, Probation Department, and other agencies.
He is essentially seen as a kind of shadow police commissioner—Banks's overriding authority was cited in story after story on the early departure of Keechant Sewell, Adams's first NYPD commissioner.
Banks also gives these weird "public safety" press conferences every Friday, where he sometimes bristles at basic questions from reporters. 
How do Deputy Mayor Banks and Montgomery know each other?
They both overlapped at the NYPD, but beyond that, it's unclear. Montgomery's attorney didn't respond to a message we left with him. And City Hall has not responded to a request for comment.  
OK, so to summarize, Deputy Mayor Phil Banks, the close friend and advisor to the mayor and a high-ranking City official, bought a company five years ago from a guy alleged to have run a straw donor operation for the mayor's campaign. 
There's more. According to public records obtained by Hell Gate:
Banks purchased the company from Montgomery in December 2015. Banks bought it with another former NYPD officer, Soyini Chan Shue.

The sale price was $100, plus the assumption of the company's credit line at Chase Bank, which could be a lot of money the company owed to the bank, or very little. We don't know.

By the time Banks and Chan Shue bought the company, it was certified as a minority-owned business enterprise. According to the company's operating agreement at the time, Chan Shue assumed 51 percent of the company's ownership, while Banks took over 49 percent. Within a year, the company had also been certified by the Port Authority, the City of New York, and New York state as a woman-owned business enterprise—exactly meeting the 51 percent ownership threshold for that designation.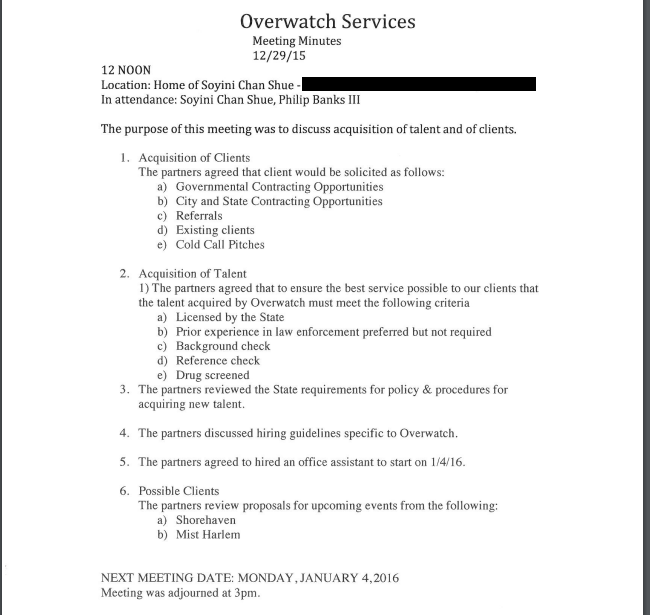 What's Overwatch up to now? 
Overwatch Services LLC is now doing business as City Safe Partners. 
Why does that name sound familiar? 
Because City Safe Partners is the company that was subcontracted to provide security on the New York City subways, after Mayor Adams rallied for more police in the subways last year. The MTA (which is state controlled) tapped security conglomerate Allied Universal to provide private security in New York City's subways, and Allied Universal subcontracted to City Safe Partners. Those private security guards you see at Union Square? They're from City Safe Partners.
On top of that, City Safe Partners was also directly approved by City Hall in 2021 as a vendor that can receive City-funded contracts to provide security services at yeshivas and other non-public schools. 
These are big contracts worth a lot of money—$2.2 million a month just on security guards for subways.  
Does Banks still own the company or have any interest in it? 
According to a City Safe spokesperson, Soyini Chan Shue has been "the full owner of City Safe Partners since 2015. Banks has not had any involvement with the company since he sold his shares."
Except here is a check, found in a cache of public documents relating to the sale, that Banks wrote to Montgomery in early 2016, with "final payment overwatch purchase" written in the memo.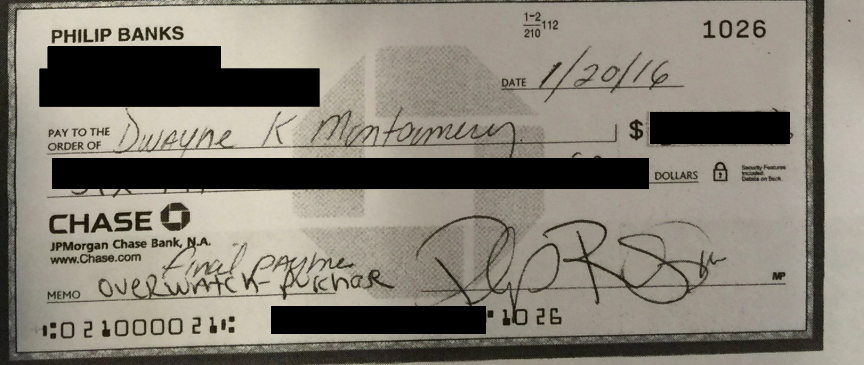 A City Hall spokesperson told the Post last year that Banks left the company in 2018. After Hell Gate pressed City Safe, a spokesperson told Hell Gate that Banks actually sold his share of the company to Chan Shue in July 2018, three years after they said he originally was no longer involved. 
City Hall has not yet answered any of our questions about when Banks left the company, whether he still owns any shares, and his communications with Montgomery since the sale. 
What does Eric Adams have to say about all this?
We'll find out, after his 2:30 p.m. press conference on Monday afternoon. Stay tuned!
Update (3:45 p.m.): Taking questions from reporters, Adams said that he knew Dwayne Montgomery from the NYPD, and that "he's never been here to City Hall," while Adams was in office. Still, he said that he would "see him at events" and that Montgomery was "well-known in Harlem." Asked if Montgomery had ever been to Gracie Mansion, Adams said, "I think he was at the Black History Month reception," but failed to specify which. Adams also brushed off a question on whether he'd spoke to Montgomery during the 2021 campaign.
Max Rivlin-Nadler is a co-publisher of Hell Gate. He's reported for Gothamist, The New York Times, Village Voice and NPR. You can find him walking his dog, Stiva, or surfing in the Rockaways.
Stay in touch
Sign up for our free newsletter