Cultural Capital
Is 'The Book of Hov' Really for Anyone but Jay-Z?
Brooklyn Public Library's exhibition glorifies Jay-Z and advertises his products—but we're being told it's for the people.
5:22 PM EDT on July 18, 2023
In 2001, New Yorker writer Kelefa Sanneh wrote "Gettin' Paid," a Jay-Z profile that used the rapper's life and career to trace how hip-hop's artists became mere moguls. Jay-Z was a prime director of the insertion of a new prosperity gospel into hip-hop culture, and no small part of hip-hop's worldwide canonization has been due to the hustle of that one man. "Corporate rap," as Sanneh called this new ethos, has served as a summation of Jay-Z's career then and since, and it is taken a step further by the "The Book of Hov," the exhibit dedicated to his work now on display at Brooklyn Public Library, which has been presented as a philanthropic gesture fitting for hip-hop's 50th year. 
"The Book of Hov" implies that Jay-Z's billion-dollar empire and his artistry are all part of the public domain—like the library, it's a resource all of Jay-Z's fellow Brooklynites can benefit from, not only through his literal largesse (in this case, a still-undisclosed amount of money to be donated to the library, which is run by Linda E. Johnson, who just happens to be the wife of Jay-Z's longtime business associate, the real estate developer Bruce Ratner), but also through his example of how to achieve success. The New York Times quoted a Roc Nation employee saying, "Jay belongs to the people," and said the exhibit aims to "bring aspirational celebrity extravagance to a free public haven." Rolling Stone, which described "The Book of Hov" as a "worthy celebration of the music icon," noted that Roc Nation spent "millions" on the exhibit. 
By midday on Friday, when the library was again open to the public, a piece of the exhibit crashed to the ground, narrowly avoiding crushing a visitor who allegedly quipped, "My love for Jay-Z almost killed me!" On Saturday, I went to see "The Book of Hov" for myself, curious to find out what Brooklynites are getting from Jay-Z in exchange for the use of one of our most vital public resources. What does it mean to have huge swaths of Brooklyn's main library dedicated to this tribute?
Cops were managing a long line of people at the main entrance to see the exhibit, and sending everyone else who just wanted to use the library around the corner. Inside, the Youth Wing was mostly untouched by the exhibit, save for a logo for Jay-Z's clothing brand, Paper Planes, that loomed over children at play. 
The website for "The Book of Hov" begins somewhat hyperbolically. "Jay-Z is one of one," gushes New York rap radio personality Angie Martinez in a narration available on the site. "He's a diamond forged under pressure." The physical exhibit's beginning has much less clarity, just a smattering of glass cases housing various ephemera from disparate parts of Jay-Z's career: a jacket he once wore, the sculpture that was featured on the cover of "The Blueprint Part III." It made the functional limitations on this exhibit quite clear, but I didn't begrudge the lack of coherence too much; it's hard to create an intentional-seeming opening experience for viewing art when the space you're using also has to function as the lobby of a fucking public library. 
The rest of the exhibit is more focused, though the fact that it's limited to Jay-Z's personal musical oeuvre—one that contains moments of iconic brilliance but overall is pretty spotty, despite his irreplicable rapping style—keeps it from achieving too much.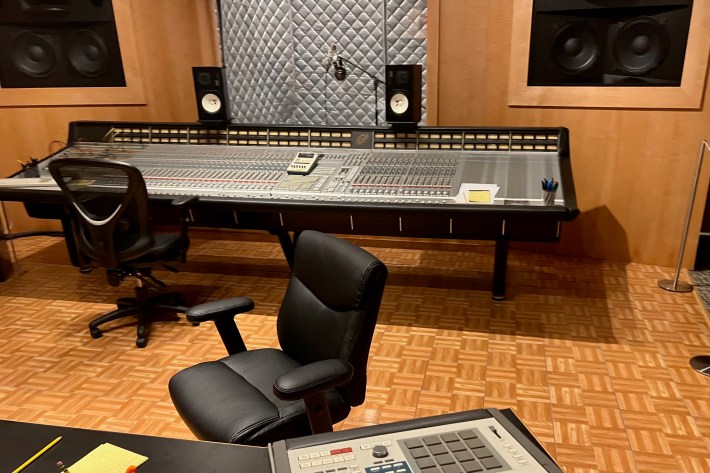 What worked: A trove of Jay-Z's master recordings provides a tactile history of his recorded music since the '90s. There are reel-to-reel tapes from 1996, Digital Audio Tapes (similar to cassettes) from 2004, the hard drive that housed "4:44," a chain with a huge Roc-a-Fella Records pendant on it, BET and Songwriters Hall of Fame awards—if you grew up in a generation in which hip-hop was mass culture, these are all fun to look at. A listening station with vinyl records especially delighted visitors on the day I stopped by; as one woman was listening to "In My Lifetime Vol. 1", her boyfriend tsk-tsked impatiently as he waited for his turn. Also, exiting from the cloister of a faithful recreation of Baseline Studios as it was in the '90s into the familiar environs of BPL is a neat trick. 
But otherwise, the exhibit is largely vacant of substance. There's just not much here for you to engage with unless you're a Jay-Z superfan, and want to look at a jacket he wore once. If that's you, that's fine, but even you might wonder why on earth it's in the middle of the fucking library. As I wandered through the exhibit, which is divided into six zones (one example: "Win-Win" elevates instances of Jay-Z's dedication to "public leadership," particularly on mass incarceration and police violence; his Emmy for producing the 2021 Super Bowl halftime show is also located there), it was clear, as Sanneh had noted astutely more than two decades ago, that the legitimacy of Jay-Z's talent was being used to launder consent for a bunch of other meaningless bullshit. Managing MLB players now makes him an "agent of change," his part-ownership of a streaming service becomes a "movement," an exhibition paid for entirely by Roc Nation with the goal of glorifying him becomes public works. When Jay-Z is hip-hop, as the prominence of this exhibit suggests, all his dealings get baptized by our collective fondness for the art form; his personal wealth becomes all of our success.
At the Information Commons, a trickle of people were exiting the Baseline Studios replica. "Why the hell is this here?" one library patron shouted. There, I also found Dexter Ivy from Harlem, who was going about some normal library business, using the printer to print out some contracts. "I haven't made my way through [the exhibit], because this has me busy," he told me. "Hopefully tomorrow I'll get to see it. It looks good, but I need to find the dedication behind it."
He had some questions, though, about the exhibit's singular focus on Jay-Z. "Why is it here?" he asked. "If we're honoring Jay-Z, my question is, why? Not in a bad way, but what other artists contributed? And why are they not being honored? Is it 50 years of hip-hop, or is it a different thing under him? Not saying he's not a great artist, but if they had done '50 years of hip-hop,' I think it would have been even greater. We would have seen a tribute beyond Jay-Z, building all the way up to him. People from other countries that are coming here, they would understand what hip-hop really means."
Other visitors had a different perspective. Lateef, who lives in Brooklyn, said it was fantastic. "This is actually my first time here," he told me, but he said he'll definitely come out more now. "One of the things that was on my mind is that it's really cool that this is built as an attraction to the library. And then you see that it's a beautiful space," he said. Indeed, the line to get a library card at the front desk was the longest I've ever seen it, all people hoping to get one of BPL's limited-edition cards featuring Jay-Z album cover art; as I left, a woman was so starry-eyed looking up at the Jay-Z lyrics on the outside of the library that she was distracted from her FaceTime call.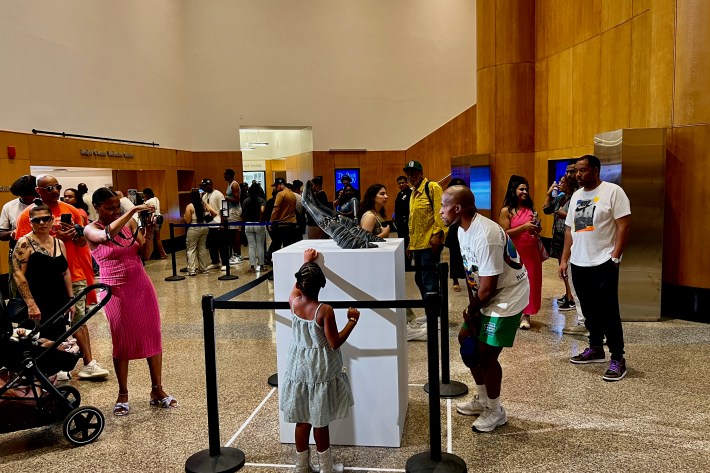 Reading Sanneh's New Yorker piece today, what's most shocking is how much access the writer had to Jay-Z, then 31 years old. He was already an established star, with, as Sanneh wrote, "a record label (Roc-A-Fella Records), a clothing company (Rocawear), a production house (Roc-A-Fella Films)." Still, Sanneh felt free to craft his own critical message about his subject. A lot has changed in that time in the relationship between superstars and the press: You might not get this kind of access if a handler suspects you're planning to write something as critical or as clear as Sanneh did. That's evidenced by what has been written about "The Book of Hov," namely a puffy piece in the New York Times that Roc Nation must have known would be an appropriate complement to their own in-house social media coverage, which mostly consisted of selfie videos from Thursday's opening party shot by celebrities like DJ Khaled and the guy from Coheed and Cambria.
I really do hate being put in the position of being the "music journalism is serious business" guy, but if music's most prominent billionaire shutting down the library for a day, for an exhibit paid for by his company, doesn't spur the Times to critical coverage, what does? "He would never let us do this," the Roc Nation CEO said of Hov and this multimillion-dollar advertising expenditure, and the Times stenographed that statement credibly.
An affront to Jay-Z, this exhibit seems to warn, is not only an affront to hip-hop's values, but now to all our collective social values. If you have questions about substance, expect to be accused of failing to appreciate the entrepreneurial dazzle on display. If you object to using one of Brooklyn's landmark public resources to aggrandize a single billionaire? You might just be a hater. What exactly is the amount and nature of the "substantial donation" that Brooklyn's library system is expecting to receive later this year when it honors Jay-Z and his mother Gloria Carter? That's beside the point. What could justify summing up 50 years of an entire art form in the career of one guy? He's a hustler, baby. 
His personal wealth is not all of our success, of course. But it's a masterful narrative sleight of hand, one that Hov has been able to coast on for decades now.
The final "chapter" of "The Book of Hov" serves as an advertisement for Armand de Brignac, or "Ace of Spades," the champagne that's a cornerstone of Jay-Z's business empire. It surreptitiously urges visitors to buy a bottle, because when we make Jay-Z successful, it comes back around. To make that point, the very last trophy on display is a story about a multimillion-dollar deal Jay-Z made, on the front page of the New York Times. The details on how exactly it will come back around, however, are as fuzzy as always. What are Brooklynites getting in return for this dedication of their public library to a months-long shrine to Jay-Z? Roc Nation didn't respond to comment. More troubling, the journalists they did speak to didn't seem to press for specifics. 
Adlan has written for The New York Times Magazine, The New Yorker, Pitchfork, Study Hall and more.
Stay in touch
Sign up for our free newsletter