The Cops
Guess Who's Giving Away Guns in NYC
Hell Gate tried to attend an NYPD gun raffle. It didn't go as planned.
9:22 AM EDT on July 21, 2022
On the morning of June 23, the U.S. Supreme Court struck down New York state's 110-year-old gun laws, potentially paving the way for a future in which it is much easier for people to legally carry firearms around the nation's largest city. Mayor Eric Adams, who has vowed to do everything in his power to stop the flow of illegal guns, held a grim press conference. "This decision may have opened an additional river feeding the sea of gun violence," Adams told reporters. "But we will do everything we can to dam it."
Meanwhile, across town, an organization of Catholic cops was planning to hold a gun raffle that afternoon. The same police officers who oversee gun buybacks to get deadly weapons off the street, were putting one out into the world.
The Holy Name Society, which just celebrated its 100th anniversary and says it "administers to the spiritual needs of [its] members," is one of several organizations that aren't formally part of the NYPD structure, but are integrated into it, similar to a union; annual dues for the Catholic society can be deducted directly from the officers' paychecks. 
Our Lady of Guadalupe Church in Dyker Heights was hosting the annual barbecue for the Brooklyn-Queens branch of the society, and a SIG P365 handgun would be raffled off, with tickets going for $20 a pop.
When I arrived at the church a few minutes before the event was scheduled to begin, I was greeted by a group of older men, milling around out front of the closed rectory. They asked what I was doing, and I responded that I was there for the raffle. But the conversation didn't go much further—they turned their backs to me and continued to talk, while shielding their eyes from the midday sun. Since the festivities hadn't started yet, I circled the block. Blue Lives Matter flags lined 73rd Street in southwest Brooklyn, a few blocks from the 71st Street D train station.
I returned to find a sign in front of the entrance of the church, informing me that the Holy Name Society picnic had been postponed.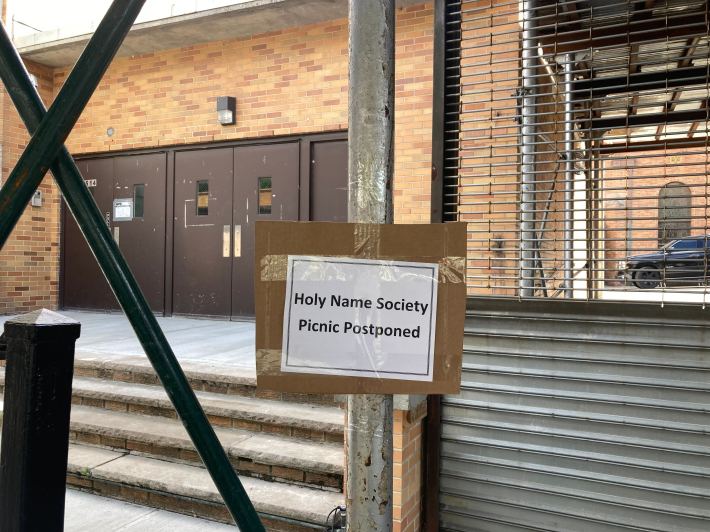 If you can legally purchase a weapon in New York State, you can raffle it away. The person who wins the gun is supposed to meet the legal requirements for possessing a firearm in the state and pass all licensing restrictions, but no one from the state is keeping tabs on how many guns are being raffled. While the New York State Gaming Commission sets the rules that govern games of chance, including gun raffles, they don't keep track of them.
According to the commission's press office, there's no requirement to tell the state a gun is being raffled, though you're supposed to notify the municipal clerk's office if your raffle proceeds exceed $30,000. While all legal handguns have to be registered with the state, there's no such requirement for rifles or shotguns. It's unclear whether this particular handgun was ever given away (the Holy Name Society did not respond to requests for comment).
When gun raffles across the city and state make the news, it's usually because they're held so soon after one of the country's frequent mass shootings. In 2018, the National Rifle Association planned to raffle away guns in Brooklyn shortly after a shooter killed 17 people and injured 17 others at a high school in Parkland, Florida. The NRA was chased out of several possible venues, but eventually found a home at a Knights of Columbus Hall—in Dyker Heights, four blocks away from the Holy Name Society's attempted raffle.
In Kent, New York, 50 miles north of the city, the local fire department also attempted to raffle off a gun shortly after the Parkland massacre—in this instance, it was a Windham AR-15 semiautomatic rifle, similar to weapons favored by mass murderers. Eventually, the fire department relented, and offered gift certificates instead. 
In 2019, a bill in the New York State legislature that would have banned gun raffles was scuttled thanks to opposition from fire departments and law enforcement agencies, who use the contests to raise money. The bill was later modified to allow "veterans, volunteer firefighters or a police benevolent association" to continue holding raffles. Even with that carve-out, the legislation never moved out of committee. 
Proponents of gun raffles argue that the transaction is secure, no more dangerous than a regular gun sale from a retailer. But we know very little about where guns used in crimes come from. Once a gun is raffled off, it's just another one of the 390 million guns in this country that can be sold or lost or accidentally fired.
Asked if they saw a contradiction in holding gun buybacks while participating in gun giveaways, an NYPD spokesperson told me that "the raffle was to raise money for a charitable organization," and that "this raffle was only open to police officers."
Brooklyn State Senator Zellnor Myrie, who has been focused on addressing gun violence during his time in office, called this gun raffle "a disturbing display of a lack of empathy for the defining public health crisis of our generation, which is gun violence." Myrie is spearheading legislation that helps gun violence victims sue gun manufacturers, and recently secured millions in state funding for non-police responses to gun violence, like violence interrupters. 
"It's incongruent that law enforcement are raffling off firearms on one hand, and on the other hand, making arrests at record levels while shootings remain high, while telling the community that their purpose is to get guns off of the streets," Myrie told Hell Gate.
Myrie believes that even if the gun raffles are being won by members of law enforcement, they indirectly contribute to gun violence by simply putting more guns into people's hands. 
"Illegal guns start up as legal guns—that's how the process works. Guns are stolen, guns are misplaced, guns are forgotten, and, if we're not incredibly comfortable and responsible when it comes to the transfer of these inherently deadly instruments, I think we're going to end up in dangerous situations," Myrie said. 
Myrie couldn't say when he would introduce a bill banning gun raffles, but added that he's "looking forward" to working with his colleagues in the legislature on it.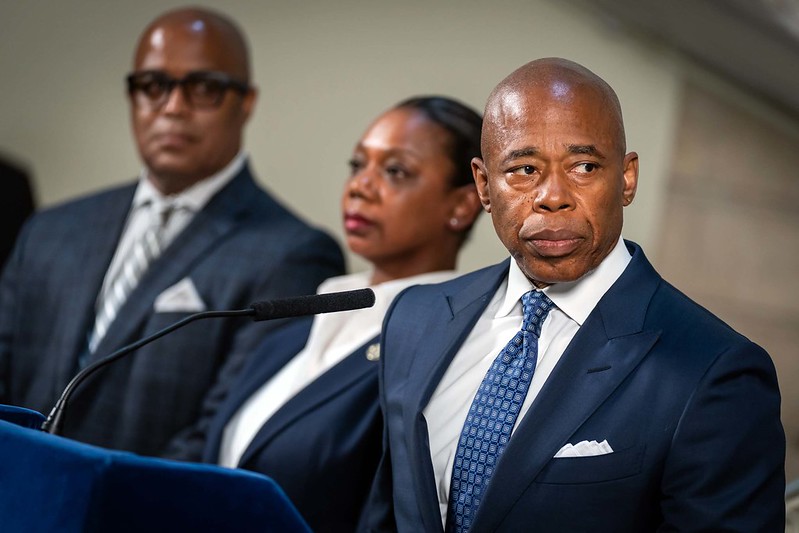 According to City Hall, Mayor Adams, a former NYPD captain, and who owns firearms, does not oppose gun raffles open to those licensed to carry guns. The Mayor's Office strongly implied that the June 23 gun raffle was not going to happen, despite the flyer stating that it was, and the men we met who traveled to a church in Dyker Heights expecting a gun raffle. According to City Hall, the raffle would be in October at a golf tournament held outside of the city's limits, and would be eligible only to active-duty members; the winner would receive a voucher for a gun at a gun store, also outside the city.
On that day in Dyker Heights, I waited outside the church for a few minutes after the sign was posted, as current and former NYPD officers pulled up, saw the sign, and moved on. Two older men sat in a car for a while, chatting and passing funeral prayer cards to one another. 
One former NYPD officer parked his car down the block and walked up to the locked doors of the church. "You're not a protester, are you?" he asked me. He hadn't received the late-breaking email alerting him that the barbecue wouldn't be happening, and was disappointed when he arrived. He called a friend on the phone, and then told me that the event was canceled "because of the attention on social media that the raffle had gotten, and the Supreme Court ruling." He said organizers were worried that demonstrators would show up. 
After he tried to see if Monsignor Romano, the organization's chaplain, was around for a burger (he was not), I stopped him and told him why I was there, and we got to talking. 
Matt (he wouldn't tell me his last name) was a police officer for twenty-six years and said that he had a gun for protection, but didn't carry it around anymore. It started too many arguments with people, like one of his friend's wives, who was "really big on the gun control thing."
Matt showed me photos of himself as a young patrolman in Brownsville, where he also lived at the time, holding an Uzi he confiscated from someone's home. "I was a lot skinnier back then, huh?" he told me. Getting guns off the street has always been the priority for the police, he said, as long as he'd been an officer. 
But the raffle was safe, he explained, and officers would make sure the raffle would be won by an NYPD officer or a retired officer who knew how to handle the gun, not "just any guy off the street." 
"I mean, it was amongst a cop that was gonna win it," he said. "These aren't the types of guns that are being used by the bad guys." The Holy Name Society had raffled off guns before without incident. "I could get a gun easily in the street. Why would I need a raffle? This is to raise money and save a guy like $600, $800 dollars."
Max Rivlin-Nadler is a co-publisher of Hell Gate. He's reported for Gothamist, The New York Times, Village Voice and NPR. You can find him walking his dog, Stiva, or surfing in the Rockaways.
Read More:
Stay in touch
Sign up for our free newsletter