Cultural Capital
Fay Victor's Last New York Record
"Blackity Black Black is Beautiful" is the free jazz vocalist's first solo record, and it brought the Brooklyn native out of the city.
5:30 PM EDT on September 19, 2023
In a blank-walled gallery space on Bleecker Street last week, a small crowd of free jazz appreciators were sitting, smiling, and nodding benignly at vocalist Fay Victor as she performed the entirety of her new album, "Blackity Black Black is Beautiful," released late last month.
Though Victor is from Brooklyn and has been a mainstay of New York's avant-garde jazz community for decades, "Blackity Black Black is Beautiful" is Victor's first solo album, and the one that ushered her out of the city. In an interview, she told me that though she composed most of the work that would become "Blackity Black Black is Beautiful" at home in New York (including "Breezy Point Ain't Breezy", about getting lost in the Trumpish Queens enclave), when recording the album at Northern Spy's studio upstate, the calmness of the countryside brought out something new in her music. "When we recorded the record, we did not know we were moving," she said, referring to herself and her husband. She saw her compositions become something new with the tools available to her in the upstate studio. After the record, they bought a house in the Catskills, where she says she imagines inviting New York's avant-garde and new music players to perform and record, and to compose to the sounds of birds and the stream that runs beside the house.
When she returned to the city last week, for a CD release performance, she was briefly reunited with her community here. On her Nord keyboard, Fay played with a chiming piano, sliding in and out of comfortable harmony, and triggering squeaky samples from the album that in the empty, echoing gallery space sounded like children's toys. It was the sound of an artist set free. After the show, Victor discussed her work with the modest audience. It felt like a classroom on the last day before summer break. One gray-haired listener, seated next to his wife, was content just to tell Victor, "We've been following you for 20 years and we'll follow you wherever you go."
Hell Gate: How's your morning going?
Fay Victor: I recently relocated to the western Catskills, so I'm getting up and looking at lots of green trees. 
What inspired that move?
I think it might have something to do with the pandemic, you know, wanting a sense of space, and a lot more nature. I've been married for 26 years. But last year, we were married for 25, and so we celebrated in this region. And I kind of fell in love with it. 
Are you building any kind of recording or performance space for yourself?
That's definitely the plan. We have a few acres here. We just actually had a deck built, and the plan, ultimately, is to make the deck a performance space. People could sit out in the back, you know, on chairs, and listen to music. And we have a basement that's unfinished. Ultimately, we want to turn that into a performance space and a studio too. 
I think I could imagine more avant-garde and new music being played here, because of the environment. It's a nice space to make creative sounds. Lots of birds. And we have a creek on one side of the property that makes a constant sound, almost like a drone. I can imagine people wanting to interact with those sounds. It could be more composed as well, but that's how I'm thinking about it, where music is created that really interacts with the space.
It seems like the album comes from a recording studio mindset. Do you think that relates to you feeling more connected to improvisation lately?
The first thing to say is the whole process of making "Blackity Black Black is Beautiful" came out of improvisation, and from the pandemic as well. The really interesting thing is Northern Spy's studio, where I recorded the album, is actually about an hour from where I am now, also in the countryside. That really played into how it felt to record. I remember even thinking at the time, not knowing that this would be our home, that wow, the record felt much more relaxed. But yes, on the other hand, there were these tracks that were created, that I sort of sang over in the studio. 
The space is quite large, but I just had my Nord keyboard with me, so we didn't use all the space. But there was a very nice vocal booth. I set up my Nord there to record the things that were live, like on "How Can You Do It?" and "Black Woman's Music," where it's me playing and singing in real time. 
Can you talk to me a little bit about the composition process? Where did this collection of songs come from, originally?
The really interesting thing was, for me, this brand new process of composing music. All of the tracks came out of compositions, but then I manipulated those compositions. I found that my notation program that I compose in talks to my recording software. So, I realized I could create compositions and manipulate them, and then created tracks from that, which I could sing over in the studio. That sets up a really cool situation where I could actually perform the compositions, which sound almost nothing like the tracks they became.
The whole record, strangely, is inspired by this great track by Marvin Gaye called "Got to Give It Up" from "Marvin Gaye Live at the London Palladium," from 1970. I basically transcribed that song. For like, a month, I had this encircling my head and that brought up certain ideas as to how to create compositions. But I wasn't sure what I was going to do, because, like I said, this was an improvised process. 
The end result almost sounds like a combination of a live block party and a studio production. There's lots of layers of lots of things going on. 
The other aspect that is really a big part of it is house music, dance music, which was a very big part of my earlier life. When I was younger I would go out to clubs a lot, and I sang house music. I even worked with a producer who put out a song that actually became a club hit in the early '90s. 
When you say you used to go out, was that in New York?
Yeah. For example, I was a member of a club called Paradise Garage. I used to club at The Loft, and Danceteria was another big one.
Yeah, those are legendary.
They were great, inspiring places and very free places. And I'm a native New Yorker. So for me, you know, New York has changed. But I've never stopped loving house music. When I became a jazz singer for a while I didn't go out so much. But I lived in the Netherlands in the mid '90s, early 2000s, and I used to go clubbing there, because Amsterdam did have a great club scene. But still, you know, singing jazz, I never stopped loving house music. I just wasn't so interested in performing it anymore, or interested in really performing it as a way of making my name in music, put it in that way. 
But about I guess maybe four or five years ago, I started a project called Mutations for Justice, which is a project around the Trump presidency. And that whole project had 45 compositions, and they all are based on compositions that will develop with repetition and improvisation. So we had performances based on this idea of using repetition to emphasize a certain message. And that, I think, brought me to this place where I felt much more comfortable with creating music in this way again, because even though jazz has repetition, it's in kind of a longer form way. 
Yeah, I didn't really grow up as a dance music fan, but something that I always think of when I do see performances is the entirely different relationship to time and entirely different compositional logic of the way that things evolve and change. 
There's something really expansive about it. And what I loved back in the day was that at those clubs, there was no alcohol. Like at the Paradise Garage, there was no alcohol. There were these big bins of juices, so people could stay hydrated. And I mean, people did everything else. But you couldn't bring in alcohol either. I mean, I'm sure people smuggled it in, I guess they did. But I saw how liberating that can be. And I love a good cocktail, but there was just something about seeing spaces with people completely free and full of joy and no one's drinking.
Yeah. It's also, like, a different relationship with attention. 
I can't speak for everyone. But I know for myself, and a lot of people that I encountered, people just really went to dance. People hooked up, but, you know, we just went to dance and to move. And I think I realized now that before I got into music as a vocalist that that was another way of being creative. You know? It was never about being a poser in any way. Because there were those kind of clubs too. And I hated those clubs, where you went there to be seen. I'm talking, like, people went there to sweat. And you dressed so that whatever you were wearing, it didn't matter when you walked out drenched.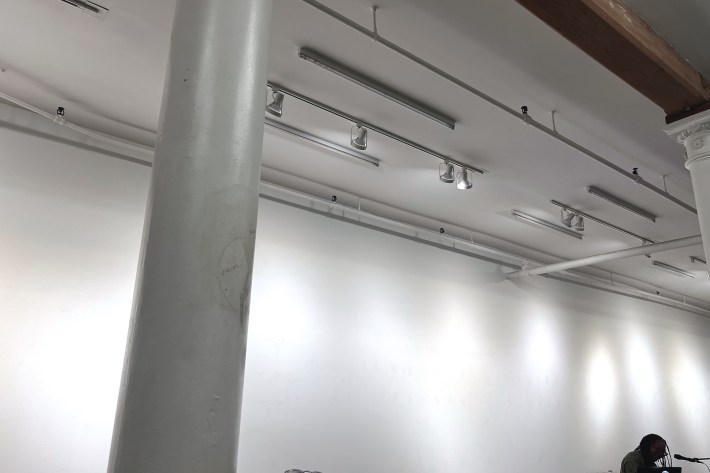 Going back to the album, you said the tracks have gone through this process of transformation, going from the compositions to the records. Do you see those original compositions as having some kind of life in the future, alongside the recordings? Or is this album really about the recordings?
I think this album is about recordings, but I'm planning to perform the record on September 12, in New York City, at a gallery, and I chose that space because, you know, I'll have the freedom to set up how I want and it's easy for me to prepare. The nice thing is, I did sing everything live. Most of the melodies are preconceived and composed beforehand. So I'm gonna experiment with that for the CD release. I'm working that out now. But, that is the plan, to continue to perform it as the record. I actually am of the mentality that at the concert you don't want to just regurgitate the record, I'll do that fairly close for the CD release. But after that, I'm gonna start experimenting with how to perform those pieces.
Adlan has written for The New York Times Magazine, The New Yorker, Pitchfork, Study Hall and more.
Stay in touch
Sign up for our free newsletter