Cultural Capital
What's With All the Municipally Branded Streetwear?
Residents of a relentlessly branded city are buying into a publicly funded New York.
12:43 PM EDT on July 25, 2022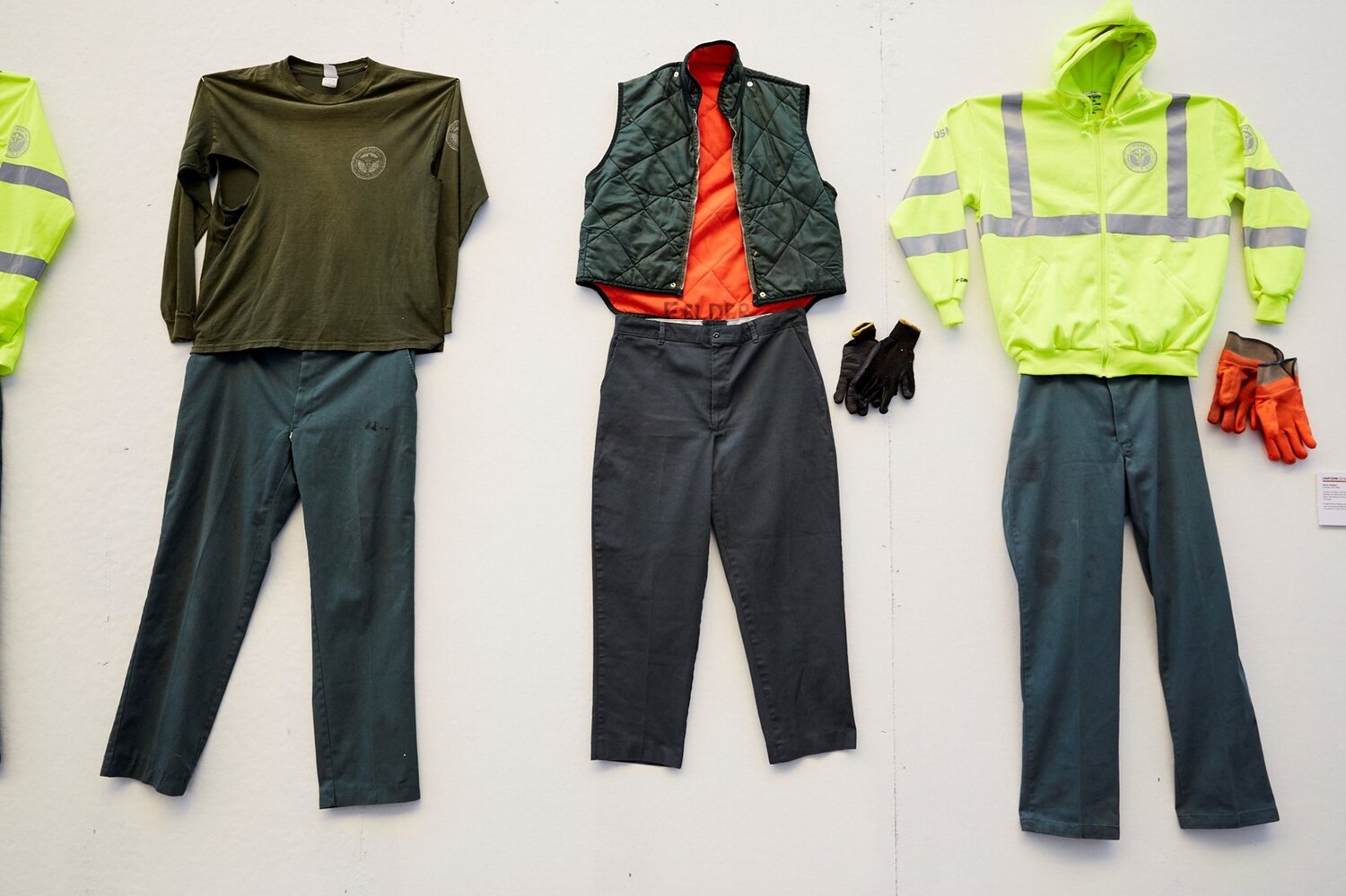 Recently, Ian Armstrong, a federal policy analyst, joined a burgeoning style trend: He bought a Department of Sanitation-inspired 70's style Tombolo shirt. It would be a "total find at a thrift store," he said. And crucially, Armstrong views the DSNY as one of the few city agencies "that actually provides a good service."
In April, Tombolo, a small, New York-based apparel company that brands itself as "maximalist inactivewear," released its DSNY capsule collection. A collaboration with New York City's Department of Sanitation, the offerings include an organic cotton terrycloth zip-up top, "cabana shorts," and a baseball cap, all adorned with the Sanitation Department's caduceus logo embroidered over its iconic pine green. Coming in at more than $100 per shirt, they're a delicate, if pricey, imitation of the heavy-duty workwear worn by New York's Strongest.
But Tombolo was already late to the trend. Earlier this year, Neighborhood Spot, a NYC-centered hub for local designers, released a limited collection of DSNY-themed T-shirts and hoodies. The streetwear brand OnlyNY produced a DSNY collaboration two years ago as part of its extensive City of New York collection, an ongoing partnership with agencies like the Parks Department. And back in 2016, the luxury designer Heron Preston approached the DSNY to create a ready-to-wear collection that repurposed decommissioned uniforms and thrift store finds. Other agencies play muse for streetwear brands, too. OnlyNY also released an MTA Capsule Collection, featuring cartoon-splashed work vests and snapbacks celebrating the Metropolitan Transit Association's legacy. In 2018, the FDNY had a limited collaboration with Danielle Guizio and another with Canada Goose.
If in previous years, streetwear embraced self-referential luxury, it's recently taken a more wholesome route, towards wellnesscore, gorpcore and other feel-good aesthetics. And celebrating New York's public institutions signals nostalgia for a New York City you could live in, not just one you could buy—while the global elite financializes the city and content creators package neighborhoods into algorithm-friendly products, public agencies offer something that feels permanent. Jordan Page, a New York-based creative consultant who's previously worked with OnlyNY, told me the only things that "stay the same in New York are the public agencies." And these agencies are ubiquitous: New York City's government employs up to 325,000 people, more than five times the number of city employees in Los Angeles.The DSNY is the largest municipal sanitation agency in the world. But representations of a static, working-class New York are still expensive: OnlyNY's DSNY puffer originally listed for $270.
"These municipal institutions in New York feel like they're like the real backbone of the city," said Luca Eisen, a member of the NYC-focused art research group, Cause There's Only One, which uses local iconography to explore gentrification. Whether consciously or subconsciously, people feel a loss at the corporatization and sanitization of New York City" and they want the old city back. Now, he said, these brands are "repackaging" that experience "for purchase," capitalizing on New Yorkers' desire for something genuine. 
---
New York has always indulged its own mythology: The city has a long history of strategic self-promotion, starting with the 1977 creation of the iconic 'I Love NY' logo. In 2003, billionaire mayor Bloomberg publicly declared New York a "luxury brand" and pursued policies that reshaped the city's infrastructure and global reputation. NYC & Company, the city's official tourism agency, works to "maximize travel and tourism opportunities throughout the city, build economic prosperity, and spread the dynamic image of New York City around the world." In 2022, they expect to receive $63 million in funding to perpetuate New York's image through sponsorships, influencer campaigns, paid media, global tourism, city-to-city partnerships, and notably, licensing municipal iconography. 
The Sanitation Foundation, which partnered with Tombolo and receives a portion of the line's profits, "helps New Yorkers to understand and appreciate sanitation work." It's part of an ecosystem of nonprofit partners supporting municipal agencies, alongside the FDNY Foundation, the Fund for Public Schools, and the City Parks Foundation. These organizations, which do not directly represent the departments, act as semi-private liaisons that support agency work: fundraising for capital projects, advocating for employees, and promoting their public reputations.
For most streetwear collaborations, brands approach municipal agencies. Julie Raskin, the executive director of the Sanitation Foundation, said that Tombolo's vision appealed to her. The designers of the brand, she told Hell Gate, are "two guys who grew up in New York and had a real soft spot for sanitation workers." The Sanitation Foundation was established with Heron Preston's show, which Raskin called a "sexy launch event" for a relatively unsexy job. 
While faith in government's essential public services wanes, these clothes may also suggest a romanticization of the only civil servants who seem to be doing their jobs these days: the essential workers we actually see. "The pandemic was a real awakening for a lot of New Yorkers about essential services," Raskin said. She noted that people "developed a really strong appreciation for the behind-the-scenes work that keeps the city going. Everybody would say that the only normal thing that happened during the early weeks of the pandemic was trash still getting picked up." During the same period, New Yorkers who stayed (and those who fled) bought into the earnest, hyperlocal Zizmorcore trend, which described a "wearable city pride." The Cut's Stella Bugbee wrote that the trend felt reminiscent of an older, "livable city," honoring "places that feel truly authentic to New York." It also offered personal clout, promising authenticity and playing right into New York's transactional promise—you can belong in this city, if it can belong to you. 
---
New Yorkers who picked up municipally-branded streetwear offered a variety of reasons why. Page suggested it was about exclusivity. "These garments, and the imagery used for them, weren't available to the public," he said, and it's an attempt to "identify with the city as much as possible." Marianne Reddan, a researcher at Albert Einstein College in the Bronx, said that she picked up a DSNY tote bag and a Parks Department beanie because she loves what they represent about her city—and the jobs those agencies offered to her community. Born and raised in New York, her dad was a firefighter. "Every guy I know growing up just wanted to get a good union job," she said. Wearing these shirts today is, she said, "kinda like wearing the football captain's varsity jacket, but it's a cool slogan about your garbage man." 
Rose Pember, a self-identified DSNY super-fan and co-founder of a NYC-based composting company, said that "these clothes feel like an acceptable form of (traditional) patriotism, supporting service and infrastructure versus the flag." Even then, that patriotism can be complicated. Since Armstrong bought his Tombolo gear, he's felt increasingly conflicted about wearing a shirt representing the DSNY, after a friend told him about the agency's role in clearing homeless encampments.
Kiko Bordeos, an NYC-based painter, owns a couple of OnlyNY's Parks T-shirts and shorts. For him, it's simple: "I just love repping NYC parks." He suggested that this trend might be related to wellnesscore streetwear that he's seen in other places, a feel-good, community-based extension of a broader trend in streetwear. "It's a contrast from the exclusivity and seriousness of other big hypebeast brands," Bordeos said. "And I think it's a subtle part of the yoga-pilates-Outdoor Voices-good vibe trend in fashion." 
Actual municipal workers might have a different take. Richard, an MTA bus driver who owns OnlyNY's 'We Move NY' vest, often wears it to work. "People at the depot love it because it has the old RTS bus that's not around anymore," he said. OnlyNY gives a discount to City workers for their collaborations, which Rich likes, and he thinks the designs on these vests are better than the ones that fellow transit workers have produced. But he also said. "If you're not a bus driver wearing it, then that is kind of weird." Asked what might be driving this trend, he was cynical: "I think it's transplants trying to show that they're New Yorkers, to prove how New York they are." But it could also be that in a relentlessly branded city, they're choosing to rep the publicly-funded version of New York. 

Lucy Dean Stockton lives between Queens, New York (Lenape homeland) and Western Massachusetts (Pocumtuc homeland), works as a farmer and a writer, and always uses her middle name.
Stay in touch
Sign up for our free newsletter