Going Places
'People Are Dying on the Streets in Record Numbers and He Doesn't Give a Shit'
As cycling deaths soar, New Yorkers urge Mayor Eric Adams to make the streets safer, right now.
1:21 PM EDT on October 12, 2023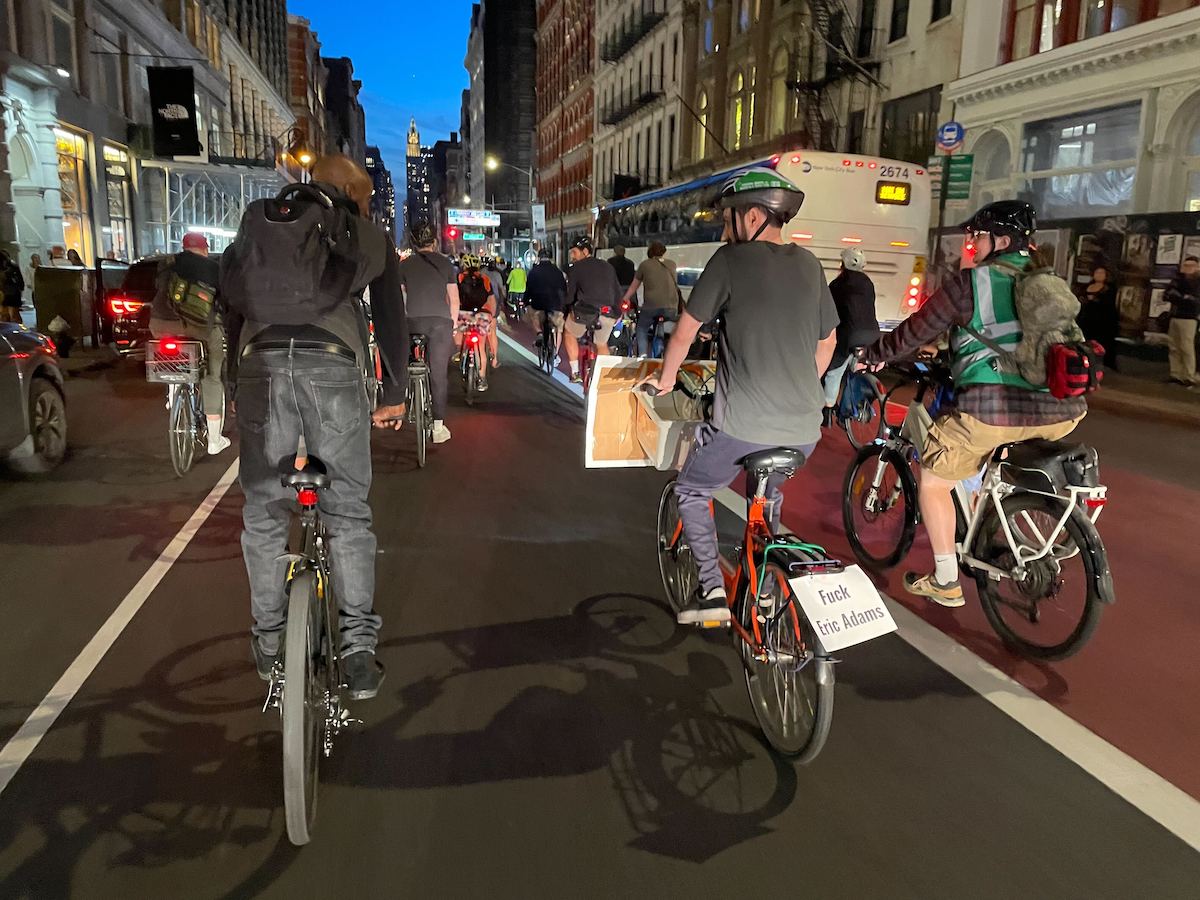 Twenty-six cyclists have died on New York City streets so far in 2023, the highest number of cycling deaths recorded by this time of the year over the past decade. On Wednesday night, hundreds of cyclists rode from Union Square to City Hall to demand that Mayor Eric Adams take action to stop the trend.
Our previous mayor, who started the City's Vision Zero initiative in 2014 in an attempt to eliminate traffic deaths and injuries, was more susceptible to this kind of pressure. Vision Zero was one of his signature programs, after all, and his political future rested in part on its success. When a pedestrian was struck and killed on McGuinness Boulevard in Greenpoint in 2021, neighborhood residents and street safety advocates rallied, and he allocated millions to redesign the road.
Mayor Adams is not so easily moved. On the campaign trail, he advertised himself as someone who would implement the kinds of street improvements—bike lanes, bus lanes, road diets—that make things safer for everyone. But after nearly two years in office, his administration is better known for undermining the work of his Department of Transportation, and undoing the safety improvements on McGuinness that his predecessor promised. His chief advisor has blocked the construction of bike lanes and his DOT has lagged in building the legally mandated number of bike lanes. The agency recently showed up to a City Council Oversight Committee hearing and refused to provide any updates on how many bus lanes or bike lanes they have built this year. 
At a press conference on Tuesday, Mayor Adams gave reporters a glimpse of how he feels about New Yorkers who ride bikes.
"I know you don't like to admit it, but I know you get on your knees and pray every night, 'Thank God Eric is the mayor of our city,'" Adams told a Daily News reporter who had just asked him a question about the 2025 election. The mayor's voice was dripping with condescension, but he was smiling as he spoke. "You know that? You are able to ride your little bike safely through our city, no one is coming at you," the mayor added.
A source in the administration who works on street infrastructure projects summed up the mayor's attitude. "People are dying on our streets in record numbers and he doesn't give a shit," they told Hell Gate.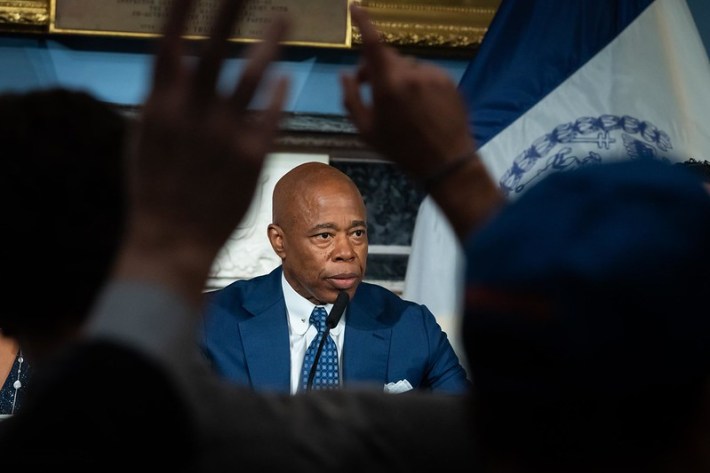 At the meeting point in Union Square for Wednesday's bike ride, we spoke to another City employee, who asked that we not use their name or agency for fear of retribution. They insisted that the planning work was being done, it would just probably have to wait for a new mayor.
"There's a lot of projects that are sort of on the back burner and are basically ready to go, you know, in a drawer somewhere. And whether it's the case that we'll have to wait two and a half years or more to implement them—I mean, I don't think we should," they said. "But what it will take is a concerted effort at the polls to find someone who will put their policy behind their words. I mean, did anyone foresee that Eric Adams would just lie on the campaign trail about wanting to make cycling improvements and things like that, even for someone who purports to cycle themselves?"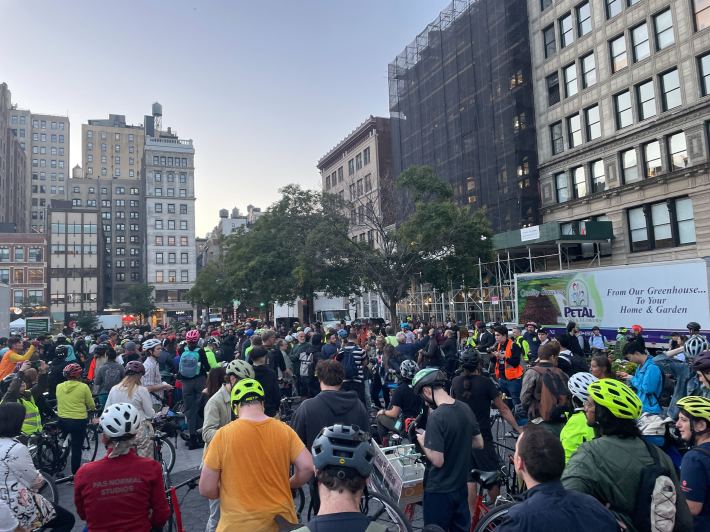 The ride, organized by Transportation Alternatives, began a little after 6:30 p.m. Cyclists in vests took off down Broadway so they could block crosstown traffic and keep the route clear. 
Once the ride hit SoHo, some pedestrians began to get angry that they couldn't cross the street. At one point, a man in a trucker hat holding a set of golf clubs gesticulated at an older cyclist wearing gray sweatpants and standing next to his red Trek bicycle, who was blocking his path. Horns blared from the east and the west. "Ahhhh, that's music to my ears," the man on the red Trek said, grinning, as he jumped on his bike and headed south on Broadway.
The group ended the ride on the east side of City Hall, next to the Brooklyn Bridge. It was cramped; everyone still had their bikes, and the crowd was hemmed in by the car traffic streaming along Park Row. Twenty-six helmets were arranged on the ground, one for each death this year. Some bore the names of cyclists killed this year; others were blank, as the dead have yet to be identified. 
Frédérique Uster-Hug spoke to the crowd next to the ghost bike that had been created for her husband, 39-year-old Adam Uster, who was killed while riding his bicycle in Brooklyn this past May. Uster was riding on Franklin Avenue's unprotected bike lane, carrying groceries home to his wife and two daughters, when he was fatally struck by a truck driver making a right turn. The driver was later issued a summons for failing to yield. That stretch of Franklin Avenue has also seen dozens of crashes and injuries and one pedestrian fatality since 2020, but the DOT hasn't made any improvements to the road since Adam's death. ​​"You can do everything right as a biker on our roads, and still not come home," Uster-Hug wrote in a Streetsblog op-ed earlier this week.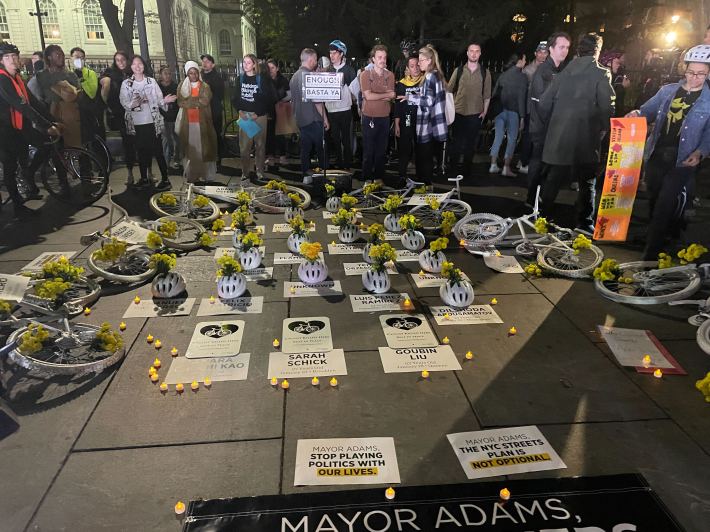 As safe streets advocates took turns speaking to the crowd, a man with a bullhorn shouted at the group of cyclists about congestion pricing—he shouted about why the City should investigate the head of TransAlt, about how congestion pricing would kill working families, about how electric car batteries are made with minerals that are mined by modern-day slaves. He was accompanied by another man wearing a camo hoodie and ripped jeans, who is running for a City Council seat in Queens; he shouted about vaccines, and why he would continue to drive into the city no matter what. 
"The streets are not just for cyclists, they are for everyone!" the man with the bullhorn screamed, apparently unaware that most of the crowd would agree with him, though they would point out that cars hog most of the space.
"Yeah bro, that's what we are protesting!" 20-year-old Justin Bloomfield shouted back.
At the rally, Bloomfield, and his friends Chris Bartos, 25; Jacob Ibarrondo, 23; Andy Vaquero, 25; and Jarid Villalobos, 24, were making fun of the congestion pricing counterprotesters ("Go home to your families!" one of them remarked). They were all in middle school when Vision Zero began, but to them, not much has changed.
"We are working hard to keep ourselves safe. While these people are just driving a two-ton car, you know, and running us over and getting away with it," Ibarrondo said. 
Bartos chimed in, "It's a miracle how some of these people got their driver's license, because they don't know how to drive. They do some wild shit, put people in danger unnecessarily."
For them, the solution is the same as it was in 2014. "You're supposed to give us the equal respect. For things to get better, like, have a lot of bike lanes," Ibarrondo said. "You're complaining about us being in the street, but there's not enough bike lanes on every avenue."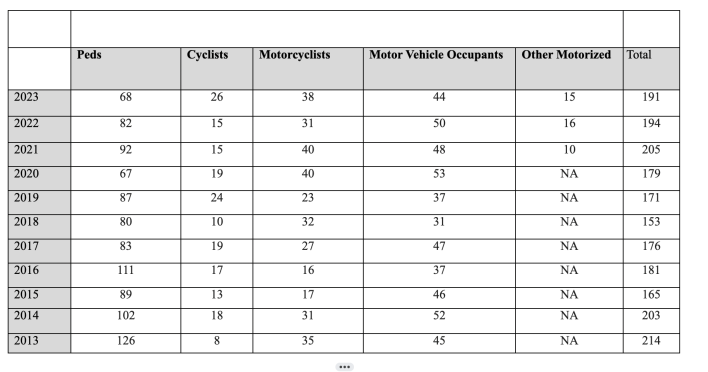 Hell Gate asked the DOT and the Mayor's Office if they were doing anything to immediately address the spike in cycling fatalities. Even if you remove all 26 cycling deaths from the total number of traffic fatalities, 2023 is still shaping up to be deadlier than 2015 or 2018. Lots of people—pedestrians, motorists, moped riders—are dying preventable deaths, years after the tools to stop them have been made known.
In response, the Mayor's Office essentially blamed e-bikes, and cited data from the NYPD that 70 percent of all fatal cycling crashes in 2023 involved e-bikes. (TransAlt disputed the mayor's numbers, and said that according to their recordkeeping, 61 percent—or 16 of the 26 cyclist fatalities—were on e-bikes.)
"As cycling reaches an all-time high in New York City, the city has experienced a spike in cyclist fatalities, driven largely by the growth in e-bikes that provide so many New Yorkers with accessible mobility options," the mayor's spokesperson said. "Mayor Adams is laser-focused on reversing that trend so everyone in New York City can feel safe in our streets. The Adams administration is delivering safe bike infrastructure for all New Yorkers, and we are on track to install a record number of bike lane miles this year. One traffic fatality is too many, and with 2023 on track to be among the safest years for pedestrians in the last decade, we are focused on street designs and other tools that will protect cyclists and all road users."
The Mayor's Office also noted that a quarter of all fatal cycling crashes this year did not involve an automobile—though did they involve poor road conditions or design flaws that could be corrected? The Mayor's Office and the DOT didn't say.
"Instead of blaming dead cyclists and canceling street safety projects, Mayor Adams and his administration should get the NYC Streets Plan back on track," Danny Harris, TransAlt's executive director, told Hell Gate in a statement. "With fewer than three months left in the year, the administration must build nearly 40 miles of protected bike lanes. This is what will keep bike riders safe."
At a press conference on Thursday morning, Mayor Adams himself weighed in on the problem, and said that the City needed to "educate" cyclists.
"Some of my fellow riders are not adhering to some of the traffic rules," Adams said.

Chris is an editor at Hell Gate. He spent a decade working for Gothamist, and his work appears in New York Magazine and Streetsblog NYC.
Stay in touch
Sign up for our free newsletter