Climate
Adams Administration Says Adams Administration Did a Great Job With That Wildfire Smoke
The head of Emergency Management called the response a "good blueprint for future events."
2:54 PM EDT on July 12, 2023
Every New Yorker who was outside on the morning of June 6, 2023, could tell something was off. Smoke from wildfires in Canada was billowing in and filling the lungs of people outdoors. Throughout that Tuesday, news outlets and regular folks on social media remarked at how hazy everything was, how the city smelled like a campfire, and how the smoke made it harder to breathe. That night, the Yankees played the White Sox, and some players and fans suggested that the game should have been called off, given that the air quality index in the Bronx was, as it was throughout the city, above 200, meaning it was harmful for everyone. 
It wasn't until 11:30 p.m. on that Tuesday night that Mayor Eric Adams sent out his first media statement on the "deteriorating air quality." Eleven hours later, on Wednesday morning, Adams held the first of four press conferences on the issue, telling vulnerable New Yorkers to stay indoors and suggesting that everyone should limit their time outside. Later that day, the AQI approached 500, and New York City had the worst air of any city in the world.
Why did the mayor wait so long to speak directly to New Yorkers about the dangerous, smoky air? 
And what plans does the administration have in place for closing schools, curtailing outdoor work, and distributing masks and air filtration systems when the air gets this bad, as it surely will again?
These are questions the Adams administration couldn't or wouldn't answer during a City Council oversight hearing on Wednesday morning. The hearing, featuring the council's Oversight; Health; and Environmental Protection, Resiliency, and Waterfronts Committees, was focused on the administration's response to the smoke.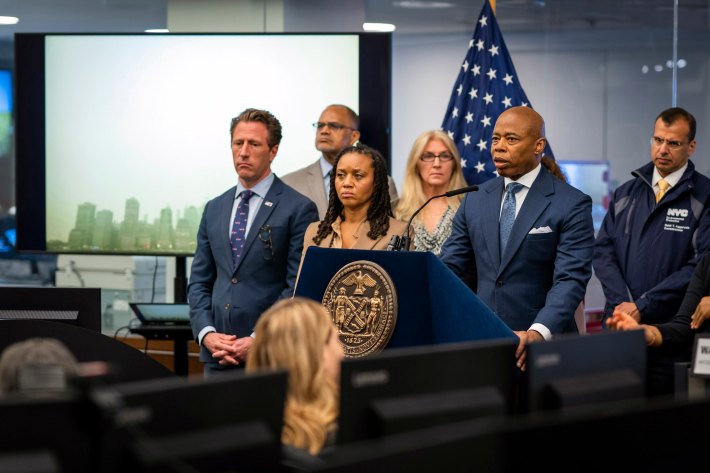 Zach Iscol, the commissioner of the City's Emergency Management agency, came into the hearing hours after publishing a defiant op-ed in the Daily News, in which he argued that the City's response—which mainly consisted of 11 Notify NYC messages, four press conferences, and the distribution of more than 100,000 masks—was a "good blueprint for future events," and that anyone who might suggest otherwise was "seeking headlines." (Those masks were mostly handed out after the worst of the smoke had passed, and many came from the state.) Besides, he said, only 100 extra people ended up in the emergency room for respiratory problems during the height of the air quality crisis—New Yorkers had largely been safe.
During the hearing, Iscol repeatedly refused to say if he would have done anything differently. 
"I think within the constraints of the forecast and the information we had, I'm very proud of the City's response," Iscol told the council. 
Public Advocate Jumaane Williams, who put out a brief report on Wednesday morning that was critical of the administration's smoke response, and attends council hearings as a non-voting member, couldn't believe that Iscol would insist that everything went smoothly. 
"If we're starting to get this information right before the sky turns orange and is on fire, I'm just saying we took too long. That should not be a statement that is somehow controversial," Williams said. "And that's what frustrates me with the administration. There's never an admission of the simplest things that we could have done, and it makes our conversations tenser, unnecessarily. And this is not criticism to the mayor or the administration for criticism's sake, as he said. This is literally my job."
Iscol responded by saying that the public advocate's report was "factually inaccurate," but did not identify any factual inaccuracies. "I do really wish your team had sat down, before issuing this, with my team," Iscol said.
Iscol, who impressed Adams enough as a Democratic candidate for city comptroller that he was brought on as head of Emergency Management, repeatedly pointed to the difficulty of forecasting poor air quality. He insisted that the City follows state guidance, and that the state's AQI forecasts for June 6 and 7 were far below what actually occurred. "It was the appropriate response based on the science, and we trust the science," Iscol said.
But what's the point of using the science of forecasts if the actual air people are breathing, at any given moment, is bad? Why not make a decision to say or do something?
Iscol didn't answer this question, but later in the hearing, he revealed to Manhattan Councilmember Gail Brewer that the Mayor's Office, not NYCEM, was directing the City's wildfire response the whole time.
"It's always my impression that in these extreme emergencies, your agency—this is from my many years—really becomes the Mayor's Office in a sense of being in control," Brewer said.
"That is not correct," Iscol said. "We are closely coordinating and managing, but they are doing the work. The Mayor's Office is still running the show."
"That's not what I understand, how City government works," Brewer replied. "It just seems to me that you should be in charge when there's an emergency and the Mayor's Office should defer to you in getting the information to the public."
The department's lack of agency was evident when councilmembers asked basic questions. How many N95 masks does NYCEM have stockpiled? Iscol didn't know. How bad would the AQI have to be for the City to close schools, or curtail outdoor services? "We're doing a lot of work now looking at different triggers," Iscol said, without specifying further. 
Would the City consider distributing air purifiers to residents? "We'll have to get back to you about that," Department of Health Deputy Commissioner Corinne Schiff said. What about opening the City's cooling centers as clean air centers, like they do on the West Coast? "You know, it's a good question," Iscol said, before launching into an explanation that they were profoundly different things and that the "safest place for people to be in New York City during an event like this is inside and in their home."
September is "emergency preparedness month," Queens Councilmember Lynn Schulman pointed out. "Are you going to institute, with the materials that you usually do, something about the air quality?" Schulman wondered. 
"We are now," Iscol replied, laughing.
Chris is an editor at Hell Gate. He spent a decade working for Gothamist, and his work appears in New York Magazine and Streetsblog NYC.
Stay in touch
Sign up for our free newsletter