Meet a Worker Co-op
The Dream of the Bartenders Owning the Bar Is Alive at Donna in the West Village
Donna, NYC's only worker-owned bar, is serving up drinks—and equity shares.
10:42 AM EDT on October 5, 2023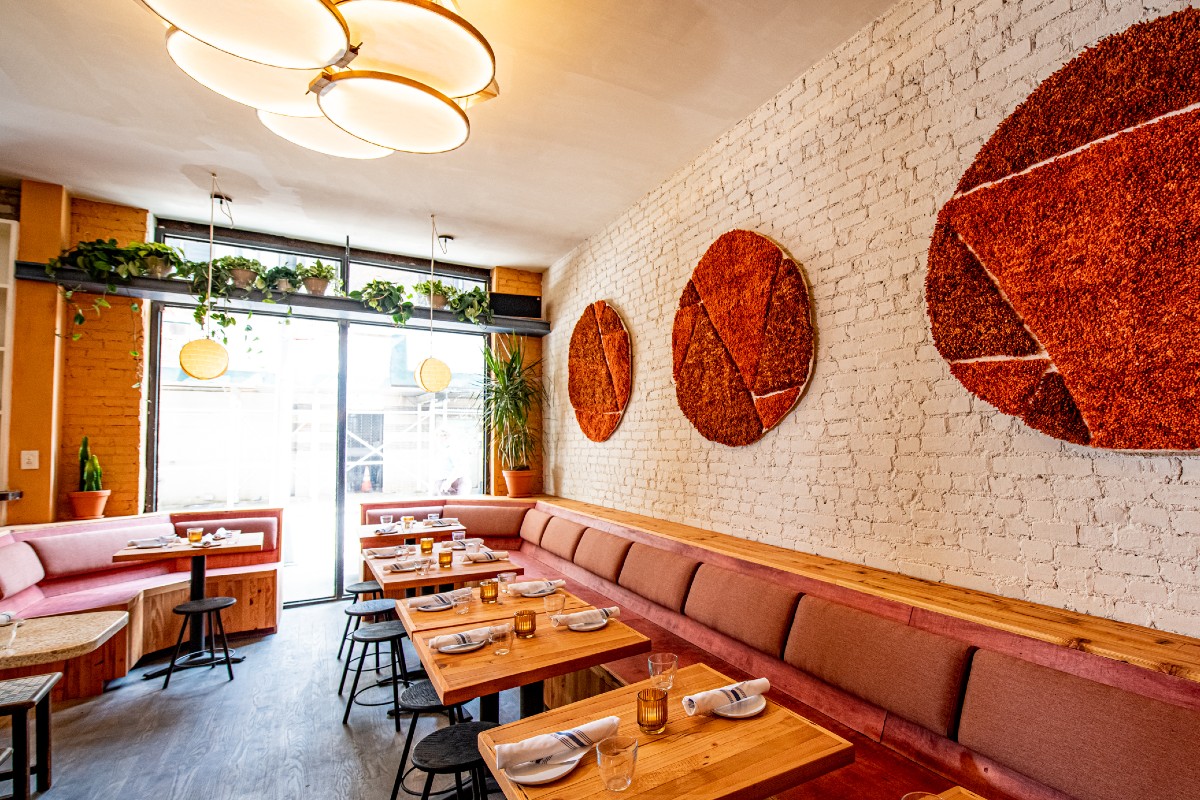 To a casual observer, Donna looks like any other nicer-than-average West Village cocktail bar that serves tasty drinks and pan-Latin small plates, with its Instagram-friendly atmosphere of warm wood, funky wall hangings, and a desert-chic color palette of pink and orange and brown tones. But it's also Manhattan's first and only cooperative cocktail bar—and its worker-owners hope it definitely won't be the last. 
At Hell Gate, we like to talk shop with other people doing the same thing we are: taking the plunge into the world of collective business ownership in the face of our various fucked-up industries. To learn more about Donna, which has been open to the public since May 2023, Hell Gate spoke with Lauren Ruiz, one of Donna's five worker-owners. Ruiz currently acts as the general manager for the bar. (At Donna's first incarnation, as a Williamsburg cocktail bar under a traditional ownership structure, she was a bartender.)
Donna's worker-owners are keenly aware that other people in the industry are keeping tabs on how they fare under their unique ownership structure. "I feel like right now we're in the gestation period, where we have to be super successful," Ruiz said. "When that happens, I think other businesses will be like, Alright, we'll throw our hat in this way. So, there's a lot riding on our successes."
We talked about why Donna's worker-owners think the cooperative model is right for the hospitality industry, how to support other co-ops, and what it's like to have a job that you actually really care about. 
Can you tell me about what happened from the time the "original" Donna shut down until now?
So we closed at the end of November 2020. And March 2021, Leif Huckman, the founder of Donna, was clicking around different online seminars and webinars, trying to figure out how he could get rid of the tipping system—because it's, you know, inherently sexist and racist, et cetera et cetera—and he happened upon The Working World. He was approached by them to reopen Donna as a worker-owned cooperative. So he approached a lot of the ex-employees, and a few of us came onboard. From 2021 til around May 2023, we were meeting every week and planning the reopening. In order to keep the Donna name alive, we also had a couple of pop-ups and catering gigs: We did one in Greenport, Long Island, with Matchbook Distilling. We did one with Nicky's Unisex in Williamsburg where we took over their Tuesday night program, and we did the Renegade Craft Fair. 
What sold you on the worker co-op model?
I've known about cooperatives for a while—when I was in college, I used to go to a grocery store that was a co-op. For me, it was exciting to be the first co-op cocktail bar in the city. And, you know, I've seen a lot of shit in the hospitality industry—a lot of us have been in the hospitality industry on or off for like, 20 years. I feel like equity share in the business is the only model going forward, especially due to the large brain drain that we had during the pandemic, where a lot of people left the hospitality industry for other industries. They pivoted out of it, because they got to reset. I don't know if you noticed, but hospitality kind of went downhill after that. It was harder to see people that were hospitality professionals. Having a sustainable living wage for your workers was another reason why I was so gung-ho about it. 
It was all in line with how I think things should be run: Even in a capitalistic society, there's more equity to be had and given around. So I felt all of those things culminated in being like, "Fuck yeah, for sure."
How did the conversation about Donna 2.0 evolve from 2021 until May?
We were learning about how to run a business and operate a business, and then we were also coming up with our governance and our policies—the bedrock of how we run. For example, decision-making matrices: who can make what decision, who could propose, who could impose, who could ratify, all of that. That way, when any big decision would come about, we already knew the parameters of that [process]. So building a lot of systems, building a lot of governance, and then anticipating everything we needed to have in place in order to open. Once we secured the location, it was OK, like, we have liquor license—that was a whole process, learning all that stuff.
Is everyone who works at Donna a co-owner? 
No. The way we have a path to ownership is you work here for a year, then it's up for a vote with the board. And then if you're accepted as a worker-owner equity share, there's a $500 buy-in. Before that, we do courses with everyone that wants to be a worker-owner every week for six or seven weeks—breaking down what worker-ownership is, what to expect, how the structure is, because it's a completely different business model. That's facilitated by our lenders, The Working World, who are the ones that are basically like our lenders slash project coordinators. We have a point person from The Working World who checks in with us every week, helps us with the QuickBooks, tells us how much we have left on our loan, and gives us spreadsheet advice. 
What does a day as a worker-owner look like for you?
I do a lot of the backend stuff, and then between myself and the assistant general manager, him and I kind of tag-team, but he basically has the whole liquor orders, [kitchen manager/worker-owner Ulisses Fuentes] has the food orders, I have the scheduling the payroll, the licensing, emails, buyouts. Then, there's also me being physically present, because you need to be here for your workers—I'm not just another owner, watching from afar. So yeah, it's a 24-hour job.
I did psych myself up for it being a lot of work, but it is a ton of work. You are constantly thinking about it all the time because you now have employees that depend on you, so there really isn't any off time. I wasn't really expecting that. But that's part of ownership in general. The hope is to get everyone in tune with the side of the business where I could be like, "Hey, man, you could do payroll now, and you could do scheduling," and then we can move on to other things. That's the hope in maybe half a year, to start training people on that.
Why do you think the co-op model works in hospitality, and how do you think the vibe has changed at Donna 2.0? 
It's been a long time coming, that the hospitality industry has a reckoning about equal pay and equity in general. Just like other organizations, the typical business model for restaurants and bars is just like, say, manufacturing. The top brass profits the most and the workers have to work punishingly to make ends meet. The same applies across the board in hospitality, and co-ops dismantle that skewed profit-share.
Under the co-op model, our workers take a lot more [initiative] with keeping things well-maintained. For example, the machines are really well taken care of—we have to clean them really well, or else they're not going to work, and then that's gonna hurt the bottom line, which eventually over time, when they become worker-owners, will hurt them, right? That's more money out of our pockets to fix things—even coupe glass breakage, stuff like that. And just more integrity for your job and more ownership of what we do—being proud of the space where you work instead of clocking in and clocking out. We have a bar manager that just came on and she's gunning for us to be a really popular bar, so she's here a lot doing R&D and spreading the word. The kitchen staff, they're like, "Hey, I have a great idea for a menu item," and we're like, "Alright, let's break it down. How much is the cost?" It's a lot more participatory, a lot less phoning it in.
We also support, in our back bar, women-owned and community-run liquor as well. A tenet of a cooperative is cooperation amongst other cooperatives, so we have that going on: Our rugs on the wall are from a female cooperative in Morocco. Our bar tops, the stone is from Brooklyn Stone and Tile, which is a cooperative as well. So we try to incorporate all of that with how we function. 
Do customers ever want to talk to you all about being a worker co-op?
Yes! Initially, we were getting a lot of press because of it, so people would read that, come in, and then they wanted to talk more about it. We get a lot of customers that are like, "Oh, you're a cooperative? Tell us more about it." So we basically give them our boilerplate answer: Everyone you see working here right now is on a path to ownership, they are here for a year, then it's up to us to vote them in if they want to be an owner. Then, there's a $500 sweat equity buy-in, and then everyone gets an equity share based on the hours that they work: part time, full time, all of that is taken into account for when we do turn a profit.
People really love spending money in places that they are in line with, [values-wise]. Definitely in the beginning, we had a big range of humans, like old people, young people, all different socioeconomic [levels], but it's because they all kind of support the model. Yeah, at least when I talked to the tables, they'd let me know. And then we get the regular people who just want a good cocktail, too.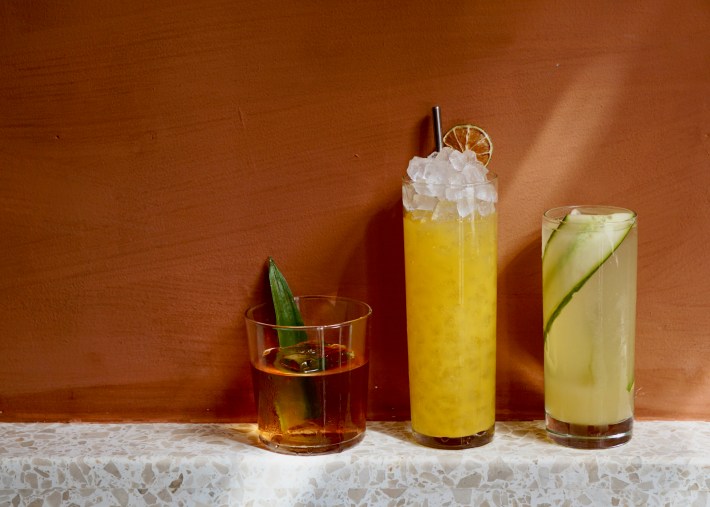 How does creative decision-making work at Donna—designing the cocktail list, coming up with the seasonal menu, things like that?
We have bar management, and they come and be like, "This is what we have," and they present the cogs of it, like, "How much margin are we gonna make on this drink?" It's a bit of a more lax decision, because we still have the hierarchy of a regular bar. There's the GM, me; there's AGM; floor manager; bar manager. Those people take ownership of that side, unless there's a very big decision, like, "Oh, we need another ice machine!" Then, we'll be like, "OK, how much does that cost?" And then we'll get to decide whether or not we need it. For the most part, it functions like a bar.
Do you get a lot of people in hospitality reaching out who want to try and replicate your model?
Yeah, totally. We had a woman come up from Alabama, who owns a building, and she wants to run it as a cooperative. I looped her in with The Working World. Locally, we've had a lot of inquiries in terms of, how does this work? Especially from our industry friends and owners, and they're super psyched about it. And from people that want to sell their business. They're like, "Word, we're done, we want to sell it to the workers."
What's been the best part about being a worker-owner at Donna so far, and what are you looking forward to in the future?
It was when we opened, actually seeing the fruits of our labor come to life. It was such an idea, and so abstract for the most part. We had seen this computer rendering of the space—but when we were actually here, painting the walls, ordering the booze, and then opening the door, that was really satisfying. It was like having a baby or something. I don't have children, but I'm assuming that's kind of how it feels, right?
So, maintaining that momentum is something we need to do, and expanding the business—especially because if there's more people in the pie, there's less pie to go around. But if we, for example, open up a bespoke liquor store, then we could have that income stream coming in and hire more people. And we want to maintain our employees' happiness. We've had very little turnaround, and in an industry that can be highly fickle, with people constantly bouncing around different places, I'm pretty sure we did great at hiring. Our core employees right now are in to win it. 
Making it a restaurant group would be chill, because then, I would be more like a CEO, and these guys would be running the daily operations. But that's way in the future. We have to make this work first. The dream would be to be the benchmark for this model in this industry. But for now, we just want to get through our menu flip.
Stay in touch
Sign up for our free newsletter