Joy
Behold, the Finest Art of the Craigslist Free Section
Much like the Mona Lisa, the eyes of the five-time NBA Most Valuable Player appear to follow you around the room.
11:00 AM EDT on May 14, 2022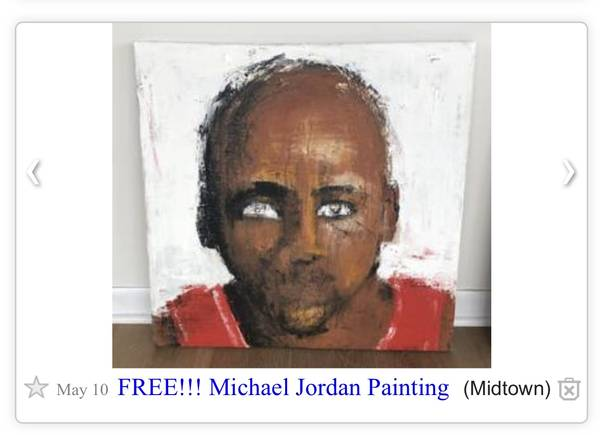 Hello and welcome to your weekend Hell Gate newsletter. Here, you'll find the best writing Hell Gate published this week, the second of our existence. Like a newly born pup just barely opening its eyes, we're beginning to see the world more clearly—and wow, our mayor really should not have taken his paycheck in crypto!
As always, thanks for subscribing, and we encourage you to share this email with your friends, and then get them to subscribe as well.
First, we'd like to go down a little rabbit hole with you—the best rabbit hole there is. Yes, you guessed it, we're talking about the Craigslist "Free" section.

On any given day in the five boroughs, you can find the choicest of treasures for the lowest of prices. Anything from giant sectional sofas, to Ikea butcher blocks, to (so, so many) children's scooters, and even used boat hulls. Almost nothing is new and the wear on each object is part of its story. Think—"For sale: baby shoes, worn the fuck out." The only limit is how quickly you can message the "seller," and, for those of us without a car, how you can finagle transport or convince yourself this will "definitely fit" on the subway.
It's a beautiful and chaotic world of clothes hangers, so much extra firewood, and "oh god, someone please take my couch I need to vacate this apartment in 20 minutes."
Sometimes though, something rises above the wondrous muck that's so enchanting, so visceral, so alluringly bewitching, that you can only let your jaw drop slack and wonder why it would be "free." (Yet neither can you put a price on sunlight, a cool breeze, or a held hand.)
Yes, we're talking about the FREE!! Michael Jordan Painting (Midtown) that was posted this past Tuesday.
What are we looking at here? Is it beauty itself, albeit infused with a somewhat unsettled aura? Much like the Mona Lisa, the eyes of the five-time NBA Most Valuable Player appear to follow you around the room. Then, we enter the realm of the (almost) indescribable. Like faces encountered in a dream, unrendered and insubstantial, his mouth and chin blur together, suggestions of a completeness the six-time NBA champion never quite managed for himself. He was always aching for more—and this portraiture nods at that; like the hungry ghosts that populate Buddhist hell realms, he simply cannot be satisfied, because he has no mouth.
Breaking somewhat from our reverie, we are sad to say that we were unable to secure this incredible piece of art for the Hell Gate offices. Before we could message its owner, the post was taken down. Assuredly, this now hangs in a bunker deep beneath the earth, in the collection of the most discerning of collector, next to stolen modernist art that they can never share but only gaze upon, brutally transfixed by something both compelling and disastrous.

Anyways! We've posted on the free section to see who gave this incredible painting away, and will report back if we find out more! Craigslist Free Section, highly recommended.

The Week In Hell
Here's the journalism we published this week.

—The Forgotten Women's Prison in Greenwich Village That Queered America by Hugh Ryan: We started the week with an excerpt from the new book, "The Women's House of Detention: A Queer History of a Forgotten Prison," which went on sale on Tuesday. In this excerpt, Ryan tells us about Mabel Hampton, a Black working-class lesbian arrested by the NYPD for the "crime" of being a single, unmarried woman. Ryan writes about how women like Hampton, incarcerated at the House of D, helped shape queer life for generations of New Yorkers to come. You can buy the book here.
—A Grandmother Needed Paperwork For a Glucose Monitor. The NYPD Broke Her Arm. by Nick Pinto: Patricia Rodney walked into the 62nd Precinct in Dyker Heights on December 2, 2020 because she had lost her glucose monitor, and needed paperwork to show her insurance company in order to replace it. But instead of helping her out, within a few minutes Rodney was arrested by the NYPD, and slammed to the ground, breaking her arm. Hell Gate broke the story, which was subsequently picked up by NY1 and Vice News.
—María Falcon, Mango Vendor Targeted By NYPD: 'We're Not Hurting Anyone.' by Max Rivlin-Nadler: Last month, Falcon was arrested by the NYPD as part of a crackdown on alleged quality-of-life violations. She was brought to the NYPD station in handcuffs, and then strip-searched, while all of her belongings were destroyed. On Monday, Mayor Adams defended the arrest of Falcon, warning strangely of… people barbecuing in our subway stations? In response, Hell Gate spoke to Falcon, who told us: "We sell out of necessity. We need to work, to fight. He needs to understand us, please let us just sell in the train stations."
—Governor Hochul's Backroom Stadium Deal Happened Because New York Sucks At Democracy by Neil DeMause: How was Governor Kathy Hochul able to ram through a $1 billion giveaway to the absurdly wealthy family that owns the Bills? Because New York absolutely stinks at democracy. These stadium giveaways are massively unpopular, but until New York actually lets its own citizens have a say, get ready for ever more publicly-funded private sports arenas… that are now selling just the right to buy seats for $9,000.
—Queens Judge Overseeing Murder Trial Furious That Hell Gate Found, Reported On Public Documents by Max Rivlin-Nadler: After Hell Gate reported, based on public documents, that the two NYPD cops leading the investigation into Prakash Churaman had been accused of serious misconduct, and that an expert said they used coercive techniques during Churaman's investigation, a Queens judge lashed out at…. Prakash Churaman, accusing him and his lawyer of leaking this information. We here at Hell Gate can't stress enough how publicly available all this information is. "The press might look for this, for that, but the only side that gets reported on in the media are things that have been unfair treatment to your client. It just seems a little odd," Judge Holder exclaimed. Yes, it's odd… that journalism is in such a tacitly fallen state no one bothered to look all this up! Until us.
—Photos: NYC Food Pantries vs. Inflation by Olivia Bensimon: Hell Gate visited three pantries across New York City to dig into how rising food costs are affecting their operations. We found out some locations have cut back on certain foods, especially eggs and protein—all while inflation is driving more people to rely on food pantries. "We've been a little shocked by what we've been seeing," said one food pantry employee.
Briefly Noted: Wordle Upset Esther, Mets Rat Is No Pizza Rat, Intergalactic Crypto Capitalism and the Rent Guidelines Board, Intergalactic Crypto Capitalism and the Mayor of New York, and We Want To Hear About Your Cockroaches.
Join Us In Hell
Here's the deal—Hell Gate is free for the rest of May, but we've got bills to pay. So we're putting up a paywall starting in June, because local reporting that breaks news and speaks truth to power and covers our crypto-playboy mayor, doesn't just pay for itself. (Otherwise, we'd have jobs!)
You're receiving this email because you already gave Hell Gate your email address, and maybe some of you even gave Hell Gate a tip. Thank you—that money goes directly to hard-hitting investigative journalism that already has New York's power brokers shaking in their boots.
We hope that you love Hell Gate so much already that you'll forward this newsletter far and wide and get other people to sign up for our newsletter.
Also, if you are an extremely wealthy person with no real agenda besides truth-telling, please email us at tips@hellgatenyc.com.
If you want to advertise in the bi-weekly Hell Gate newsletter, you can also reach out at tips@hellgatenyc.com.
That's it for this week! We'll be back next week with more subscriber-only content.
We'll see you on the Craigslist Free section,
Hell Gate (Christopher Robbins, Esther Wang, Max Rivlin-Nadler, Nick Pinto, & Sydney Pereira)
Stay in touch
Sign up for our free newsletter