Power
The Human Costs of Your Chipotle Burrito
"They say they're treating employees the best they can, that they're giving the best benefits. The truth is we're getting exploited."
10:47 AM EDT on April 12, 2023
Al Diaz-Larui, a Marine veteran, has worked for Chipotle for four and a half years, far longer than the average six-month tenure of Chipotle workers nationwide. Despite this, the company has not treated the 44-year-old father of two as one would a valued employee—over the years, his managers have slashed his work schedule as a grill cook from 30 hours a week to a paltry 12 hours. 
The managers at his Chipotle, located at 56th Street and Sixth Avenue in Manhattan, also once gave him a raise of just 15 cents an hour, which he described as not even "enough money to add guacamole to a Chipotle burrito." With his $18.30 hourly wage, Diaz-Larui says that his pay totals just $220 each week, causing him to struggle to pay his $1,600 monthly rent, cover child support, and care for his disabled mother. 
During his twelve hours of work each week, he is often stretched to the breaking point. According to estimates by Chipotle workers, a busy Chipotle in New York averages about one order per minute, and even more during peak hours. "I'm doing two people's jobs. I'm closing the back of the store, and I'm also on the grill," Diaz-Larui told Hell Gate. "We're understaffed."
For John Larkin, who works at the Chipotle at 37th Street and Seventh Avenue, safety has long been one of his biggest concerns at a company that many employees say maintains a high-stress, high-turnover workplace. "I got hurt plenty of times," Larkin, a 35-year-old father of three, told Hell Gate. "I got burned from the grill itself. I got burned twice picking up the rice cooker—it had a broken handle."
Once, Larkin said, he went to the hospital after slipping on oil on the restaurant's floor and ramming his leg into the fryer. Another time, he said, a coworker sliced her hand while cutting vegetables, because managers had neglected to train her to use cut-resistant gloves. (Chipotle did not respond when asked about this incident.) "The pace of the job is you have to move at a certain speed," Larkin said, noting that he often has to rush in order to keep up and serve customers quickly. "You have to pick up things when they're extremely hot. They put profits over safety."
Larkin said that for all these reasons, he began circulating a petition that called on Chipotle to improve safety measures and set up a safety committee in his store. Soon after, he said, his bosses began giving him fewer shifts, reducing his weekly hours from 36 down to 24. "I was the only one to have his hours cut at the store," Larkin said. His hours were restored only after he, with the backing of Local 32BJ of the Service Employees International Union, complained that the reduction in hours constituted illegal retaliation. (Chipotle declined to discuss Larkin's claims.)  
Even though Larkin now works around 35 hours a week, he says it's almost impossible to support his family when he's paid only $17 an hour. "Our rent is $1,500 a month, and then there's food and clothes for my kids and electricity and transportation," he said. To make ends meet, he added, "I have to do a side hustle, reselling sneakers." Of Chipotle, Larkin said, "They don't care if you have kids. They don't care if you're trying to provide for your children. They don't care."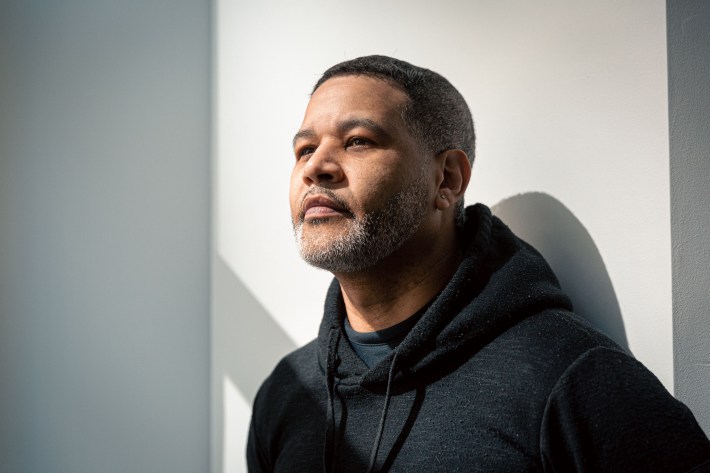 In April 2021, New York City's Department of Consumer and Workplace Protection (DCWP) sued Chipotle for $150 million, asserting that it had violated the City's Fair Workweek Law almost 600,000 times over a two-year period. Last August, Chipotle reached a settlement agreement with the City, agreeing to pay $20 million split between 13,000 current and former Chipotle workers.
"Today's settlement with Chipotle is not only a victory for workers," Mayor Eric Adams said at the time, "but sends a strong message, as the largest worker protection settlement in New York City history, that we won't stand by when workers' rights are violated."
Notwithstanding that settlement, Diaz-Larui, Larkin, and recent complaints that Chipotle workers have filed with the City all say that the company continues to flout federal and local labor laws. Chipotle workers allege that the company not only has continued to violate the Fair Workweek Law, but has also interfered with workers' federally guaranteed right to organize and engage in collective action, by trying to quash their nascent unionizing effort with Local 32BJ.
According to workers and allegations in more than two dozen complaints that Chipotle workers have filed with the City since the August settlement, Chipotle still fails to comply fully with the Fair Workweek Law's requirements to provide work schedules 14 days in advance and to pay extra for last-minute scheduling changes. Workers say this shows contempt toward a law that has sought to bring more stability and predictability to the lives of fast-food workers. (Those complaints are still pending, with the Department of Consumer and Workplace Protection weighing whether to take action.) 
Workers say that some Chipotle stores in New York continue to violate the law's requirement that managers offer current employees the option to work more hours before stores hire additional employees. This concerns Diaz-Larui, who is eager to work more than the 12 hours a week his boss assigns him. He says the veterans disability benefits he receives are the only reason he comes close to making ends meet.
Several workers also have alleged that Chipotle stores in New York City—reminiscent of Starbucks—have violated their federally protected right to organize by firing them for voicing complaints about working conditions and pushing to form a union. Brenda Garcia, a Chipotle worker in Flushing, was fired soon after the New York Times quoted her complaining about Chipotle's scheduling practices. Chipotle reinstated her after protests and negative news coverage and after Local 32BJ filed an NLRB charge accusing the company of firing her for union activity. 
Richard Figueroa, who worked at a Chipotle in Washington Heights, said that his store's managers retaliated against him by firing him in October 2021, a day after he accused Chipotle of violating the Fair Workweek Law at a news conference. "Personally, I think they fired me because the day before, I was talking about the shit going on in my store," Figueroa said in an interview. After he was terminated, Local 32BJ held a large and raucous rally outside his Chipotle with supporters shouting, "Bring Richard back!" Asserting that Figueroa was fired illegally, Local 32BJ helped him file a complaint under New York's Just Cause law, which prohibits fast food companies from firing workers without a legitimate reason. Figueroa's complaint is pending, with the DCWP considering whether to take any action.
"Chipotle is hiding from what they really are," Diaz-Larui said. "They've put a mask on. They say they're treating employees the best they can, that they're giving the best benefits. The truth is we're getting exploited."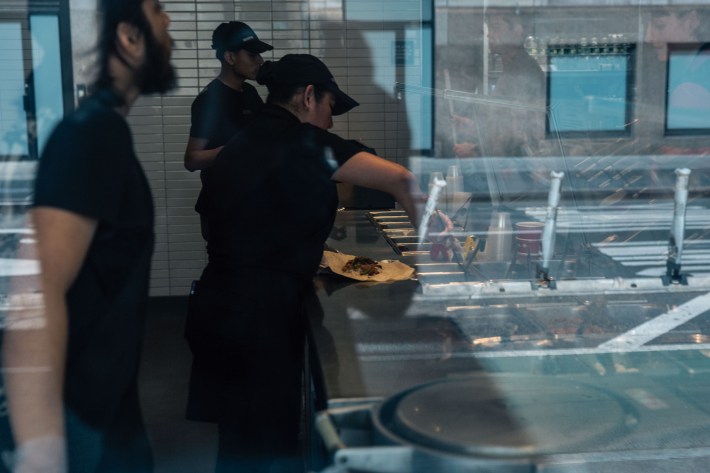 Chipotle Mexican Grill boasts that it is ranked in the Fortune 500 and recognized on the 2022 list of Fortune's "Most Admired Companies." With 105,000 employees worldwide, it had net profits of $899 million on $8.6 billion in revenues last year, translating to about $85,000 in sales and $8,200 in profits per employee.  
But employees like Diaz-Larui feel that those profits often came at the expense of workers at Chipotle's 3,000 stores across the U.S. Diaz-Larui and several other Chipotle workers Hell Gate interviewed believe that the company maintains minimal, threadbare staffing, which helps reduce costs and fatten profits. (Asked about allegations of understaffing, Chipotle told Hell Gate, "Our staffing remains above pre-pandemic levels with 83 percent of our restaurants fully staffed.") 
Not only has Chipotle's lean staffing stressed out and angered many workers, it also helped spur the landmark unionization effort at a Chipotle in Lansing, Michigan. In August 2022, that store became the first—and to date, only—Chipotle location to unionize. The Lansing workers voted to join the International Brotherhood of Teamsters. 
"They'll schedule a shift so that one crew member will be working multiple positions, three to five positions," Harper McNamara, a worker at the Lansing Chipotle, told Hell Gate. "The amount of work that comes with that is impossible, and that often includes things like running the cash register, cleaning and stocking, taking care of the lobby, and being responsible for cleaning the bathroom. And if you're running the cash register and also working the front line making food for the customers, it becomes very hard to make sure the food is the right temperature and the line is kept clean. And it becomes impossible during the rush."
Atulya Dora-Laskey, another Lansing worker, said Chipotle mounted an intense anti-union effort, sending in high-level executives and anti-union consultants to warn about the supposed perils of unionization. 
"We had to go to one-hour and two-hour captive audience meetings," Dora-Laskey said. "They targeted the most vulnerable crew members—they would tell them the most ridiculous lies about unions. They were told they would be paying union dues for life, that even after they left Chipotle, they would still have to pay union dues."
Responding to the union victory in Lansing, Chipotle said, "We're disappointed that the employees at our Lansing restaurant chose to have a third party speak on their behalf because we continue to believe that working directly together is best for our employees." Anti-union companies like Chipotle often assert that unions are meddlesome third parties, separate from their employees, but many workers emphatically disagree, saying they, the workers, are the union. (The company did not respond to questions about the specific allegations made by Dora-Laskey.) 
In a step that mimicked some of Starbucks' moves, Chipotle, in a highly controversial decision, closed a store where workers had mounted a union drive. Just weeks before the Lansing vote, Chipotle permanently shut down its store in Augusta, Maine, after workers there petitioned for a vote to become the nation's first unionized Chipotle. (They sought to create an independent union, Chipotle United.) The company announced the closing just hours before the Augusta workers and Chipotle were to meet with National Labor Relations Board officials to schedule a unionization vote.
Chipotle officials say the closure had nothing to do with the union campaign. When asked about its stance toward unions, Chipotle told Hell Gate, "We respect our employees' rights to organize under the National Labor Relations Act and are committed to ensuring a fair, just, and humane work environment that provides opportunities to all."
In November, the NLRB's general counsel filed a complaint against Chipotle alleging that the Augusta closing constituted illegal retaliation. The labor board sought an extraordinary remedy: an order that Chipotle reopen the store and rehire all the fired workers. On March 27, the Augusta workers announced that Chipotle, as part of a settlement with the NLRB,  had agreed to pay $240,000 to 24 employees who lost their jobs when the store was closed. Chipotle also agreed to post notices at 40 Chipotle stores in New England that said it wouldn't close those restaurants if their workers sought to unionize. 
"We were going to get our vote and they were going to lose," said Brandi McNease, a pro-union worker at the Augusta store. "It's much easier for a multibillion-dollar corporation to face whatever the consequences are of [closing down a location] than to allow a union into one of their stores."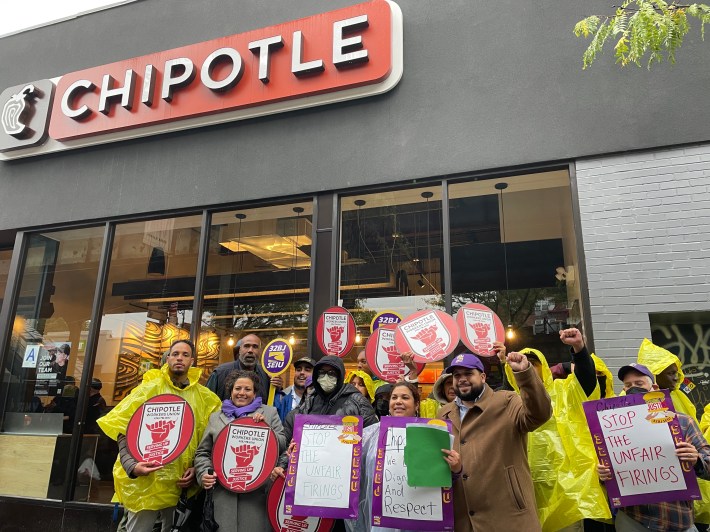 While the nationwide campaign to unionize Starbucks locations has had remarkable success, 32BJ's efforts to unionize Chipotle locations in New York City have moved at a snail's pace.
Unionizing Chipotle faces several challenges, beyond the company's aggressive pushback against unions. The Starbucks unionization efforts have benefited from a variety of factors, including the general progressiveness of its young workers as well as what many baristas say is a huge disconnect between Starbucks' publicly professed values and how it actually treats its workers—a problem that was underscored during the height of the COVID-19 pandemic.
The fact that the typical Chipotle worker quits after six months means that many aren't invested enough in their job to stick their necks out to unionize, pro-union workers told us. (Chipotle workers say the average tenure is a mere six months because workers tire of all the on-the-job stress and the low weekly pay—many workers are assigned just 15 to 25 hours a week.) Moreover, some labor experts noted that a high percentage of Chipotle workers are immigrants, and said that many of them feel vulnerable, making them hesitant to speak out due to worries that they might be fired in retaliation for seeking to unionize. 
Some Chipotle workers hope that unionization will catch fire at their company just as it has at Starbucks. Despite a fierce anti-union counterattack by Starbucks, the SEIU-affiliated Workers United has unionized more than 290 Starbucks across the U.S, including 10 in New York City. At Chipotle, workers acknowledged that the company's aggressive anti-union campaign has hampered unionization efforts and frightened some employees. 
Workers in New York say that they, too, have felt the sting of Chipotle's anti-union efforts. Winifer Peña Ruiz, a 21-year-old immigrant from the Dominican Republic, worked at a Chipotle on White Plains Road in the Bronx until she was fired last September. Officially, she was terminated for failing to check the temperature of the chicken she was grilling, which is a Chipotle requirement to protect customers' health. According to Peña Ruiz, that is a common shortcut taken by workers during busy stretches. "They would have a single worker do the job of two or three workers when they were short-staffed," she explained. "I hardly ever saw anyone checking the temperature of the chicken."
According to Peña Ruiz, her managers began acting colder toward her as soon as they learned she was speaking with her colleagues about forming a union and circulating a petition that called for Chipotle to raise its minimum pay to $20 an hour. Two months later, she was fired.
"It's not fair what happened to me," said Peña Ruiz. Local 32BJ helped her file a complaint with the NLRB alleging that she was fired illegally. "I hope to see justice in my case." Chipotle declined requests to comment upon both Figueroa's and Peña Ruiz's claims of improper retaliation.
Another factor slowing unionization is the posture of the union itself—although 32BJ has been working since 2019 to support and rally Chipotle workers in New York, it has not launched even one formal unionization drive for them. Maria Figueroa, dean of the Harry Van Arsdale Jr. School of Labor Studies at Empire State College, noted that 32BJ is taking a "different" approach than Workers United at Starbucks, one that focuses on legislative change rather than unionization. "They're more following a policy approach at Chipotle," Figueroa said, pointing to its efforts to organize Chipotle workers and gather information about the abuses they face. That approach has helped Local 32BJ persuade the City Council to enact the Fair Workweek Law and Just Cause protections. "It's another way to win basic protections," Figueroa added.
The SEIU, Local 32BJ's parent union and the main financial backer of the Fight for $15 campaign, has a general policy of not seeking to unionize a fast-food company's restaurants until it first persuades the company to promise to remain neutral and not fight against unionization. (It's often very hard, though by no means impossible, to persuade a company to do this—during the Fight for $15's ten-year history, the SEIU has brought huge pressure against McDonald's in an effort to get it to agree not to mount anti-union efforts, but the company has so far refused.)
"At Starbucks, it's a shop-by-shop approach, whereas at Chipotle in New York, the approach is industrywide," Figueroa said.
Local 32BJ officials say they are working to build support among Chipotle workers, and believe that last August's $20 million settlement has made many Chipotle workers warm up to the union. "We reached out and talked to hundreds of Chipotle workers," said Candis Tal, 32BJ's executive vice president. "It made us realize those workers were being treated unfairly, and someone had to support them to bring some fairness and accountability to the company."
Chipotle grill cook Diaz-Larui very much hopes to see Chipotle unionized someday soon. "With a union, it will force them to follow the law. It will hold them accountable," he said. 
"Chipotle," he said, "is like a kid you have to watch over to make sure they don't break the rules."
(Correction: The first version of this story stated that Al Diaz-Larui served during the first Iraq War. In fact, Diaz-Larui served in both the Navy and the Marines in 1998 and 1999.)
Steven Greenhouse, a senior fellow at the Century Foundation, was a reporter for the New York Times for 31 years, including 19 years as its labor and workplace reporter. He is the author of "Beaten Down, Worked Up: The Past, Present, and Future of American Labor."
Stay in touch
Sign up for our free newsletter