Cultural Capital
Charles Bissell Has Finally Moved on From the Wrens
The former singer/songwriter of the Wrens is about to release an album 13 years in the making: "I finally want to do music stuff, and maybe for the right reasons."
1:03 PM EDT on October 17, 2023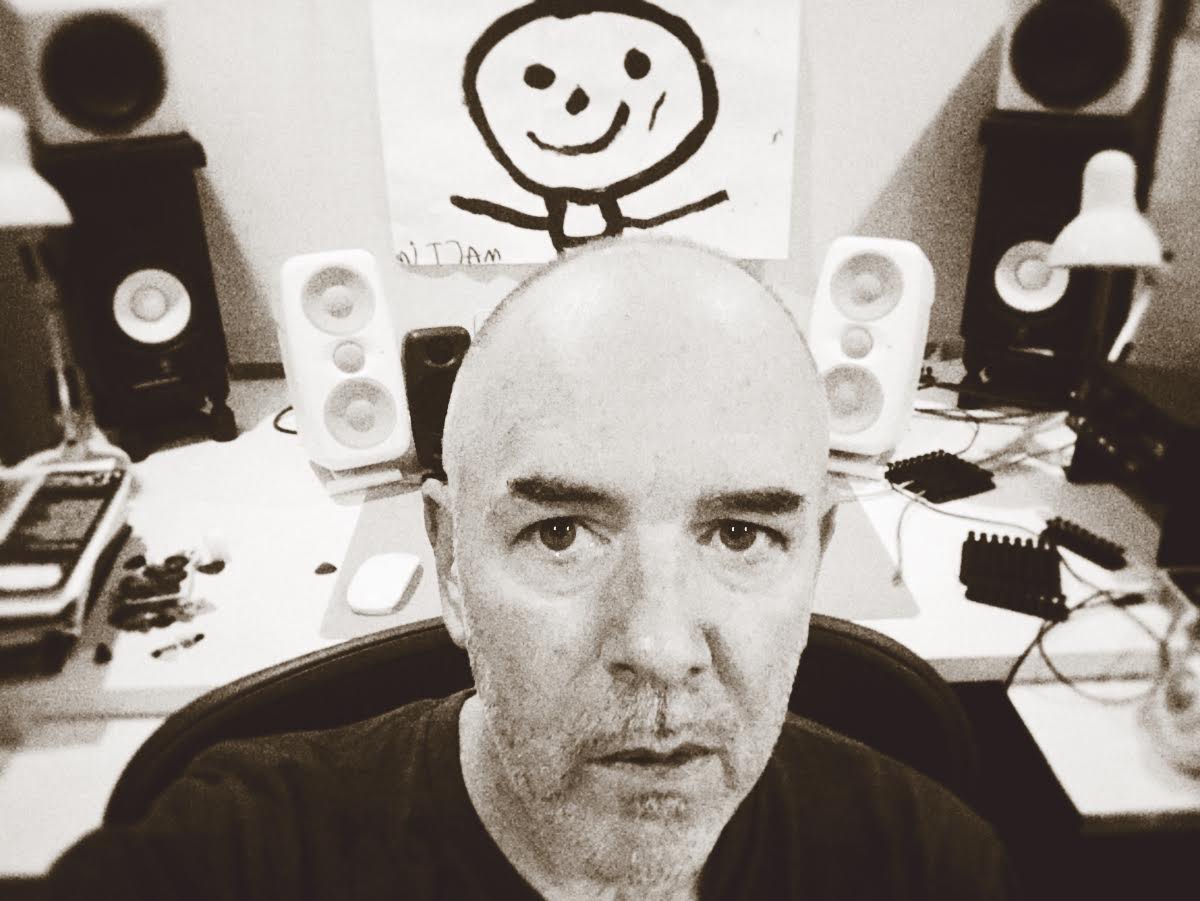 At the beginning of 2021, Charles Bissell, one of the two frontmen for the slow-moving indie rock legends the Wrens, was ready to hand in the songs that he had been working on for more than a decade.
The Wrens, led by Bissell and the bassist and songwriter Kevin Whelan and rounded out by guitarist Greg Whelan and drummer Jerry MacDonald, had been meeting on periodic Zoom calls for a year. The album was done, they were under contract at Sub Pop, and everyone involved seemed ready to put it out into the world. 
Then it all fell apart. First came the fights with his bandmates. And then it got nastier—when Bissell called Sub Pop to apologize, he was told that Kevin Whelan would be releasing his portion of the long-gestating Wrens album on the label, but under the moniker Aeon Station. The Wrens, so close to releasing new music for a starved fan base, dissolved shortly after.
Bissell was stunned. All of that time, effort, commitment—and the record was coming out, but without any of his songs on it. "It was a very surreal moment," he told me in March of this year. By the end of 2021, Bissell seriously considered quitting music altogether.
Bissell, now 59, is a thoughtful, soft-spoken man; when we met up in a South Slope coffee shop, I had to nudge my recorder toward him to keep his voice from being drowned out by the background music. He never sounded bitter or angry, just exhausted, confused, and, more than two years later, still a little bewildered by how things had turned out with the band in which he'd spent more than half his life, one that had been his creative outlet since 1989. "We always excelled," he told me of him and his (former) bandmates, "and maybe I excelled, at combining the worst of every possible thing."
But something unexpected emerged out of the wreckage. On November 17, Bissell's new project Car Colors will release "Old Death," his first new song in more than 20 years, as a 12-inch vinyl single with two B-sides. An as-yet unannounced album featuring many songs originally written for the Wrens will follow next year on the revived Absolutely Kosher Records. "I went from having thrown in whatever towel one throws twenty years after a game ends at the end of last year, to here, as we close out the last few months of this year, more optimistic and excited about music, about putting out this music, than I have been in a loooong time," Bissell wrote of the single. 
Twenty years might seem like an eternity between albums, and for the other Wrens, it seems to have been far too long. But for Bissell, it was just his life. 
The Wrens first began recording new music in 2010, according to Bissell. By then, seven years had passed since the release of "The Meadowlands," their mammoth, cult-hit statement on middle age, an indie rock record interested more in texture than testosterone and full of baroque anthems and muted jams filigreed with a small mountain of intimate overdubs. 
During that interregnum, the band had become a surprise success. After years of relative anonymity, they found themselves profiled in the New York Times and invited to tour European festivals. A genuine career in music suddenly seemed a possibility, and between album sales, touring opportunities, and creative collaborations, Bissell had enough money to live on. "It wasn't huge, but for us, it was super gratifying," he said.
They had also been years of great personal change. When the Wrens began recording "The Meadowlands" in 1999, three of four members still lived in the same house in Secaucus, New Jersey. By 2010, only Kevin Whelan remained. Bissell had moved to Brooklyn, married Rachel Warren of the band Palomar, and become a stay-at-home parent to two kids. 
But the Wrens continued to—slowly—work on new music, and they set up a studio in what was now Whelan's house. As Bissell tells it, the group would write, rehearse, and record in rare bursts of a week or two, and then put the songs away until they could find time to work on them again.
You can see why the group went this route. After all, they'd taken the same approach before, and it had resulted in "The Meadowlands." Except that this time, according to Bissell, the Wrens had stopped operating like a group. "We never did any band recording," he said. "We never put the songs together." Whelan and Bissell wrote their songs separately. Drummer Jerry MacDonald had moved to Philadelphia, and his drums were generally recorded later in the demoing process. The band went actual years without ever once playing in the same room.
Meanwhile, Bissell worked on his songs alone in Brooklyn, adding layer after layer of overdubs, making scratch mixes, and playing nearly every instrument himself. This resulted in a number of long, complex songs composed of multiple movements, fine-tuned over years. But without interplay or interaction between the various players, on-the-fly musical adjustments became entire projects, Bissell said. 
"It was an insanely poorly chosen way to go about making an album that was important to you," he told me. 
In 2014, the Wrens signed to Sub Pop. According to Whelan (and a blog post from 2015), the album was completed and sent to mastering around this time, but Bissell now disagrees. "I mostly did lyrics in 2013, which means I wasn't recording until 2014, which is one of reasons Sub Pop definitely never heard a finished version until 2017," he said. Life just kept intervening—in early 2016, Bissell began treatment for multiple myeloma, and then Warren gave birth to their third child. And as Bissell recently revealed, he spent much of this time dealing with mental health issues that included depression and suicidal ideation.
For all the years spent apart, it's clear that Whelan and Bissell had an intimate, back-and-forth working relationship. Bissell shaped his songs based on the ones Whelan had already written. "As songs of his came together, I could pick and choose which of my songs [to include], or I could go out there with them, or go longer with them," Bissell said. A 2016 version of the Bissell song "Three Types of Reading Ambiguity" features a piano bridge that would later appear on Whelan's "Observatory." At various points in our conversation. Bissell mentioned fixes Whelan had proposed for his songs, and at one point referred to a "beautiful" guitar part he'd had to record over. 
In 2019, Bissell's songs for the album were finally done. In the spring of 2020, with flights grounded and the world in lockdown, the band began to speak over Zoom. According to Bissell, the four members spoke periodically throughout the year. But by the time conversations started again at the beginning of 2021, it all fizzled.
"It was an insanely poorly chosen way to go about making an album that was important to you."
In a 2021 New York Times profile of Whelan, Bissell is described as a perfectionist incapable of completing his own songs. "How do you know it's time to pull the plug on the band you started as a teenager?" wrote veteran music journalist Hugo Lindgren. "How about when your beloved friend and creative genius of a bandmate can't let go of the songs he's been working on for more than a decade?"
But according to Bissell, the main issue wasn't with him or his inability to "let go" of his songs, but with the fact that the Wrens had long ceased to operate as a proper band. He had designed the website, had run the social media accounts (he still has access to them, to this day), and most importantly to him, had played nearly every instrument on his own songs. 
That last reason, he says, "was the main issue at the heart of the band's breakup." Bissell said he felt an unequal creative relationship required a rethinking of their business arrangement, one in which the people who put in the most work (i.e., him, according to Bissell) would be paid more. This was all Bissell would tell me, but apparently, the idea was too much for his other bandmates, who saw it as yet another stalling tactic. "The agreement has always been a 25 percent per guy split (income and debt)," said MacDonald and both Whelans, in response to my written questions. In a substantially altered musical landscape, money seemed besides the point. They added, "For some of us, though, legacy became the focus over how profitable we could be in a post-'Meadowlands' world." The Wrens dissolved soon after, in the spring of 2021.
In our interview and subsequently published blog posts, Bissell has characterized the break-up as a "divorce" that ended a "bad relationship." For their part, the other members dispute whether the band broke up at all. "That's not a decision one single band member can make," they wrote in a statement to the press. In their responses to my questions, the three other Wrens members seemed hopeful about the eventual possibility of reforming the band. "We would prefer," they wrote, "to work things out between the four of us one day."
It was clear, however, that Bissell no longer considered himself a member of the Wrens. He responded with an initial burst of creative work. Left with what he describes as "all the long and crazy songs," he updated intended B-sides and re-recorded what few parts had been played by the other Wrens on his own songs. But by the end of 2021, Bissell was ground down and exhausted. 
So he took a break. In 2022 he spent more time with his kids, played soccer, and seriously rethought his relationship to the music business. Throughout his band's long sojourn through the industry, Bissell had never really given up his dream of being a rock star. Perhaps that was finally at an end. "I've come to think," he wrote in a blog post last December, "that maybe what it is that I'm throwing the towel in on, after all this time (also finally), is not making music per se but just the idea of 'making it,' in a music-industry sense."
When he came back to the record in the closing months of 2022, after almost a year off, Bissell felt mildly refreshed. "I'm still 60/40 on the whole music thing, but a year ago, it was 10/90," he said in March. After all, the songs were good, and always had been. What if he stopped thinking about his career, about "making it," about being a rock star, and just let people hear the damn thing? He got in touch with Cory Brown, the owner of the long-shuttered Absolutely Kosher Records, and asked him if he would help. 
The first fruit of this collaboration is the song "Old Death," an epic burst of pure indie rock energy in the classic Wrens mold, which Bissell sent to me in August. Beginning with a battery of densely overdubbed acoustic guitars, it builds and builds for seven-plus minutes without ever really slacking. Like the best Bissell songs, it basically feels like one extended climax, finding a dozen or more counterintuitive variations on the same essentially exciting theme as it rushes along to an abrupt conclusion. It certainly sounds like a song that took thirteen years to finesse, with every note, every overdub, every breathy vocal placed perfectly in the mix, surprising the listener with every unexpected and yet ultimately correct decision. About two minutes in, a sudden melodic line ping-pongs between headphones, timing each chime to a muffled cymbal hit, and you can almost hear Bissell fiddling behind the boards searching for precisely the right way to place each ringing note. The results are astounding, as good as anything he wrote for the Wrens, or better.
When we spoke back in March, I asked Bissell if he was thinking about new music. He could only laugh. It would have to be with a band, it would have to be small, and it could no longer take up years of his life. "I've done music at the sacrifice of a lot of things, and I'm no longer really interested in doing that," he said. "But I finally want to do music stuff, and maybe for the right reasons."
Stay in touch
Sign up for our free newsletter