Fresh Hell
[UPDATES] Breaking: Hell Gate Is First On the Scene to See Trump's Arraignment
"I'll be here until I am relieved of duty or until a former president is arraigned in court," Hell Gate's Max Rivlin-Nadler vows.
2:23 PM EDT on April 3, 2023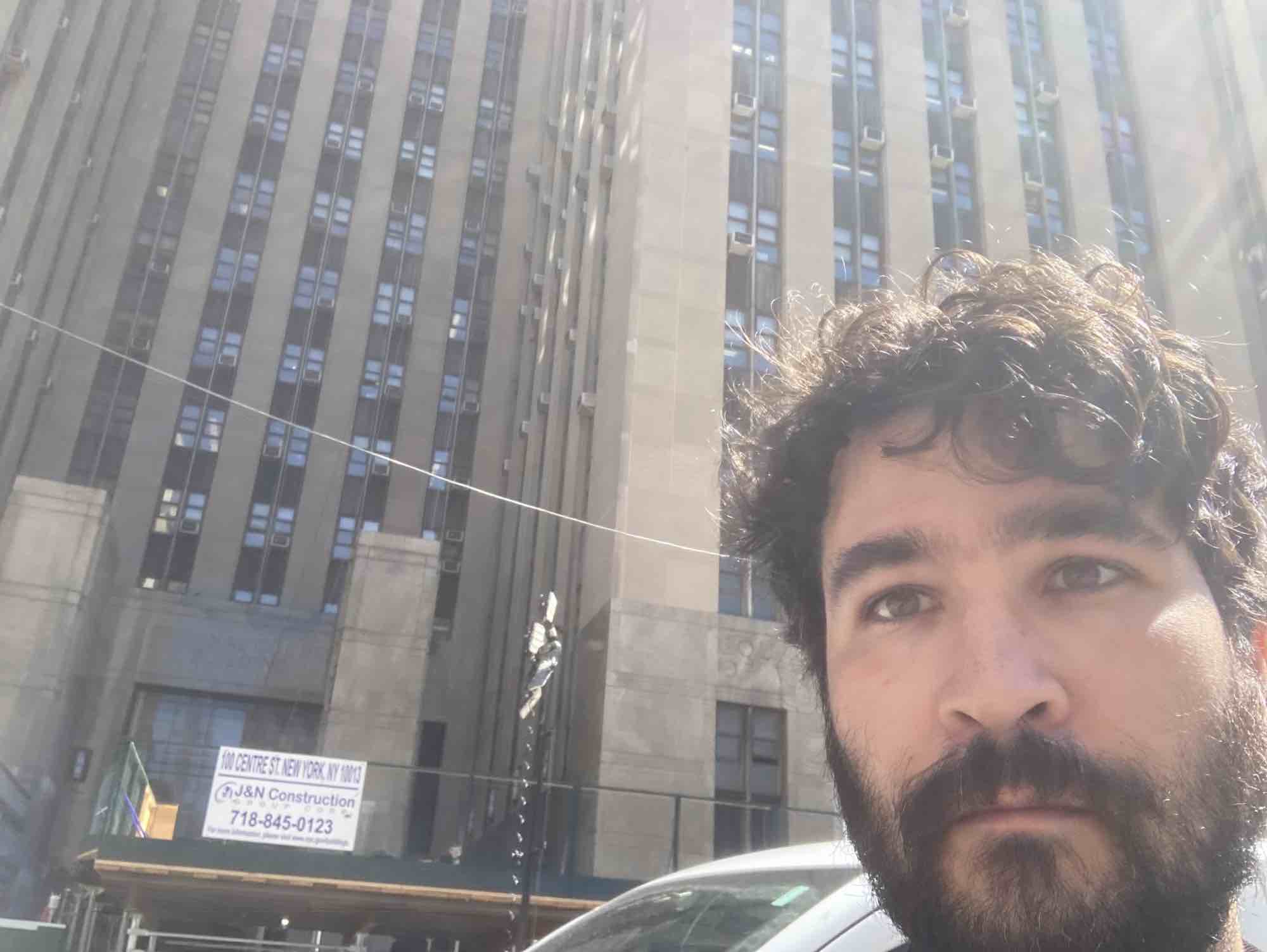 It's the most important story in the history of the republic, and Hell Gate is dominating it in true New York City fashion: by waiting on line.
According to various court officers milling around the New York County Criminal Courthouse at 100 Centre Street in Lower Manhattan, Hell Gate is the second journalistic outfit on line to get a spot to witness the arraignment of former U.S. President Donald J. Trump—but technically, the first to arrive.
At 8 a.m. on Tuesday morning, reporters waiting outside 100 Centre will be given numbers on a first-come, first-serve basis, to bear witness to the first instance of a former president being charged with a crime, a spokesperson for the state courts system has confirmed. And since Hell Gate's Max Rivlin-Nadler came first (technically), we are able to serve our readers—first.
"I'll be here until I am relieved of duty or until a former president is arraigned in court," Rivlin-Nadler said, adding that he only had around 18 percent battery in his phone, and that he would appreciate a camping chair of some kind for the remaining 20 hours until the numbers are handed out.
Initially, Rivlin-Nadler said he was worried because none of the other journalists around him were waiting on line. "You never really know if you're on line until someone else gets behind you," he explained.
But then, a court officer directed him to a different spot, around 30 feet from where he was initially waiting, where two other reporters from NBC had gathered after Rivlin-Nadler showed up, making Hell Gate the second outlet on line (but again, the first to arrive on the scene). Shortly before this blog post was published, the New York Times showed up and stood behind Hell Gate.
"I'm feeling pretty good. It's really nice out," Rivlin-Nadler said. 
Why aren't more corporate media behemoths that have raked in huge profits breathlessly covering all things Trump already standing on line to cover a brief and procedurally unremarkable arraignment in Manhattan Criminal Court that will be occurring some 24 hours in the future? Maybe they just aren't hungry enough. But Hell Gate is generous and collegial: If one of those outlets caught sleeping really wants our front-row seat to history, we're willing to part with it for the right price—we're thinking mid-five figures. All proceeds will go to fund worker-owned local journalism.
---
4:14 p.m. Hell Gate is maintaining our spot on line by taking shifts. Nick Pinto has stepped in for Max.
The line of press stretches the length of Collect Pond. Line anxiety flares up periodically—the end of the line is mad that the front of the line established a line at all. But don't think it's easy at the front of the line: The anxiety of privilege is all-consuming. The front of the line is forever on its guard, wary that the people hovering near the head are trying to cut. No cutting! You guys, seriously: No cutting.
5:22 p.m. Standing in front of Hell Gate on the line is Adonis Porch, who is a professional (though part-time) line sitter for Same Old Line Dudes, LLC. The company charges $50 for up to two hours, then $25 per hour after that.
"I'm actually out in the field and in the rain, snow, 1,000 degree weather, 10 below," Porch told Hell Gate. "And I'm waiting for your wants."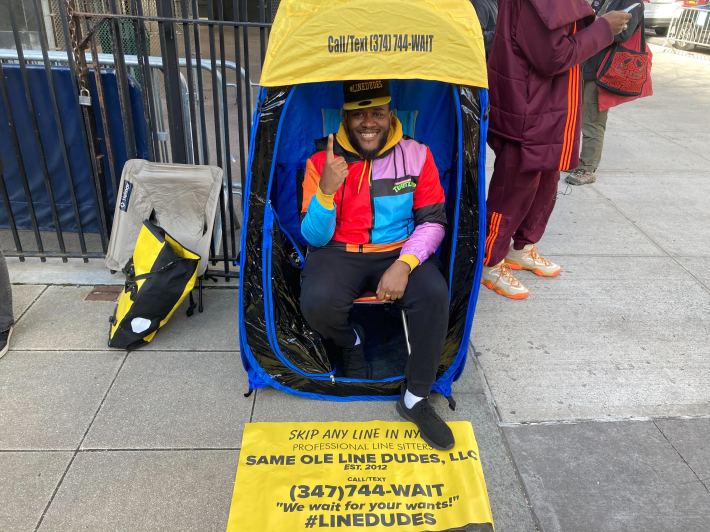 Porch, who is waiting for NBC News, said he has sat on line for "sneakers...passports, Hamilton [tickets]...cronuts, cookie dough ice cream, sample sales, you name it."
"One of our biggest requests is Lucali," Porch said, referring to the Carroll Gardens pizza spot that seats tables by in-person-reservation only.
What was the longest line he'd ever waited on? Porch's boss, Robert Samuel stepped in to answer that one.
"It was a pre-K program. And it was a free pre-K program," Samuel said. "You had to line up. We were in cold weather for like, four or five days."
Some reporters believed that there shouldn't be a line for Trump's arraignment at all. Law360 reporter Frank Runyeon created a list.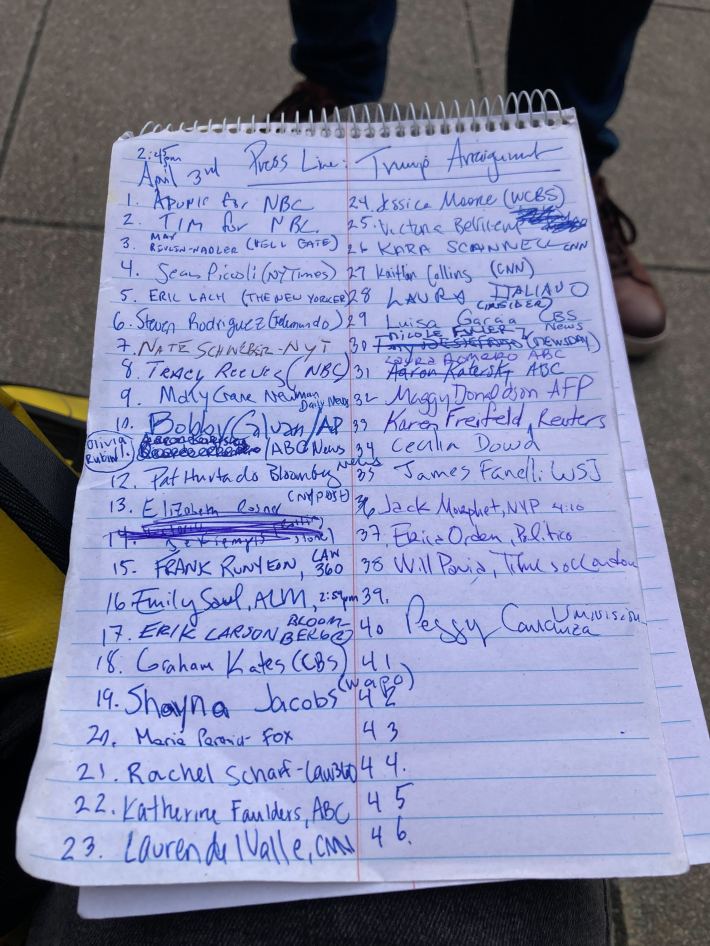 Why create a list when there is already an actual, physical line? "Essentially, somebody yelled 'fire' and the press stampeded to the courthouse, because we found out there was a line forming to get into the proceeding 24 hours in advance," Runyeon told Hell Gate. "We were all trying to figure out how to make order out of chaos and then the list came to be."
But with no one around to actually enforce the list, the physical line remains.
"This is the jungle," Runyeon admitted.
8:08 p.m. Christopher Robbins has arrived. His first update:
Journalists from France and the Netherlands have approached the front of the line, asking what we're waiting for. "Oh I thought we'd just show up here tomorrow morning," the reporter from the Netherlands said, prompting grim chuckles from the cold press lined up.
8:33 p.m. As the temperature dropped, we met Dick Averns, a bespectacled man in a navy blue jacket holding a street sign—excuse us, a "mobile sculpture"—reading AMBIVALENCE BLVD.
Averns, a Canadian artist originally from London who has been carting his street sign as a form of protest art for two decades, believes we should be viewing Trump's court troubles with more—surprise!—ambivalence, as he believes any trial will rile up Trump's base and give him a glide path to a second presidential term.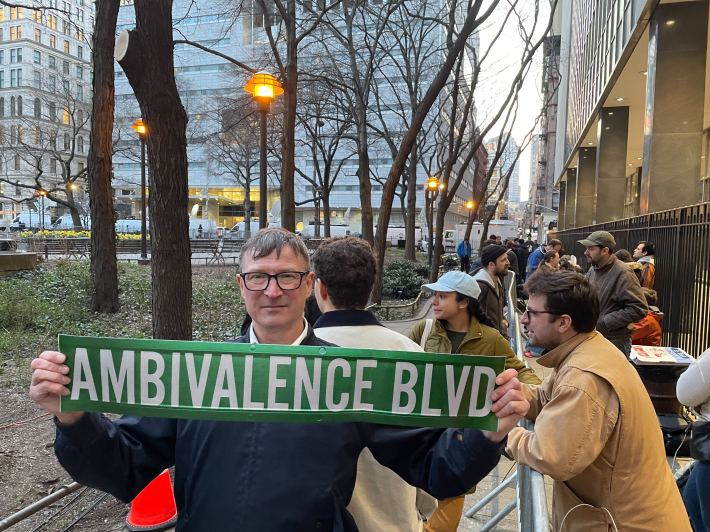 Why not hold a sign that says "indictment is bogus," we asked. "It is a bit more nuanced, and the answer is, often, a protest sign will rile people, or there can be laws in place where protesters aren't allowed and you get bounced by the police," Averns said. But he's found that his sign confuses the cops just enough that they let him through whatever barriers they've put up.
"I always try to find a way to navigate the system," Averns said, before he scampered off to Trump Tower. But he promised he'd be back in the morning: "It is a durational project…you kind of got to put your body on the line."
9:59 p.m. Things are getting pretty funky on the press line, as we head toward late night.
4:05 a.m. Hell Gate reporter Katie Way, in the middle of the night shift, reports that no one will play dice with her, but she's making friends, and that's what matters.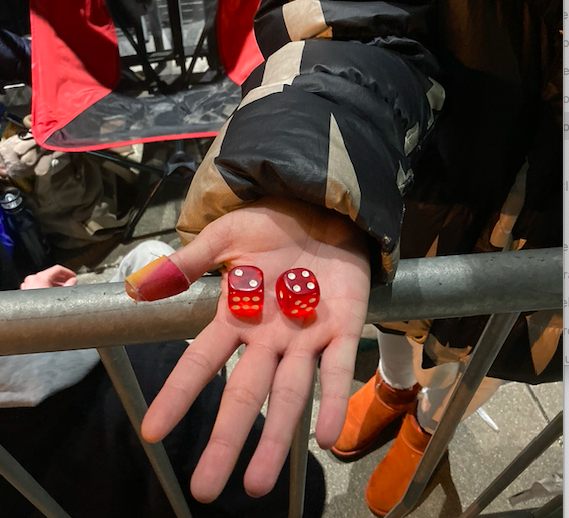 The wind has died down, and spirits are high. We're now offering $10,000 for our spot. Reminder: It's third on line.
6:45 a.m.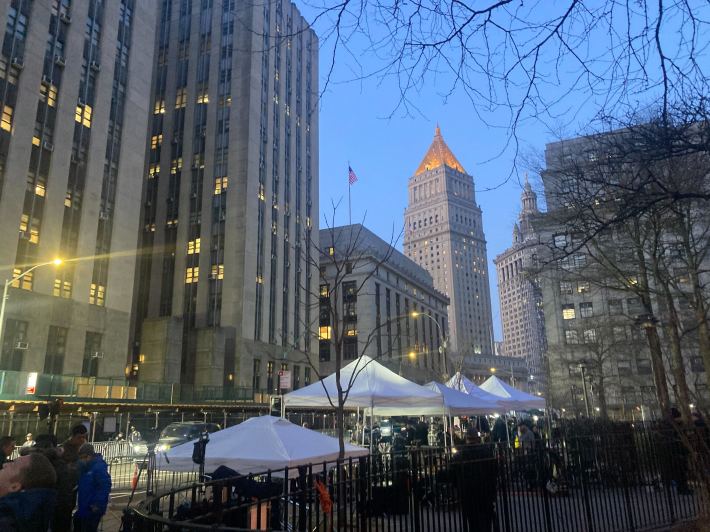 Dawn breaks on the line. The paid line sitters, like Adonis Porch, are relieved from their posts as well-coiffed corporate reporters take their places, backslapping one another. "I know you'd be the type of guy who'd be first here," they say, but that's simply stolen valor. These reporters slept in warm beds last night, they didn't know the journey of the night, the coldest before dawn, the depths of desperation as you search for meaning and whether you actually still care about covering this. Do we care about covering this? Aren't there a ton of reporters here already? Why even bother? I don't even want to be here anymore. NO! No. That's not right. The story. The story matters! Something's going to happen!
8:24 a.m. Hell Gate has secured a ticket in! For more on the current state of the line, go here.
2:38 p.m. And for full coverage of Marjorie Taylor Greene's (very brief) rally appearance outside of 100 Centre, go here.
Stay in touch
Sign up for our free newsletter