Cultural Capital
Photos: A Brief Taxonomy of the 20 Kinds of Mutant Bikes at Bike Kill
Couch bike? Swing bike? Surf bike? Choose your fighter.
1:44 PM EDT on October 31, 2022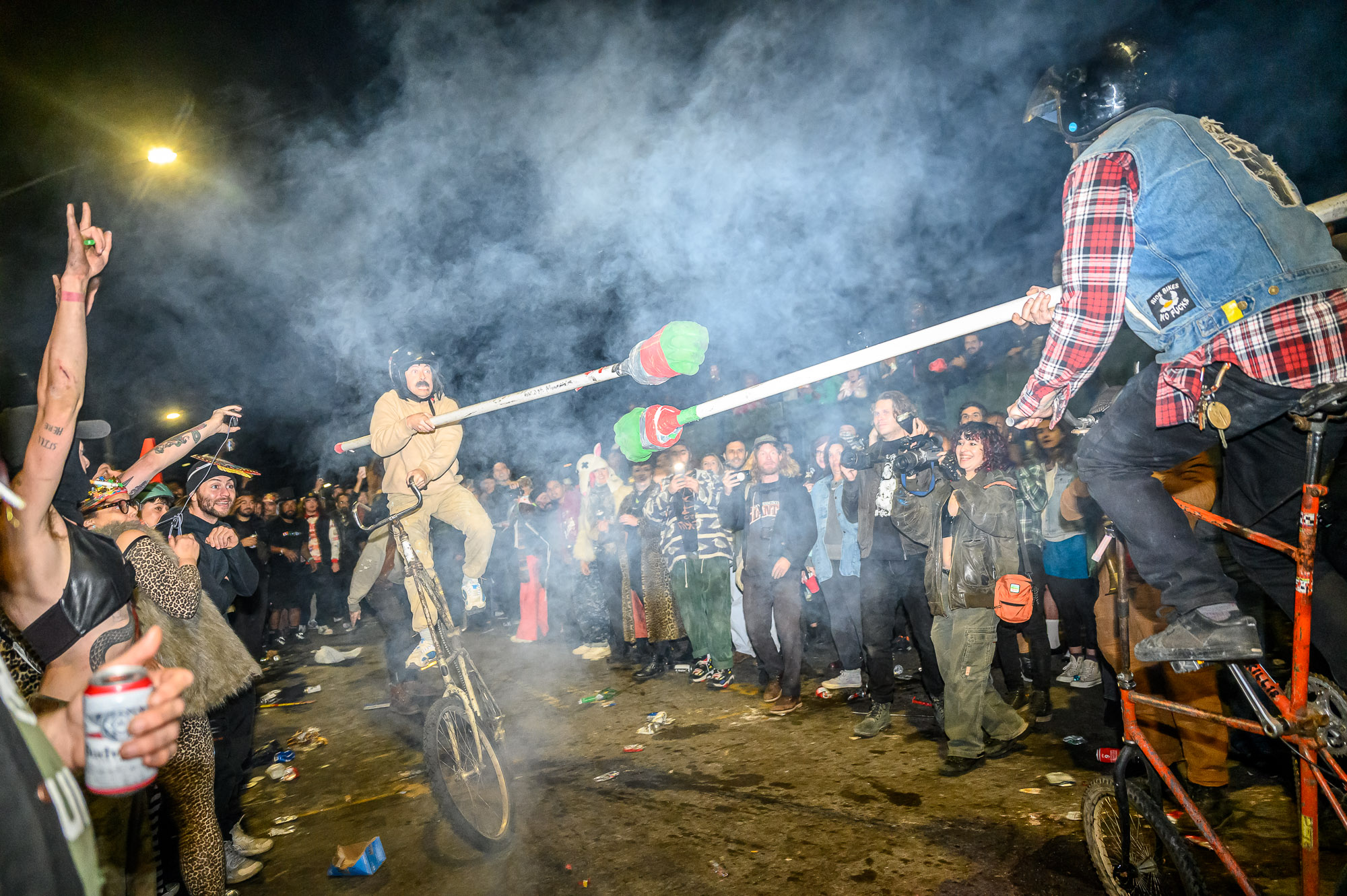 For 18 years, Bike Kill has been delighting and lightly injuring the New Yorkers who convene at an undisclosed location the Saturday before Halloween to gleefully ride unquestionably cool bicycles at questionable speeds. 
Much has already been written (and photographed!) about the simple pleasures of drinking two beers and attempting to ride a modified unicycle with hundreds of other people. So this year, we wanted to salute the work of the mechanics and welders of the Black Label Bicycle Club, who host the event and provide the machines that make Bike Kill what it is.
Here, in alphabetical order, is an admittedly incomplete list of the kinds of bicycles that were on the street in Red Hook this past Saturday.
Asymmetrical Bikes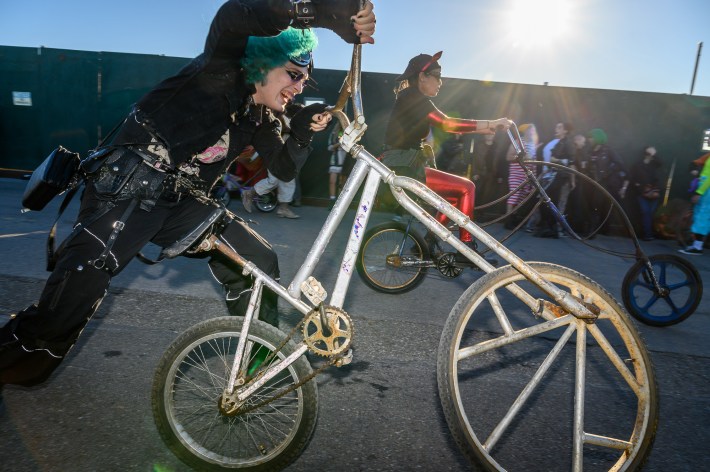 Don't let the majestic photos fool you: these are extremely hard to ride. One of your wheels is essentially an off-centered tumbleweed, and if it's the front wheel, your arms are on a rowing machine while your legs desperately attempt to figure out what is happening. It's like simultaneously patting your head and rubbing your stomach and riding a bike at the same time. You'll need lots of momentum to get started.
Difficulty: 8
Danger: 5
Fun: 6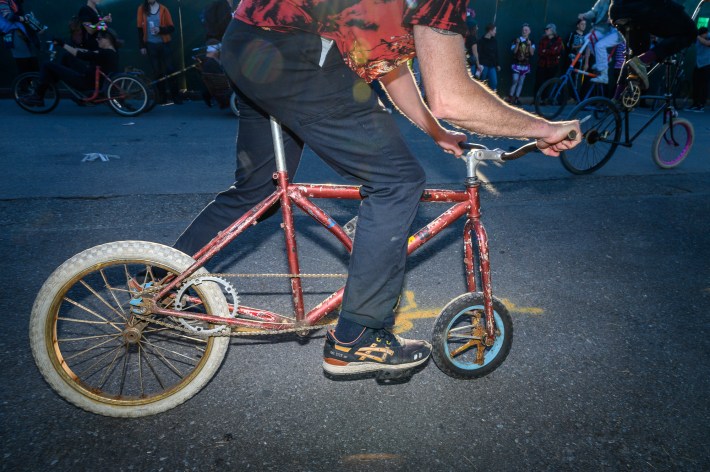 Chariot Bikes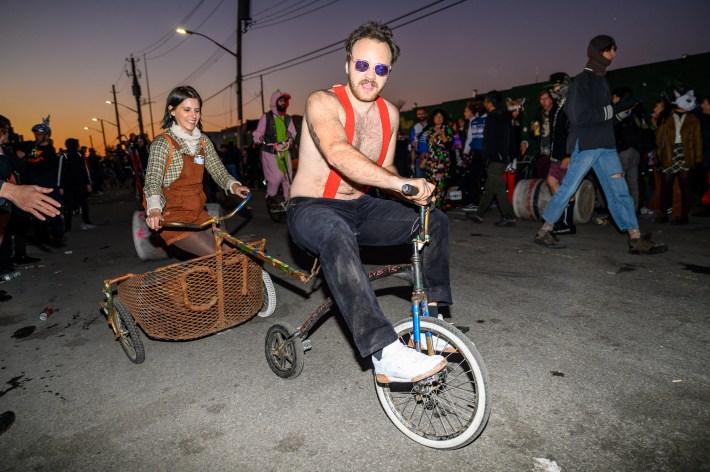 Roping a friend or a friendly stranger into your perilous bike ride is always a good idea. These chariots are built for ease of use and maximum punishment. As a larger vehicle on the track, you will almost certainly be hitting other bikes, and other bikes will be hitting you. Some of the carts on these chariots were secured with interlocking carabiners, others with prayers. 
Difficulty: 2
Danger: 6
Fun: 10
Choppers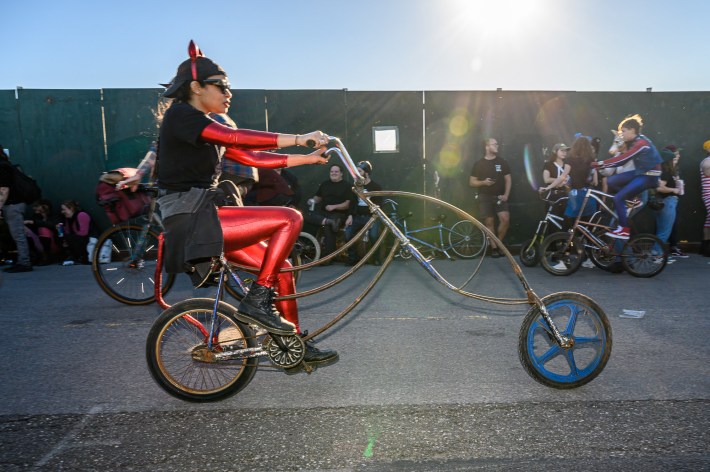 As in "get to!" The sensation of steering something so far from your hands is deliriously amusing, and once you've got that figured out, you'll be tearing around with the comfort of knowing that any head-on collision is happening at least five feet away.
Difficulty: 3
Danger: 4
Fun: 9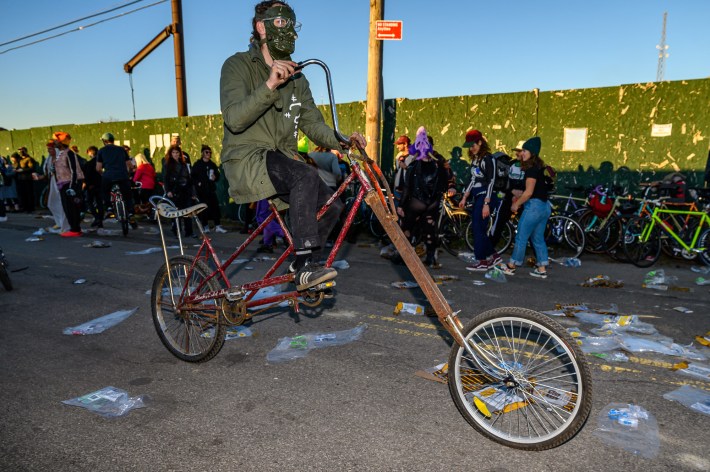 Couch Bike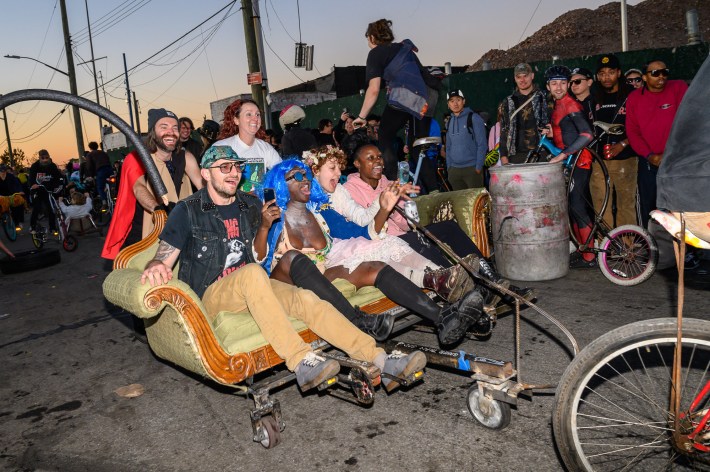 A sofa mounted to a bedframe (???) with a jon boat steering system, the couch bike is a coveted good time, but comes with risks. You're open to the elements (see: 150 other bicycles speeding around you) so danger is falling into your lap and there's no easy way to bail. The couch is also extremely easy for malefactors to push into warp speed. 
Not to mention, fire:
Difficulty: 4
Danger: 7
Fun: 8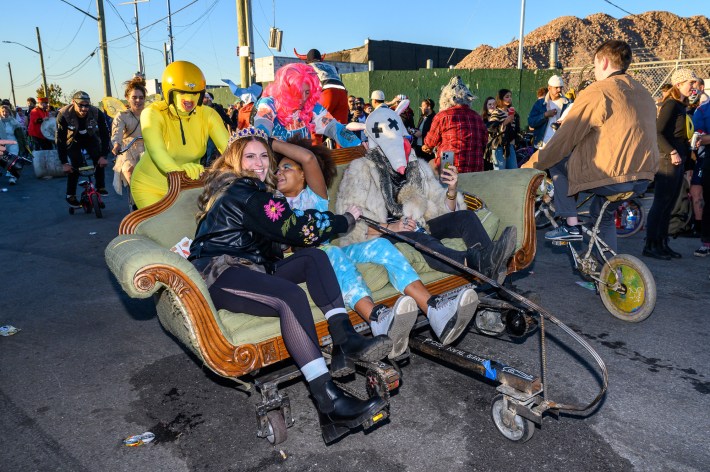 Long Tail Bike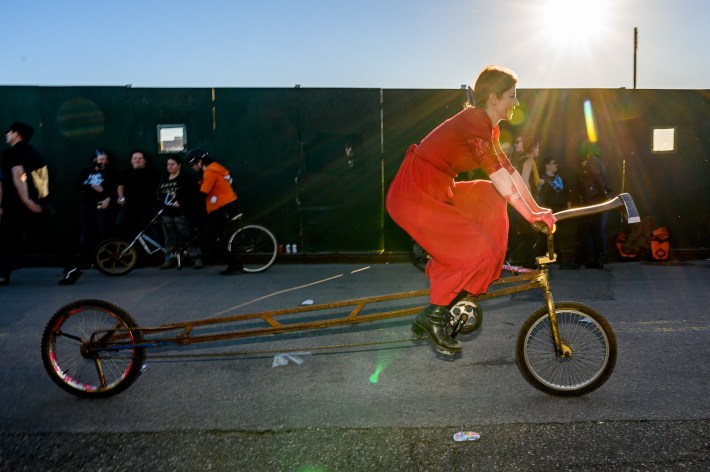 Pretty straightforward, except when two or three people jump on your tail in a traffic jam and then things get interesting.
Difficulty: 3
Danger: 5
Fun: 6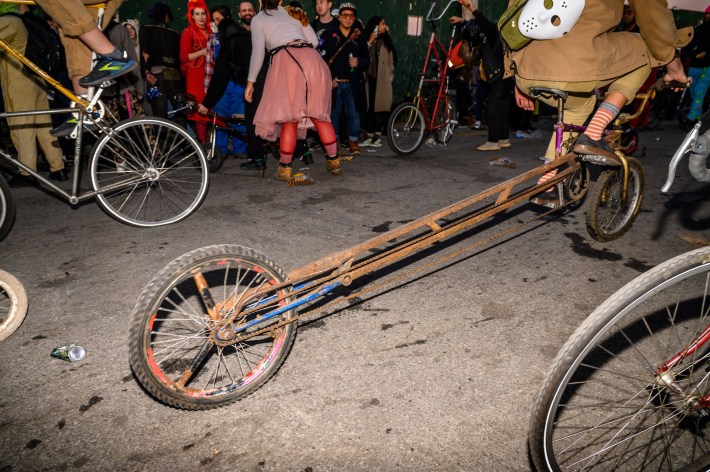 Mini Bikes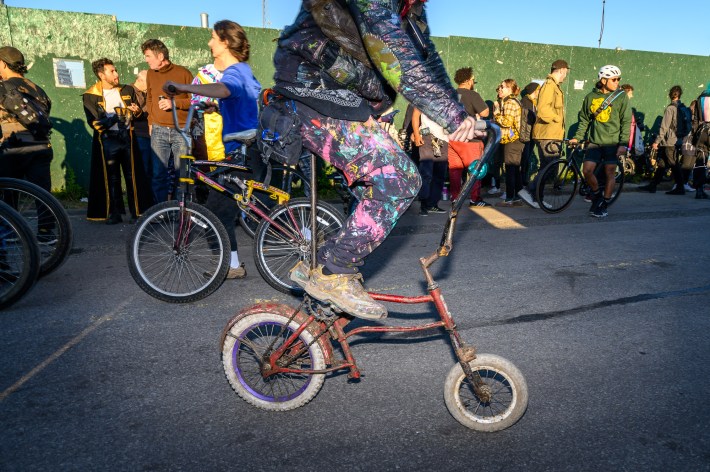 What happens when the joy of biking as a little kid collides with the reality of your bruised, bloated, ancient adult body? Mini bikes are nice and low to the ground, which at first affords a sense of stability and comfort. But even if you're a short King/Queen, your legs are going to be pumping in some uncomfortable angles to stay upright. An excellent core workout.
Difficulty: 6
Danger: 6
Fun: 6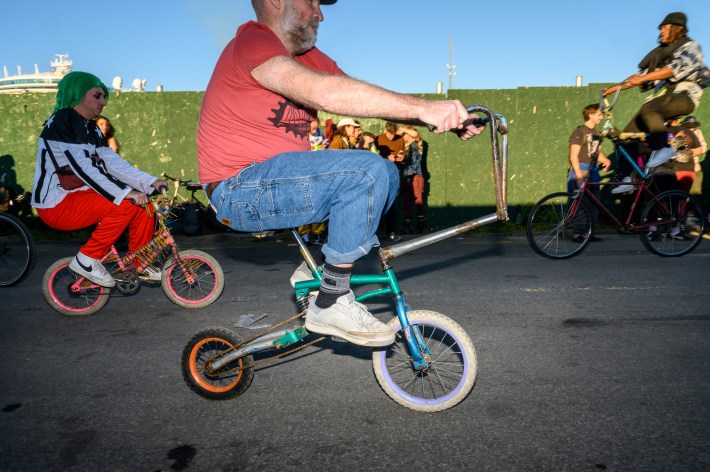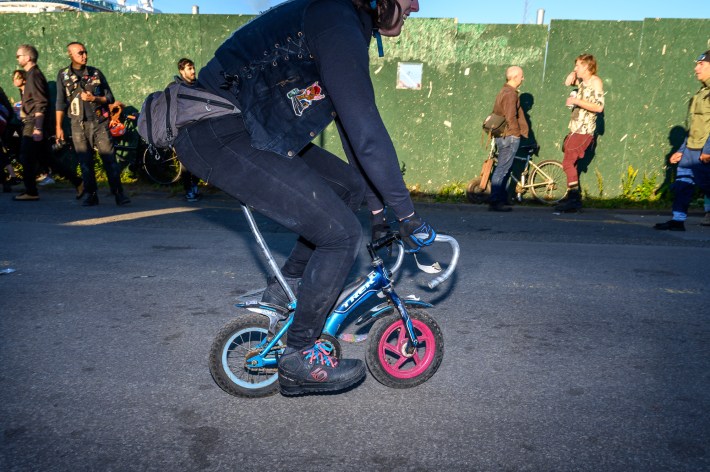 Gateway Bikes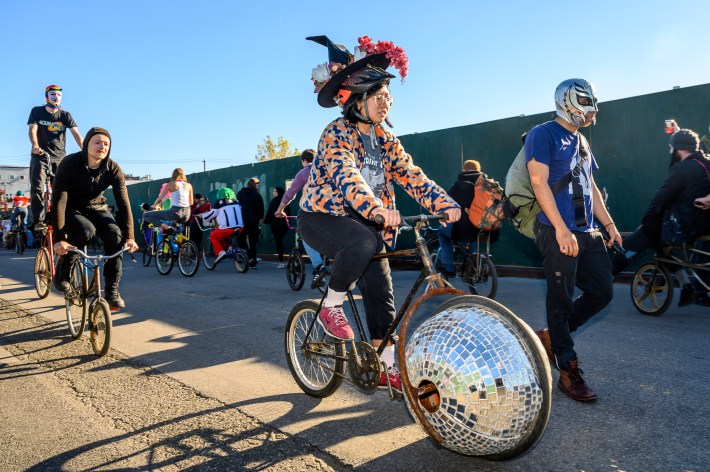 If every mutant bike at Bike Kill were a moderate challenge to ride, there'd be a participation barrier. Thankfully, some bikes just have a lot of personality and no "catch." Just hop on and go.
Difficulty: 2
Danger: 2
Fun: 6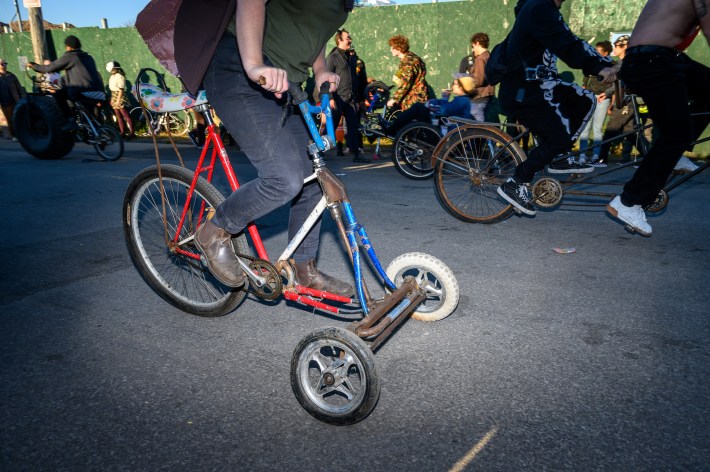 Recumbent Bikes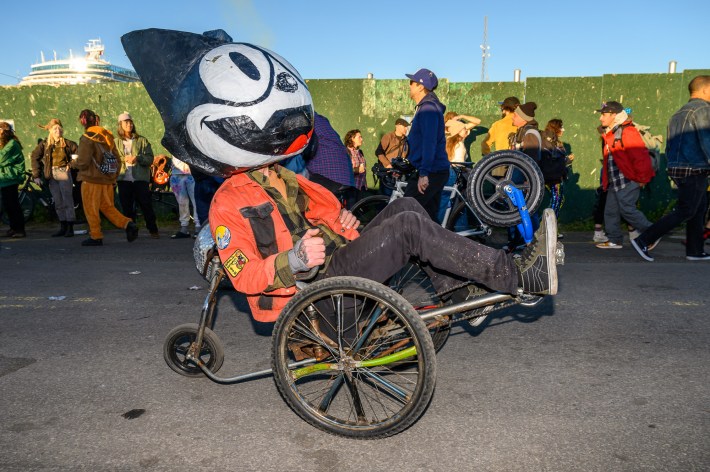 Some people adore these feet-forward machines (especially the one that mimics a Big Wheel), others feel (pleasantly) unnerved by the toboggan qualities. They belong in the mix.
Difficulty: 6
Danger: 5
Fun: 5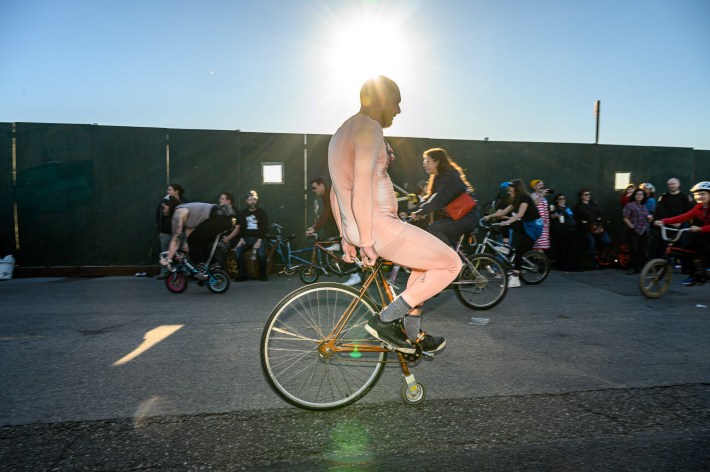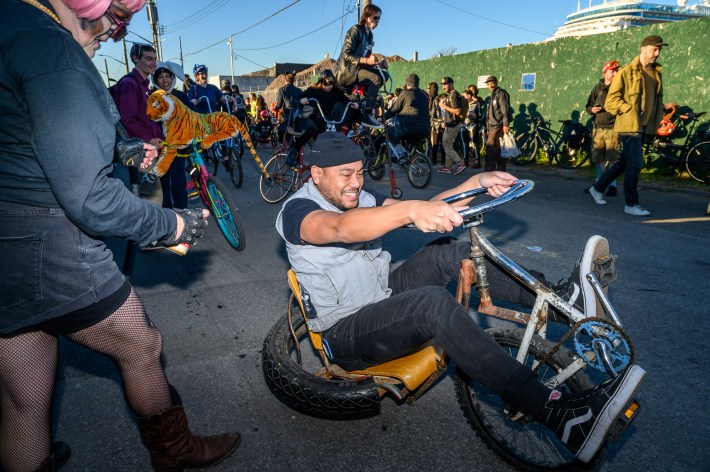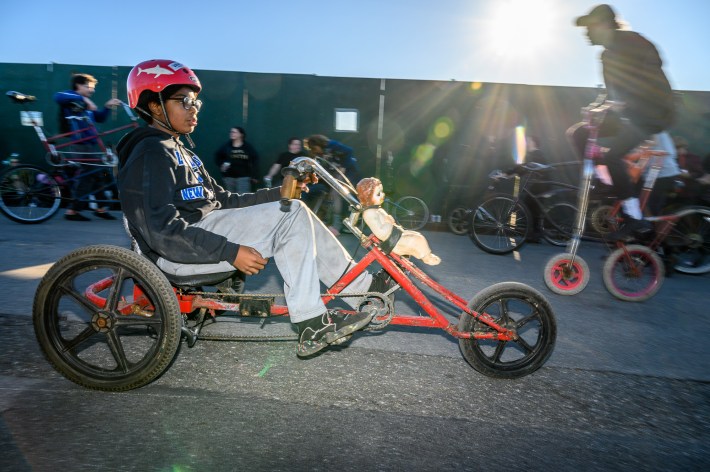 Roller Bike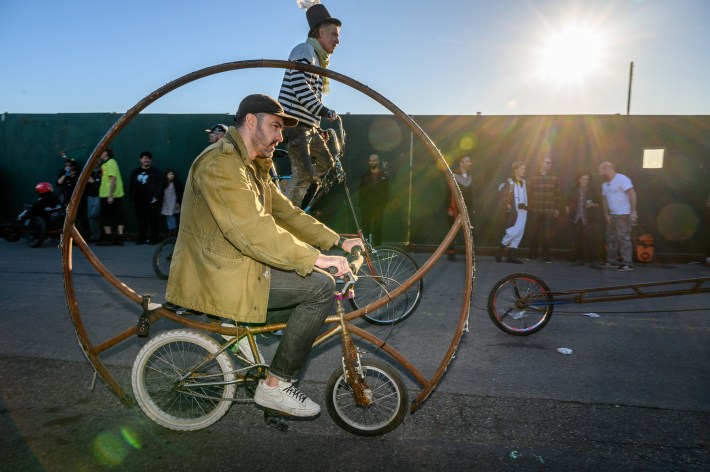 The perennial favorite that was designed to do full front flips, and used to have a seatbelt (now dragging helpfully on the ground) to keep the rider in the saddle. This happened! Extremely photogenic.
Difficulty: 4
Danger: 4
Fun: 6
Small Talls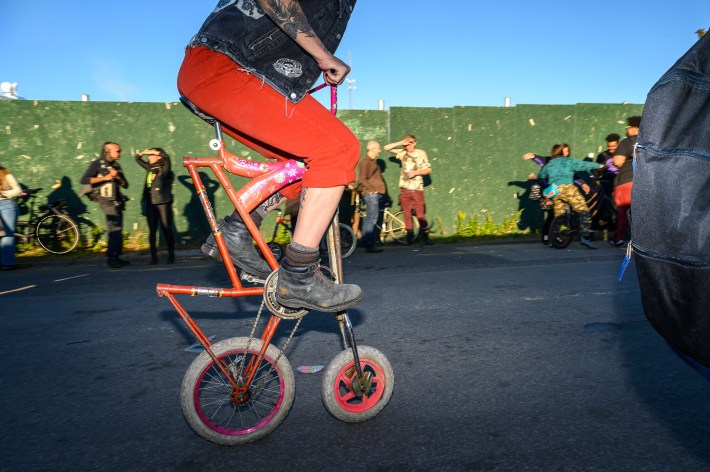 This may represent our personal favorite kind of Bike Kill contraption: tall enough to get a taste of the high life, short enough to stave off serious bodily injury in a fall. The Barbie small tall seen here is deceptive: the weight distribution is on the back wheel, leading to many unintentional surprise failed wheelies. Use a friend or a wall to get upright, maintain momentum. The best ones don't have brakes, so you can achieve balance without any sudden stops. Don't overthink it! (Wait, did I sign up for the insurance exchange this year? When was the last time I paid that premium…)
Difficulty: 7
Danger: 6
Fun: 9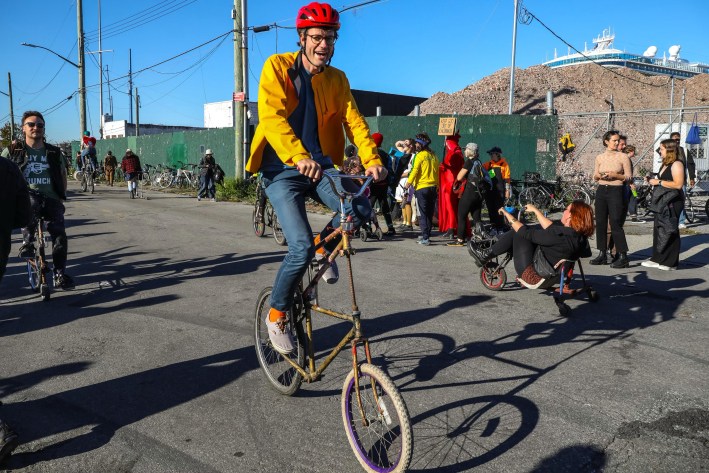 Split Bike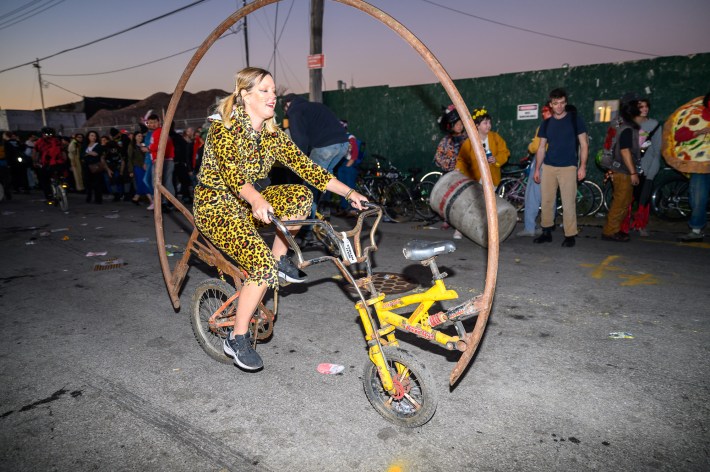 One bike, cut in half, still rolling. This is like watching someone walk down the street with no torso. While there's room for a passenger, it's better if the passenger is extremely small. Head bonkage is all but inevitable, and the pole that keeps the bike together is almost certainly obscuring something you need to see to survive. Has a very springy feeling when you're riding it.
Difficulty: 5
Danger: 7
Fun: 7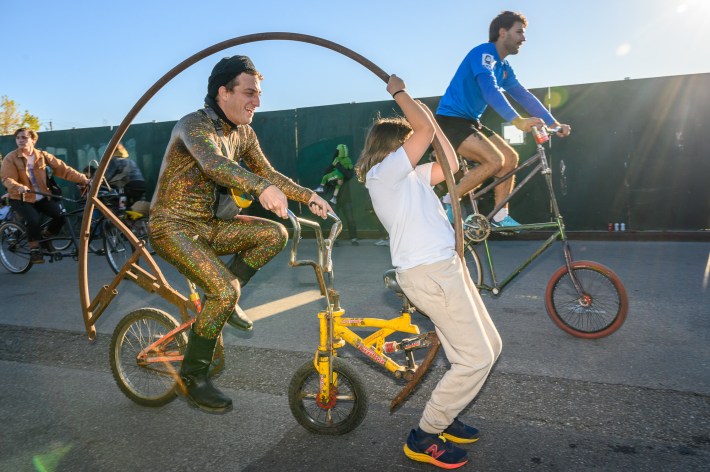 Steamroller Bikes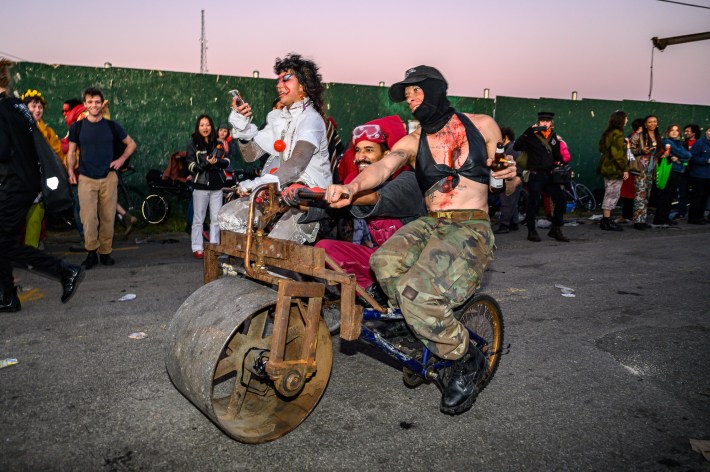 So you're on a Small Tall, slowing down, trying to negotiate a turnaround, when you hear it: The deep, guttural scraping of a metal steamroller bearing down on you, scattering everything in its path. Do you keep turning or bail? Reader, we usually bailed. These (extremely heavy) bikes take a minute to get moving, but the fact that they do move—fast—and are still intact by evening's end after hitting everything onsite at least once is a testament to craftsmanship.
Difficulty: 5
Danger: 8
Fun: 8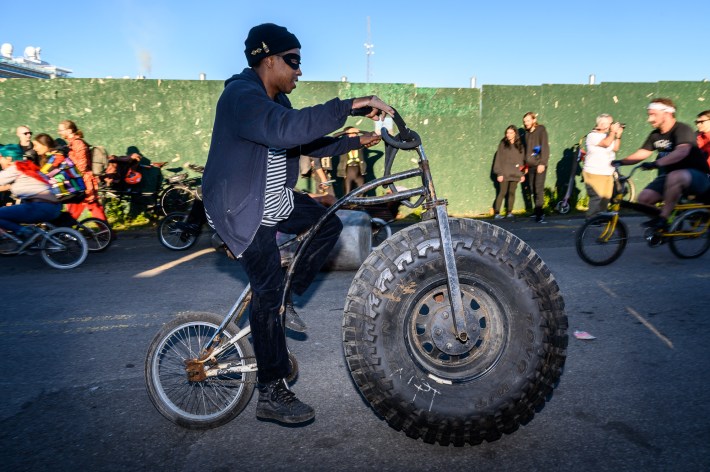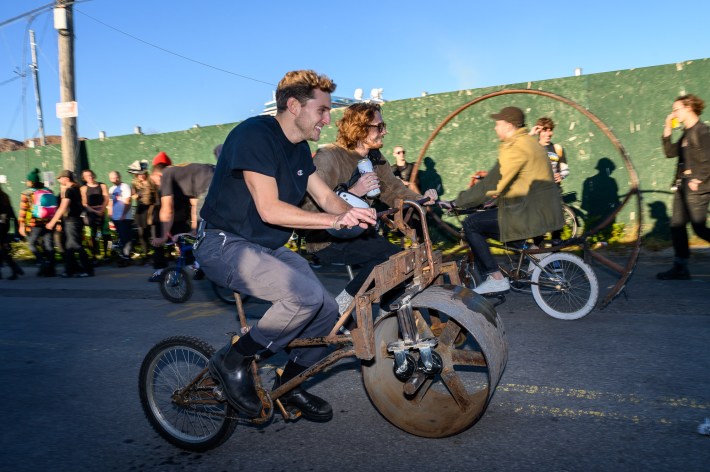 Surf Bikes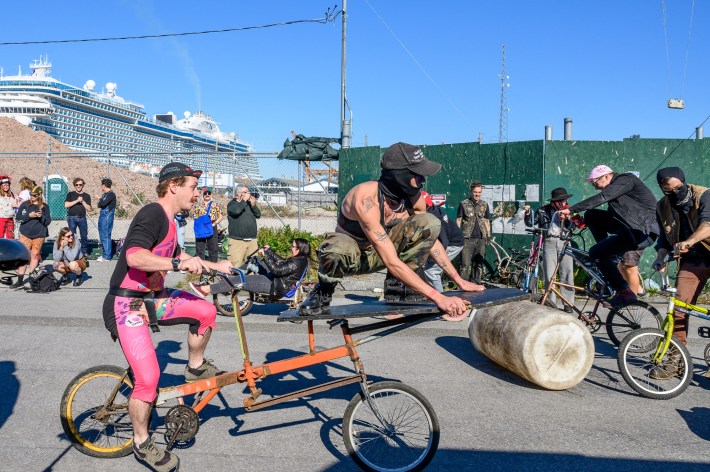 The cyclist is really the afterthought here (though hopefully it's someone you trust). Surf Bikes are for the passenger experience, one that is generally much more exciting than sitting on the back of a chariot. You are the first to see and feel everything, though it's much easier to escape last-minute than the clutches of the couch. Not for the faint of heart, especially for those that dare to actually surf them. 
Difficulty: 7
Danger: 9
Fun: 9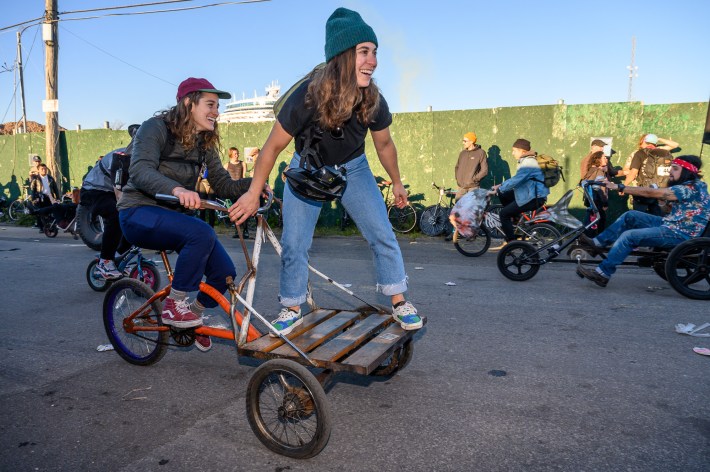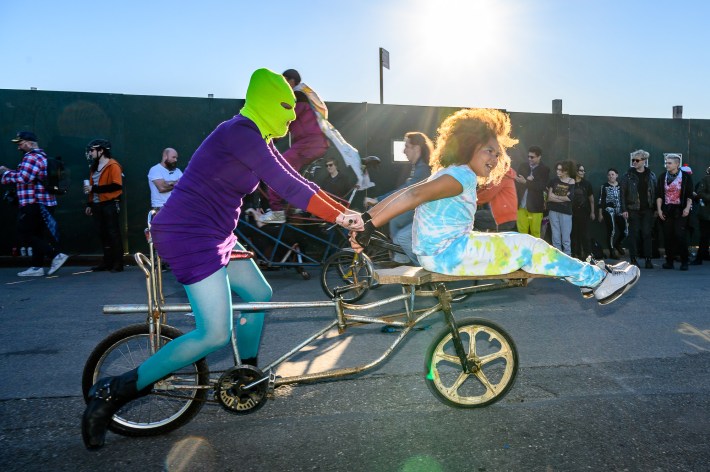 Swing Bikes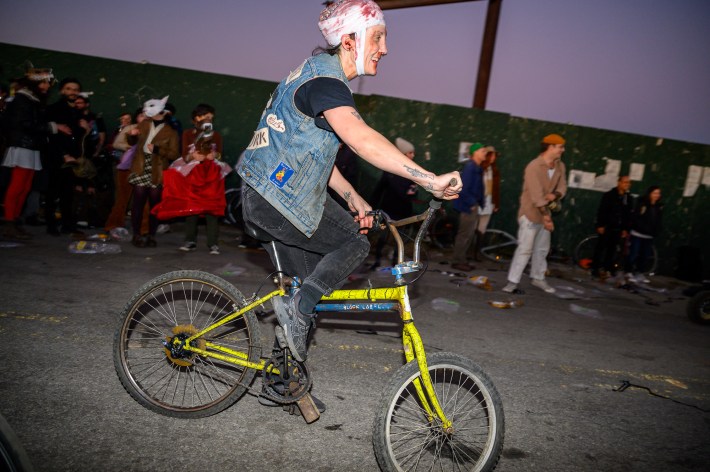 Tired of the drudgery of pedaling a normal bike? What if you added a couple hinges to the frame, so that you can swing half the bike off to either side while in motion? Swing bikes take ten minutes to figure out and it's ten minutes well spent. 
Difficulty: 6
Danger: 5
Fun: 8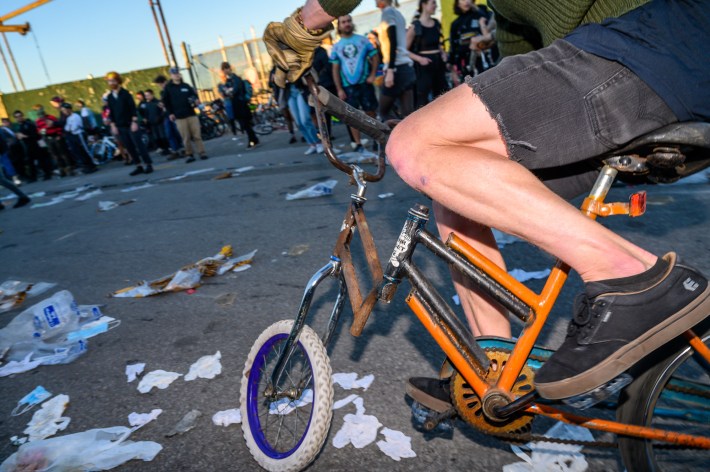 Tall Bikes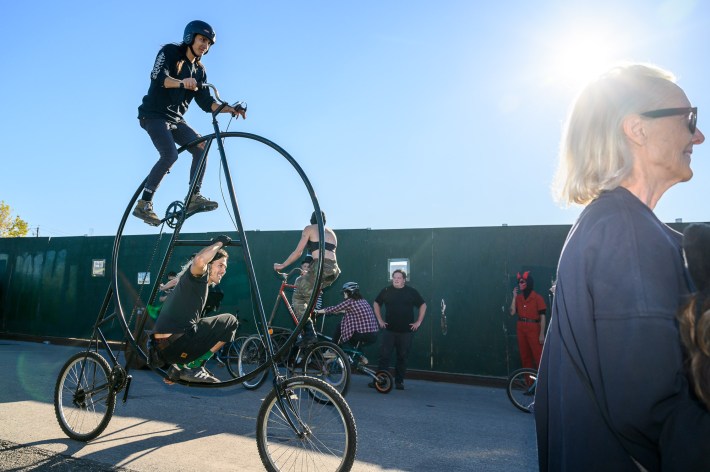 No thank you.
Difficulty: 10
Danger: 10
Fun: 10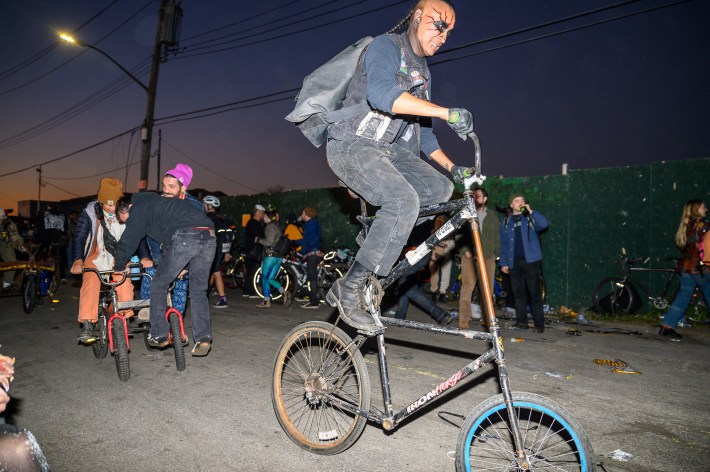 Tandem Bikes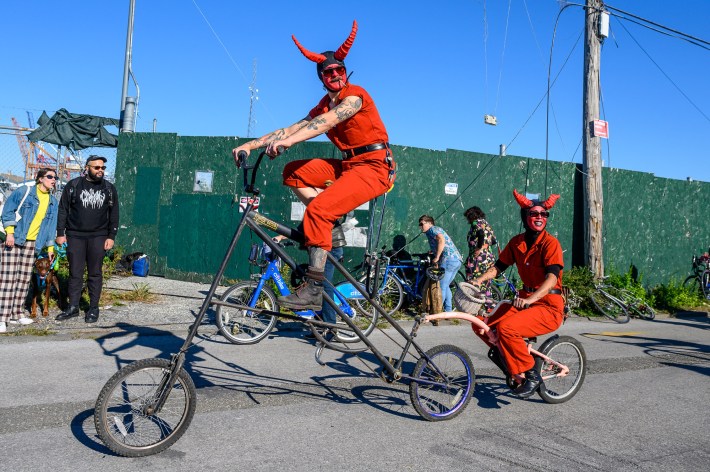 A bicycle built for two, and sometimes three or four. The taller the tandem the steelier your reserve, but navigating scary terrain is always more enjoyable with someone else.
Difficulty: 7
Danger: 8
Fun: 9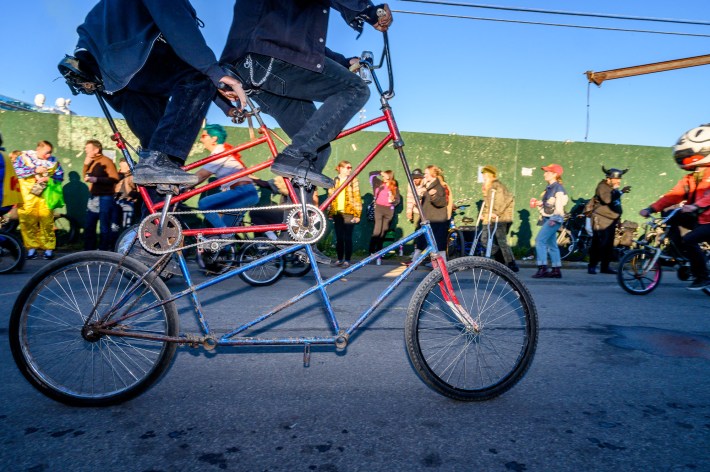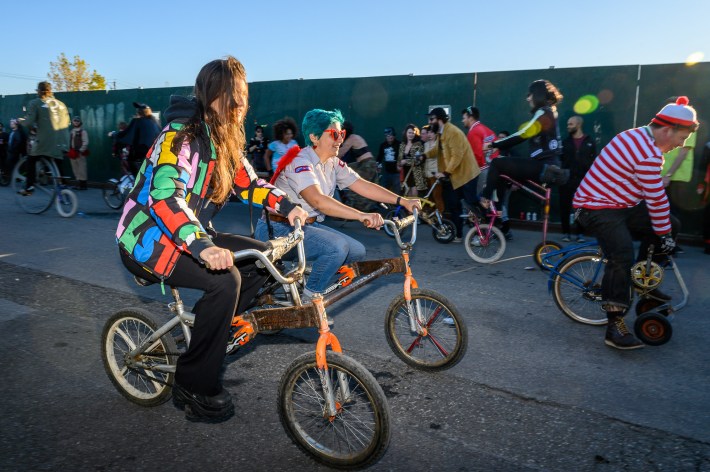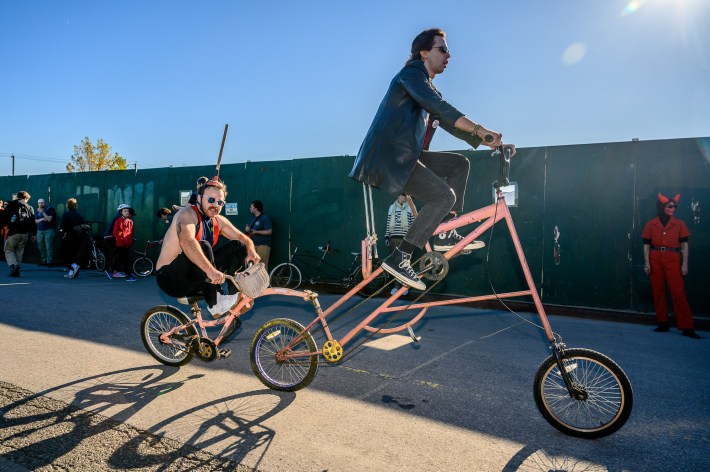 Unicycle Bikes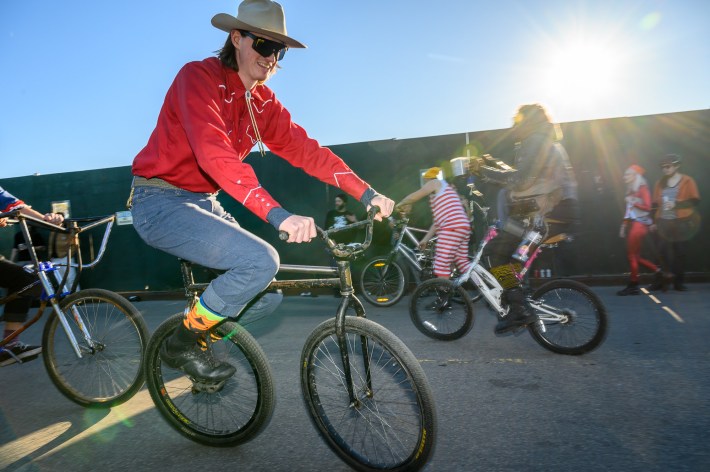 Good god how many more categories are there? These are essentially unicycles with a training wheel, which appear much easier to ride than they actually are. However, this is not a bad way to pick up some essential unicyling skills in a less-than-ideal environment.
Difficulty: 8
Danger: 6
Fun: 7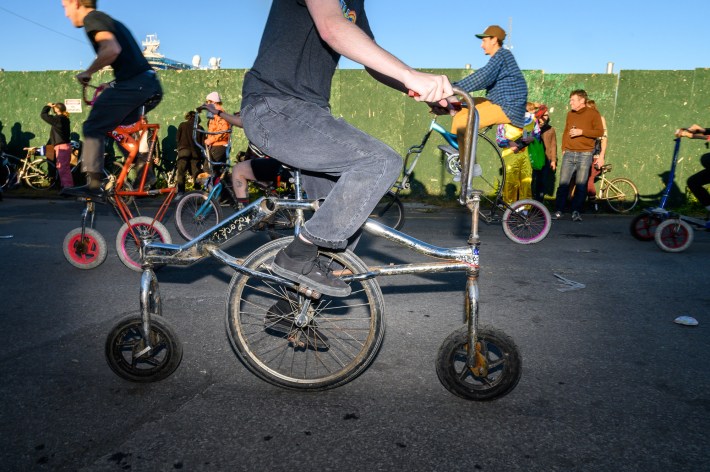 Urban Infrastructure Bikes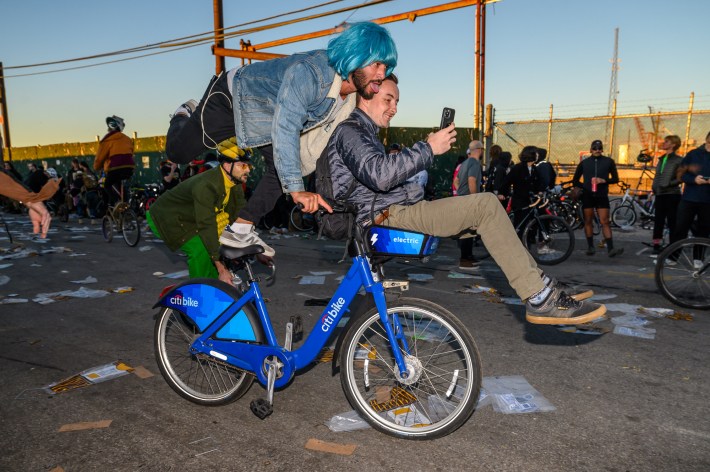 In a masterstroke of repurposing the built environment, one bicycle features an (extremely heavy) steel NYC bike rack, while the other appears to be a bicycle used in the NYC bikeshare system, who's to say. 
Difficulty: 3
Danger: 4
Fun: 7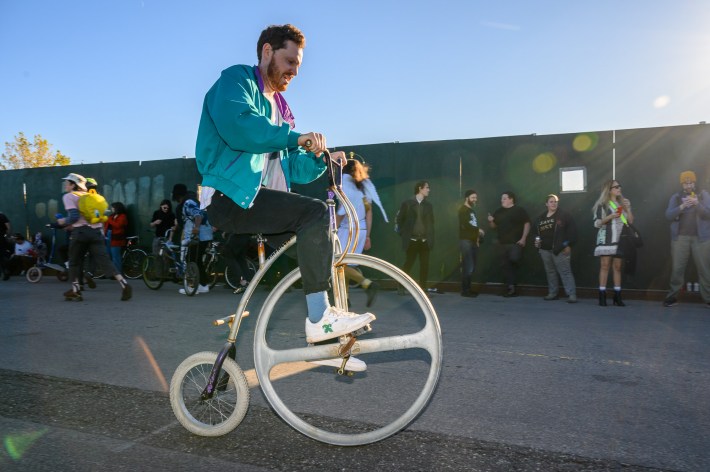 Wooden Bike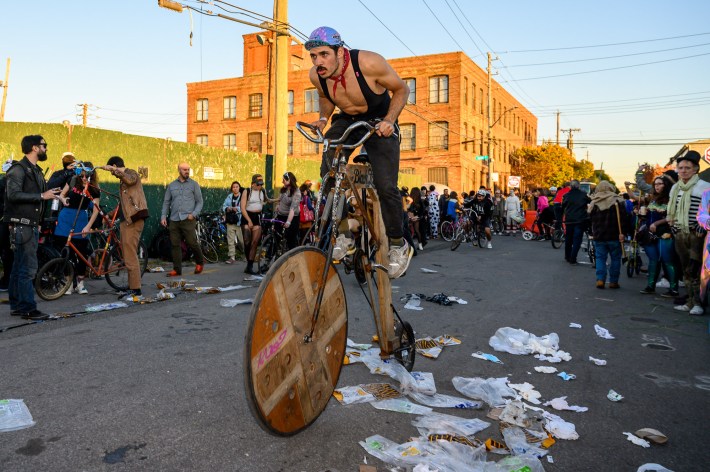 True, the materials are not traditional, but this handsome machine is sturdy and true. Not easy to turn.
Difficulty: 7
Danger: 7
Fun: 9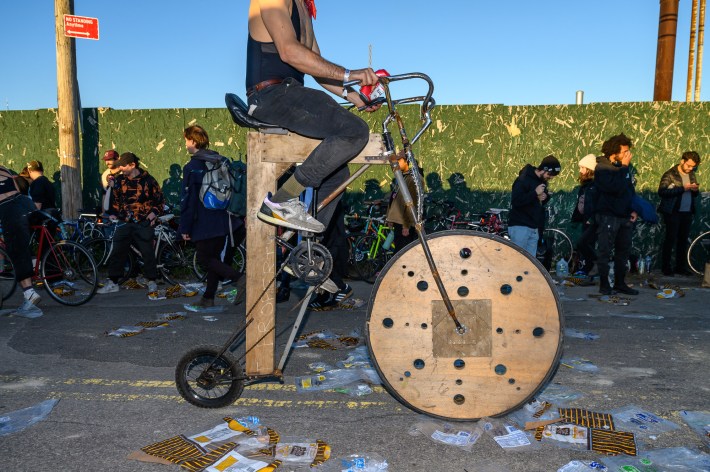 WTF "Bikes"
The only time we fell Saturday (like, actually fell) was on this cross country ski that has been outfitted with handles, a skateboard truck, and those tiny little wheels on precarious carts used in shitty self-storage lockers. This other bike feels like a rolling advertisement for cosmetic dentistry.
Difficulty: 8
Danger: 9
Fun: 9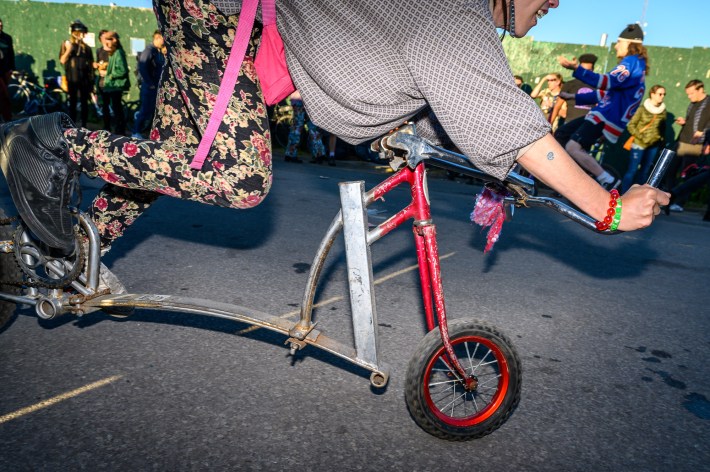 Chris is an editor at Hell Gate. He spent a decade working for Gothamist, and his work appears in New York Magazine and Streetsblog NYC.

Tod Seelie is a freelance photographer whose work has appeared in The New York Times, TIME, Wired, New York Magazine, Rolling Stone, Juxtapoz, Vice, and Gothamist. He published his first book of photography with Prestel Publishing chronicling almost fifteen years in NYC titled BRIGHT NIGHTS: Photographs of Another New York. His work often focuses on art and culture with a cross-section of various subcultures and wherever he happens to find himself. You can follow him on Instagram at @todseelie.
Stay in touch
Sign up for our free newsletter