The State of New York
NY Lawmakers Held a 9-Hour Hearing to Ground Bail Policy in Empirical Reality. Governor Hochul Ignored It
Yes, we listened to the whole thing. Seems like Kathy Hochul did not.
2:27 PM EST on February 2, 2023
Governor Kathy Hochul released her budget proposal on Wednesday, and, in keeping with the redolently antidemocratic traditions of Albany, she shoehorned into that budget document a number of agenda items that a healthy government would debate and vote upon on their own merits. But because this is New York, they're instead part of the giant, messy "Big Ugly" negotiations of our must-pass state budget, a process that also includes much of the substantive business that our elected officials will take up this year.
Perhaps most striking among these gubernatorial demands is her call for a wholesale reversal of decades of New York's bail laws, with the intent to to make it easier for judges to send people to jail before they have been able to prove their innocence at trial.
In New York, it's been the case for decades that the only reason a judge can set bail is to ensure that people will return to court for their next hearing—and they must use the "least restrictive" conditions necessary to do so. This rule has long been widely flouted—prosecutors ask for bail knowing their chances of coercing a guilty plea from a defendant increase considerably when that person is in jail, and judges set bail fearing that the tabloid press will have their hides if they ever release someone who goes on to commit a particularly horrific crime.
Now, Hochul wants to dispense with this rule altogether, and allow judges to use their discretion to set bail at whatever level they feel is appropriate, restrictiveness be damned. But to get this change passed, Hochul will have to wring it from Democratic lawmakers, who have spent the three years since the initial bail reform laws were passed fighting rearguard actions against efforts to expand the use of bail. 
Democratic legislators may or may not have known in advance the precise shape of Hochul's attack on pretrial liberty would take this year, but they had good reason to expect something. In an effort to get out ahead of Hochul and her Republican allies, Democratic lawmakers have been determined to frame the debate in terms they believe they can win on: Facts and data.
To pound that theme home, Democrats convened an unusual joint hearing on Monday of the Senate and Assembly Codes Committees, Judiciary Committees, and Crime and Correction Committees, and they invited the keepers of the state's voluminous criminal legal data to come and speak about what we actually know about what's happening in New York's criminal courts.
"We've been bombarded with media campaigns, fearmongering, asking whether criminal justice reform is to blame and [whether] we support changes to the law," said State Senator Brad Hoylman-Sigal. "And our response has always been, 'Show us the data.' And while crime is up since 2018 in New York—there's no denying that—we also know that crime is up across the United States of America, even though most states made no changes to the criminal justice laws comparable to New York's in the last several years. So rather than legal reforms, it's much more likely that it's possible that the national increase in crime is rooted in other factors."
The central contention of the entire anti-reform political formation has been that bail reform has led to more people being released pretrial who then shortly after go on to be arrested again. But as data presented on Monday by the New York State Division of Criminal Justice Services made clear, the rate of rearrest has remained fairly constant in New York City before and after the 2020 bail reform laws: In 2019, 19 percent of people were arrested again within 180 days of their arraignment. In 2020, that number was 22 percent, and in 2021, it was 21 percent.
Not everyone was sanguine about this emphasis on actual data: "I also welcome the opportunity to determine if the statistics, in fact, are the actual statistics," said Assemblymember Angelo Morinello, a Niagara Falls Republican. "Because when you look at the numbers, what you find is throughout the state, the crime statistics are up. But are they an accurate number, or are they greater?"
And Tony Jordan, president of the District Attorneys Association of the State of New York, the prosecutors' lobbying organization, did not let the data deter him from asserting a causal linkage between bail reform and rising crime rates.
"Among those individuals suddenly released in our state were hundreds of accused drug dealers, car thieves, shoplifters, burglars, and robbers statewide." Jordan said in his testimony. "You cannot deny that the release of hundreds of car thieves, burglars, drug dealers, and petty thieves had an obvious impact on crime in New York."
Assemblymember Jeffrey Dinowitz probed this reasoning. People charged with these crimes are released on bail every day, he noted. Did Jordan have any data to suggest a difference between the people released having paid bail and those who were released without having paid? "I don't have that data," Jordan said.
Did Jordan have any data to suggest that increases in crime rates were related to bail reform and not, say, the global pandemic, Dinowitz asked? "I don't have precise numbers as I sit here," Jordan said.
Without any data, "how can you sit there and say that it's in fact, bail reform, that is even partly responsible?" Hoylman-Sigal asked him.
"Well, for one," Jordan answered, "I look at, certainly, my own experience in the last nine years, and communicating with my colleagues across the state, I think, gives me the great ability to say what our observations are."
State Senator Julia Salazar asked Jordan if he, as a prosecutor, had ever asked a judge to set bail for any reason other than the legally permissible one, to ensure that a person returns to court. Jordan took a long pause. "We used to," he said.
"Is it your position that, despite what the Constitution says, DAs should ask for bail to be too high for a defendant to pay?" Salazar asked.
"I don't think those two things are mutually exclusive," Jordan answered. "I don't think the mere fact that a bail figure is set at some level that the person may not be able to meet, if there are other factors that support that, right, whatever their repetitiveness is in terms of commission of the crime or what they are accused of the level of facts that support it. I don't believe that that would render that violative of our Constitution."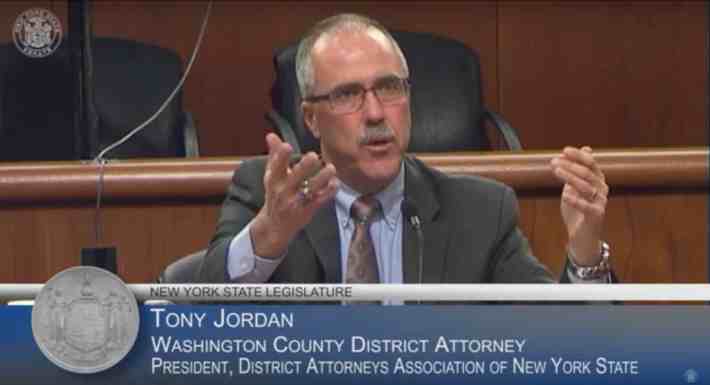 Assemblymember Latrice Walker probed Jordan's understanding of the Constitution. "The Constitution indicates that bail should not be excessive, sir?" she asked.
"I think it outlines what should be and should not be," Jordan answered. "And then courts have interpreted what may be considered excessive."
(Indeed, courts have considered this. One of them, the U.S. Supreme Court, has interpreted what may be considered this way: "Bail set at a figure higher than an amount reasonably calculated to [ensure a person appears in court] is 'excessive' under the Eighth Amendment.")
So, Walker asked Jordan, if the Constitution already says that bail should not be excessive, what's the operative difference between that and a state law that says conditions of release should be the least restrictive necessary to ensure a person's return to court?
"Least restrictive goes beyond what is required of the Constitution," Jordan answered.
More than eight hours into the hearing, Jullian Harris-Calvin of the Vera Institute summed the situation up: "There's no evidence that shows causation," she said, "that shows that bail reform has anything to do with rising crime trends here in New York, the state, the city, the other cities here in New York, or across the country."
Harris-Calvin cited Vera polling which found that half of New Yorkers don't really understand how the bail laws work. "There is an opportunity here for us and for you all to educate the public," she said. "New Yorkers know what does and does not impact crime. And they do not think that nearly repealing or annually tweaking the bail law until it dies is the answer."
Two days after the hearing, Hochul issued an official statement declaring her intention to abandon the "least restrictive" requirement from state law, allowing judges to set bail and release conditions as they please. She did not cite any data to suggest that this was necessary or that it would have any beneficial effect on crime rates. "Changing our bail law will not automatically bring down crime," she conceded, before pivoting to a somewhat less empirical justification: "What it will do is make it crystal clear that judges do, in fact, have the discretion necessary to protect the safety of New Yorkers."
Nick Pinto served two tours as staff writer at the Village Voice. His reporting has appeared in The New York Times Magazine, Gothamist, The New Republic, Rolling Stone, The Intercept, and elsewhere.
Stay in touch
Sign up for our free newsletter