Fresh Hell
AOC Talks Ceasefire, Eric Adams's Budget Cuts, and the Biggest Crisis Threatening NYC
"When we talk about actual threats to the city, it's not the migrant crisis, it's the housing crisis, and we need to be paying a lot more attention to it." 
11:50 AM EST on November 21, 2023
When Representative Alexandria Ocasio-Cortez stepped onto sidewalk at the Hunts Point Produce Market on Monday morning, she gave hugs to her staff, local organizers, and members of the Teamsters. Then she popped on a black and yellow Teamsters Local 202 beanie and started loading free turkeys into trunks.
"This is a generational New York City tradition," Ocasio-Cortez said about the event put on by her office and the Teamsters, distributing turkeys to community groups that they in turn could pass along to people in need, three days before Thanksgiving. "But what was really fun about doing it this year was bringing in the labor movement, especially the food and produce workers that really help make all of this happen."
After ferrying a few boxes of turkeys, Ocasio-Cortez stashed her Teamsters hat and carved out a few minutes to talk to Hell Gate. We spoke about her call for a ceasefire in Gaza, checking the math on Eric Adams's latest round of budget cuts, and what she thinks the biggest crisis facing New York City is right now.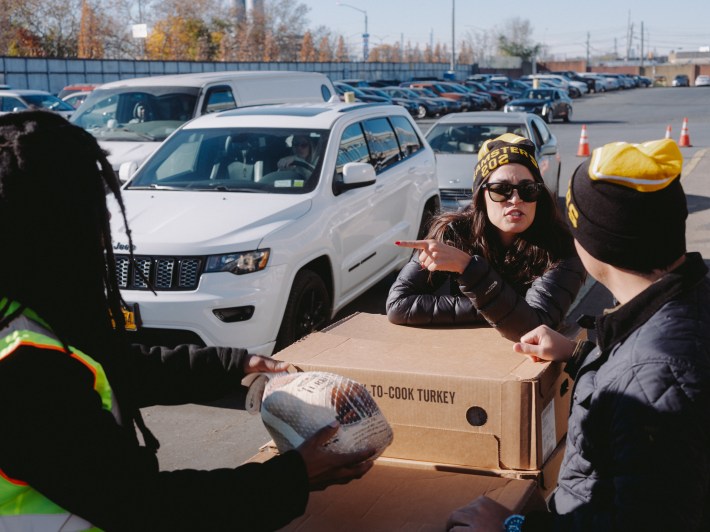 How do you respond to your colleagues in Congress who say that your position on the conflict in Gaza, calling for a ceasefire, is not just morally wrong but strategically wrong, too?
I think the fact that every day, more and more members of Congress are coming out in favor of a ceasefire demonstrates that it's not just the morally correct position, but it's strategically correct for a number of reasons. The U.S.'s reputation, globally, is on the line on this, and the idea that there would be absolutely no red line, no amount of human cost, no level of atrocity to which we would pump the brakes on our involvement in this is, I think, incorrect. I think not only does it add to an unacceptable human cost, it also comes at the cost of our reputation as a defender of human rights and democracy globally. So it's just a plain disagreement, but it's one where our stance is gaining more traction every day. 
You recently signed a letter in support of Columbia University's chapters of Students for Justice in Palestine and Jewish Voice for Peace. Why?
There's a couple of things. It's important to acknowledge that antisemitism is very real, it has been growing, particularly in the last several years under the Trump administration, in addition to Islamophobia and other forms of bigotry. It's important for us to remain very, very vigilant about rooting it out—but it also cannot come at the cost of conflating advocating for Palestinian human rights with false charges of antisemitism. We can do both: We can combat antisemitism, we can be vociferous about that, and we can advocate for the human rights of Palestinians.
Eric Adams has blamed his budget cuts on the cost of housing migrants in the city, and at the same time has slammed the federal government for not doing more to support New York. Where do you agree with those critiques and then what do you think he is getting wrong? 
In terms of agreement, I agree that the federal government hasn't done enough. We've been pressing the Biden administration to do so. All the time, we're just seeing constant increases of huge amounts of resources to the border—in fact, there have been proposals recently dramatically increasing the budget for the border, when we haven't even been able to spend the money and fill the positions that were allocated in the last budget cycle. So, we're over-allocating in some areas, but we are dramatically under-allocating in resourcing for things like what we're seeing here—shelters and other services here in New York City, Chicago, and other municipalities as well. In that respect, the mayor has a point. 
But in terms of dramatic slashes to all New York City public services, I actually think we need to check the math on that. The idea that the migrant crisis would somehow require cuts to all of these across-the-board services does not quite add up to me. To make that claim is an invitation to investigate those numbers, and I think that's what our next step would be. 
Do you think Eric Adams is fulfilling his responsibilities as the mayor of New York City right now?
I think our responsibility is to care for the people of this city—the last thing we should be considering is slashing budgets for things like libraries and schools. We should be, if anything, looking at revenue raises: a pied-à-terre tax, vacancy taxes, things like that. But the idea that we'd be slashing some of the most essential services of the City, I don't think is proper. We really should be pressing for much more scrutiny before a dollar of that is really taken away or touched. 
How are the broader problems in the city right now, especially in light of these new cuts, manifesting in your district?
In significant ways. Even basic things like trash collection in Corona, this is something that I hear a lot from our constituents. And it's something that we try to get involved in, but it's a little bit outside of my jurisdiction—these are City and municipal-level issues. But basic things, like sanitation, school resourcing, how many kids to a classroom. Those are the core issues that I hear about most often. And making sure that we can play a role, even though we're a little bit removed from it in terms of jurisdiction, that's an important thing. Because that's what people feel and see every day.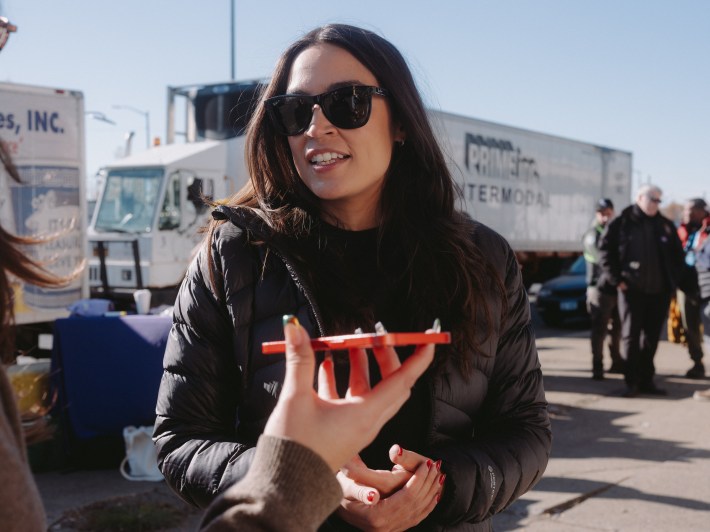 It's wildly expensive to live in New York, and income inequality is a huge problem nationally—how do we actually tax the rich, and what needs to change on the ground to make congressional action possible? 
We need to make significant choices around housing policy, especially on a local and state level. I believe we need to be very aggressive about landlords that are warehousing affordable housing units. We have, what, 60,000 units that are potentially warehoused? It's completely unacceptable. So, there are two elements to this equation. The first is that, overall, we need to add to the housing stock. Yes, building is a part of that, but also, releasing all of these units that are being held hostage to artificially inflate the cost of housing needs to be a main priority. I have not seen that, I have not seen [the Adams administration] address that in any way, shape, or form, and it's one of the lowest hanging fruits that we have to bring down rent prices in the city. It's unacceptable that there just has not been any proposal or momentum on this issue—not just on the municipal level, but also on the state level as well. It can't be accepted. 
We have had politicians just really acquiescing to real estate issues for far too long, and now we have both a humanitarian and housing crisis, because it also facilitates what's happening in NYCHA as well. It all dovetails together. I think it's arguably the number one issue that we have in this city. 
When we talk about actual threats to the city, it's not the migrant crisis, it's the housing crisis, and we need to be paying a lot more attention to it. 
Could you talk a little more about the NYCHA piece of the puzzle?
We have NYCHA housing stock that has been eroding—and this is where federal action does come in. We fought really hard on the Build Back Better Act to try to include $40 billion in capital investments to NYCHA. Of course, Joe Manchin did his thing in the end, but we're hoping to be able to reintroduce that as soon as we can. A lot of it is trying to work with our new leadership at NYCHA to try and figure out what we can do in the short and medium term to streamline that and get a lot of those repairs in, because we can't allow for the privatization of our public housing stock in the city. 
Do you think Queens needs another casino?
It's something that we've been engaging the community on; there's certainly been a lot of resistance to it locally. What I will say is that I'm very suspicious of bringing in gambling and the potential social costs of that into our community, but that's an ongoing municipal conversation, and we're keeping an eye on it.
Last quick one: Have you ever taken a free flight to Turkey?
No! [Laughs] Absolutely not. My friend got married there last year, but I went my own way.
This interview has been edited and condensed for clarity.
Stay in touch
Sign up for our free newsletter