The State of New York
Albany Dispatch: Housing Crisis Despair Edition
"It really feels like we're trying to minimize all of the harm that's going to come through this budget."
4:27 PM EDT on April 19, 2023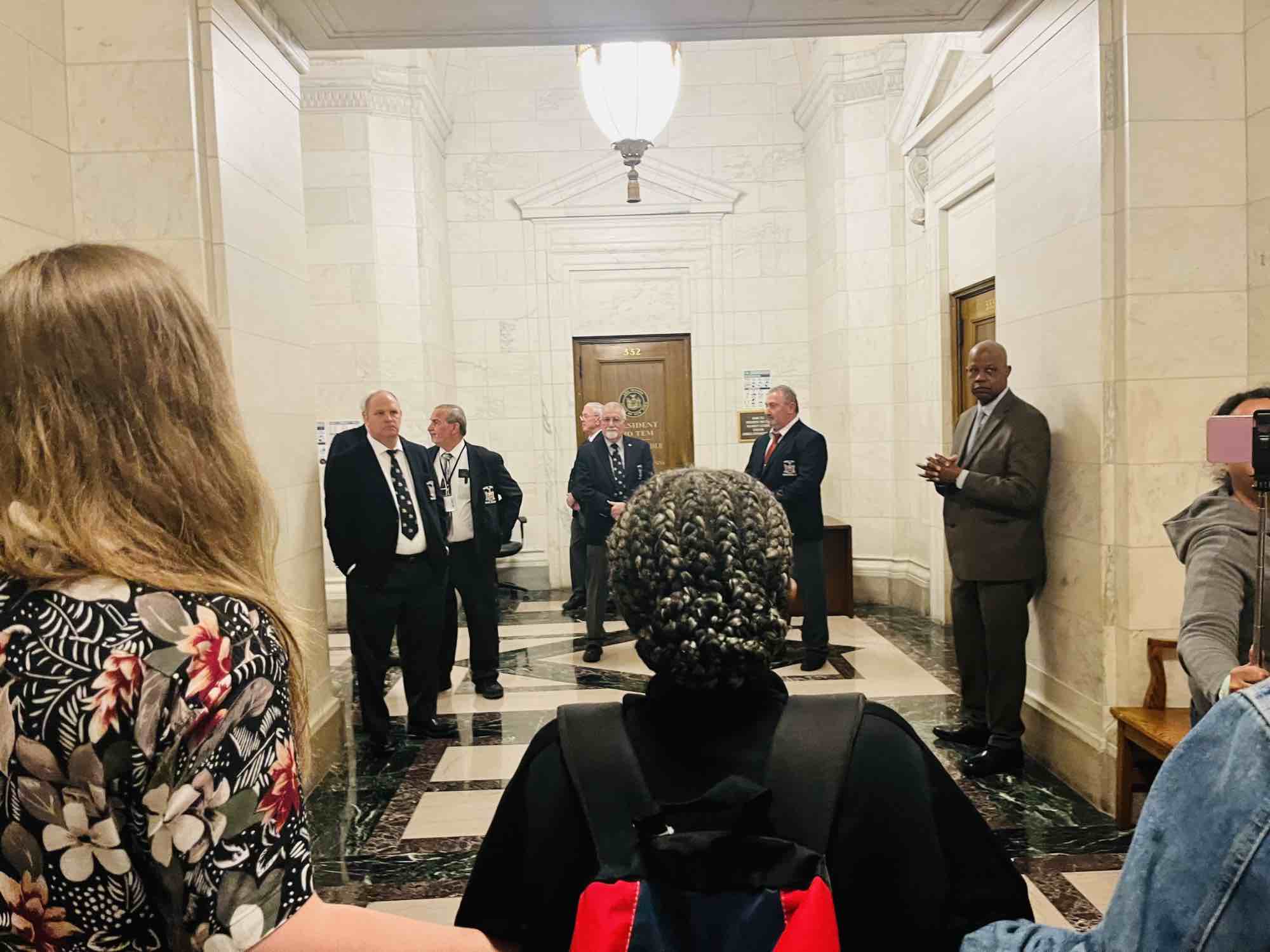 On Tuesday morning, 67-year-old Robin Martin grabbed her walker and made her way from the homeless shelter in the Bronx where she has lived for the past six months to Union Square, to catch yet another bus to Albany. It's budget season, after all, which for Martin and other activists with the Housing Justice for All Coalition means an endless cycle of three-hour drives to the state capitol, boxed lunches, and political theater, all with the hopes of influencing an anti-democratic, secretive legislative process in which three people are given the authority to set policy for one of the country's largest, and supposedly more progressive, states.
Martin, dressed carefully that morning in a white fedora and glittering gold nails ("Press-ons!" she told me with a serene smile), was making the trip to push for a slate of tenant protections—Good Cause eviction and the creation of a state-wide housing voucher program for homeless residents—to be included in the budget. 
"I've been homeless for a very, very, very long time because rent has been high for a very, very, very long time," she told me with the cadence of a street preacher, as we sped through the Catskills on our way up to Albany. Martin's life has been defined by housing insecurity—when she and her parents moved to New York City from West Virginia, they "ran into homelessness," as she put it; after her father, a military veteran, died, she said they were evicted from the home they'd been able to purchase. As an adult, she has bounced from apartments to shelters and back again, all while working minimum-wage jobs; the times she was able to afford an apartment, they tended to be owned by slumlords, and "flooded with roaches." More recently, Martin moved to Virginia to live with a sister, but came back to the city after experiencing some health issues. "I'm just a product of the shelter system," she said.
Martin is on the verge of moving into her own studio apartment, thanks to a rental voucher from the City—she wouldn't be able to afford it otherwise on her $1,000/month from Social Security. I asked her if she knew anyone who had to move because the rent was too high. "The 250 women at my shelter, where I'm staying right now!" she replied immediately. 
Having her own apartment meant stability, the kind that would free up her mental energies to take care of her family, and more broadly, her community. A former drug user, she shared with me her dream of ministering to other residents in her soon-to-be building. She felt blessed, she said, and she wanted others to be equally blessed. "My gut feeling is, poor people are not wanted in New York, because they keep going up on the rent," Martin said. "They're cutting, cutting, cutting, cutting this, cutting that."
The state budget is more than two weeks late, and negotiations are all but assured to continue for the foreseeable future. Despite the three leaders of New York's government all belonging ostensibly to the same party, Governor Kathy Hochul has decided to go to war with her own, pushing unpopular (at least with the majority of Democratic elected officials) provisions like an ill-advised radical revision of the state's bail laws. Criminal justice issues have sucked up most of the oxygen, and it's both revealing and depressing that it's only now that Hochul and legislative leaders have turned their focus to the issue that fundamentally determines whether people are able to remain in the state, and one which nine out of 10 New Yorkers care deeply about.
Tuesday was the fifth trip up to Albany this year for Julie Colon, the lead housing organizer at the Northwest Bronx Community and Clergy Coalition. In the Bronx, eviction rates regularly are some of the highest in the state, and tenants tend to be some of the most rent-burdened statewide. "Will it solve all the problems? No," Colon said of Good Cause eviction and the Housing Access Voucher Program. "But it will help address a lot of the problems we're seeing now." 
Colon supported Hochul's push to build new housing, but believed it fell far short of what's needed. "It's super, super important, but we can build new housing and still keep the housing that people have currently affordable and make it so that they're not kicked out of their homes," she said. A crop of new housing ten years from now, Colon noted, "does nothing to help the 55-year-old woman who sells churros on the corner and can't pay her rent, it does nothing to help the 11-year-old child who's crying because their parents can't afford to stay in their apartment and they have to go through the shelter system." 
To Colon, the push for tenant protections was about more than just paying the rent—it was about maintaining as much of the vitality of the city as possible, which has been drained away in no small part by high housing costs. "The joke is that like, if you're from New York, especially Hispanic New York, you probably live in Florida now," she said. "There's so many people leaving the city."
Later that morning, word arrived that Hochul's much-vaunted Housing Compact appeared to be dead, with the State Assembly, and specifically its more suburban members, refusing to swallow the bitter pill of the state overriding local zoning laws to mandate the building of what, to my eye, seemed a minuscule amount of new housing. "There were a lot of members who thought they'd get killed in re-election if they were overriding local control," one insider noted to New York Focus, despite polls showing broad support for the governor's housing creation plan. If the housing mandate was no longer on the table, where did that leave Good Cause and the housing voucher program? It had been clear for months that Hochul had no desire to pass tenant protections as part of the budget—with that bargaining chip now gone, tenant protections now seemed finished, too. 
But Tuesday, a whole slew of New York City's Democratic elected officials, as well as some upstate legislators whose districts have also been hit hard by rising rents, didn't think so. Maybe they themselves didn't know, or maybe they just weren't willing to say that publicly to Martin, Colon, and the two dozen or so activists who, after arriving in Albany, gathered on the steps of the capitol for a rally. 
"There is no housing deal in this budget without Good Cause Eviction and HAVP, and we won't stop fighting until we get it done," Assemblymember Julia Salazar vowed. State Senator Kristen Gonzalez echoed Salazar. "Today, we're standing here to get a single message across to the governor—that if we don't get good cause, HAVP, tenant protections, what is she going to get from us with the budget? A hell no!" "Hold the line!" people chanted. "Don't give up!"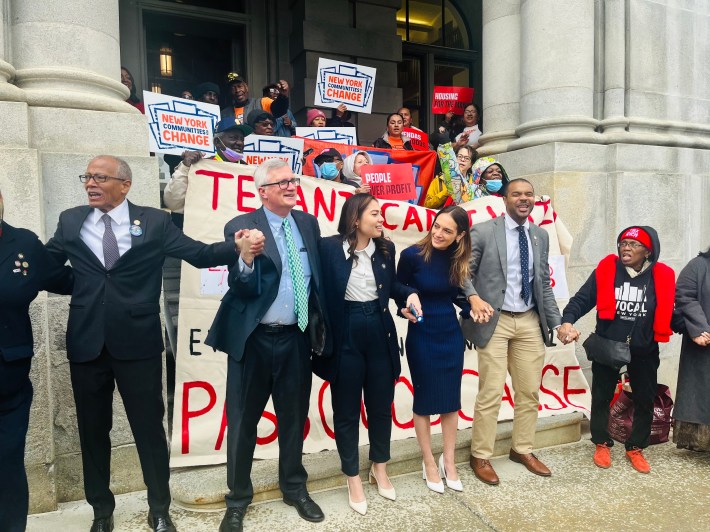 Standing to the side was Assemblymember Sarahana Shrestha from the Hudson Valley, where local good cause eviction laws have been under attack. "We keep hearing very different things every day," she told me of the closed-door negotiations. Shrestha added, "I would love to stop playing games and pass something meaningful." Of Hochul, she said, "I can't tell what strategy she's trying to play. She clearly doesn't understand what people are really going through." Shrestha had begun to view the state's budget process as a form of harm reduction. "At this point, it really feels like we're trying to minimize all of the harm that's going to come through this budget. From day to day, it feels like it could be really bad, to maybe, we'll be able to make it as least bad as possible."
Inside the capitol, Manhattan Assemblymember Harvey Epstein was also wondering about Hochul's game plan, as he stood in what's known as the "War Room," where a press conference put together by activists calling for higher taxes on the wealthy was taking place. (I first met Epstein years earlier when he was a housing rights attorney and I was a young housing organizer.) Epstein is well aware of the stakes. "In my district alone, we're seen tenants getting 40, 50 percent rent increases," he told me. "These are people who've been in their apartments for 10, 20 years."
On Monday night, he said, he and other members of the Assembly were told, as he put it, that Hochul "has not provided any support for tenants in the state by providing any tenant protections." I told him that I found Hochul's political choices confusing, in that her stubbornness meant she wouldn't get what she wanted. "They are confusing to me as well," he replied. "I don't know who her political advisors are or what choices she's making." But, he said, "we sent a clear message to our leadership about what we need: We need more affordable housing and we need tenant protections, and if we can't have those things, we can't move forward."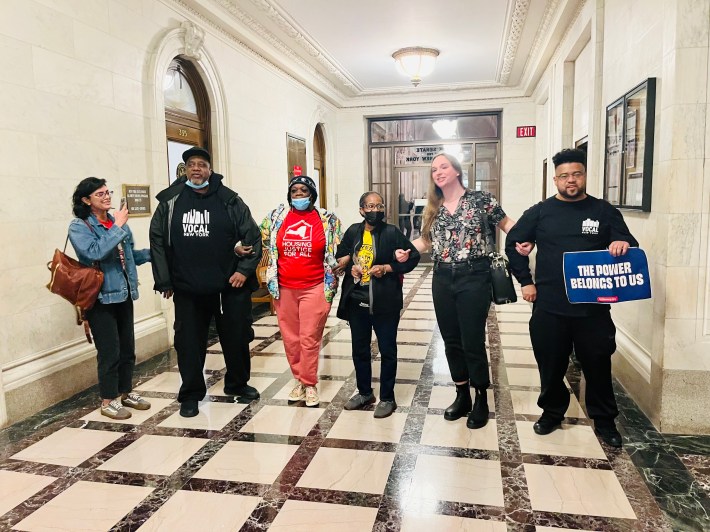 Shortly before I ran into Epstein, five activists with the Housing Justice for All coalition had staged a short, noisy protest in the halls of the Senate side of the capitol. They had been told that it was the Senate that was wavering. Linking arms, they chanted all the usual chants; after several minutes, they were politely asked to leave by bored, balding men in ill-fitting suits. 
I left Albany feeling no small amount of despair, one that Martin didn't share with me. God would provide, she told me, would help the poor whom the Bible said would always be here; and God would deal with all of the greed she saw around her. 
Maybe all that noise made a difference, after all. On Wednesday, Andrea Stewart-Cousins shared what her "hard line" was in the budget. "I have to have tenant protections," Stewart-Cousins said. It was a (perhaps small) shift from what housing activists had been told by Senate staffers over the weekend, which was that the only options were a bad version of Good Cause Eviction, or nothing. "The folks who have been on our side are really speaking up," one organizer said. "I still don't know what this is going to turn out like, but we're in a much different position than we were in yesterday."

Prior to Hell Gate, Esther was a senior politics reporter at Jezebel and a columnist for the New Republic.
Stay in touch
Sign up for our free newsletter