$20 Dinner
$20 Dinner: Olly Olly Brings Some Nice Oddball Vibes To NYC's Resurgent Food Hall Scene
The suddenly high-stakes world of NYC dining finds a counterpoint at the once-lowly food hall.
12:57 PM EST on November 17, 2022
If anyone had asked back in the middle of catastrophic 2020, if I thought the "future of NYC restaurants" would have been the lowly food hall, I would have very briefly taken off my mask to show my incredulity. 
And yet there I was last week, standing in the middle of Olly Olly, yet another spanking new, ambitiously-funded NYC food hall, my fourth such destination in the past month (the other three were the spunky Urban Hawker in Midtown, the luxe and touristy Tin Building at the Seaport, and the Williamsburg Market Hall, which had to delay their initial opening and already lost one key vendor but seems to be moving forward now).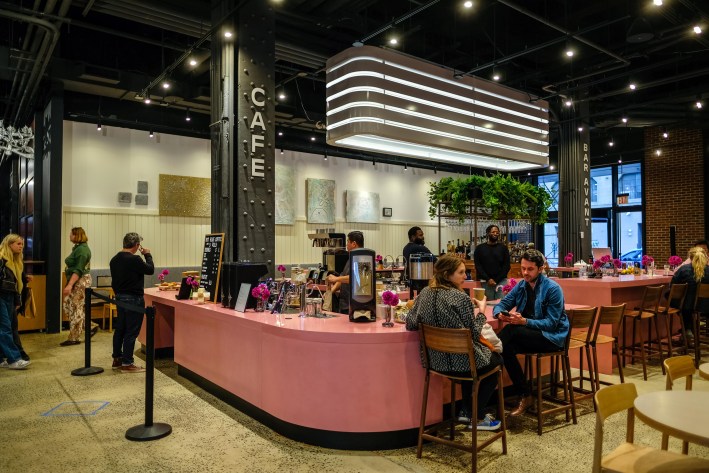 One theory to the genre's persistence, offered by a vendor in Williamsburg, is that the uncertainty of COVID has people reluctant to make plans too far in advance and, simultaneously, reservations for the city's most sought-after spots are impossible to get at anything approaching the last minute. At a food hall, on the other hand, you can just show up with as many or as few people as you can rustle up on any given night, let everyone choose whatever they want, get some drinks (or not), and just hang out without any pressure to turn over your table.  
At Olly Olly, the suddenly high-stakes world of NYC dining finds a counterpoint. The food hall has six vendors open so far, as well as a coffee shop and a large booze bar, and is run by an outfit called 16 on Center, a Chicago-based hospitality group with extensive holdings in that city.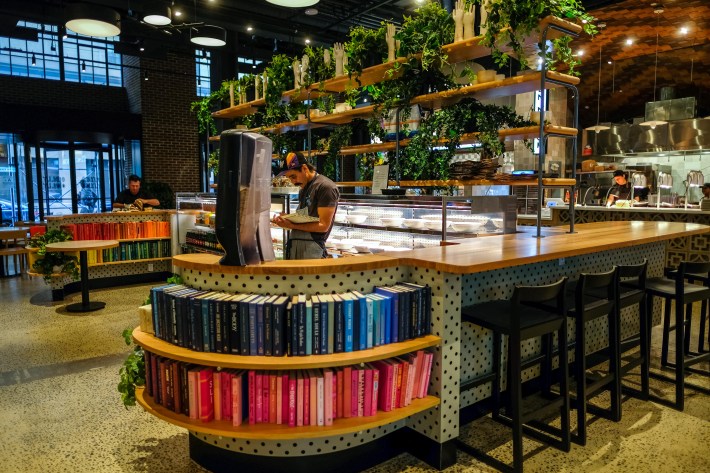 It's located in a small, street-level slice of Chelsea's colossal Starrett-Lehigh Building, once home to warehouses and manufacturing firms and recently transformed by RVR Realty into one of those urban office parks that lure in companies with amenities like…. food halls. 
Olly Olly is named after the thing you say in "Hide and Seek" when you're a little kid and you can't find your friends and you want them to come on out. It's a pretty good image for our post-caring-about-the-pandemic era, I guess?  
There's tons of seating at all manner of tables, banquettes, and stools. Once the Basquiat theme park currently on view next door leaves in January, Tom Wickes, 16 on Center's director of operations, told Hell Gate that they'll put on things like concerts, fashion shows, and art "activations" in that space, which has a 500-person capacity.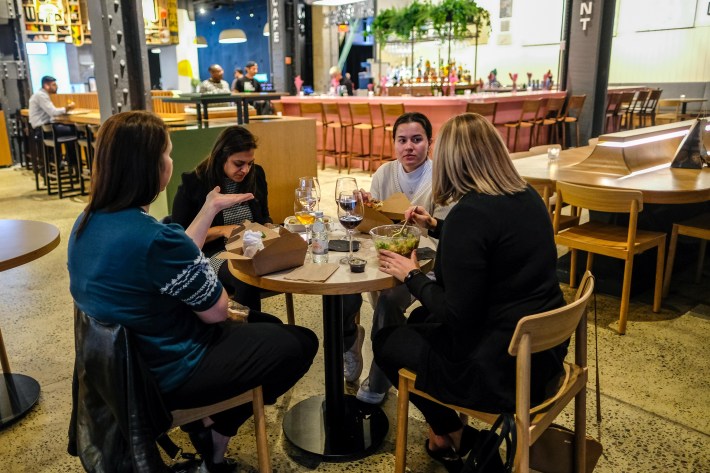 In the meantime, help yourself to one of the hardcover books from the Olly Olly library, which flanks the Blue Boy grab-n-go stand. Or just bop along to the DJ, who sets up every evening behind the weirdly elongated laptop table near the entrance (and the bar). Other odd touches include the mismash of booth headers, which are either futuristic-sleek or jumbled-wood rustic. That squiggly ass logo doesn't really go with anything else in the place either.         
But really, it's the vendors that make Olly Olly worth a detour the next time you're in Chelsea. A more motley crew you could not hope to find at such a corporate-conceived entity. One vendor quit her corporate job to deliver burritos in a bucket from her fire escape. Another told Hell Gate that her favorite part of being in a food hall is that she gets to blast Bjork over the sound system. 
The porchetta stand is run by a former professional soccer player. One chef with a Michelin star is slinging egg salad. Another Michelin star-haver pivoted to pizza early in the pandemic, selling Sicilian slices in an alley behind a punk club. 
It's a plucky crew, to be sure, and both individually and collectively they bring a lot of energy to a place that, so far, is pretty sparsely attended once lunchtime is over. Which in some ways makes it an ideal lowkey hang in the late afternoon and evening, a chill place to grab a quick solo supper, or spend time catching up with friends.     
Here's a look at all the current food options, ranked in descending order of $20 Dinner appropriateness: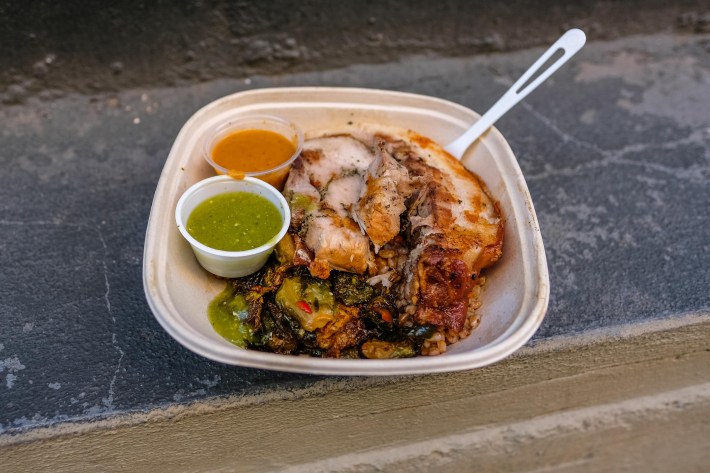 1. Pen 'n' Coop 
This is the only spot right now that serves actual full plates of food—like, an entree and sides—the best of which are laden with porchetta, that Italian roasted pig roll with layers of sweet meat, lots of fat, and cracking skin. If you're more Coop than Pen, rotisserie chicken is also an option, and is also good, though you'll want to pour on the sauce.   
Your server will spoon out your choice of two sides to go with—I liked the broccoli rabe and sautéd mushroom the best, but go with whatever looks the perkiest under the heat lamps—and you get two sauces to liven things up. You can also order a hefty "Veggie Plate," with three sides on top of a mound of farro, for $14. They sell a bunch of big sandwiches as well. 
Pen 'n' Coop is run by Andrew LoPresto, Bruno Molfetta, and Lorenzo Calvanese, who also own Babbalucci and Bar 314 in Harlem.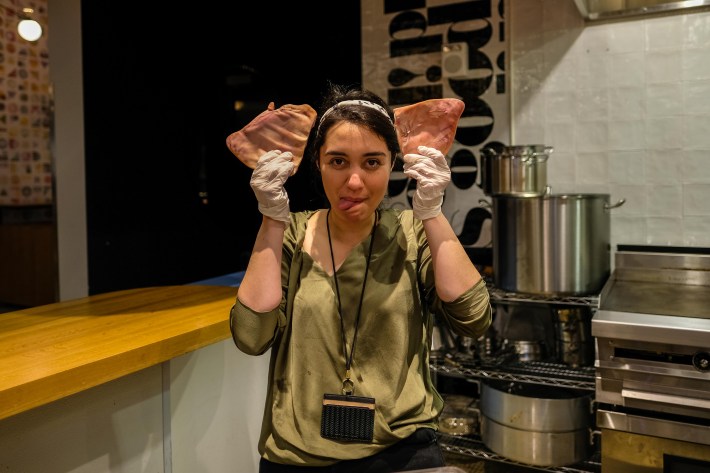 2. Ploo 
Roxanna Mejía and Pablo Rojas, formerly of fine-dining establishments like Per Se and Nomad, launched one of the city's raddest pandemic hustles after they both lost their jobs during that first lockdown. The delivered multi-course dinners in Brooklyn under the name Gastronomy Underground, feasts that came complete with "liner notes" about the food's cultural history and a QR-code linked soundtrack of, as Mejia told Grub Street at the time, "super-raunchy songs, the legit shit that we grew up with."  
Mejía is in charge of the music here at Ploo, too, the couple's taco stand at Olly Olly (Devo, The Feelies, and Bjork were in the mix the other evening). She also cooks, and bakes, and runs the register, and goofs around. Rojas works the grill and builds your tacos, and they are excellent, especially the gloppy "Pjork Carnitas" topped with chicharron and the "Tongue-N-Cheek," which stars both of those things. There's also a chicken one, and a majestic "Army of Meat" version, and bone marrow salsa, green guacamole salsa, and a terrific pink horchata made with rose and almond.  
As for the meaning of the name Ploo, "that's up to you to decide," says Mejía. "In ten years, if I don't die, I'll tell you." This place rocks. You can get three tacos for Hell Gate's twenty-buck limit. Is that enough food for dinner? ¡Quizás!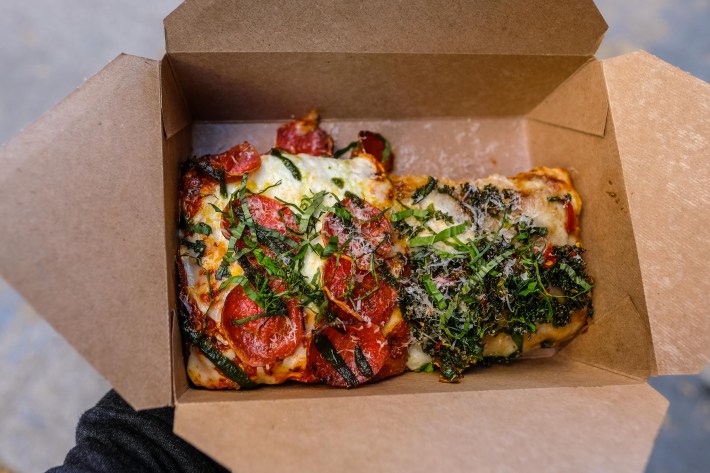 3. Pizza Friendly Pizza 
Noah Sandoval earned a Michelin star for his $200+ tasting-menu place Oriole out in Chicago, but his contribution to Olly Olly is more, cost-friendly than that, a pizza joint he started that first COVID summer in an alley behind what was described to me as a "punk club" called The Empty Bottle. 
Pizza Friendly Pizza serves bready Sicilian-style slices, thinly topped with things like sausage and broccoli rabe, squash and radicchio, and "Sunday Gravy." I wolfed down a pepperoni slice, which was fine, and a white anchovy slice, which seemed to have no such fish aboard, and certainly felt full, if not terribly satisfied. This booth might be better at lunch, when the pies are at their freshest.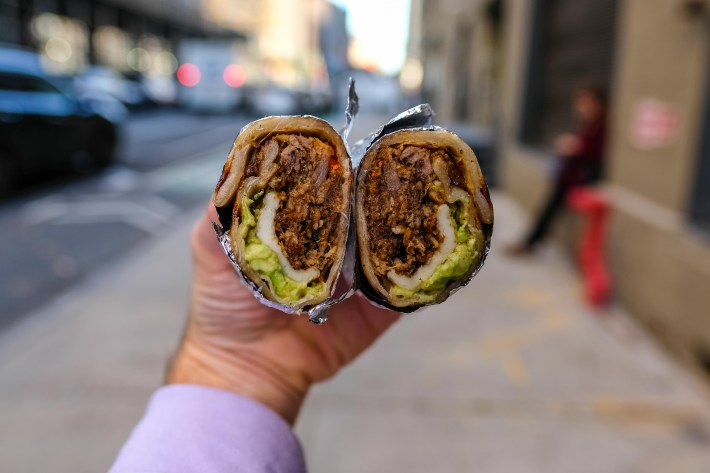 4. Forsyth Fire Escape 
The most NYC-famous vendor here is Isabel Lee and Luis Fernandez's pandemic pop-up hit, Forsyth Fire Escape, so named because in the summer of 2021, they only took pre-orders for their scallion pancake, queso blanco, pernil burritos, and delivered them by lowering them down in buckets from their Lower East Side apartment to customers on the sidewalk. 
It was a huge hit, and burrito "drops" sold out in seconds, but their landlord forced them to cease and desist. Since then they've been selling their creations weekly out of the bodega on their corner and, now, at Olly Olly, the couple is making several hundred each day, greatly increasing your chance of snagging one well into the dinner hour. 
These are packed with flavor, totally unique in the city's pantheon of burritos, and demand to be eaten by both the curious and the completist. They are on the small side though and, at $14 plus tax, don't quite make for a full dinner, hence the lower ranking here.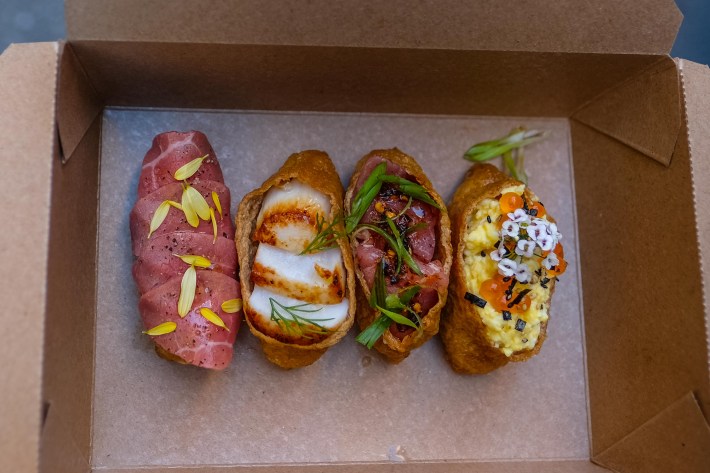 5. DdoBar by Joomak 
Need a snack? Jiho Kim and Kelly Lam, who received a Michelin star last year for their Koreatown restaurant Joomak Banjum, have got you covered.
Just sidle up to DdoBar and choose from among a dozen different yubu, short for yubuchobap. They're basically fried bean curd pockets stuffed with vinegared rice then topped with all manner of meats, fish, or vegetables. The yubu at DDOBar are fun and, mostly, very good, especially the egg salad one strewn with salmon roe, and the spicy tuna one.      
Want a $20 Dinner? Yeah this booth, where each of these two-bite beauties will set you back at least five bucks, is not going to cut it.  
6. Boy Blue Coffee and Goods 
Not dinner, unless you just want a premade grab-and-go salad or juice at 6:00 at night (you don't). But the owner here is chef Michael Davis, who has worked in multiple fine-dining establishments in the city and got his "boy blue" nickname from David Bouley, who was ragging on his constantly-changing hair color. David has plans to expand his offerings, so maybe check back.  
Opening Soon 
JM Bakery, run by the previously discussed Jiho Kim and starring egg salad sandos on milk bread; See Food, serving sandwiches stuffed with fishy things like beer battered cod or BBQ mackerel; and Shmackwich, home of the famed (?) wagyu chopped cheese from the excellently-named chef Sibnavus Cheeseman.   
Olly Olly is located at 601 West 26th Street, between 11th and 12th Avenues, and is currently open weekdays from 8:00 a.m. to 8:00 p.m. Closed Saturday and Sunday. 
Scott Lynch is a freelance food writer, photojournalist, and preschool receptionist. He loves New York City.
Stay in touch
Sign up for our free newsletter