Power
Organized Retail Crime is the Reason Your Pharmacy Sucks. Does NYC Even Have Organized Retail Crime?
Shoplifting has increased in NYC, but how much of it is the work of sophisticated gangs?
4:49 PM EST on December 20, 2022
Sick of having to wait several minutes for a big chain pharmacy attendant to unlock your deodorant? Blame the sophisticated "gangs" of people roaming Manhattan, who leave retailers no choice but to protect their merch under lock and key.
This was the upshot of an Economist story published last month about "organized retail crime" (ORC) and its proliferation across New York and the country. The short un-bylined piece came with the subhed "Orc nation" (get it?), quoted a rep from a retail trade organization, and a criminal justice professor who used to be a grocery store executive, the latter of whom advocated for the creation of a kind of national gang database for ORC offenders.
Petit larceny of goods under $1,000 has seen a drastic increase this year in New York City—up 34 percent from this time in 2021, and more than 40 percent since 2010, according to NYPD statistics. This wave of shoplifting has inspired plenty of scary headlines, a movie with Aubrey Plaza, and at least one Michael Rappaport video.
But in New York, are gangs of people carrying out, as the Economist put it, "carefully planned operations, where criminal groups steal large amounts of swag to flog for a profit"?
Back in May, state and local authorities announced felony charges against one such ring that was allegedly involved in stealing $3.8 million in goods and attempting to resell them on eBay, though the primary target appears to have been luxury clothing. This incident may have been an outlier. 
Hell Gate asked all five of the city's district attorneys if ORC was a problem they were seeing. Reps from Manhattan, Brooklyn, and the Bronx responded in the negative. Queens and Staten Island did not respond to our requests. 
​​"We do have a lot of cases involving recidivists who have committed numerous thefts at Target, Burlington, and smaller stores, but operating as individuals, not in groups," Patrice O'Shaughnessy, a spokesperson for Bronx DA Darcel Clark, wrote in an email.
As Amanda Mull reported in the Atlantic last year, trying to pin down exactly what ORC is and whether it is driving the rise in petty larceny is difficult, because the definitions are squishy and the information is self-reported. Academic literature is scarce. (The Department of Homeland Security, which has made a few big ORC busts across the country, broadly defines ORC as "the association of two or more persons engaged in illegally obtaining items of value from retail establishments, through theft and/or fraud, as part of a criminal enterprise.")
An annual, anonymous survey of dozens of the biggest retailers in the country conducted by the National Retail Federation showed that overall, their rates of loss of merchandise in FY 2021—or "shrink"—were holding steady at 1.4 percent, lower than the five-year average of 1.5 percent.
Of that 1.4 percent, which represents some $94.5 billion in losses of total sales, it's not clear how much can be attributed to ORC, though NRF members say ORC incidents are up 26 percent. But issues like "process/control failures" also accounted for much of that loss.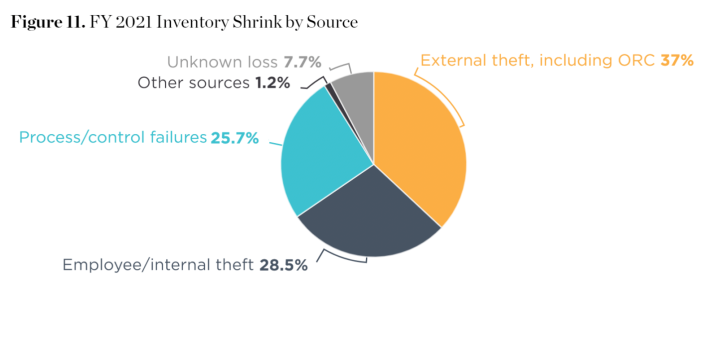 The NRF survey also listed New York City as one of the top three regions in the country for ORC. We asked NRF to square this with what the district attorneys told us, and were referred to the Retail Council of New York State, which referred us to the NYPD, who did not respond to our request for comment.
Hell Gate asked Target, CVS, Duane Reade/Walgreens, and Rite Aid if they could point to specific incidents of ORC in New York City. We got general comments from Duane Reade/Walgreens and Rite Aid, but no specific incidents. Target and CVS didn't respond to our inquiries. None responded to a question about why merchandise is behind plastic.
Did the Rite Aid in Hell's Kitchen, which the Post reported was "plagued by a series of thefts," really close because of shoplifting? A Rite Aid spokesperson wouldn't say. They added, "In regards to theft, like many in the industry, we are seeing a higher level of brazen shoplifting and organized retail crime, and we are taking an active role in helping the police in their pursuit of shoplifters." 
A manager at a CVS in Manhattan who has worked at big pharmacies for decades said that shoplifting is indeed "really bad," but admitted that incidents where ORC appeared to be involved were scarce. "Maybe two or three times a year," he told Hell Gate, after we promised not to publish his name or the location of his store. How does he know it's ORC? "Someone will grab something and then jump into a car," he shrugged. 
The CVS manager said he believed that some people steal items like laundry detergent and then sell them to corner bodegas to feed a drug habit, or for extra cash, but he couldn't say for sure. "If people want something to eat or drink, they can just come in and ask me, and I say, whatever," he said. "But some people come in looking for a very specific kind of item."
The plastic cages have prevented thefts, but can also be very annoying for staff. "Think about how many times a day we have to open and close them. They're cheap, they break," the CVS manager said.
Another seasoned manager at a Duane Reade/Walgreens in Manhattan said she sees people stealing things all the time, but it's not ORC. "It's pretty brazen. I've seen people come in and put a bunch of stuff into a laundry bag," the manager said. Violence is rare, because store policy is that employees let the shoplifters take what they want and go. 
This manager said she has pretty much given up on calling the police when she sees a repeat offender. "The cops say they can't do anything because of bail reform, even if they kill someone," she said (this is not true, and not how bail reform works). "The DA blames the governor. No one can do anything. I'm not a Republican, but I almost voted for the Republican governor because of this." 
Despite the dearth of hard evidence, the threat of ORC is being used to make policy. A bill introduced in Congress this fall would "establish a new Organized Retail Crime Coordination Center to align counter-ORC activities nationally and internationally by developing a national-level ORC intelligence perspective."
In New York on Friday, Mayor Eric Adams attended a "retail theft summit" with law enforcement leaders and trade groups. Only one person quoted in the release, the president of the retail council of New York State, used the phrase "organized retail crime." The mayor reportedly gave a speech and then dipped out after 20 minutes.
Retail groups lobbied for more bail reform rollbacks this summer, something that the governor is reportedly exploring. The two pharmacy managers we spoke to were somewhat torn on the question.
"Should you be able to steal 30, 40, 60 times? No," the CVS manager said. "I don't think they should be put on Rikers Island though."
"I don't know what the solution is," the Duane Reade/Walgreens employee said of the rise in shoplifting. "They need rehabilitation or something."
Chris is an editor at Hell Gate. He spent nearly a decade working for Gothamist, and his work appears in New York Magazine and Streetsblog NYC.
Stay in touch
Sign up for our free newsletter