Fresh Hell
Who Keeps U.S. Open Stars Cool on the Court? I Do.
Players love their IcyBreezes: "Please, don't touch," murmured Novak Djokovic, like a guard at a museum.
6:05 AM EDT on September 9, 2023
At the first flash of white on the TV screen, the higher-ups got my boss on the phone. Where did Coco get those towels? We reassured him they weren't ours. Ours were all navy, following protocol. The 19-year-old tennis star must've brought her own out from the women's locker room. Despite the tournament's shift to navy towels years ago, players stubbornly prefer the white ones, and it's a constant struggle to maintain an all-navy roster on television. Eventually, we're worn down, and by the second week of the tournament players who ask for them immediately get their white towels.
It's my rookie year as a court attendant. I was beyond hyped to be assigned to the 23,000-seat Arthur Ashe Stadium, the largest tennis venue in the world, leaving behind the small-potatoes outer courts where I did my training, with their dinky little bleachers and unfortunate lack of giant roof. Fifteen hours of learning all about the various methods of drying courts is instantly, blissfully useless. Though the pay is the same ($16 an hour), it feels like a promotion. 
Every year, someone writes about the experience of joining (or failing to join) the glamorous corps of ball people at the U.S. Open. It's easy to see why—athletes in their own right, with snazzy uniforms who make frequent TV appearances, the ball person is a compelling personality. Court attendants, not so much. Our work (8 to 10 hours of water, ice, towels, and the occasional racquet) doesn't have the same cachet, though the Arthur Ashe crew is a group of seasoned veterans, with many decades of experience between us. Far fewer in number and in less dashing uniforms, our TV appearances are mostly relegated to commercials. 
But we're the last line of defense against the boiling hot conditions now typical at the Open. Mostly, that defense involves a truly absurd amount of ice: Imagine a mountain of five-pound bags, trucked in, fetched fresh from pallets and rolled on dollies before going into various freezers and coolers. After that, the real work begins. We fill the cooler on court with ice, a humble 100-quart marine cooler, a bit banged up, a bit leaky. We fill individual little bags with ice that players like to rub on their wrists or the back of the neck. We make ice towels, a very particular way of wrapping a towel full of ice, three to five pounds of it, and taped up tight so that in the course of inevitable rough treatment by a player, the ice doesn't fling out all over the court (it happens, sometimes on camera). Most players like to wear them around their necks. Daniil Medvedev, in his Wednesday sauna match against Andrey Rublev, went through three of them, wrapping one around his head at times. "One player is gonna die, and they're gonna see," Medvedev said during the match, toweling himself off. After he won, he dumped a bottle of water over his head.
Medvedev's warning isn't an idle complaint. The U.S. Open is getting hotter and hotter. It's a losing battle against the heat, but at my most grandiose, I believe that the management of sweat and various cooling techniques is really what allows good tennis to continue being played in these conditions. It's tricks like the ice towels, gadgets like the IcyBreeze, "the world's first portable AC," which is really just a ice-filled cooler with a hose and a fan attached. Players love their IcyBreezes: "Please, don't touch," murmured Novak Djokovic, like a guard at a museum, when I checked to make sure his machine was turned off before he returned to the court. A great product, but I don't think the IcyBreeze is meant for such constant use; sometimes we have to replace the batteries during the match. More commonly, I open the cooler and am once again shocked that ten pounds of ice has melted in such a short time.
Water, towels, and ice are the core of the job, the court attendant's holy trinity. Blowing ball fluff off the court at the end of matches, emptying the trash, keeping various colors of Powerade and several good bananas in stock, cleaning the player's benches, fetching umbrellas, and ferrying racquets to and from the stringing room takes care of the rest. Occasionally there are more arcane requests: Apparently this year, a player asked for pickle juice, thought to relieve cramps. Conditions have been so sweaty that players turned to old-school methods to keep their hands dry. During a night match between Taylor Fritz and Djokovic, we got a request from the umpire of "soda for Novak." After a moment of confusion—a bizarre request for the same man who once ate a single square of chocolate to celebrate winning the Australian Open—we realize we've misheard the ump over the roar of the crowd. They want sawdust, which on reflection should have been obvious. Other players have since asked for it, a simple but effective way of controlling moisture in the kind of conditions where hands and arms get slippery with sweat moments after they hit the towel.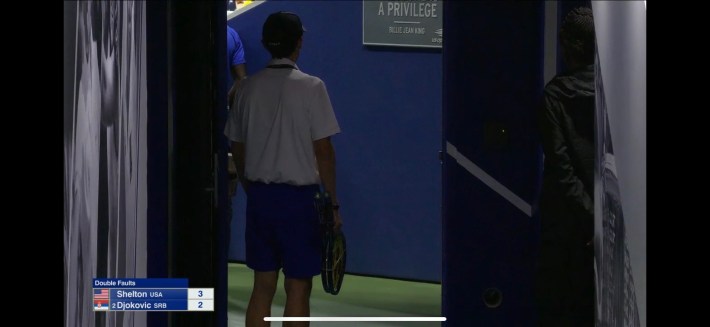 There's quiet dignity, as well as a bit of a thrill, in the work. Sometimes too much of a thrill. One of the first things we were told in training was "don't fangirl." One of my colleagues couldn't manage that—the rumor was that he tried to get a pic of himself with Iga Swiatek—and got fired the first week. Other times, the responsibilities of being a court attendant seem boring or trivial. Players are capable of fetching their own bananas, after all. Much of my job could be performed by a mini fridge, and if that sounds like an oddly specific fear, it's because that's exactly what happened at the Australian Open.
Is this a job in decline? Court attendants on Arthur Ashe once sat right on court, vigilant, basking in the atmosphere. Now we hunch over monitors in a cave-like room off its southeast corner, hustling out on the changeovers. Like elves in Middle Earth, we were once much more prominent—now, in this latter age, we have been diminished. An attendant is a fancy word for a servant, and the kind of service we offer these exhausted, sweaty people can feel a bit archaic. The pandemic changed things in that department, probably for good. Many players will grab their own towels and drinks, and in general, are increasingly expected to take care of their own stuff. 
But as long as we continue to bake our planet, our job security is intact. In fact, our handiwork is becoming more and more crucial. The IcyBreezes will need new batteries. The players will still get some small comfort from the feeling of wet, cold cloth on their necks. That's important enough.
Ethan Davison is a freelance journalist and tennis fan who covers games, books, and culture.
Stay in touch
Sign up for our free newsletter