Nosh Pit
What Was the New York City Crab Boil Boom?
Cracking the case of the Great Crab Wave has largely been an exercise in conjecture and vibe checks.
9:12 AM EDT on May 2, 2022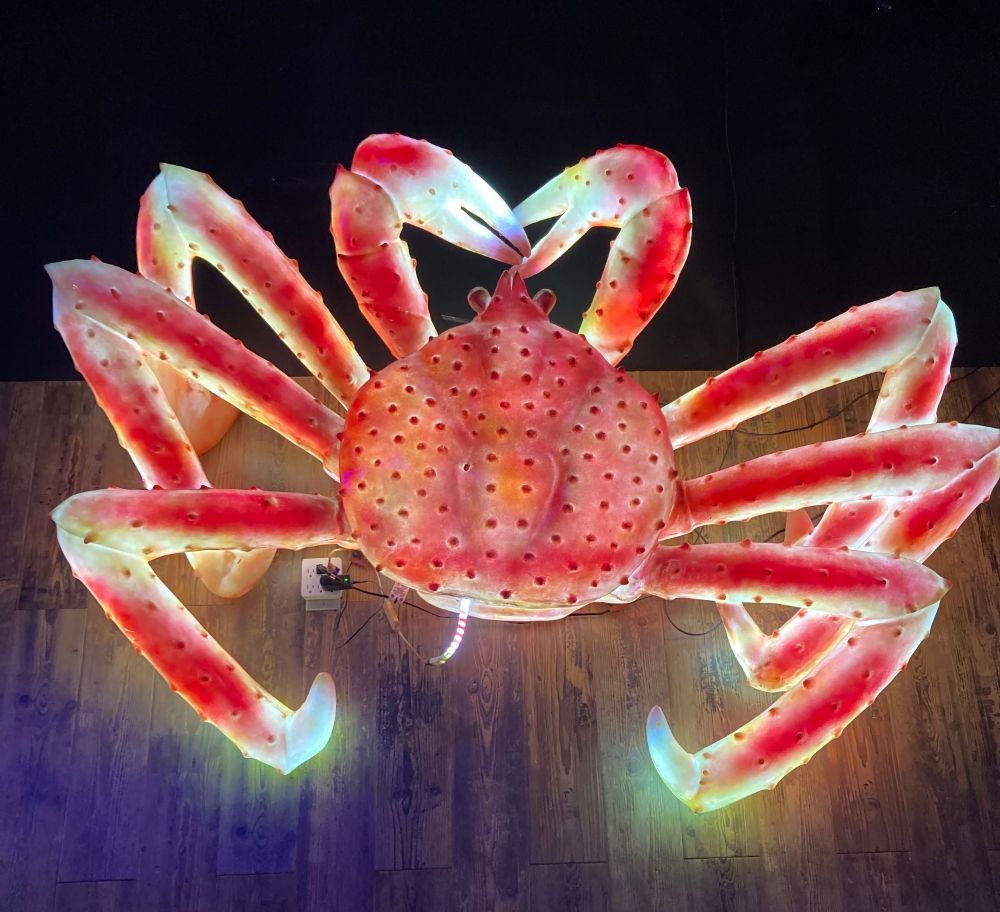 I remember first laying eyes on it, some time in November 2020: a crab joint with the swagger of a nightclub. It had purple and hot pink LED lights, giant plastic sea creatures mounted on the wall, and a bright, all-caps sign: CRAB DU JOUR.
Passing the corny/swaggy crab restaurant plopped in the middle of business-as-usual Fulton Street next to a Walgreens always made me grin, a welcome diversion during deep pandemic winter. Friends and I told each other, half-bit, half-sincere, that once COVID was over, we'd all go out to the Crab Du Jour.
This eye-grabbing seafood chain (currently at 21 locations in New York City, from Coney Island to the Bronx) wasn't the only new crustacean sensation in town. Beginning in late 2020, a crab contagion spread across the city, with logos of cartoon shellfish cropping up on every other corner.
Some, like Juicy King Crab Express (13 locations by my count, from Bushwick to the Bronx) and Crab Bros (two locations, in Bed-Stuy and Prospect Heights) are takeout-only, sending crab cravers home with a plastic bag of boiled seafood and fixings, knotted tight to keep the contents warm. Others, like Crab Du Jour and Hook & Reel, (nine locations, including Staten Island and Long Island) offer dine-in too, their interiors reliably decked out in kitsch—mounted sea creature sculptures, strewn fishing nets, dangling wooden helms and anchors. The menus are largely indistinguishable—all serve customizable Cajun-style seafood boils (pick your catch, sauce, and spice level), fried baskets and sandwiches, and greasy apps like hush puppies or onion rings.
As a born-and-raised New Orleanian and seafood lover—of boiled crustacean, in particular—the Crab Rush piqued my curiosity, though I was skeptical. Why crab boils? Why so many all of a sudden? And why during a pandemic?
Cracking the case of the Great New York Crab Wave has largely been an exercise in conjecture and vibe checks. But here are a few factors to consider.
During the outset of the pandemic, restaurant closures led to an excess in seafood supply that drove down prices, according to the US Bureau of Labor Statistics. (Lobster, in particular, took the biggest price dive, a double-whammy effect of decreased demand from restaurant closures and COVID outbreaks on cruise ships, which tanked that industry.) At the same time, people still craved seafood. In 2020, frozen seafood sales increased 35 percent and fresh seafood went up 24 percent; fresh crab saw a 62 percent growth in sales, according to data from IRI Worldwide, which one analyst called "unheard of." Demand is still high, whether it's because of a drive to eat healthier and more sustainably because of [gestures at everything], or because the rising cost of beef has made seafood more attractive.
"Consumers are looking for more premium, special items like crab legs, lobster tails and shrimp," Stacy Schultz, director of marketing and sustainability coordinator at the Midwestern seafood distributor Fortune Fish and Gourmet, told one trade publication. "They are tired of cooking and want something special from retail or carryout. Seafood sales increased [in 2021] and will continue to improve next year."
Remarkably low seafood prices, combined with insatiable demand, along with temporary rent deals on pandemic restaurant closures, may have created the perfect storm for business owners to reopen closed or struggling eateries as counter-service crab establishments.
On a 50-degree February evening, a steady stream of customers picked up to-go orders at Crab Bros on Malcolm X Boulevard. I spoke to Wendy Zheng, the daughter of owners Lian and Summi Zheng. She told me that they formerly owned Meet Noodles in the East Village, but found that when online ordering became the norm during the pandemic, the noodles would get soggy and absorb the soup by the time customers brought them home. So they switched to seafood, opening Crab Bros in September 2020 in Bed-Stuy, where rent was more affordable than Manhattan.
"People around us were saying, 'Oh, this is easier for you to do, and it's popular right now,'" Zheng explained. They've since added a second location on Washington Avenue in Prospect Heights.
Richard Rochester opened Sonia's Crab & Finn in Crown Heights in December of 2020. He was inspired to open his counter-service spot specializing in southern Caribbean flavors because he went to college in Maryland, loves the taste of crab, and thought the neighborhood needed "a seafood spot that was clean, and [where] the food and atmosphere were good."
"What was funny to me, as soon as this opened up, that's when it seemed like a lot of crab places opened up," Rochester told me.
As to why the trend might have taken off at that time, Rochester said, "They changed the Chinese places into [seafood restaurants] because they found out that people of color liked it and they wanted to jump onboard. That's marketing." He added, "When I say 'people of color,' it's a broad spectrum. People like seafood."
Fifi Bell-Clanton and Gwendolyn Woods own The Crabby Shack on Franklin Avenue in Crown Heights, which opened in 2014. They say they first noticed the crab creep in 2019, "and by the time we got to 2021, we felt like within every five blocks, you would see a crab restaurant," Woods said.
Woods added that takeout crab legs don't get soggy, and travel well as a to-go item. She also wondered if social media might have an influence, with Instagram and TikTok content of popular Southern seafood restaurants and different ways to eat crab legs blowing up the trend.
The Crabby Shack owners are understandably concerned about the over-proliferation of crab joints in Brooklyn. "Crab is supposed to be special," Bell-Clanton told me. "It's not something that you eat every day. To have crab restaurants within a few blocks from each other is kind of silly."
Woods added, "We really do pride ourselves on our food integrity, even our customer service. We know our customers by name, and it is concerning that these rush-and-go crab places are watering down the whole idea and the excitement, too, of getting good crab."
Market forces may be overcorrecting for Woods' concern. The New York City crab boom may be headed for a bust. Seafood prices are skyrocketing now—Bell-Clanton noted that crab and lobster have tripled in cost. While researching this story, it certainly didn't seem like things were going well in the local crustacean-slinging economy. I'd planned to eat at the Hook & Reel located at Albee Square in Downtown Brooklyn, but found it suddenly shuttered. My pandemic dream of dining at a lively Crab Du Jour deflated when I showed up to an empty dining room, and the manager told me that business had been slow since they opened, citing their lack of liquor license as a major culprit. All the plastic sea creatures hovering like balloons at a party that never got started.
When I finally sat down at one of the new seafood spots, one bite and I deemed the fried oysters too fishy to eat, and the crawfish meat in the boil was overcooked and underseasoned. I'm no Pete Wells, but I did grow up on this cuisine in New Orleans, so I at least know what it's supposed to taste like. The experience simply left me feeling crabby!
With warmer weather finally here, maybe the boils will heat up again. For every shuttered or depressed crab shack, I'll happen upon another glistening seafood joint with a catchy nautical name, either newly opened or one I'd never noticed before. But I wonder, were they ever booming, or were we just blinded by a mirage of cartoon crustaceans on every corner?

Kate Mooney has written for Vox, MEL Magazine, The New York Times, GQ and more. Loves seafood and Miller High Life. Born and raised in New Orleans, she now dodges rats in Brooklyn with her dog Phoebe.
Stay in touch
Sign up for our free newsletter