Going Places
What the Hell Is Happening With the Penn Station Redesign?
We know you have questions—and we answer (almost) every single one of them.
1:04 PM EDT on July 28, 2023
New York's Pennsylvania Station hasn't been the same since they took down the big clickety-clack board six years ago, but North America's busiest train station has been a dank, cramped, bummer for much longer. Now, plans are being assembled to change that. Over the last few months, a potential Penn Station makeover has been all over the news, as flashy renderings for two competing visions for the future of the train hall get passed around, while Madison Square Garden, like a vulture made of Billy Joel concerts, looms over the proceedings.
What's in these plans for redesigning Penn Station? Who is pushing them, and why? And when can we expect Penn Station to actually get better? 
Grab an Auntie Anne's pretzel dog as we wade into what is arguably New York City's most complex and contentious infrastructural debate.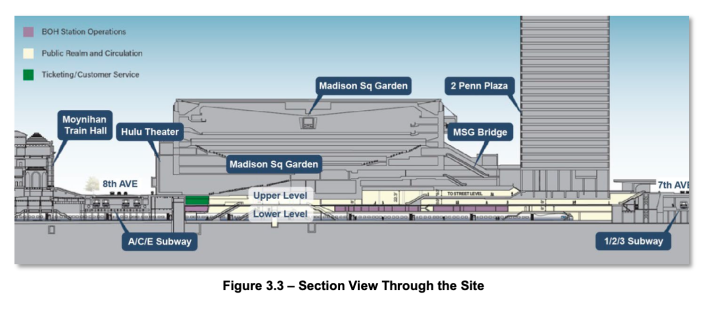 Why are we talking about Penn Station in 2023?
For reasons both political and practical, now is the time to fix Penn Station. Uncle Joe is in the White House and the infrastructure cash is flowing, the old plan that was on deck to redesign Penn just got put on ice, and Governor Kathy Hochul, the politician with the most clout in the decision-making process, is still in office after winning the gubernatorial election last year.
Most pressingly, the Gateway project to replace the 100-year-old Hudson River tunnels that connect Penn Station to New Jersey just got $6.88 billion from the federal government, the largest transit grant ever. Metro-North trains are slated to arrive in Penn Station starting in 2027. 
The Penn Station we know was built to serve 200,000 passengers a day. It currently handles 600,000, and that number is expected to go up to 678,000 by 2038. It's time.
Yeah, didn't our old governor have an idea to redo Penn Station? What happened to that?
The pandemic happened. Former Governor Andrew Cuomo's preferred plan to reshape Penn Station involved allowing a real estate developer, Vornado Realty Trust, to demolish a bunch of buildings around the station and construct 10 skyscrapers in their place. The tax revenue generated from these gleaming towers would theoretically pay for the improvements to the train station.
After Cuomo resigned, his plan remained, though so did criticism that the project was just an opaque, multibillion-dollar taxpayer-backed sop to developers (the CEO of Vornado literally called it the "promised land"). Governor Kathy Hochul was on board, but earlier this year, Vornado looked at the cratering commercial real estate market and concluded that it no longer made any sense. By this past June, Hochul was saying that the Vornado stuff was "decoupling" from the actual train station. 
So the governor decides the fate of Penn Station? 
Not exactly. Amtrak owns Penn Station, but the three rail agencies that operate out of Penn are supposed to come to an agreement—that's Amtrak, New Jersey Transit, and the Metropolitan Transportation Authority. However, more than 50 percent of the 600,000 passengers that pass through Penn Station each day are MTA customers. The governor controls the MTA, so naturally, the governor would have lots of influence over what happens next, which is why Governor Hochul raised a lot of eyebrows when she told reporters late last month that "we are entertaining all options."
Why would anyone freak out over the governor saying "we are entertaining all options"? 
Because Hochul was literally at a press conference where the MTA was releasing new renderings for its preferred Penn Station redesign, and here was the governor, telling everyone that Penn Station's redesign was still up for grabs! Drama!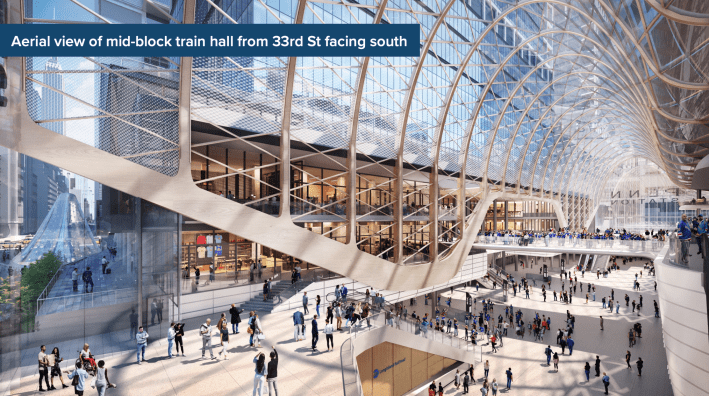 What's in the MTA's plan for Penn Station?
Technically, the MTA, NJ Transit, and Amtrak present a united front, so it's the "rail agencies'' plan." The MTA wants to open Penn Station up and make it brighter and roomier, with a big train hall entrance on Seventh Avenue near West 33rd Street, where there is currently an unused taxi stand, and two new Eighth Avenue entrances on the corners of 33rd and 31st Streets. 
This design is by the firms FXCollaborative and WSP, along with the architect who redesigned Kings Cross station in London, John McAslan. Cost estimates for this plan have ranged from $7 billion to $10 billion—so just a hair less than the $12 billion it cost the MTA to run LIRR trains into Grand Central.
Why does redoing a train station cost at least $7 billion?!? 
Labor, materials, government inertia. Philadelphia's 30th Street Station is reportedly getting redone for $400 million, but they only serve 100,000 people a day, and they don't have the home of the New York Rangers bearing down on them. The MTA says it will be paid for through a combination of state and federal funding.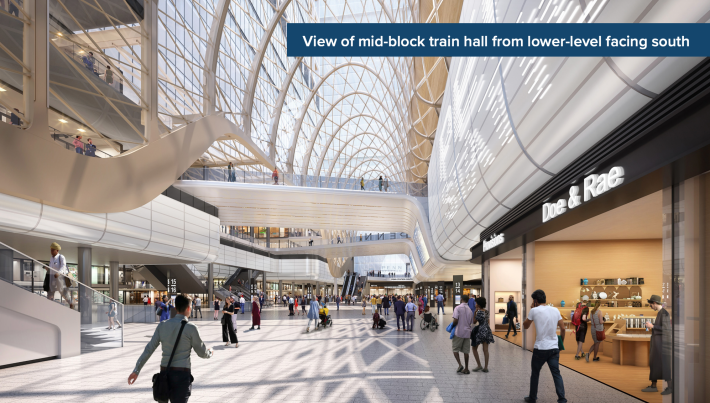 Sunlight in Penn Station? This is an improvement.
Yeah, this seems fine! It's roomy and bright (though I think that the rendering for the train hall ceiling looks a little Oculus-y) All of these are just visions at an early stage of design—i.e., very expensive if detailed cocktail napkin drawings. 
But crucially, they're not quite as sexy as the renderings of another plan for Penn Station by the Italian firm ASTM, which has picked up steam since its existence was reported in March.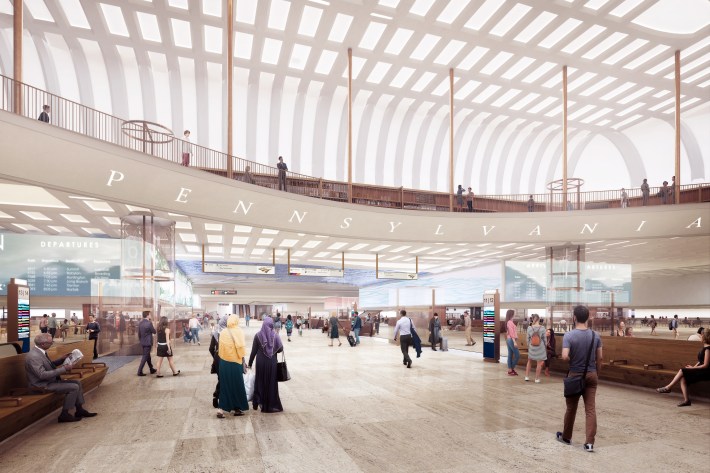 What's the deal with this other plan? How could it be that different?
ASTM's Penn Station, which was sketched out by the architects from HOK and PAU (pretend you went to architecture school and know these acronyms), would create a huge new entrance on Eighth Avenue, directly across from Moynihan Station. They also want to wrap Penn and Madison Square Garden in a handsome stone facade to match Moynihan's look across the street. 
ASTM claims they can do all of this for $6 billion—at least $1 billion less than the MTA's current projection for its plan—and that they can do it in six years, while promising to pick up any construction cost overruns.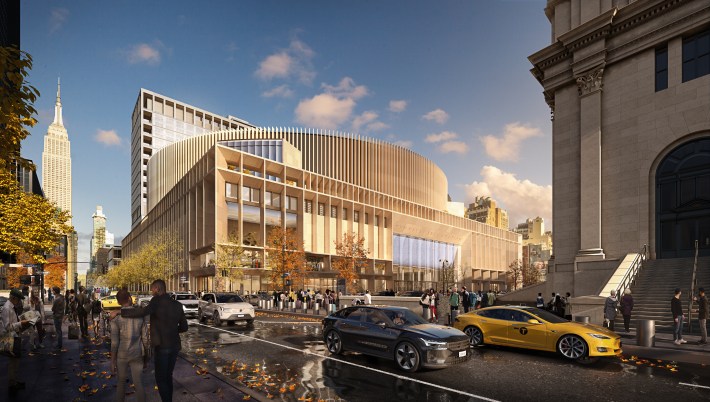 Cool facade, new sparkly entrance, lower price tag. What's the catch?
For one, ASTM would put up $1 billion of its own money, and they would expect a return of up to 11 percent on their investment. The company wants $250 million a year for 50 years, in exchange for managing and operating Penn Station. This is a juiced-up kind of public-private partnership, or "P3."
ASTM's plan also requires purchasing the Hulu Theater from MSG, for $500 million, so it can build that grand Eighth Avenue entrance.
Hold on, why are we entertaining this ASTM plan? Who asked them to come up with this? Isn't there some kind of official process?
The MTA began their normal design-build process for the Penn Station redesign project last year, and that is continuing apace. But ASTM is arguing that they should get a crack at a whole new bidding process, and that the state should issue another bid for Penn Station, but this time, for a "master developer" who would design, build, operate, and maintain the station, which is what ASTM wants to do.
According to the public testimony ASTM has given, their plan has been in the works for roughly two years, and it's been done in consultation with MSG and its owner, noted Sphere visionary James Dolan. ASTM reportedly has a preliminary deal with MSG to buy the Hulu Theater.
Could the state just issue another bid? Well, yeah, because the entities that have the power to do something like this—the MTA and Empire State Development—both serve at the pleasure of the governor. But it would have to be done soon, before too much time and money is wasted on the MTA's plan that is currently in the works.
ASTM's pitch boils down to: We have a cool design; we have construction firms who can execute the work; and crucially, we have MSG's cooperation. If you put out this bid, we will probably win it.
"A master developer RFP could go out now. And that's something that we would be able to compete for, with our whole concept inclusive of financing. And we already know exactly what we need from MSG to accommodate our plan, precisely," ASTM executive Peter Cipriano told the City Council recently.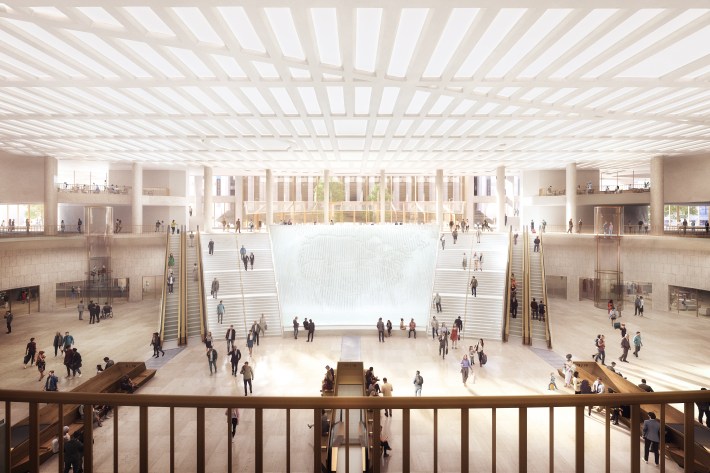 Does Penn Station need a big fancy new train entrance on Eighth Avenue?
The MTA has argued that no, it does not, because it will cost at least another $1 billion, and because only 30 percent of Penn Station's travelers enter the station from the west side, with just 15 percent walking in off the street. (Moynihan is also right there on Eighth Avenue if you want to have a beer at the hottest bar in town and then mosey a few steps underground to your train gate.)
A source familiar with the rail agencies' plan insisted that ASTM's Eighth Avenue entrance was more about buying MSG's cooperation than anything else.
"Essentially bribing people is what businesses do, to get things done, I understand that," the source said. "But why would we just line the pockets of the Dolans to the tune of $500 million?" (We asked ASTM to respond to this comment on the record, in addition to a list of questions we had, but a rep pointed us to their public testimony.)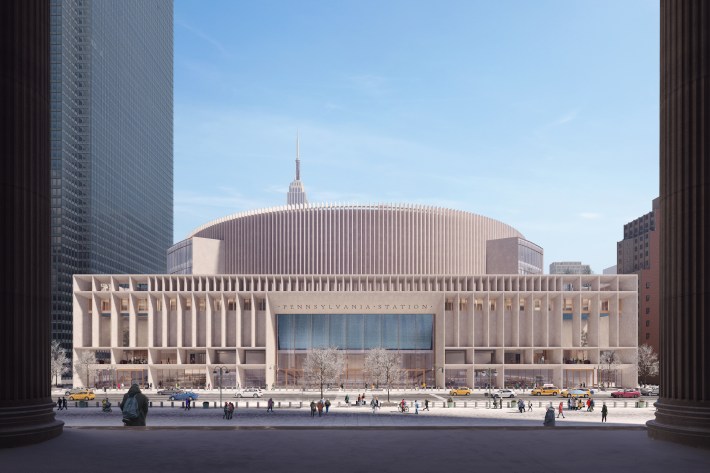 Why would anyone give MSG $500 million just so we can make improvements to the massive train station that sits beneath it? 
This is the question that MTA CEO Janno Lieber has raised to throw cold water on ASTM's plan. "I think the Dolans have gotten a pretty good deal from New Yorkers so far," Lieber said earlier this year, referencing the fact that the arena has not paid property taxes since 1982, thanks to an open-ended exemption passed by the state legislature that has yet to be undone. The City's Independent Budget Office recently calculated that the MSG tax break has cost the City a total of $946 million, some $40 million every year.
But the truth is that the rail agencies need MSG. They need MSG to give up the mid-block taxiway that hasn't been used since 2001, they need property on the corners of 31st and 33rd to expand the entrances, and they need access to infrastructure—the biggest reason Penn Station sucks so bad is because MSG literally squats on top of it.
The three transit agencies recently issued a report stating that MSG is "incompatible" with a new Penn Station, unless MSG makes some concessions and kicks in some money for all of the above. How much money do they need? According to an MTA official, the infrastructure upgrades will cost hundreds of millions of dollars, which would be shared by the rail agencies and MSG.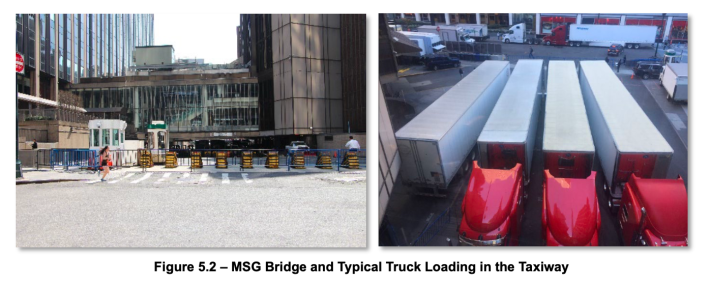 Has MSG expressed a willingness to pay for any of these improvements?
Hell no. At a zoning hearing last month, representatives from MSG told the rail agencies that they need "fair market value" for whatever is being taken from them, and basically accused them of bullying in a public forum—which is funny coming from a company that uses facial recognition technology to ban people they don't like from their venues, and that, again, has received a shitload of free money from taxpayers since Ed Koch was mayor. (MSG reps did not respond to our questions.)
And this is one of ASTM's biggest selling points: We have the Garden's cooperation.
"For someone who's been around Penn Station for 20 years, you know that Amtrak and the Garden own this piece of property, and if they are not collaborating with you, you are not going to get anywhere other than litigation and a morass," PAU's founder and creative director, Vishaan Chakrabarti, told the council. 
Chakrabarti, who had previously advocated for Penn Station plans that involved moving MSG, said he signed on to the ASTM plan a few months ago because it was a good design that had a great chance of success. 
"And so it seemed to me that if no one from the governor's office and no one from City Hall was talking to the Garden about moving, and yet the Garden had been talking to [ASTM] for well over a year about the theater move, that it was time to light a candle instead of curse the darkness," Chakrabarti said.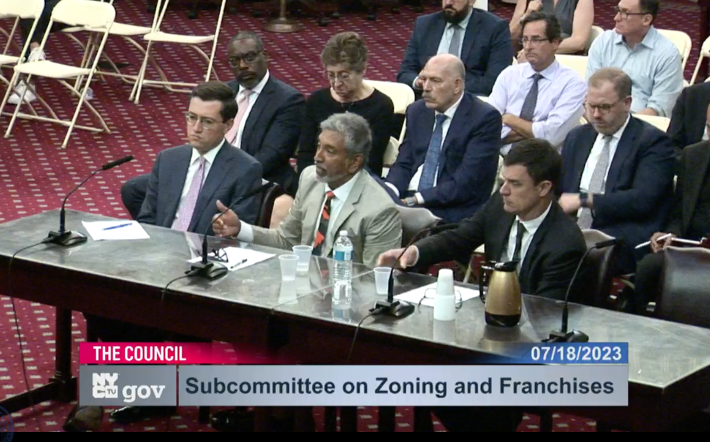 Doesn't the City Council have any leverage here? MSG is in New York City!
Yes, and MSG's "special operating permit" is currently up for renewal. The arena wants to remain atop Penn Station "in perpetuity"; the Department of City Planning recommended that MSG get a 10-year renewal, and in exchange, MSG would make some cosmetic changes. But some councilmembers have signaled that they may ask for a much shorter renewal period and more concessions. At a hearing earlier this month, MSG reps repeatedly refused to answer questions about the sweetheart tax deal. 
"The City needs to be asking for way more," Rachael Fauss, a policy director and MTA researcher at Reinvent Albany, told Hell Gate. "Why can't the City use the leverage they have over this permit process to ask MSG to give back and facilitate some of these things that they need? Like the entrances at 31st and 33rd Street, the taxiway. These are pretty simple, important parts of both ASTM and the MTA's plan."
There is still time for the City Council to increase their demands, as the decision on MSG's permit isn't expected to come down until late August—though if councilmembers want to make any substantive changes to DCP's recommendation, they'd have to send them back to the agency before it gets a final vote.
Wouldn't it be better if MSG just moved?
Better for Penn Station? Absolutely, and this is what Manhattan's Community Board 5, which includes MSG, recommended should happen. Earlier this year, there were rumblings that Stephen Ross, the Hudson Yards developer, pitched Dolan on the idea of moving MSG further west, but Dolan allegedly refused. (Ross might have gotten the idea after reading Hell Gate.)
But moving MSG would require giving Dolan a ton of money, and seems increasingly unlikely. "Even discussing the Garden anywhere else, it just should be a nonstarter," an MSG rep told the council during the special permit hearing. "I think it's the best location any arena in the world could possibly be."
MSG also has political ties to the last two gubernatorial administrations. Cuomo made numerous public appearances with Dolan, and Cuomo's best friend went to work for MSG before he was ensnared in a federal corruption probe. More recently, the Dolans spent more than $258,000 to support Hochul's 2022 campaign. There are reasons you don't see the state legislature itching to roll back MSG's tax break.
You're saying that this is political.
Always has been! 
Great. Who supports this ASTM plan?
The ASTM group has done an impressive job of garnering praise from politicians (Manhattan Borough President Mark Levine basically gave it a stamp of approval), transit groups (the Regional Plan Association's head gushed about it, though RPA told Hell Gate that it wasn't an explicit endorsement), and some influential architecture critics. ASTM's monthly lobbying bills are in the low five figures, but the MTA's spotty track record with keeping huge infrastructure projects on time and on budget also probably works to ASTM's advantage.
If it appears that ASTM has a good grasp of power brokers and transit cognoscenti, that's because they currently employ Pat Foye, who until 2021 was the CEO of the MTA. And the aforementioned ASTM executive Peter Cipriano was a senior advisor to Donald Trump's Transportation Secretary Elaine Chao. 
Wait, can the former head of the MTA just turn around and start working on a private-sector plan that heavily involves the MTA?
According to state ethics laws, this is a bad idea. But Foye's attorneys told the Post that because Penn Station is actually owned by Amtrak, there is no ethics issue here.
This feels like the same kind of sleight of hand Foye's old boss used to employ. As we noted earlier, Penn Station is primarily used by MTA customers. The MTA is listed as the lead sponsor for the project in federal transportation documents. The MTA is heavily involved, and Foye would have almost certainly been privy to all the details of the MTA's Penn Station redesign plans.
Fauss said that Foye should have gone to the State Ethics Commission for advice before taking the ASTM gig, which he did not do.
"You go to the State Ethics Commission, you say, 'Can I work on this project?'" Fauss said. "Because when you're the former head of the MTA, and you're working on a project that the MTA is sponsoring, it's completely appropriate to go through the state ethics checks and make sure that all the laws are being followed."
The MTA has refused to comment on these ethics questions, and the governor's office didn't answer our question about them either.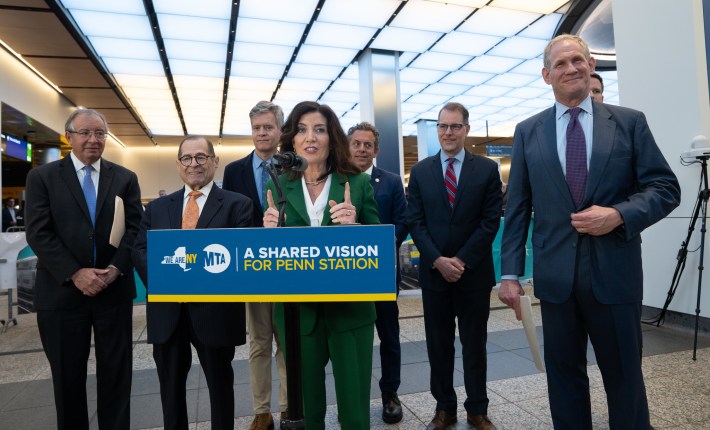 Who's in the MTA's corner?
Most importantly, Governor Hochul appears to be, given that she was standing right next to MTA CEO Janno Lieber at the press conference where design renderings for the transit authorities' plan were released. The rail agency source pointed to a line in the governor's press release, which notes that "the design will be based on the Penn Station Master Plan, a joint planning process undertaken by the railroads."
"The governor is very, very, supportive," of the MTA plan, the source said, adding that she is "very frequently" briefed on it.
But at that press conference, the governor thoroughly muddied the waters with her (possibly innocuous!) comments, which certainly don't read like she is 100 percent behind the MTA's proposal. Here they are in full:
Today begins the design process. We are entertaining all options. So, I'm not here to say that there is one plan. There are concepts that have been put forward by the design team that was selected to show us the possibilities, but we are not standing here wed to a plan. I want to be open-minded about all the possible scenarios that can be brought to us, and everybody has an opportunity to show us their vision for a brand new Penn Station.
The governor's office pointed us to her public statements when we asked a list of questions about the redesign.
Are either of these Penn Station plans going to, you know, make the trains run better? Or address those scary narrow train platforms?
Both proposals would adopt the railways' plans to expand the number of escalators and staircases on those very narrow platforms by a third, which would help prevent the kind of dangerous crowding that riders currently experience. The narrow platforms themselves aren't going anywhere anytime soon. There is another Penn Station project, the expansion project, that will increase the number of tracks. The first phase of that is slated to be finished in 2028. 
What's gonna happen to the state plan that allowed all those properties that Vornado bought up to be demolished?
LOL.
When are we going to get a new Penn Station? What will it look like?
With the MTA and ASTM in bitter opposition to one another—due to a combination of huge egos, competing designs, and the whims of a harmonica-playing billionaire—Governor Hochul is going to have to make some hard decisions over the next few months. You could say that there is a "Great Divide."
The two other rail agencies who operate out of Penn Station also have some sway—Amtrak and NJ Transit. Both told Hell Gate they are open to either plan.
"Amtrak is a joint partner on the preliminary engineering for reconstruction. However, we've met with ASTM to learn more about their proposed design and will review any proposals for the station with our partners at MTA and NJ TRANSIT as we jointly progress our planning work for a better Penn Station," an Amtrak spokesperson wrote in a statement.
"Both proposals are worthy of further exploration," an NJ Transit spokesperson wrote in an email.
Whichever design wins, there's only one thing that really matters: Penn Station must have a clickety-clack board.
Chris is an editor at Hell Gate. He spent a decade working for Gothamist, and his work appears in New York Magazine and Streetsblog NYC.
Stay in touch
Sign up for our free newsletter