The Cops
A Weed Bodega Shut Down by the NYPD Got Replaced With Another Weed Bodega
The new one? Already closed.
5:46 PM EDT on May 1, 2023
Another day, another weed bodega "grand opening" (spelled out with balloons) in the East Village, right? Sure, except the weed bodega at 14 1st Avenue has a very special legacy—it was home to the only weed bodega that was actually shut down by the NYPD, back in March. According to the New York Daily News, the new (or… is it?) weed bodega has been open since Friday, and it's unclear whether or not it's being run by the same people whose initial venture—the seemingly ill-fated Runtz Tobacco—fell victim to a crackdown coordinated by Manhattan DA Alvin Bragg, Mayor Eric Adams, and the NYPD. But by Monday afternoon, when Hell Gate swung by the same location, the space was dark, the store was closed, and nobody appeared to be working.
The CITY reported that Runtz was the only weed bodega actually shuttered when four different East Village weed bodegas were ordered to close by the Manhattan Supreme Court on the grounds of nuisance abatement laws for selling cannabis to underaged undercover cops—this after the store weathered an armed robbery the same month that it opened, back in August 2022. 
But apparently, if you knock Runtz down, it will not just get back up again—it'll come through with a snazzy new rebrand. The newly opened storefront is adorned with a green, gold and black balloon arch, more balloons that spell out "GRAND OPENING" in the bodega's interior, and a revamped awning that now reads "Convenience Tobacco" instead of "Runtz Tobacco" with a little logo of a weed leaf-shopping cart chimera tacked onto one corner (stylish)—to make sure it's still crystal clear that its proprietors still intended to sell weed. A sandwich board bearing the old Runtz Tobacco moniker is still visible inside the store's unstaffed interior and its light-up display case continues to strobe rhythmically on as of this writing.
It'd be hard to think of a situation more emblematic of the way the whole licensed dispensary versus weed bodega thing has played out in the city so far. Weed bodegas and unlicensed dispensaries are omnipresent and highly visible, wearing their hearts on the sleeves of their gangsta Looney Toons hoodies, proverbially speaking. Both the governor and City Councilmembers have proposed solutions in the form of large fines for landlords who own the buildings that house these illegal operations. Law enforcement agencies, mostly the City's Sheriff's Office, have conducted piecemeal raids on spots like Runtz. But—at least so far—none of that is actually doing much to curb the sheer number of these spots springing into existence, just like the shutdown of Runtz hasn't stopped weed from being illegally sold out of the exact same storefront less than two months later. 
According to the Daily News report, the NYPD knows the store formerly known as Runtz is back in business and confirmed that it is a violation of the court order that closed it in the first place. "It is anticipated that the premises will be closed again soon," a NYPD spokesperson told the Daily News. "If not, we will seek to get a full closure order from the court." Initial signage on the storefront back in March featured a handwritten notice of "partial" closure, with access still permitted to "tenant, landlord, employees, contractors etc. only for inspections, repairs, modifications, removal of property, etc" and also, to be fair, does not say "no balloon arches allowed."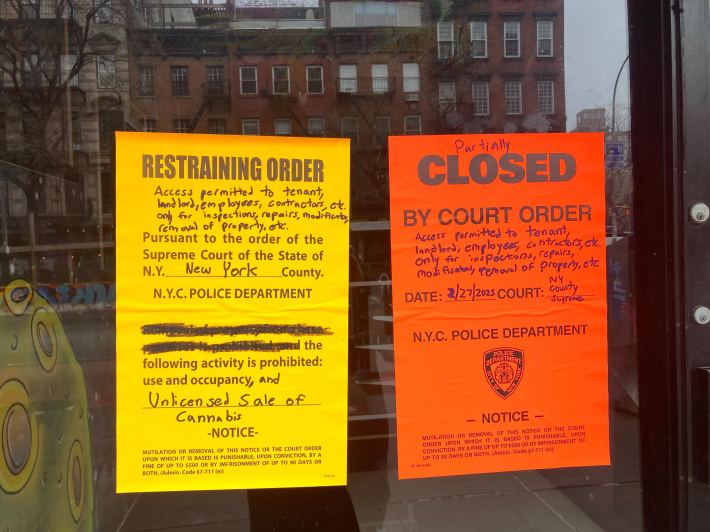 No such notice is currently visible on Convenience/Runtz's door, so it's unclear whether the promised (re)shutdown has already commenced, if the people running the weed bodega simply abandoned ship, or if they're doing a secret third thing we can't possible guess at. (Celebrating May Day? Taking a break after all the glowing press coverage?)
Ultimately, it makes sense that a new wave of licensed shops, with their ID checks and state-imposed tax rates, would have trouble competing with Runtz (or, I guess, "Convenience Tobacco") and the other 1,500-plus weed bodegas scattered across the city. Why did a store like Runtz exist in the first place? Because convenience is king—and what's more convenient than opening up a weed bodega in the exact same spot where another one used to be? Although if it wants to stay open for a little longer this time around, maybe it should take notes from the regular bodega two doors down and sell weed without making it a "thing."
Max Rivlin-Nadler contributed reporting to this story.
Stay in touch
Sign up for our free newsletter