Going Places
What If We Treated the MTA Like the Essential Service It Is?
We shouldn't have to endure a "C train during rush hour that inexplicably takes 20 minutes to arrive"-like wait for subway service to get better.
12:38 PM EST on December 7, 2022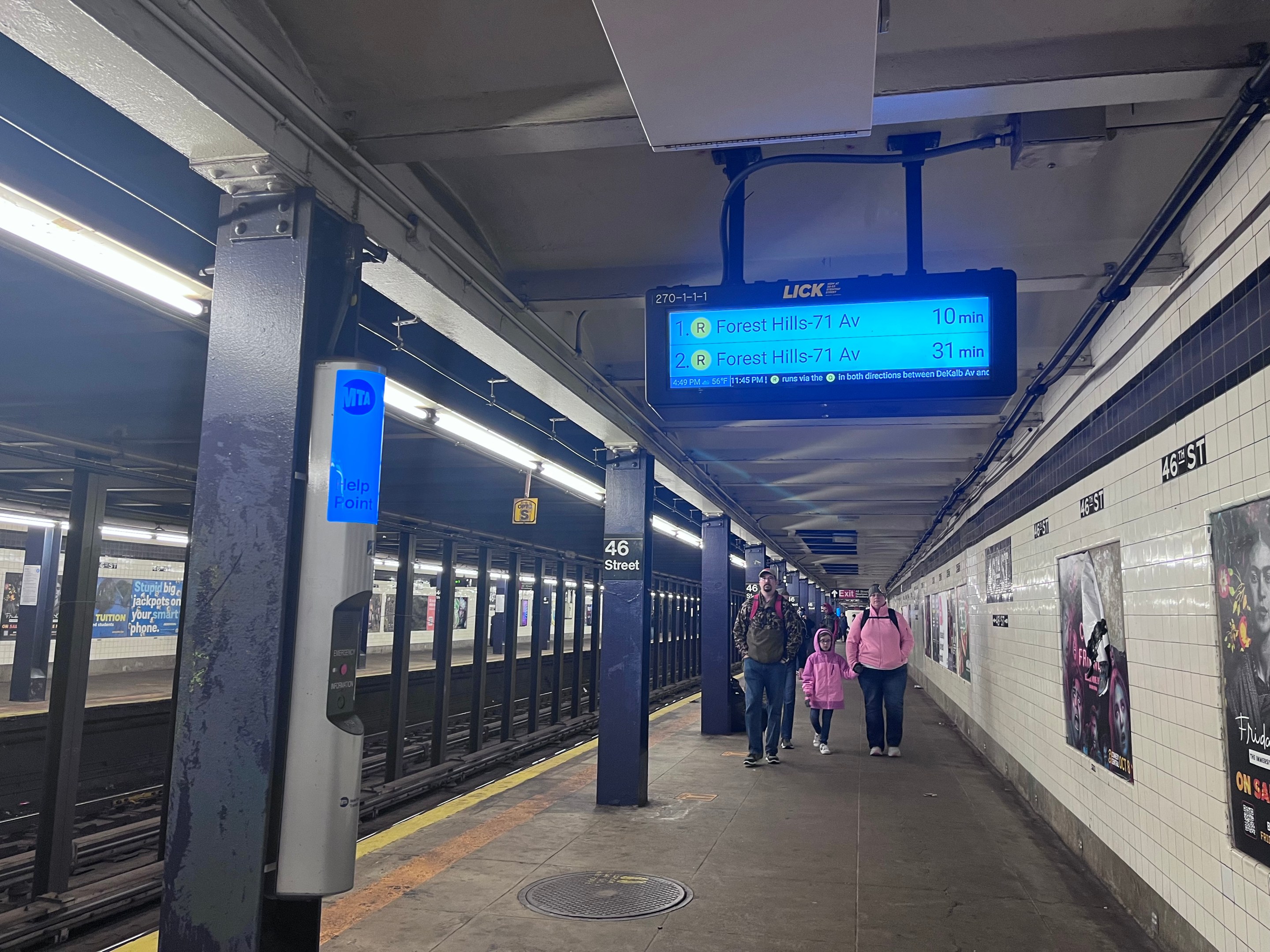 You may have heard that the Metropolitan Transportation Authority, which runs New York City's subway, buses and trains, is, like many of us, having a hard time paying the bills. A sluggish return of riders since the pandemic will leave America's largest transit agency with a $600 million hole in its wallet next year. Without help, the MTA says it'll be forced to raise fares and cut service to make up the difference—a death knell to the system, according to any advocate you ask.
And yet, almost the exact same story was written in 2018. The MTA didn't have enough capital dollars to modernize, and the farebox model—where $2.75 swipes are expected to pay to operate a sprawling transit system—wasn't cutting it for expenses. But the state swooped in; it solved some capital woes by passing congestion pricing, a plan that will charge drivers to enter Manhattan below 60th Street, generating revenue that could fund projects like elevators or system expansion. (A big chunk of the current five-year $55 billion capital plan is based on bonds—a bet that those funds will eventually flow. The plan, initially set to go into effect in 2021, has now been delayed to late 2023, at the earliest.)
But the flawed farebox model still haunts the agency. The 2008 Great Recession ushered in severe service cuts along with hiked MetroCard prices, just as the city entered its greatest decade of growth in recent history. With no aid, the MTA cut two subway lines (the W and Z) and 34 bus routes. And we're still living in a world made by those cuts. (There was a halcyon time when the G ran all the way to Forest Hills!)
When COVID-19 hit, the federal government saved the day, pumping billions into the city's transit system. But that money is running out. In November, Janno Lieber, the MTA CEO, was the first MTA leader in recent memory to crash the Somos conference in Puerto Rico, looking for cash from his own bosses. When I asked the MTA about their hopes for investment, they pointed to his comments after the release of a bleak November financial plan, which assumes Albany will lay out $600 million.
"The past three years have proven how essential the MTA is to the success of the New York City region—in New York, robust transit service is as critical as air and water," Lieber said. "The budget proposed today puts us in a position to continue delivering the essential transit services that customers rely on while also prioritizing long-term fiscal responsibility."
So now all eyes are on Albany, where Democrats, after a rocky election season, have to tangle with a touchy subject—funding New York City transit. At an event last month, Governor Kathy Hochul, who oversees the MTA, said she'll announce new revenue sources in her State of the State address next month. Cutting the MTA's sky-high costs is also being discussed. 
Hochul's team, when pressed, is staying mum as negotiations ramp up. "Governor Hochul took action last year to avoid a fare hike or service reductions, and she is committed to providing safe, quality, and reliable transit service to riders," said John Lindsay, her deputy communications director.
But should the state decide to pay up, it shouldn't just bankroll the status quo. Nearly four million regular riders have returned to a subway system struggling to keep up. Many more are expected, if congestion pricing pushes people out of private cars and into subway cars. Long waits are common Twitter fodder, and weekend service has dropped to "we need a czar" levels. The costly investments to lure riders back have instead focused on perception—like deploying more police, even if results are meh—and aesthetics, like washing cars and stations more often. These initiatives may be important, but they don't address the one thing most New Yorkers care about: Is the subway coming or not?
Here's how that can change next year:
Improve weekday service. Simply put, there aren't as many trains running as before. They often suddenly arrive in bunches, or ten minutes apart. Remember, the MTA hasn't been immune to the labor effects of the last three years: Over 100 workers die of COVID-19, and the agency is down about 5,400 people since 2019. (The MTA's 2019 reorganization also cut about 2,700 jobs, mostly in maintenance and operations.) People retired, and the MTA froze hiring in April 2020 due to the pandemic. Since hiring resumed in 2021, the agency has desperately been trying to attract talent and grow its workforce as riders return—a slow and difficult task right now, as private-sector companies can attest. 
But reliability—is this train going to come in three minutes or 20 minutes?—is key to usage. And right now, the MTA's unpredictable service, especially outside of rush hours, isn't cutting it. The true panacea to this problem is modern signal systems, which would run trains more efficiently. But those improvements are taking an eternity to complete—only the L and 7 have them end-to-end at the moment, making them the most reliable subway lines in the city. For the rest of the subway system, the short-term solution would be…just running more trains.
As ridership increases, the MTA should aim to stabilize service to at least six-minute headways on every line that can handle it. Or, in other words, provide rush hour service—but all day long. Alon Levy, a transit expert, recently wrote that this alone would increase ridership by 15 percent, or another 600,000 people. That's almost $1.7 million in additional fares a day.
Riders Alliance, a transit advocacy group, has made this target the focal point of a new campaign. "It would be a gamechanger," said Danny Pearlstein, the group's policy and communications director. "It would exceed the mid-range McKinsey projections for ridership return and bring in plenty of revenue. And more frequent service is safer service."
Riders Alliance has pegged the cost of six-minute headways all weekday and weekend long at an additional $300 million. (That's a little more than half of what the MTA says it loses in fare evasion each year.) Focusing on just weekdays alone, though, would be less than $200 million. If ridership increased 15 percent as a result, you'd make that back in half a year.
Make it not awful to ride on nights and weekends. Off-peak travel is returning faster than peak. The last week of November was a good example: On Saturday and Sunday, subway ridership was at about 72 percent of pre-pandemic levels, while weekday ridership was closer to 60 percent. If you're making a case that remote work is the real drag on ridership, that's your Exhibit A.
And that's without good service. Nights and weekends are when the bulk of capital and maintenance work happens, which sends shockwaves through the system.
These investments are essential to revamping the system, but the result can't be subpar service everywhere else—especially when there's a clear appetite to ride. (Striking that balance will be the job of Jose LaSalle, the new weekend service czar.) At night, too many New Yorkers have grown accustomed to abysmal service past 10 p.m. Clearly, this is an area where the MTA can find new riders, if service was improved. 
What I'd suggest is a Night Tube model: London, New York's north star for transit comparisons, didn't have 24-hour service until recently. Now, on select lines, service follows normal operating schedules from Friday night to Sunday night. Construction projects are expedited by wholesale closure of several lines, while regular, actually good service is concentrated on others. In London, Night Tube stations are also well-staffed, so riders feel safe at all hours. 
Estimates vary, but based on the estimated cost of expanding weekday service, this could clock in at about $100 million.
Rethink the non-CBD trip. Central Business District, that is. The subway system is built around what's called a hub-spoke model—shove as many people into Manhattan as possible in the morning, and then shove them out at night. But as jobs and development emerge in other downtown cores (i.e., Long Island City, Jamaica, and Downtown Brooklyn) and remote work scrambles destinations, the MTA should consider adding service to intra- or inter-borough trips.
"Post-COVID trips" are the talk of the town. East Side Access, which should open this month at Grand Central, is being heralded as a new era of "reverse commuting," with more trains running contraflow to Long Island than ever before. And encouraging Brooklyn-Queens travel undergirds the pitch of the Interborough Express, a marquee project for Governor Hochul that could deliver a transit line between Bay Ridge and Jackson Heights. 
But how about we apply this thinking to transit service here and now? Like actually running an entire G train for once. Let's also make subway service leaving Manhattan during rush hour just as good as service into the borough. And though it's outside of the subway system, we could run more off-peak Long Island Rail Road and MetroNorth trains within the five boroughs. The popularity of CityTicket, the $5 ticket program for off-peak rides, has exploded since it expanded to each weekday earlier this year. (Maybe one day they'll even use OMNY.) A new report from TransitCenter, just released on Tuesday, said that a $2.75 intra-city fare would boost ridership by 88 to 146 percent at rail stations within the city.
The price tag for something like this is less clear—since it involves overlapping trains, car length, and reverse frequencies within singular lines—but out of the $9.1 billion operating budget for New York City Transit last year, we should be able to find something.
Albany is back in session on January 5, 2023—the same day that Hochul will give her State of the State address, which is meant to set the governor's priorities. (Hints of her agenda are already trickling out). Lawmakers will then have until April to hash out a deal. Legislators are already chalking out positions. 
With funding at the mercy of this slow-grinding dance, it might be some time before subway service gets any better. Until then, we're probably stuck looking at double-digit headways, wondering when—and if—Albany will hear our pleas. 

John Surico is a journalist and researcher who focuses on our changing cities. He teaches at NYU's Arthur L. Carter Journalism Institute, and his reporting can be regularly found in The New York Times, Bloomberg, and other outlets. He is the scholar-in-residence at Central Park Conservancy's Institute for Urban Parks.
Stay in touch
Sign up for our free newsletter