Going Places
Train Lovers Test Grand Central Madison: 'It's Amazing'
Yes, Grand Central Madison is late, but we mustn't let that overshadow trains. Oh, glorious, glorious trains.
3:50 PM EST on January 26, 2023
Pulling into Grand Central on the 6 train, the PA announcement for Grand Central included the usual connections—transfers to the 4, 5, 7, and shuttle to Times Square as well as Metro-North and, pausing ever so slightly, with a plausible relish: the Long Island Rail Road. 
That last addition was 25 years in the making. And if you're going back far enough it's been at least 50 years since shovels went into the ground to start digging a large tunnel to connect Queens to the East Side of Manhattan, bringing in subway cars on an upper level and commuter rail lines even further down. But finally, on Wednesday, January 26th, in the year of our lord 2023, East Side Access—now dubbed Grand Central Madison—opened to the public, completing a dream that no longer quite syncs up with reality. 
The train service offered on Wednesday was performative—a useless shuttle service between Jamaica and Grand Central, meant to serve politicians and various functionaries who were getting their first look at the completed $11.1 billion product. To enter the shining new station, through an unheralded entrance to the side of Grand Central's food court, a rider needs to descend an escalator. Get used to this journey: The station is 15 stories underground and one of the quickest ways to get there is via escalator. And that's only if they're working. (Elevators still require a transfer to another elevator to get to the platforms, so don't go thinking there's some sort of hack here). 
"They're sprinting down the escalators bro, kids jumping on top of it," we overheard one escalator mechanic remark to his colleague.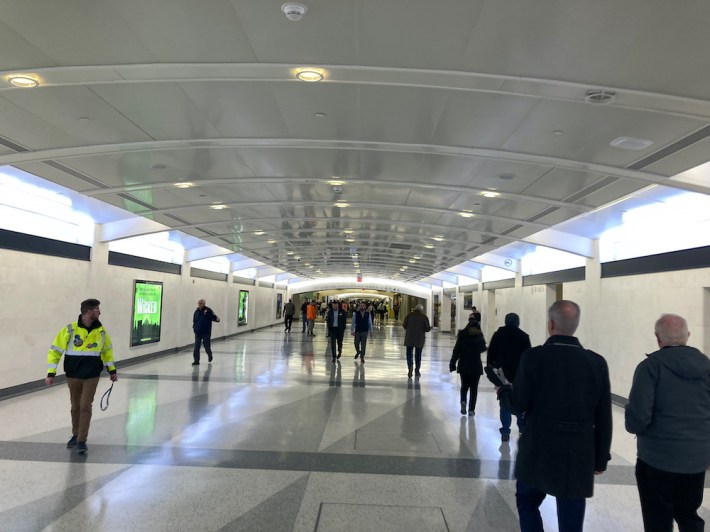 Mechanics were on hand, but they appeared overwhelmed by the sheer number of escalators breaking down, and they rushed to get immediately into the "pit," the mechanical area at the bottom of an escalator. 
"Stuff shutting down left and right, but you know, it comes with the territory. It is what it is," the mechanic said to his friend. 
The "kids" that the mechanic might have been referring to were the dozens of train enthusiasts who had come to check out the gleaming new station. These were the young men roaming the hallways, often lugging recording equipment for possible video reports. Sometimes they'd take off into sprints to check out a new detail on the concourse. They are particularly attuned to developments in the rail industry: These are keen observers who derive pleasure and satisfaction from the idea that the trains have a new, spiffy, beautiful home. 
"It's a shame they're going to let people into here," said one such train enthusiast, decked out with a camera and microphone, marveling at the virgin track. He declined to give his name. "It's going to get ruined so quickly."
The station was indeed immaculate—and just barely finished. Stores on either side of the main concourse sat empty (for now), while MTA employees helped point down the long hallway to the trains. A ventilation issue had delayed the opening. And indeed, there was a momentary gale as you pulled open the door to enter the station, with the air rushing to equalize between the two Grand Centrals, both majestic and cavernous.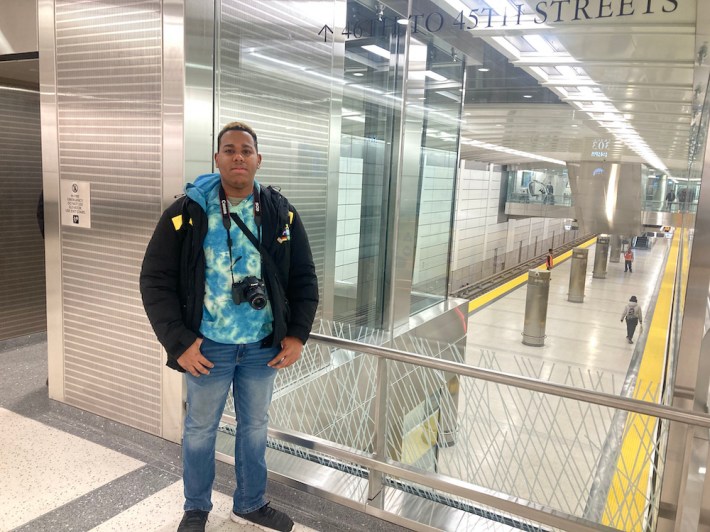 Marcos DePaula, an NYU student, had come to check out the new station from Harlem, where he grew up. 
"I've been following what's been going on for years with East Side Access, and I wanted to come here and take pictures. It's amazing," DePaula said. He sometimes travels from Harlem to Jamaica, and having the option of just coming to Grand Central, instead of backtracking to Penn Station, would be a huge help—even if by taking the LIRR instead of the subway, he was only saving a few minutes. He wishes that, like the Second Avenue Subway, these types of projects were done sooner: "I don't know why it has to take so, so long."
Those lucky enough to hitch a ride on the first train of the day were decked out in special Grand Central Madison hats—only offered to those very first riders. 
Sporting one of those hats was John Simpson, an urban planner from Sunnyside, who said he had helped work on the tunnel's early designs as an intern. 
"Yeah, fine, it took a while. But you're drilling under midtown Manhattan. You're drilling under the busiest passenger rail yard in the country, it's not going to be easy," Simpson said, reflecting on the wait for this day. "I'm just glad it's done. In the long run, are people going to care how long it took?"
He was impressed with the ride out of the station. "Once you get past that first switch, they go full speed into the tunnel, it's really quick and smooth."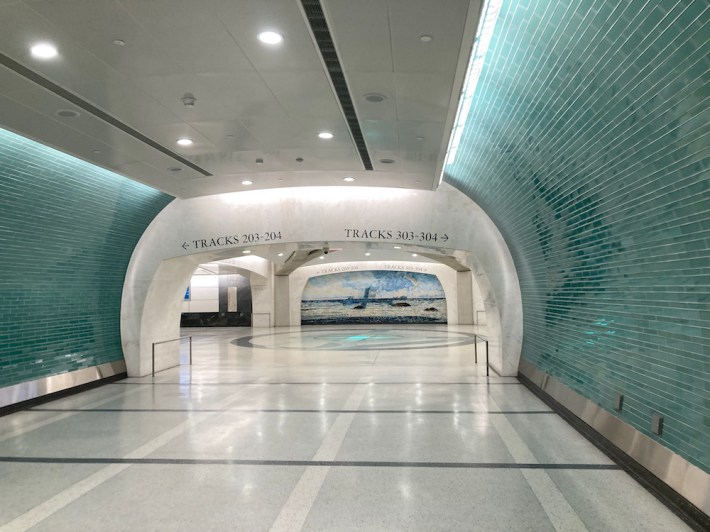 The station, occasionally adorned with the MTA's patented tile murals, gives off a middle-tier-on-a-Star Destroyer vibe, especially without the rush of commuters (assuming they ever do, in fact, use it). 
Everyone I spoke to was using the train for kicks, not for an actual commute. The LIRR has yet to unveil, ultimately, just how many trains they'll run into the station (a draft schedule has it at far below its capacity). 
One person who wasn't a "train guy" was Cris Coyne, an older woman who had worried about the steep escalators, but found them manageable. She said she felt the call to be one of the first people there. 
"I think they could have more color in the station," said Coynem. But overall she was supportive. "This project put a lot of people to work. I just hope it stays nice. But you know, nothing really ever stays." 
Likewise, things do change a lot in New York City. That new train station they've been building forever? Well, it's finally done—and that's exciting. 
Max Rivlin-Nadler is a co-publisher of Hell Gate. He's reported for Gothamist, The New York Times, Village Voice and NPR. You can find him walking his dog, Stiva, or surfing in the Rockaways.
Stay in touch
Sign up for our free newsletter