Fresh Hell
They Tried to Make Squash Happen. Then Pickleball Arrived
How the city's first public squash court fell apart.
1:23 PM EDT on May 22, 2023
When Alex Wessner and Ryan Wall stepped into the open-air, glass-paneled structure they built in a Lower East Side park in 2018, their vision of turning a two-centuries-old sport into New York's latest fitness craze suddenly seemed achievable.
Both men had fallen in love with squash in Philadelphia, where they attended college, but the two found few places to play in New York where they didn't have to pay a pricey membership fee or a steep hourly rate.
So they contacted the Parks Department with an idea of building an outdoor court in a City park that would be free for the public to use. Parks officials agreed as long as they could raise the money, so Wall, Wessner, and two other friends formed a nonprofit called Public Squash and spent three years raising $200,000 to build the one-story enclosure.
In April 2018, they joined then-Parks Commissioner Mitchell Silver, the president of U.S. Squash, and several of the sport's dignitaries to christen the city's first outdoor squash court, at Hamilton Fish Park.
"It was very emotional. I got a little teary-eyed," Wessner told Hell Gate. "It was a lot of hard work going through all these hurdles, but anything can happen in this town if you have enough determination." At the time, Wessner and Wall hoped to build 20 outdoor courts by 2020, and eventually construct 100 across the city.
But today, a different racket activity has gripped New Yorkers. Pickleball, the nation's fastest-growing sport with 4.8 million players, has encroached upon New York's public hard courts. Privately run pickleball venues have popped up in places like Hudson Yards, Rockaway Beach, and the TWA Hotel. The Parks Department has scrambled to create more courts while tamping down tensions from angry tennis and basketball players who don't want to share their turf. In March, the City announced that Central Park's Wollman Rink will host a 14-court pickleball center over the next six months. There, people can rent a court for $80 and $120 per hour from CityPickle, the Long Island City-based pickleball club that is the rink's concessionaire.
Meanwhile, the Hamilton Fish squash court was vandalized three times before Parks workers dismantled it in May of 2022. (EV Grieve reported on the demolition this past February.)
Wessner and Wall's dreams have been, well, squashed.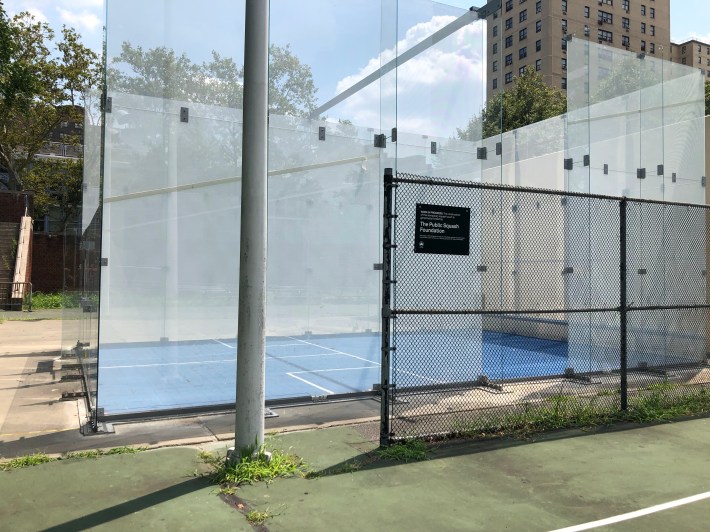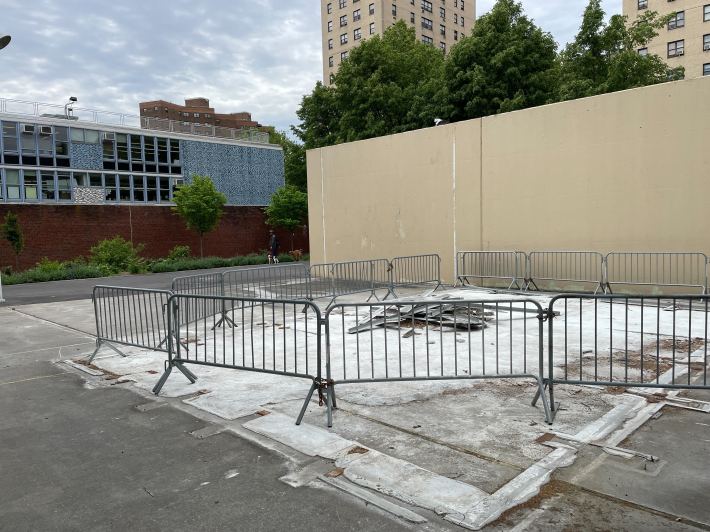 Squash was invented by British boarding school teens in 1830, four decades before the formation of the Parks Department. 
These days, 20 million people play squash in more than 185 countries, including 1.7 million in the United States. With a median income of $300,000, the squash-playing audience is a coveted demographic, and its professional matches have attracted sponsors like J.P. Morgan, Oracle, Cisco, and the Wall Street Journal.
Getting onto a court without forking over a month's rent is the bigger challenge. The city's most prominent courts reside at historic members-only social clubs like the Yale Club, the New York Athletic Club, and the Racquet and Tennis Club, where an annual membership runs several thousand dollars without including initiation and other fees. 
There was no place in New York City to play squash for free, let alone any that existed outdoors, until Wessner and Wall approached the City with their idea. Public Squash promised to build the court at no cost to the city. Parks officials offered one of Hamilton Fish Park's four handball courts, citing the park's proximity to diverse communities and its ability to be locked overnight. Public Squash would be responsible for the court's construction, installation, and removal, but the City agreed to repair any graffiti or other damage to the structure that occurred, according to a copy of the agreement that Hell Gate obtained via FOIL. 
But in a sign that the Parks Department never took squash very seriously, the agency steered the court into its Adopt-A-Park program, which is primarily handled by its marketing department, an arrangement typically used for renovating a playground or planting vegetation. 
"It just wasn't a priority for us in our portfolio," said then-Parks head Mitchell Silver. "We focused on inequity. If there were needs, I prioritized existing facilities rather than new ones, but we didn't want to stop someone, since it was a pilot, and they would bear all the responsibility."
Wall and Wessner originally wanted to erect plywood floors and steel walls, an inexpensive design that could be replicated on scores of handball courts across the city. Parks instead insisted on an all-glass court that would allow workers to monitor the grounds more easily, and a raised foam floor to help its drainage. Since the structure was higher than 12 feet, it also had to be approved by the Department of Buildings and by the Public Design Commission.
"They didn't want people sleeping in there or getting into bad situations, but that broke our model," Wall said. "You can't make things more accessible by making things more expensive."
Raising the money was the easy part. Wall, Wessner, and their partners loaned the effort $80,000 and tapped their network of friends to sponsor the project. They also approached the city's deep-pocketed squash community, who donated cash and dozens of rackets and squash balls. Robert Gibralter, a squash coach and artist-in-residence at Maspeth Welding who later built an appointment-only steel-walled outdoor court in Queens, offered to teach lessons and help them develop programming.
Public Squash raised enough cash over a two-year period to pay for the court, and on April 17, 2018, it opened to the public. The crystalline court earned ebullient profiles in the New York Times and Vogue, which proclaimed the endeavor a "rebrand" of squash's Ivy League associations, one that could propel its inclusion in the Olympic Games. 
"It was very photogenic and very cool. I remember playing on it and getting educated about various surfaces and the ball temperature," Silver said. "It did draw some initial attention. The first of anything in New York, whether it's an alligator or anything else, is going to get press."
That year, Public Squash ran free programs and meet-ups for squash players; collaborated with OnlyNY to create branded shirts and hats; and hosted an exhibition match in July with professional squash athletes Nick Matthew, the former top-ranked squash player in the world, and Andrew Douglas, a top-ranked Brooklyn-born player.
Wall and Wessner soon contemplated expansion. The pair contacted Brooklyn Bridge Park to explore converting a handball court on Pier 2 to a squash court. Talks progressed enough that the park announced its future plans for a court in December 2018.
But problems with the squash court at Hamilton Fish immediately began to crop up. Days before the official opening, a Parks marketing official requested Public Squash install a second door to the structure, which was already on the park grounds and had been approved by the Buildings Department. Rackets and balls that were stored at the recreation center soon went missing. And Parks staff frequently struggled to open the park on time in the morning, frustrating early-morning squash users, according to Public Squash.
"Raising money and getting something built is five percent of the battle, but maintaining it and making it successful is the other 95 percent," said Adam Ganser, executive director of New Yorkers for Parks, a parks advocacy group. "For all spaces that are actively used, it takes resources to keep it in a state of good repair, and that's the struggle of the parks system."
Sometimes, the court would sit idle for hours or be used for more discreet purposes. When Robert Gibralter went to use the court, he at times encountered teenagers kissing on the court and groups of people tapping a volleyball against the court's walls. 
"It was very slick and very well done, but it landed like a spaceship on someone else's handball court," he said. "In a well-meaning fashion, they wanted to bring squash to the people, but the local neighborhood didn't really care for it."
In January of 2019, Wall discovered one of the court's glass panels had shattered, and emailed the Parks Department about the suspected vandalism. Public Squash already had replacement panels at the court and called a squash specialist to install it. One month later, a Parks official emailed Wall to say the same panels had come down.
Wall asked Brooklyn Bridge Park about moving the Hamilton Fish court to Pier 2. Instead, the Parks Department offered to extend their obligation to fix damage through December of 2021. Parks workers attached caution tape around the missing panel, and Public Squash posted an announcement on Instagram in April 2019 requesting contributions for the repairs.
By the time they readied for a new season in the spring of 2020, the pandemic occurred. Fixing a broken squash court became a far lower priority for City agencies. Wall, Wessner, and their partners continued to solicit donations for the repairs, but the process exhausted them, and they stopped thinking about expansion.
"These guys had full-time jobs, and this was a labor of love," Gibralter said. "It fell into disrepair and disuse well before the pandemic. It just became an orphan and an embarrassment."
When another act of vandalism occurred in April of 2022, Parks officials determined privately that the court was a safety hazard, and it was swiftly removed.
All that remains today of the city's first outdoor squash court is a concrete slab required to level the floor, surrounded by metal barriers.
"They had zero involvement with us," Wall said of the Parks Department. "They just trashed $200,000." (A Parks spokesperson told Hell Gate that the squash court was never intended to be a permanent fixture, and there are no plans for additional outdoor courts.)
Meanwhile, the Parks Department and Brooklyn Bridge Park have moved on…to pickleball. This year, the City will operate 54 courts in public parks, not including the concession at Wollman Rink. Brooklyn Bridge Park installed four pickleball courts on its bocce courts to meet demand after players repeatedly set up tape and makeshift nets on the park's handball courts.
"It's the same old story. Another racket sport outdoing squash," Wall said. "Pickleball will be an Olympic sport before squash, I have no doubt. It's a shame. We proved that outdoor squash is the way and yet…" Wall trailed off.
Aaron Short is a Brooklyn-based journalist whose work has been featured in Intelligencer, Grub Street, Curbed, Insider, the Daily Beast, the New York Post, New York Daily News, Commercial Observer, and City & State.
Stay in touch
Sign up for our free newsletter