Locked Up
The Queens District Attorney's Office Has an Exonerating Evidence Problem
Information that can set people free sits around for years while people suffer on Rikers—and both the NYPD and Queens DA's office don't seem to care.
6:00 AM EST on December 4, 2022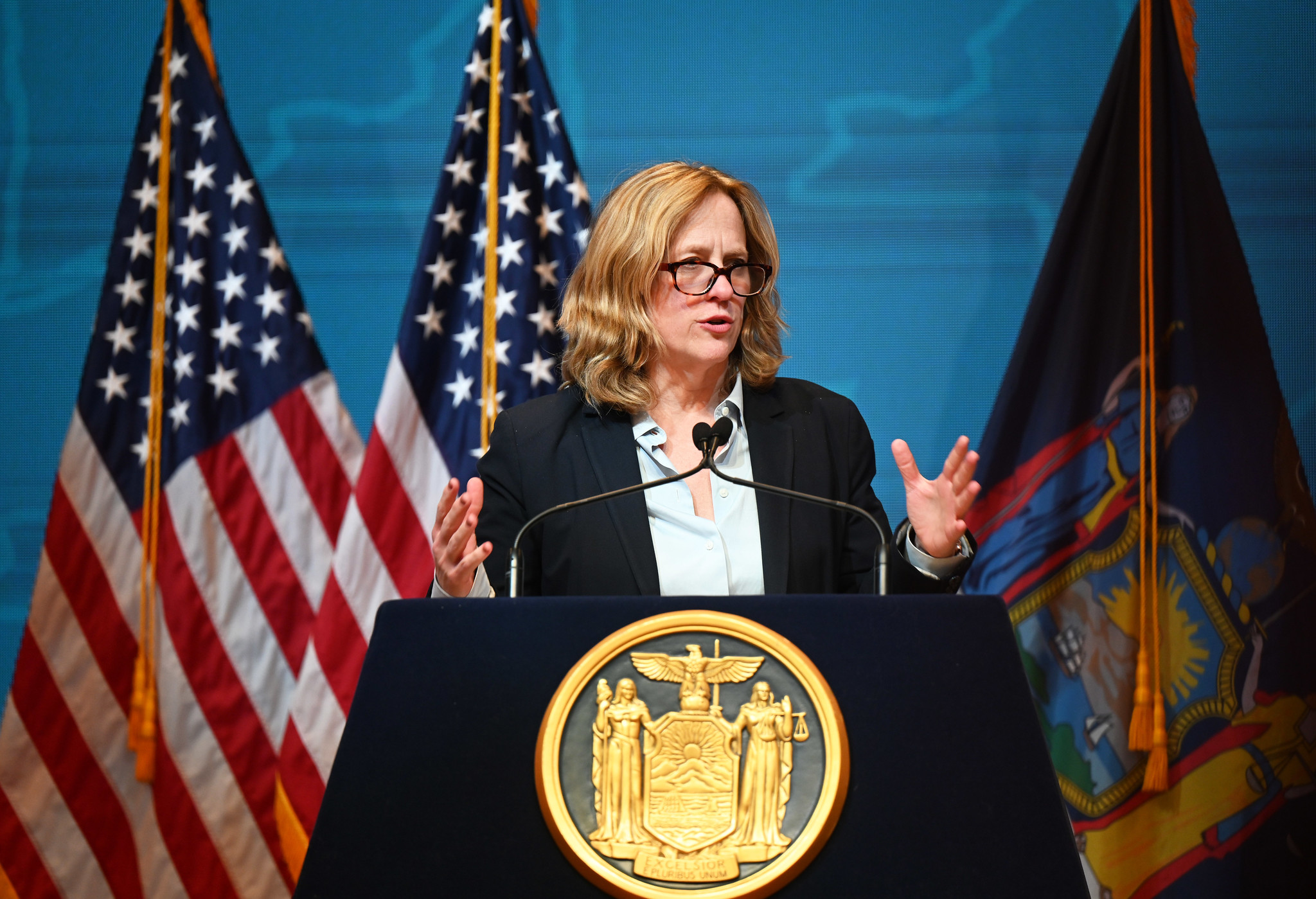 Barry Hall was surprised and confused the morning of February 13, 2018, when cops surrounded him outside of his Cypress Hills home with guns drawn, and placed him under arrest for murder. They didn't even tell him who they believed he had murdered, but he knew he hadn't killed anyone. He thought he'd get this sorted out quickly enough—surveillance cameras would show he was home at the time of the murder, and his cell phone would also show that he was miles away from where the murder happened. 
But Hall never had a chance to even bring up a possible alibi before he was arraigned and charged with second-degree murder, according to court filings. He was sent to Rikers Island, where he and his co-defendant and childhood friend, Pharaoh Ferguson, spent three years awaiting trial for a murder they didn't commit. All the while, the NYPD and the Queens District Attorney's office sat on the evidence that would eventually set them free—part of a string of similar cases that have left innocent people locked up for years in one of the worst jails in America. 
"The district attorney's job is to review evidence, and clearly the DA in Queens is just not doing their job," said Cary London, an attorney at Shulman & Hill, who's representing Hall and Ferguson in a recently filed civil lawsuit against the City. 
On February 21, 2018, just eight days after Hall was arrested and before he was indicted by a grand jury, Hall's lawyer filed what's called a "Notice of Alibi," which is meant to provide the police and prosecutors with exculpatory evidence—in this case, the surveillance video, cell phone location data, and witnesses who could speak to Hall's whereabouts at the time of the murder. At the same time, according to court filings, the NYPD was also in possession of similar exculpatory evidence for Pharaoh Ferguson.
But nothing was done with this information. Queens prosecutors went ahead with presenting the case to a grand jury, based solely on a witness identifying the two men. The exculpatory evidence the NYPD was in possession of was ignored. 
London, who practices in civil and criminal courts across the city, says that normally, he'd be able to get in touch with prosecutors to alert them about the possible alibi, well before a trial date. In places like Brooklyn and the Bronx, he'd be able to get in touch with a prosecutor. But Queens is different. 
"In Queens, they won't even give you a meeting," London said. "Nobody cares in Queens, nobody cares. We should both want the same thing, we both want justice. But that's not how it works there."
If a prosecutor isn't willing to pick up the phone, it's incredibly difficult for defense attorneys to get exculpatory evidence in front of a judge until just before trial.
Earlier this year, Hell Gate wrote about a similar case where two other men, Julian Douglas and Sahel Green, also spent years on Rikers Island, all while the Queens DA's office was in possession of cell phone location evidence that exonerated both men. Charges against both men were eventually dropped, and they reached a $2 million settlement with the city. Lawyers for Prakash Churaman—another person who had their case dropped by the Queens DA's office after spending years behind bars—told Hell Gate that exonerating cell phone evidence was also ignored in that case. Churaman is now also pursuing a civil lawsuit against the City. 
During the three years following their arrests that Hall and Ferguson were on Rikers Island, the COVID-19 pandemic surged through the facility, as staffing levels dropped and violence rose. In their lawsuit against the City, Hall and Ferguson claim they were victims of gang violence and were placed in solitary confinement for extended periods of time. Eventually, in 2021, they were released on bond to home confinement, to await their eventual trial.
On March 23, 2022, the day the trial was supposed to begin, the Queens DA instead dropped the charges against Hall and Ferguson, claiming that "new technology" had allowed prosecutors to determine from the two men's cell phones that they weren't at the scene of the crime. The assistant district attorney said the office still didn't believe the two were innocent, but because of the evidence, they'd be unable to prove the case beyond "a reasonable doubt." Hall and Ferguson walked out of court free men. 
"They took me and put me in jail for a crime I didn't commit for three years, and [gave] me hell about it, and swear up and down that I am a guilty person," Hall said in a recent deposition about his time on Rikers for a crime he didn't commit.
"[I was] assaulted by staff, being put in the box or the bin that they call it, assaulted and pepper sprayed, cuffs tight on your hand to the extreme, jumped by gang members," Hall recalled. "You go through a lot."
Even taken at face value however, the district attorney's statement in court that day about new technology is a curious one, given that Hall's attorneys had alerted the office to exculpatory surveillance video footage more than four years before. Whether the DA intentionally sat on this evidence in the hopes of the men taking a plea deal (which would be a serious evidentiary, or Brady, violation) or if simple dysfunction at the office meant that the evidence was never looked at, the reasons will most likely remain hidden. 
That's because instances like this, involving possible misconduct by district attorneys, are almost never made public. 
"The number of instances of prosecutorial misconduct found by trial and appellate courts in Queens is astounding, so when I hear about Brady issues coming out of this particular borough, I can't say I'm surprised," said Steve Zeidman, a professor at CUNY Law School who, along with other law professors, has begun filing complaints against Queens prosecutors who committed misconduct. The law professors' attempts to publicize misconduct cuts against years of precedent that has shielded prosecutors from any accountability. "There's such a reluctance to look closely at cases, because they really have this mentality of, 'We got the bad guy, what's everybody worried about?'"
But prosecutors are only one part of the criminal justice system. The cases against Hall and Ferguson, Douglas and Green, and Churaman all stemmed from the NYPD's Queens South Detective Bureau, which has run into issues with credibility and law-breaking—in 2021, DA Katz dismissed sixty convictions in Queens tied to officers who provided unreliable or perjured testimony related to arrests they made. Detective Michael Gaines, a member of the Queens South Detective Bureau, was the lead detective in the case against Hall and Ferguson, and was one of the detectives in the case against Douglas and Green. In 2012, an internal disciplinary board at the NYPD recommended that Gaines be fired after he was arrested for a DWI while armed—however, his discipline was immediately reduced to a forfeiture of twenty vacation days. 
In a recent deposition, a member of the Queens South Detective Bureau said that it's not up to the police to look into exculpatory evidence. "Once the arrest is made, the police department's job is done and the district attorney continues their investigation," they said.
In these cases, that investigation never happened—and while the charges were dropped against all of the men, no further arrests have been made in any of the murders, and the cases remain open. 
Hell Gate asked the Queens District Attorney's office why it took more than four years for them to review the exculpatory evidence in the cases against Hall and Ferguson, why prosecutors didn't respond to defense attorneys' attempts to bring that evidence to their attention, and what specific "new" technology allowed them to reassess the exculpatory evidence. 
A spokesperson for the prosecutor answered none of those questions. In response, a spokesperson wrote, "The original investigations predate DA Katz's tenure, but their outcomes are at the heart of why she created the Conviction Integrity Unit upon taking office. Since its formation in 2020, the Unit has vacated 72 cases for a myriad of reasons."
While the cases did begin in 2018, before Katz took office, they continued for more than two years after she was in charge.
London, Ferguson and Hall's civil lawyer, pointed to high turnover and dysfunction at the office to explain why his innocent clients had to spend years on Rikers. During the four years between their arrests and when charges were dismissed, five separate prosecutors handled the case. 
He faults Katz for not actually changing the antiquated culture at the office, something she had campaigned on while running for office in 2019. Katz is already facing a challenger, a former Queens judge, heading into the 2023 election year.
"The prosecutors have one foot in the office, one foot out looking for another job," London said. "It's unacceptable that there were five prosecutors on the case, and definitely unacceptable that the DA who only had the case for around 60 days is the one who finally looked at the evidence and decided to dismiss. It's [messed] up."
Editor's Note: An earlier version of this story contained strong language that has now been omitted.

Max Rivlin-Nadler is a co-publisher of Hell Gate. He's reported for Gothamist, The New York Times, Village Voice and NPR. You can find him walking his dog, Stiva, or surfing in the Rockaways.
Stay in touch
Sign up for our free newsletter