Power
The Fight to Unionize Starbucks in NYC is Heating Up
Workers at 14 stores in New York City and on Long Island have requested union elections, with ten voting to join.
9:53 AM EDT on August 1, 2022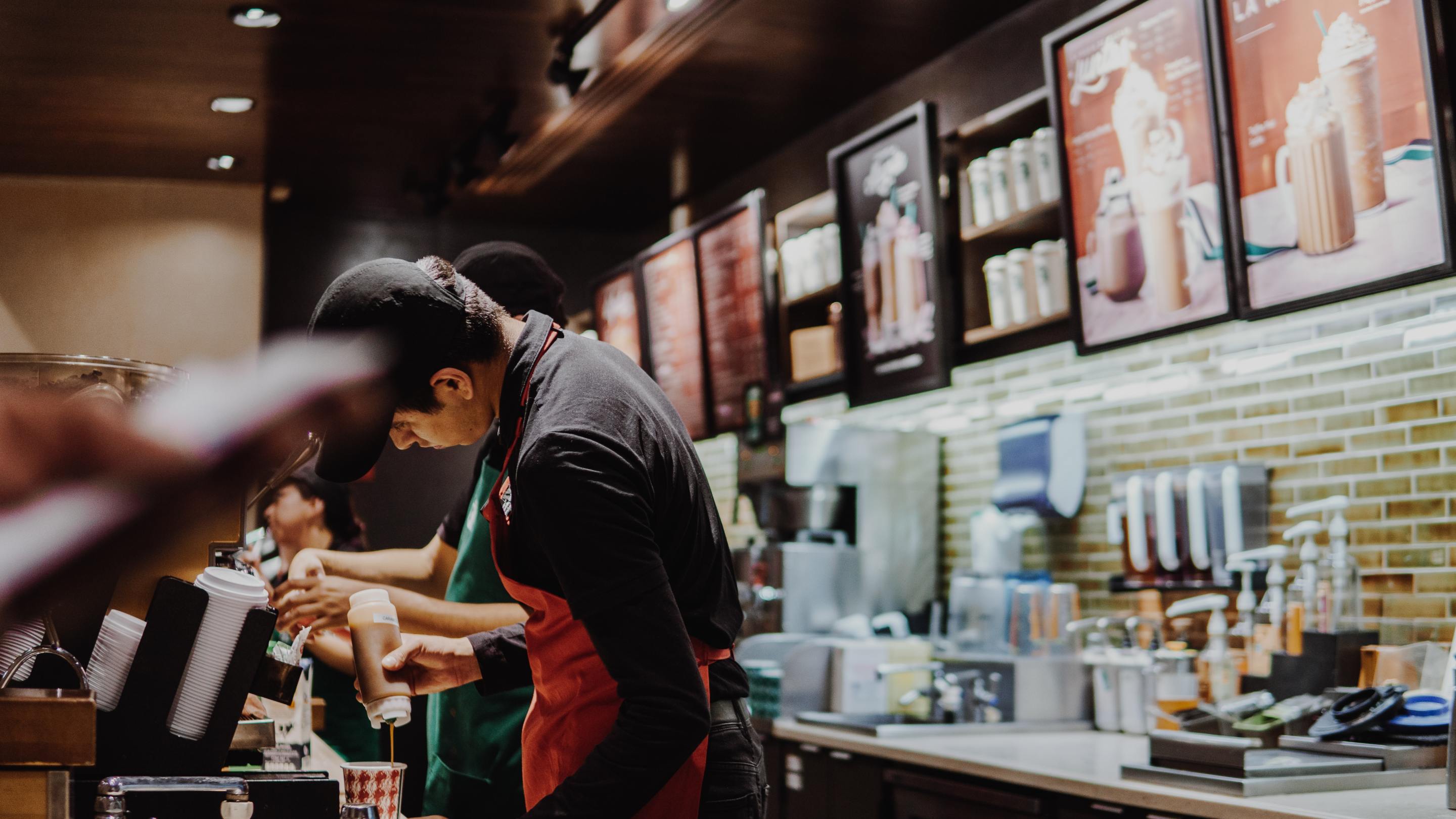 "On June 30, we won our union election. On July 5, they fired me," former Starbucks barista Austin Locke said late last month. We were standing under the subway tracks in Astoria, a few yards away from the store on 31st Street and Ditmars Boulevard where he had worked for three of his six years at the company. The sidewalk was filling with protesters coming to demand that Starbucks rehire him and recognize the union.
Locke, 28, began organizing with the Starbucks Workers United union in March, when the staffing and supply problems that began with the onset of the pandemic intensified.
"We were overwhelmed," Locke said, but "management continued to schedule skeleton crews." 
Union organizers claim that Locke's firing is part of a national pattern of union-busting by Starbucks, which has more than 15,000 stores and 383,000 employees in the United States and brought in $29.1 billion in net revenue worldwide in the 2021 fiscal year. Starbucks Workers United was formed last August in Buffalo, and the first store there voted in favor of the union in December.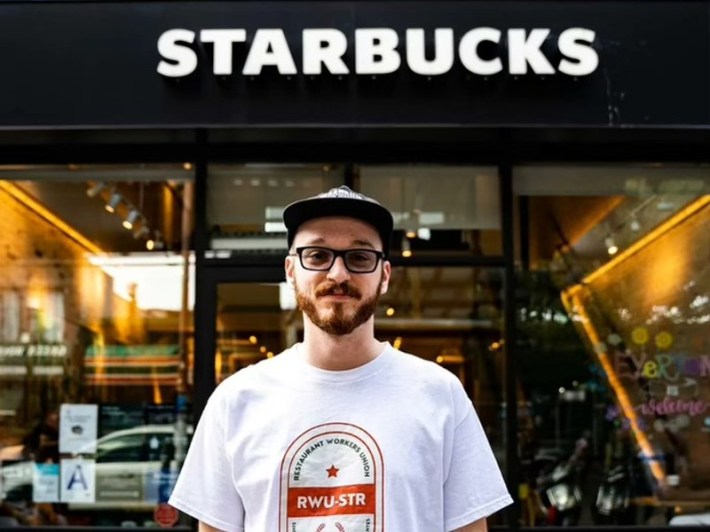 According to the National Labor Relations Board, workers in 313 U.S. stores have now filed requests for union elections, and workers have elected to unionize in 184 of the 211 that have been certified by the NLRB—more than 85 percent. The results of another 40 votes are either being disputed or still awaiting certification. 
Workers at 14 stores in New York City and on Long Island have requested elections, with ten voting to join, per Workers United, the union backing Starbucks Workers United. Two stores have not voted yet; the union withdrew one request, and Starbucks has challenged another.
Workers United is an affiliate of the Service Employees International Union—one of the largest unions in the state, with well over 300,000 members, including the 1199SEIU health-care workers union and the building-service workers in Local 32BJ.
"Starbucks is aggressively firing pro-union partners all over the country," a spokesperson for Workers United told me. The union estimates that Starbucks has terminated more than 50 union supporters in the past year, including seven sacked in Memphis in February.
As of July 25, the NLRB says, the union and individual Starbucks workers had filed more than 250 unfair labor practice complaints against the company in the past year. Their allegations include that Starbucks fired workers as retaliation for union activity, and that it engaged in "coercive actions," such as surveillance, and "coercive statements," such as threats (or promises of better pay and conditions if they vote against the union). 
"Starbucks has fired union leaders for minor infractions, including rules that were never previously enforced by the company," said Casey Moore, a Buffalo barista who is on Starbucks Workers United's national communications committee. Rights given by the National Labor Relations Act, she added, mean that "a company is not allowed to start enforcing previously unenforced rules when a union campaign begins."
Angel Krempa, a Buffalo-area shift supervisor, got the ax on April 1, eight days after workers at her store in the suburb of Depew voted to join the union.
"They were retaliating against me since October," Krempa said. "They were constantly giving me bogus write-ups. They tried to fire me for having three nose rings, even though I was hired with them in."
Krempa, who worked in the Depew store for two years, said she was once sent home for "insubordination" after she refused to take off her Starbucks Workers United and suicide-awareness pins.
Workers told Hell Gate that similar retaliation is occurring at Starbucks locations in New York City. "They're trying to write us all up and stop us from educating people about the union," said Brandi Alduk, a barista at the Astoria Boulevard Starbucks, the first in Queens to vote for the union. She was accused of violating the company's media policy by inviting reporters into the store.
In reality, she said, the reporters "were a little bit like paparazzi." "They followed us into the store," Alduk said.
At the Caesar's Bay Starbucks in southwest Brooklyn's Bath Beach neighborhood, management has sent workers home for wearing union pins or T-shirts, and taken down union posters in back-of-the-house areas, barista Elizabeth Kurchak told me. Workers at that location voted to join the union in May, and are getting ready to begin bargaining.
The ones being sent home or being written up for violations are the "people who are most likely not to talk back," Kurchak said, a belief that was seconded by a coworker. Management, she said, is "mainly targeting minorities and women. They say [they're] not, but it's very visible."
In June, Starbucks CEO Howard Schultz was asked at a New York Times forum if he would ever coexist with a union, given the company's "progressive" reputation. He answered with a flat "no." He said the customer experience would be lessened "if a third party is integrated into our business."
The company has hired at least 30 lawyers from the firm of Littler Mendelson, one of the biggest "union avoidance" specialists in the U.S.
In a statement to Hell Gate, a Starbucks spokesperson wrote, "A partner's interest in a union does not exempt them from the standards we have always held. We will continue to consistently enforce our policies."
In Locke's case, the company alleged that he had "failed to comply with our COVID safety protocols and continued to refuse to abide by these protocols when his supervisor coached him on the matter, putting other partners at risk" and "repeatedly made claims about other partners that were demonstrably false."
"Austin Locke is no longer with Starbucks for blatant violations of our Health and Safety standards, as well as failing to uphold our Mission & Values," the spokesperson wrote.
The company has used near-identical language about other union supporters it has fired, such as the two workers in Scottsboro, Alabama, who were fired July 23, two days before ballots went out for a union vote there.
"It's all baseless. It's lies," Locke said, when asked about Starbucks's claims.
In response to the accusations of unfair labor practices, the NLRB's regional offices have issued 18 "complaints," roughly equivalent to an indictment, against Starbucks. In Buffalo, the NLRB said there were credible allegations that the company had violated federal labor law more than 200 times, including conducting surveillance, issuing threats, and firing union supporters. 
The Buffalo complaint spurred a trial before a federal administrative law judge that began July 11. The hearings are expected to last for several weeks, and if the judge finds Starbucks at fault and orders it to reinstate Krempa and six other union supporters who were also fired earlier this year, the company can appeal to the NLRB's five-member national board. If the company objects to their ruling, it can challenge it in federal court.
To get quicker results for the seven fired workers, NLRB Buffalo regional director Linda M. Leslie petitioned a federal court in late June to order Starbucks to reinstate them. She said that unless the courts stepped in to protect workers' rights to organize, "Starbucks will achieve its goal, through unlawful means, of irreparably harming the campaign in Buffalo, and sending a clear chilling message to its employees across the country." 
The Starbucks spokesperson did not respond to questions about the number of union supporters who had been fired or the company's relationship with Littler Mendelson.
Meanwhile, at the Astoria protest on July 22, more than 150 people loudly chanted, "What's disgusting? Union-busting!" as they packed the sidewalk on 31st Street. "We are not going to win unless we win this together," said R.J., a barista in the Buffalo suburb of Cheektowaga, the second Starbucks in the country to vote for a union. "We are one working class."
The crowd included members of several area unions. Among them was Amazon Labor Union activist Tristan Dutchin, who used to work at the JFK8 warehouse in Staten Island, which in April became the first Amazon facility to vote for union representation.
"I was fired the same way," Dutchin told me. "So I'm here to show support."

Steven Wishnia was the last writer published in the old Village Voice and maybe the only person ever who's worked as an editor for both High Times and Junior Scholastic. He's written on subjects from labor and housing to African soccer and the Supreme Court voiding sodomy laws. Author of the novel When the Drumming Stops, he was bassist in the 1980s punk band False Prophets.
Stay in touch
Sign up for our free newsletter