Fresh Hell
The Fight to Make 'Temporary' Sidewalk Sheds Actually Temporary
Scaffolding is a NYC mascot. Lawmakers are trying to change that.
2:12 PM EDT on March 24, 2023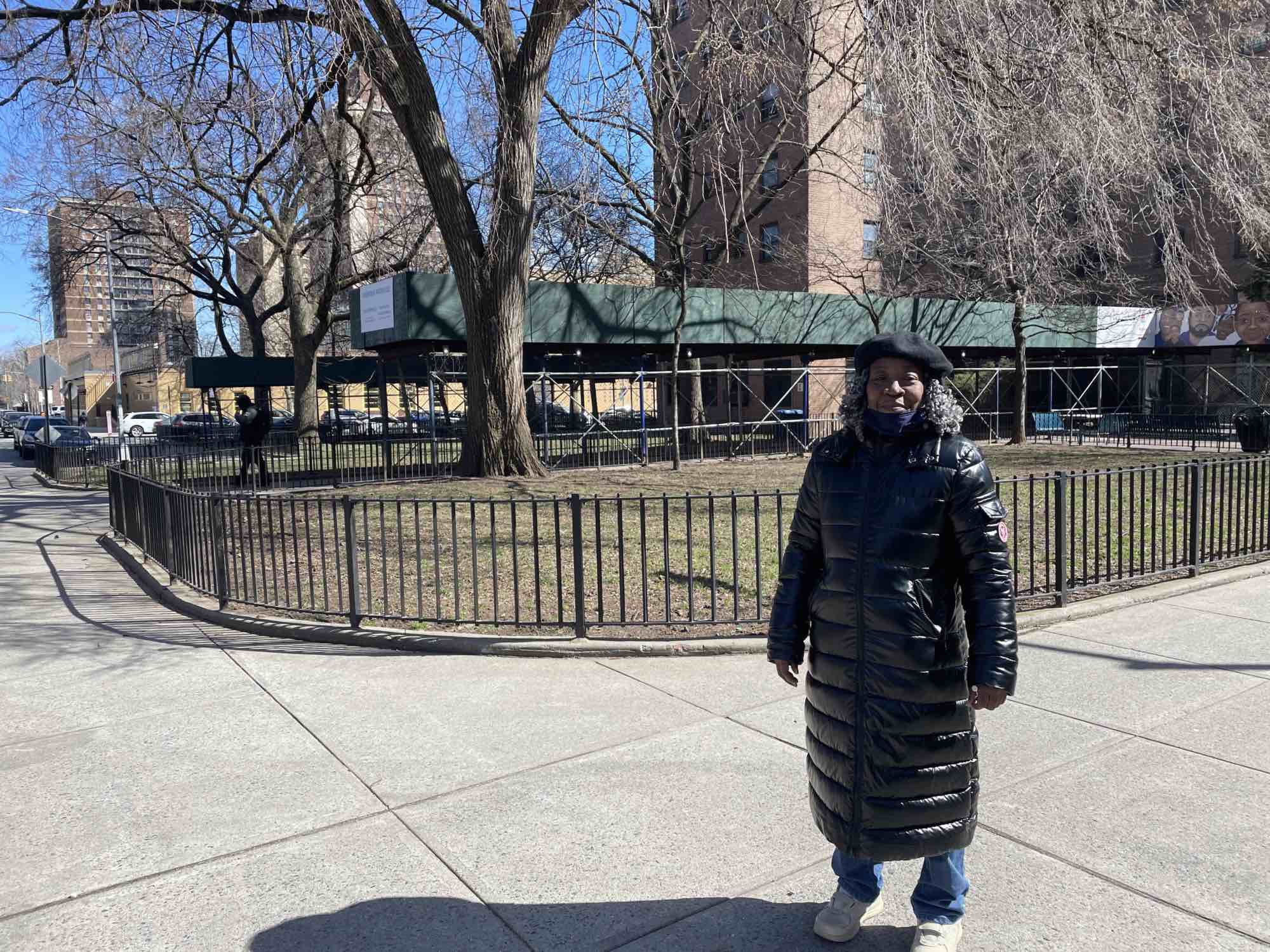 Back in 2019, then-Brooklyn Borough President Eric Adams visited NYCHA's Howard Houses in Brownsville to draw attention to a problem that had bothered residents at the development for years. "We don't want to live in the shadows of scaffolding," Adams told a local TV news crew, standing in front of the sidewalk sheds that had come up in 2016 but had yet to be taken down.
Standing next to Adams was the Howard Houses tenant association president Naomi Johnson, who explained that NYCHA had told her the sheds needed to stay up because work on the building facades had to be finished, even though no workers had shown up for months.
More than three years later, on a blustery March afternoon, Johnson was showing yet another reporter those same sidewalk sheds, which have now stood for more than six years. 
"It's really unsafe conditions. It really is. And it looks bad," the 70-year-old Johnson told Hell Gate, adding that the sheds collect trash and block the view of security cameras. "I mean, you want people to take pride in where they live."
Johnson, who has been a resident of the Howard Houses for 42 years and TA president since 2011, said NYCHA told her in a meeting last year that there was no money to fix the building facades, so the sheds would have to stay up to protect people's safety in the meantime. Meanwhile, NYCHA pays scaffolding companies citywide some $30 million every year to maintain this status quo. 
"I told them that I need to go into this [scaffolding] business and make some money," Johnson quipped.
Other residents are also not fans of the sheds. "It's good when it's raining, but other than that," resident Kyera Sease shrugged. "The sun used to shine in the front [of the building]. But the sun doesn't shine here anymore."
One thing that has changed since that 2019 event: NYCHA recently installed chain-link fencing around some of the buildings that already have scaffolding. "I have to laugh," Johnson said, shaking her head. "They claim it's for safety."
Johnson added, "You have all these scaffolds up, and when they put up this fencing, people were saying it makes it look like they were in prison."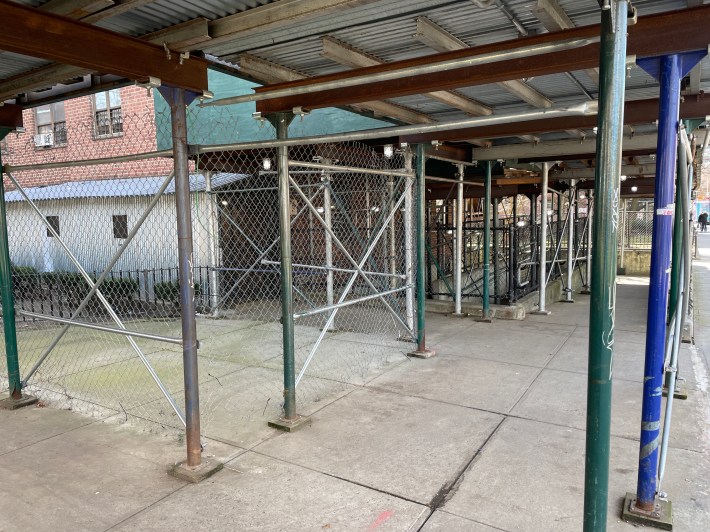 Six years is a long time for a sidewalk shed to be up, but it's a trifle compared to the sheds at 409 Edgecombe Avenue in Harlem, which have been up for nearly 17 years. According to a report from Manhattan Borough President Mark Levine, sheds stay up an average of 498 days, and there are more than 200 of these "temporary" structures across the city that have been up for more than five years.
And while unsightly scaffolding has long been a part of New York City's identity (see John Wilson's HBO show on the subject) a group of legislators are now proposing a set of laws that would cut back on the amount of scaffolding that is currently up around the city, either by reforming the process of how it gets up in the first place, or taking steps to remove structures that have been up since the Bush administration.
"Scaffolding" is a bit of a misnomer—most of the structures that New Yorkers love to hate are technically sidewalk sheds, the wooden platforms atop metal poles that exist to protect people below from falling debris, whereas scaffolding is attached to the building itself, and facilitates the construction work. (We asked the Department of Buildings if a structure could ever be considered both. "Well, technically, a worker can walk on top of a sidewalk shed to get to a part of a building, and scaffolding is capable of stopping debris from falling, but officially no," DOB spokesperson Ryan Degan wrote in an email. "They have very distinct definitions in our code.")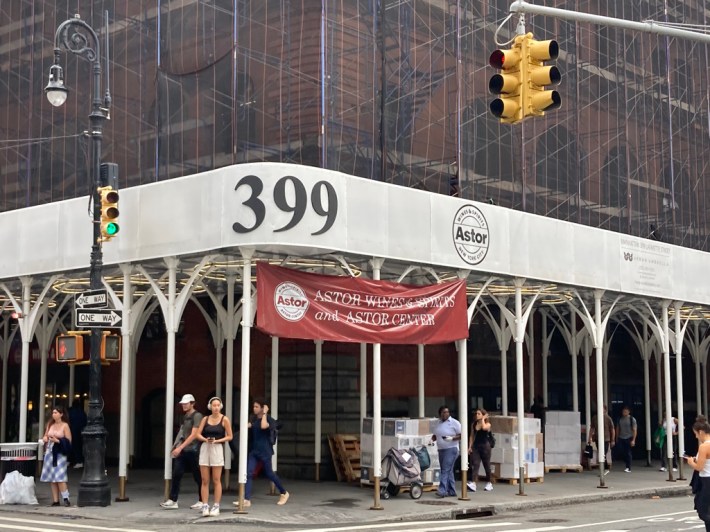 In most cases, the sheds come up when buildings have to inspect their facades and do repairs; under Local Law 11, this is supposed to happen every five years. First the sheds arrive because the building owner needs to legally protect people from potential falling debris, but then they have to fix the problems, and that can take years. "It costs a lot of money to do the actual work. And for a lot of buildings or owners, they don't have the resources to do it," Manhattan City Councilmember Keith Powers told Hell Gate. "And scaffolding becomes a cheaper way to address the issue in the meantime."
Powers is one of a handful of councilmembers who are co-sponsoring a package of legislation aimed at reforming the building inspection process, with the goal of ensuring that these temporary structures remain temporary—one bill would allow newer buildings to go longer between inspections, and another would allow the City to pilot the use of drones in facade inspections.
Perhaps the most consequential, Intro 972, would direct building owners to remove sidewalk sheds if no work is being performed over a 60-day period. If the building owner can't afford to do the repair work, the City could step in and do the work itself and bill the owner afterwards. 
The DOB spokesperson said that the Adams administration is "laser-focused on reclaiming valuable public space for New Yorkers" and would review the legislation.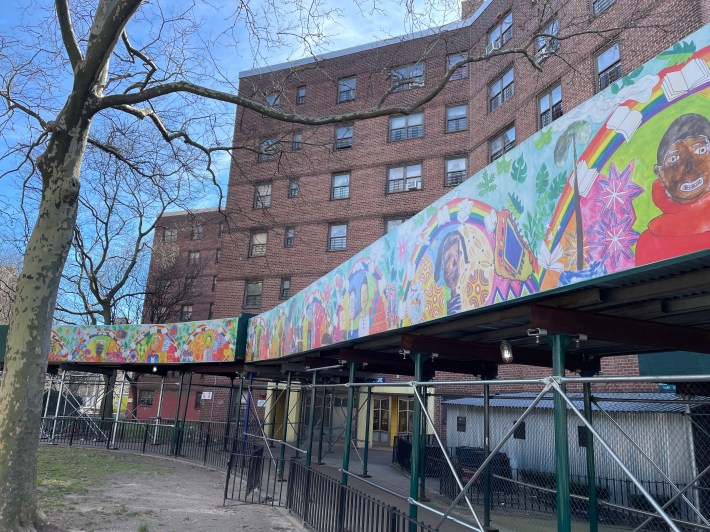 But what if the City itself is the reason why sidewalk sheds persist for years, like at NYCHA's Howard Houses? The proposed City Council bills would also apply to City-managed property, but self-enforcement feels like wishful thinking.
Brooklyn State Senator Zellnor Myrie has introduced a bill that would allow the state to designate ancient NYCHA sidewalk sheds as "blight," then use eminent domain to step in and remove them. Myrie told Hell Gate that he was inspired by the current development-driven state of eminent domain in New York, in which large swaths of Midtown, for instance, can be deemed "blighted" for real estate purposes.
"Where the state feels like they have a development opportunity, or where developers have presented a shiny new potential development for the state, no one is making excuses. Everyone finds how to cut the red tape, how to rid themselves of the bureaucracy to put skyscrapers up," Myrie said. "But when it comes to our public housing residents, who are merely asking to be rid of this public nuisance, they are met with excuses."
The process of actually using these powers takes months, if not years. Myrie, who has another bill that would overhaul the entire eminent domain process at the state level, said his scaffolding legislation was more about "putting both NYCHA and the City on notice that the state wants to play a role in removing this quality-of-life issue for our public housing tenants."
The Mayor's Office did not return a request for comment on the sidewalk sheds at the Howard Houses. NYCHA told Hell Gate that the agency is working with the state to find funding to make the necessary repairs at the Howard Houses, but that the sheds would stay up in the meantime. State lawmakers are currently trying to find funding to address the $454 million NYCHA tenants owe in rent; in 2020, NYCHA had some $40 billion in capital needs. 
Johnson, the Howard Houses TA president, said she will keep advocating for the scaffolding to come down, but she's not hopeful. "It's going to be here forever."

Chris is an editor at Hell Gate. He spent a decade working for Gothamist, and his work appears in New York Magazine and Streetsblog NYC.
Stay in touch
Sign up for our free newsletter