Paying Rent
The Fight for Real Estate Crumbs at Innovation QNS
While New Yorkers battle over affordable housing, the real winners are the developers behind the massive redevelopment project.
1:23 PM EDT on October 20, 2022
On a chilly but sunny Wednesday morning, two groups made their way to the steps of City Hall to hold dueling, back-to-back rallies on the Innovation QNS redevelopment project, the massive, mixed-use five-block complex in Astoria proposed by a consortium of developers. Later on the same day, a city council subcommittee would meet to begin deciding the project's fate. Both groups agreed on a key point, even as they differed on their support for the current iteration of Innovation QNS: There's a dearth of housing for low-income and working-class families in New York City, the most dire aspect of a widening housing crisis that has driven average rents in the city to never-before-seen heights. 
The ostensible question at hand: How much "affordable" housing was enough for such a sprawling project with almost 3,000 apartments, and who should foot the bill? The developers behind Innovation QNS—Silverstein Properties, BedRock Real Estate Partners, and Kaufman Astoria Studios—had initially offered only 25 percent below-market rate units, the minimum number required by the City for these types of rezonings; after Queens Borough President Donovan Richards rejected that proposal, the development team agreed to boost that number—but only if the City would pay for those additional apartments, hardly an actual concession for a $2 billion project. 
If the sight of two groups of working-class New Yorkers pitted against one another—all while the developers behind the project sit back and look towards a fat payday—is a depressing one, it's also a bit of an inevitability. It's not the unions, or current neighborhood residents, or even, really, our elected officials, who are dictating the terms of the debate. More than 60,000 rent-stabilized apartments (and possibly even more) are sitting empty in our city, landlords' own version of a strike; meanwhile, we're left to fight each other over the size of the scraps that our real estate overlords deign to throw our way. 
Rally number one, in favor of the current project, was largely Black and Latino union members from the building trades—the construction workers of Laborers Local 79, the property service workers of SEIU 32BJ, and the skilled trades union DC9—who, with the tantalizing prospect of thousands of union jobs dangled in front of them, were there to show their support for Innovation QNS, whose backers one speaker characterized as "responsible developers." The second, a racially diverse, heavily immigrant group of Astoria residents, gathered under the rallying cry "Astoria is Not For Sale," united by their worries that Innovation QNS would price themselves out of their homes, in a neighborhood where rents were already rising rapidly. ("I just wanted to say, nobody here had to be paid to come," one of the organizers of the latter said wryly to the crowd.) 
Aligned with the unions was Queens Borough President Richards, looking dapper in sunglasses and a slim gray suit. He was now a staunch supporter of Innovation QNS. "We're not building no damn truck depot in Queens, we're building housing," Richards said, possibly referencing the fate of One45, the Harlem real estate project that was killed after the local city councilmember voiced her opposition. 
To Richards, the debate over the $2 billion real estate development project was "ridiculous," and he was outraged that anyone would fight a project that included what he considered significant numbers of much-needed housing. "I'm going all out on this ish, check my Twitter," he said. 
Indeed, Richards had, in the prior days, been engaged in online battle, calling opponents "FRAUDS!!!!" and "gentrifiers" who are "scared of gentrification of all of a sudden." A particular target of his ire was Astoria Councilmember Julie Won, the first-term elected official who had recently thrown a wrench into the future of Innovation QNS. 
Won, dressed casually in a blue blazer and platform Doc Martens, helped lead the second rally, alongside tenants rights groups like CAAAV and Woodside on the Move and the neighborhood's other elected officials, including Rep. Nydia Velasquez, chanting, "Fight fight fight, housing is a human right," as she threw her fist in the air. (A note on transparency: Many years ago, I was once a baby housing organizer with CAAAV's Chinatown housing project.) "We're not going to take the bare minimum, the status quo of saying 25 [percent] affordability is enough. We're saying that is the floor, not the ceiling," Won said. 
Earlier in the week, after an email she sent opposing the project in its current form was leaked to Politico, Won released a fuller statement detailing her concerns. Why, she asked, was a private developer relying on as-of-yet uncommitted public funds for the new below-market rate units they added to the plan? "I will not approve this project unless the developer provides more affordable units, bringing Innovation QNS to 55 percent affordability," she wrote—with 40 percent of those units fully funded by the developer.
"Our community deserves better, and the only way for us to fight back on the housing crisis is to build more affordable housing," Won said. "Innovation QNS must be majority affordable at 55 percent, minimum. That is what we're here to fight for." At one point, Won waved her hands at some of the people massed behind her, to directly address one of Richards's tweets. "Are these gentrifiers?" she asked.  
To Richards, ever the political pragmatist, the latest proposal remained the best offer on the table. "I think people should keep pushing. But at a point, we have to be realistic," he said on Wednesday morning. "And yes, I will take more subsidy from the City of New York anytime. So if we can get some more, to move it up to 50 [percent]? Listen, if we could get subsidies to do 100 [percent], I would do it. But at some point, the rubber meets the road, and we have to make a decision."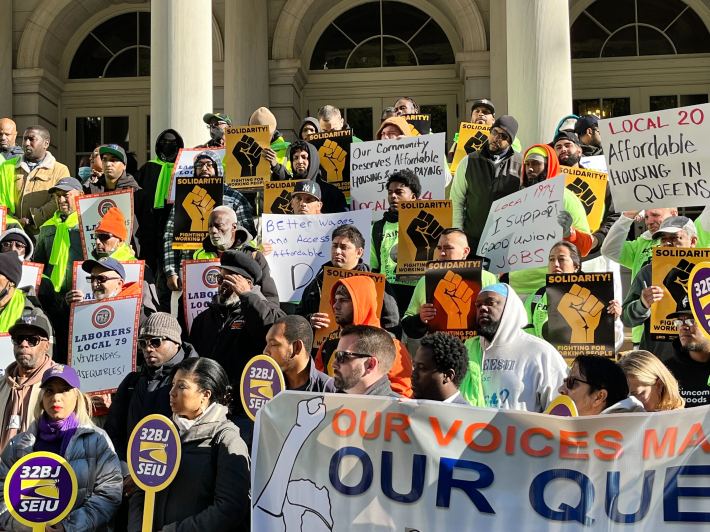 Even the thousands of apartments promised by Innovation QNS will barely make a dent in our overwhelming need. A Real Estate Board of New York report found that the city requires 500,000 new apartments by 2030 to meet both the current demand and projected future population growth. According to the New York Housing Conference, that number is an undercount that doesn't even capture what's needed today—NYHC estimates that the NYC metro area is short 772,000 apartments that very low-income households can reasonably afford. 
This shortage is why applying for a subsidized, below-market rate apartment through the City's affordable housing lottery—the very kind of apartments that the developers behind Innovation QNS are promising to build—is for the vast majority an exercise in futility; for every apartment in the system, hundreds apply for the shot at some form of housing stability—and one that often isn't even all that cheap. "Affordable," after all, is relative. One person rallying in favor of the development was a 26-year-old named Matt, a DC9 member who lived with family members on Long Island. "I don't want to live in the city, nah, it's too expensive," he said. "I ain't spending two grand for a closet." Matt shared he was open to living in the future Innovation QNS; with a typical union painter's annual salary around $82,000, a so-called "affordable" studio might very well cost him $2,350 per month.
To people who believe the only solution to this crisis is to fully unleash the market and give developers the green light to build, build, build, opposition like Won's is naive and short-sighted. But it's hard to argue against Won, even as she's playing what some would consider a dangerous game that could very well tank the entire project—shouldn't we try to squeeze as much as we can, out of developers who do the same? 
After the rally, and before she entered the council chambers, I asked Won about her conversations with the developers. "The last I spoke to them, I said 55 percent, it has to be majority affordable with low AMIs, and they said, they cannot do that," Won told me. "And I said, well, okay—best of luck."
Prior to Hell Gate, Esther was a senior politics reporter at Jezebel and a columnist for the New Republic.
Stay in touch
Sign up for our free newsletter