Going Places
The Epic Fight to Make McGuinness Boulevard Safer
Powerful business interests held a "town hall" to fight safety improvements that have been in the works for years.
2:39 PM EDT on June 16, 2023
Until 1954, McGuinness Boulevard in Greenpoint was a quaint two-lane road running from Driggs Street to Newtown Creek. It wasn't until the creation of the Pulaski Bridge that Robert Moses expanded it into a main artery connecting the Long Island Expressway and the BQE. That plan destroyed thousands of homes, and since its creation, McGuinness has been the site of hundreds of crashes and dozens of deaths. Most recently in 2021, local teacher Matthew Jensen was killed by a driver in a hit-and-run.
Last month, after two years of meetings and community outreach, New York City's Department of Transportation released a comprehensive plan to make McGuinness safer: a "road diet" that will trim McGuinness's four lanes of traffic down to two, with protected bike lanes in each direction, as well as a parking lane that would also double in certain sections as a pedestrian island. According to the DOT, this was the "most-preferred design concept," supported by residents as well as the neighborhood's elected officials in City, state, and federal government, and the DOT says work will begin later this year.
Around mid-May, I started to see signs taped up around the neighborhood advertising a group called Keep McGuinness Moving. Their literature had slogans like "One Way, No Way," and "Trucks Need Truck Routes, Period." The group seemed well-resourced, with a slick website and flyers distributed far and wide through Brooklyn. 
Who was behind this resistance? The CITY's Gwynne Hogan reported that most of the groups behind Keep McGuinness Moving were linked to Tony Argento, the owner of Broadway Stages, one of New York City's largest TV and film production companies, with over three million square feet of space, headquartered in Greenpoint. 
On Thursday morning, Argento hosted a few hundred Greenpoint residents and business owners at a "town hall" at Broadway Stages to speak their mind. 
Outside, some supporters of the bike lanes from the group Make McGuinness Safe held signs of the names of the New Yorkers who'd been killed on McGuinness through the years; they had been barred from attending Argento's town hall. Trucks passing by on Monitor Street blasted their horns, though it was unclear whether they were honking in support or opposition.
In his opening remarks, Argento talked about coming to Greenpoint years ago, back when, as he put it, "it was dirt streets, full of garbage." He added, "I helped clean this neighborhood up, block-by-block." Argento talked about his  investments in soundstages, green roofs, solar roofs, and the new boathouse at Newtown Creek.
"I think we should reanalyze the plan, try to get more business input, more community input," Argento said.
The town hall moderator was Eric Radezky, a former aide to the ex-Assemblymember Joe Lentol. Radezky said that he is a cyclist, and suggested that the McGuinness redesign would further congest the neighborhood's side streets, making those unsafe for cyclists, though he did not provide any evidence for this claim. "Nobody here is against public safety," Radezky said, to raucous applause. 
Resident Rich Mazur spoke next, starting with a personal history about sneaking cigarettes in the neighborhood, back when McGuinness was Oakland Street, before coming to his point that while senior citizens are scared of trucks on McGuinness, they're even more frightened of cyclists. 
Vinny Milburn, owner of Greenpoint Fish & Lobster, said that without the McGuinness artery, he'd have trouble getting his refrigerated shipments to and from his Ash Street warehouse. (Greenpoint Brewery apparently did not have the same problem, as they have signed on in support of the redesign.) Luke Skrodzki, the owner of Amber Steakhouse, wanted to see stats on the interim traffic calming measures made to McGuinness last fall. (One metric of success: No one has been killed since these were put in last fall. And according to Crashmapper, from January through May of 2022, McGuinness saw a total of five crashes; during those same months in 2023, that number dropped to two.) Leah Archibald, executive director for the management consulting agency Evergreen, said this was a "hair on fire" moment for those who didn't realize this redesign was moving forward. 
On and on it went, with similar refutations against the redesign. The so-called "road diet" will push dangerous trucks onto side streets. Businesses will collapse. "Gentrification" would be bolstered further. Bikes and trucks don't mix, and shouldn't be forced to. Residents and business owners weren't given enough time to consult the plans. Social media had elevated the discourse to toxic levels.
"They say McGuinness divides the community," said Mike Devereaux, union representative with the Teamsters Local 817, "but it seems like the redesign has divided the community even more."
As these people criticized the plan, DOT Commissioner Ydanis Rodriguez, DOT Brooklyn Borough Commissioner Keith Brey, City Councilmember Lincoln Restler, and others, sat on the dais and listened. They all said they'd take the community comments into consideration, and would be in touch about the next steps. None made any commitments to make changes to the current plan.
Later that evening, another part of the community met in a small park at the corner of Bayard Street and McGuinness, where Matthew Jensen had been killed. 
The crowd was full of green-vested cyclists, children with signs, and at least one dog in a backpack. Over truck noise from McGuinness and the BQE's toxic ocean swell, speeches were given by Make McGuinness Safe, a group that'd begun after Jensen's death.
"We're here because two years ago, this neighborhood suffered a tremendous loss," said Kevin LaCherra, an activist with the group. He had been physically threatened by an opponent of the redesign days earlier. "And we said we'd do everything in our power to never allow that to happen again." 
LaCherra spoke about the "thousands of conversations with our neighbors" the group has had over the last two years in order to build a plan that balanced the needs of the community. He told the story of a woman whose cousin was killed on McGuinness more than 40 years ago, and how everyone else has forgotten, but she still thinks about him every time she crosses the street. "Keep going," LaCherra said she told him. "And that's what we're going to do."
Emily Gallagher, Greenpoint's representative in the State Assembly, spoke about how this was a fight that had started for her back in 2006, when she lived on McGuinness, and how she'd wake in the middle of the night to the screeching car noise. "I believe that when this happens, everyone is going to see what we were talking about. Everyone is going to feel a little calmer walking home at night," Gallagher said. "We're going to see different ways of being in the world."
Bronwyn Breitner, a parent at PS 110, where Jensen taught, spoke next. "I had the wretched job of telling my two children that a man who taught them yesterday in their school had been killed by a speeding car one block from their bedroom," Brietner said. "Matt's death reignited a movement that had existed already. This community hated McGuinness Boulevard in the '50s when it was built, and they tore down 500 homes to do it, and Robert Moses didn't care. Why do we need a one-mile highway to connect two highways?"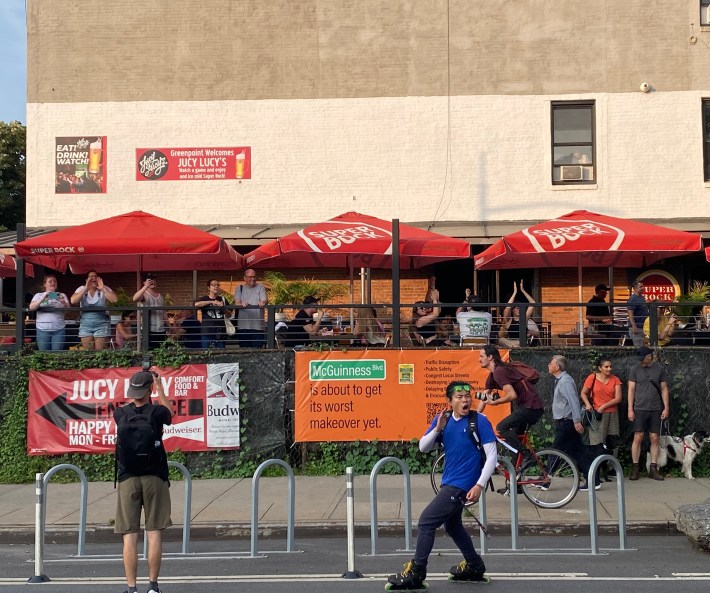 Opponents of the redesign occasionally tried to make their presence known. One man tried to blow a whistle over the speeches, but his lungs quickly gave out. At Nassau Street, during the march down McGuinness, a quartet from Keep McGuinness Moving shouted at the crowd from the balcony of the restaurant Jucy Lucy. Further on, two residents of a building on McGuinness shouted from windows above their garages, asking protestors if they lived there. The march, numbering several hundred and taking up all of the northbound lanes of McGuinness, continued on.
The group took a right on Meserole Street, to end the long day outside of the headquarters for Brooklyn Stages. One of the green-vested cyclists covering the march's tail end, protecting the people from traffic, looked over to me. 
"It's amazing how nice McGuinness is without the cars!" he shouted. 
Stay in touch
Sign up for our free newsletter