Climate
The Climate-Killing Monster in Your Basement
Will New York actually clean up its number one source of carbon emissions?
2:58 PM EDT on April 21, 2023
It's a blustery, wind-swept spring evening and I'm standing on a rooftop of a co-op building in Harlem with a group of apartment owners in New York City, surrounded by panels that are set to harness the power of the sun. 
We're listening to a presentation by Lawrence Haseley, a representative from the company Solar One, about how the 20-unit building below our feet was able to finance this solar array, and how the residents are getting ahead of Local Law 97, which mandates that all large buildings in the city get rid of gas and oil heating by 2050.
Haseley explained how the solar array works—taking sunshine and transforming it into voltage, then converting that voltage into the right kind of current, and allowing residents to use that energy to power their homes, demystifying a process that is still rare atop the city's buildings. Currently, setups like these produce 350 megawatts of solar power across town on a sunny day—while the City has a target of 1,000 megawatts from solar by 2030. (Buildings with slanted roofs, buildings without much available roof space, or ones that simply remain in shade most of the day, won't ever be able to make the jump to solar.) Haseley added, "It's cool, but yes, it's expensive. It's not for everyone." 
And that's part of the problem. The consequences of not hitting Local Law 97's targets are dire for the planet: New York's buildings are the city's number one emitter of greenhouse gases. Sixty-seven percent of the city's emissions comes from buildings—both residential and office. Yet just to get this Harlem co-op's solar array in place took months of organizing among tenants and $44,000 to build it out. The upfront costs of installing solar can run into the hundreds of thousands, though many buildings earn much of that money back through incentives and energy savings. But without more direct guidance from the City, and funding from the state, many building owners say they're still unprepared for this energy shift, and haven't yet begun to take steps to comply with Local Law 97's looming deadlines. Coupled with real estate industry resistance to the mandatory fines that building owners would get hit with for not complying with the law, it's possible that New York City's climate goals will hit a roadblock, as a climate mandate goes unfunded. 
Scanning across the nearby rooftops and then widening my gaze to include all of upper Manhattan, it becomes even more clear that the task ahead is truly immense—to meet the requirements of Local Law 97 will mean radically re-engineering century-old buildings, many of which are already struggling with simple upkeep, and thousands which still run off of fossil fuel-powered boilers. Hitting Local Law 97's deadlines will take a herculean effort by building owners and the City itself, with renters possibly footing the bill for fines or hasty renovations via huge surges on their rents.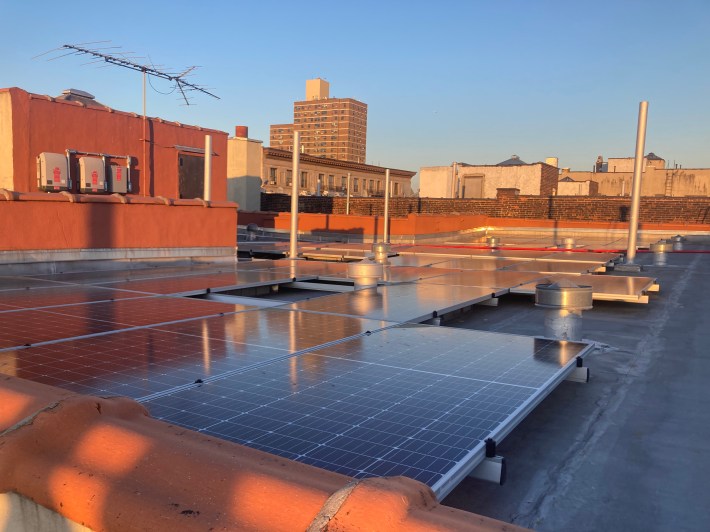 Right now, we're not ready for it. By 2030, and if no retrofitting happens, 76 percent of buildings in New York City will be out of compliance with Local Law 97, which was passed in 2019 as part of the City's Climate Mobilization Act. Under the law, these buildings would face fines for exceeding the City's specified, and phased-in, emissions limits. 
The law faces its first test in the coming months, as the Adams administration finalizes what the first set of fines will be for buildings that fail to meet the 2024 requirements—currently, about 20 percent of buildings in New York will not. Whether those buildings' owners will be made to pay, or if they'll be let off the hook, will determine whether landlords will take the necessary action to avoid fines.
First, some good news: Most office buildings already get their heating from electricity or through Con Ed's steam heating program—only 12 percent of office buildings are run on fossil fuels. And the majority of office buildings will end up complying with the 2024 limits of Local Law 97 because they already run off electricity, which, while still created mostly by fossil fuels in New York, will rapidly transition to renewables over the next decade. (See part one of this series.) 
Yet for months, office building owners have been lobbying the Adams administration to allow them to be exempted from Local Law 97's fines. The Durst Organization, which built One Bryant Park in 2010, has led the pack, with developer Douglas Durst telling NY1 this week that the fines his building faces are "unfair." The developer, which took special measures to make One Bryant Park sustainable, made a crucial error while designing the building: they used natural gas to heat the building, instead of just going all-electric. (Starting in 2024, it will be mostly illegal to construct new buildings that use fossil fuels for heating in NYC.) 
Some building owners and their industry's lobbying group, the Real Estate Board of New York (REBNY), have also pushed to get the Adams administration to allow for the use of renewable energy credits, or RECs, to offset their carbon overages. Basically, building owners would be able to buy their way out of compliance by sending some money to the state to be used on renewable energy projects. REBNY testified in front of the City Council last year that even all-electric buildings, ones that generate heat through things like heat pumps, would have trouble hitting 2030 standards, and should be able to buy RECs to offset their high electricity usage.
"Ensuring that buildings get credit for purchasing…these RECs will enable owners to manage their emissions exposure that stems from electricity generation they do not control," a REBNY representative told the Council's Committee on the Environment. 
A study by Comptroller Brad Lander found that if the Adams administration were to approve the unlimited use of RECs, up to 68 percent of emissions that would be over the Local Law 97 limits and subject to heavy fines could instead be paid off by RECs. These kinds of credits were rare when Local Law 97 was written, but with the state subsidizing huge energy development projects, RECs will be abundant. Local Law 97 designates the Department of Buildings to implement restrictions on things like the use of RECs, which, if the DOB took no action, could be used an unlimited amount of times. 
But the Adams administration now tells Hell Gate that it's working with the state to study the issue, and that it agrees with City Councilmembers and the comptroller that the amounts of RECs should be limited. According to the administration, a rule limiting RECs will come by the end of the year, and before the 2024 emissions limits set in. 
"The Adams administration is committed to fully implementing this game-changing sustainability policy with a focus on working with building owners to achieve compliance and reach key targets," a spokesperson for the Department of Buildings, which is tasked with rulemaking and compliance for Local Law 97, told Hell Gate.
While those most able to pay for the fines are leading the charge against Local Law 97, they're finding sympathetic ears in co-op owners across the city, who are also struggling to comply. A lawsuit filed by the Presidents Co-op and Condo Council aims to stop Local Law 97 in its entirety, even as its co-president Warren Schreiber who is the president of a co-op in Queens, says he's begun to take steps to prepare for the 2024 deadline. "We want to see where we're going with the lawsuit and then we're going to start talking to other people. We're going to start looking into the solar panels," Schreiber told the CITY. "Our next step would be looking into upgrading the operating systems and seeing if there's a way that we can go electric."
Co-ops across town are bracing for increased maintenance costs, and looking into loans. But that's only if they can get their fellow building owners to go along with costly installations of solar panels or heat pumps, or retrofitting the building's entire electrical grid. The upfront cost of a building converting to heat pumps, if it also needs to completely retrofit its electrical system, can run into the low millions.
"We had two residents that fought us tooth and nail to not have solar," Shaughn Dolcy, who lives in a co-op in Brooklyn, told other homeowners at an event put on by the group UHAB. "Because they're like, oh, well, you know, the air conditioners work just fine. But that doesn't even make any sense!" 
Dolcy's co-op ultimately agreed to install solar panels, and they've produced so much energy, Con Ed is sending them rebates for helping to power the surrounding neighborhood. Residents have reaped the rewards as well. "It took us some time to actually get the benefits, but I will tell you this, for about two and a half years, we haven't seen an electric bill at all," said Dolcy. 
Advocates worry that without further support from the City or state, a simmering frustration with the law could turn into a full-blown backlash. 
The NYC Environmental Justice Alliance (NYC-EJA), a coalition of community groups involved in environmental justice work, is pushing for more financial incentives from the state for building owners to comply with Local Law 97. "We know Eric Adams is not a climate champion by any means, but there are real limitations that the City has into the financing of these retrofits, and that's where the state really has to step up," said Eunice Ko, the group's deputy director. Ko said the City needs to do more as well, which might be challenging as Mayor Adams has slashed the budgets of City agencies across the board, and left the Department of Buildings without a permanent leader since the resignation of Eric Ulrich under a cloud of misconduct. "We need to up the level of community engagement, so that people understand the implications of Local Law 97," Ko said. "It's really not getting out to the building owners or the property owners."
The City has set up a website, NYC Accelerator, to help building owners prepare for Local Law 97, but block-to-block outreach has been almost nonexistent. "We want to see contracting out to community groups, who are going to do this work, and groups who already know what needs to be done," said Ko. "Accelerator is a good start, but it's not getting out to the building owners of all the different building types. Funding for the retrofits aside, that's something they are fully capable of administering."
For-profit companies like BlocPower have already won City contracts to help train workers to do these retrofits, but relatively speaking, the company is still small.
"The reality is that the law is really doable on the ground, and it's going to work, unless Mayor Adams derails it," said Pete Sikora with New York Communities for Change, who has been pushing the Adams administration to fully implement Local Law 97. "Your average co-op board member is well-aware of the law, but there are dysfunctional boards and contractors out there, there are buildings with huge deferred maintenance and management issues, and that's a huge problem."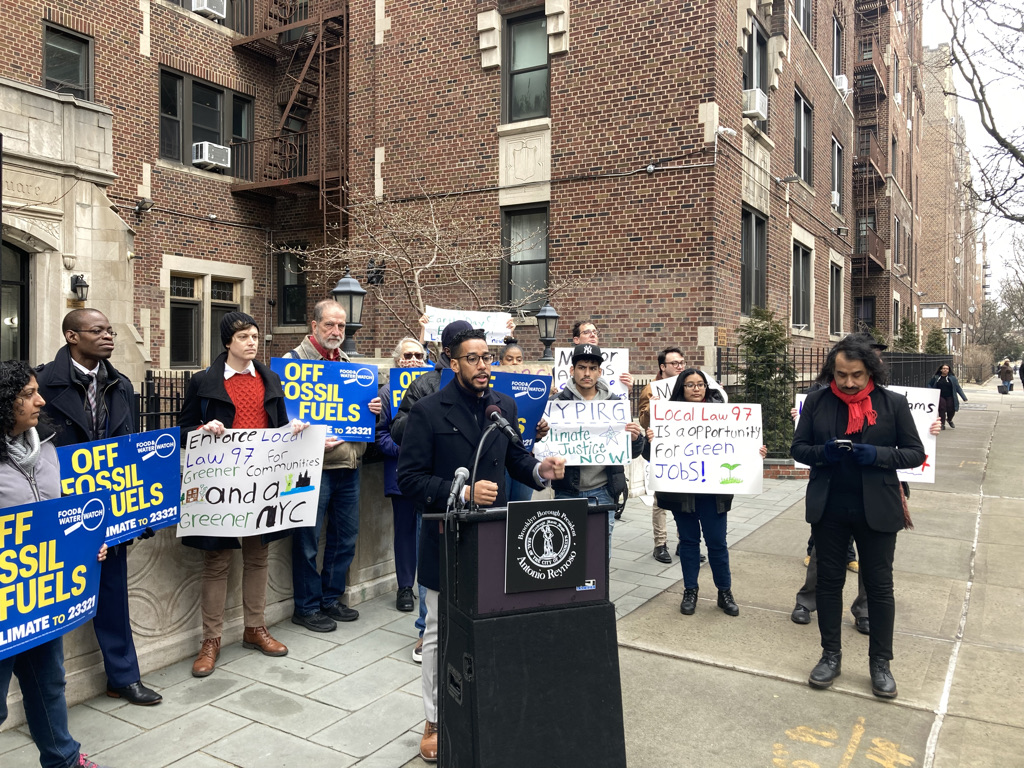 In March, Brooklyn Borough President Antonio Reynoso stood in front of a Flatbush co-op with residents who want the City to take a far more proactive role in getting buildings ready for the impacts of Local Law 97. 
"The Buildings Department should be in every single building, they should be promoting all this work," Reynoso said to Hell Gate. "They should be telling you exactly what you need to do to get there because there's low-hanging fruit, like changing windows, solarization, heat pumps, geothermal opportunities. There's a lot of opportunities to do this."
On Thursday in Brooklyn, Mayor Eric Adams touted his administration's updated climate plan, which was light on details on actual outreach to building owners to get them to retrofit their buildings.
The plan had "little to no concrete City funding, no long-term vision and targets, and no explanation of the measurable impact and progress of the actions," according to Eddie Bautista, the Executive Director of NYC-EJA.
But Adams did include a pilot for a public solar plan, borrowed from Comptroller Brad Lander, that would have the City front the costs of solar installation in buildings that can't afford to make the transition, using public money and federal resources. Right now, the funding for the pilot program is still unaccounted for. 
It's programs like these, with the City proactively offering the owners of residential buildings an incentive, and not solely a fine, that might actually turn New York's outdated building stock into an outlet that its cleaner grid can finally plug into. And environmental advocates believe that all really starts by getting big commercial buildings to actually take Local Law 97, and the 2024 deadline, seriously. 
"If the mayor is claiming that getting things done is the priority, then it's time to actually get things done," said Sikora. "You can't just have sustainability by pretending that everyone is going to do equally well. Greedy corporate entities are greedy corporate entities, and they're always going to have to be forced by law to do things. That's just how government works and society works, and the only way the City can take on the climate crisis directly." 
This story is the second in a two-part climate series. Previously: cleaning up New York City's dirty dirty electricity grid.
Max Rivlin-Nadler is a co-publisher of Hell Gate. He's reported for Gothamist, The New York Times, Village Voice and NPR. You can find him walking his dog, Stiva, or surfing in the Rockaways.
Stay in touch
Sign up for our free newsletter