Nosh Pit
Can the New Superiority Burger Possibly Live Up to Our Ridiculously High Expectations?
Yes.
1:32 PM EDT on April 5, 2023
Like everyone else in March of 2020, Brooks Headley, famed pastry chef, famed hardcore drummer, famed chaotic Instagram caption writer, closed his adored hole-in-the-wall vegetarian ("often accidentally vegan") restaurant Superiority Burger for the lockdown period of the pandemic.
He ran a few limited-time, limited-menu experiments during the closure, calling them Salad Days. But unlike most everyone else who was running a successful business at the time, Headley never really reopened Superiority. He did something much better instead.  
In the summer of 2021, Headley announced that he had signed a lease at the former home of Odessa, the iconic Ukrainian diner that was also a hangout for generations of East Village party kids, located around the corner on Avenue A.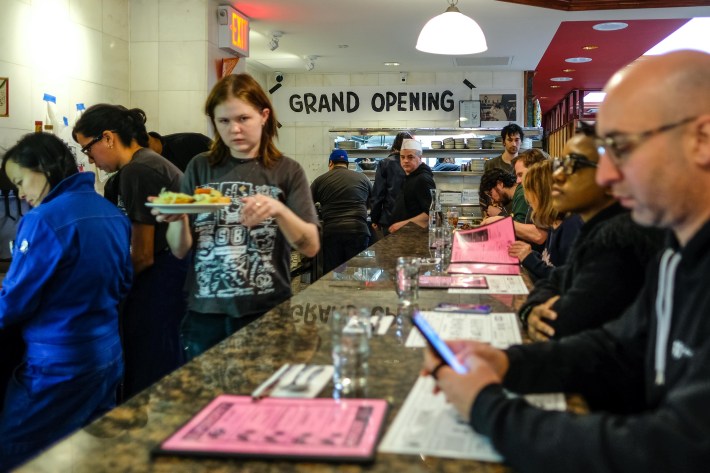 Yes, that was nearly two years ago (or, as he put it to me as he ran around the place on Monday night, "a million years and a thousand City licenses ago"), an excruciating wait for Superiority fans. And then last Saturday night, April 1, at 9:00 p.m., Headley opened the place to the public. And it is glorious.
The new Superiority Burger sprawls, with booths and tables up front, a lunch counter and a small bar under a skylight taking up the middle part, and another whole-ass dining room in the back. Even at 5:30 on Monday evening, the place crackled with energy—everyone was excited to be there, chatting with randos at other tables, Headley's built-in sound system blasting a mix of songs you want to Shazam.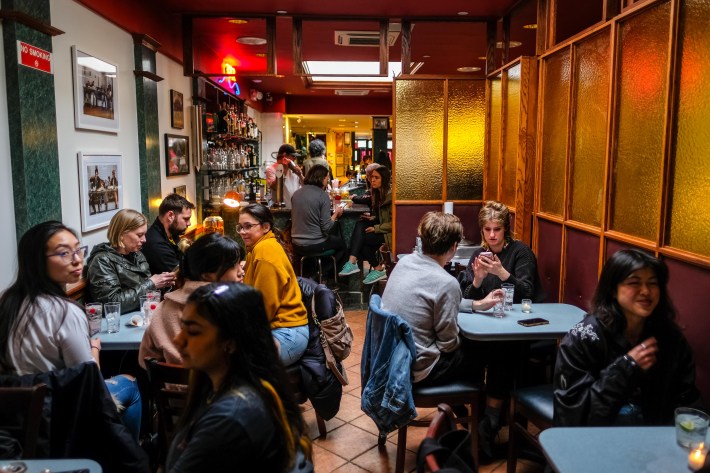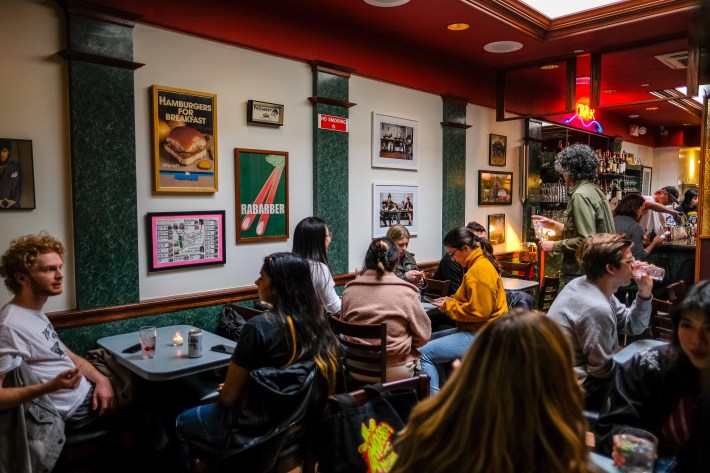 Maybe it's nostalgia talking—I've been goofing around in the East Village since the late 1970s—but it's the type of place that feels like you'll run into someone you know, or you'll find out later that someone you know was there when you were also there but you didn't see them. It's punk rock. It's families and late-night drunks. It's a love letter to the neighborhood. It oozes old-school New York City cool.
The space is decor-ed to within an inch of its life, but Headley's not just filling walls for an overall effect; there's a story, or a dumb joke, behind every photograph, every piece of art, every goofy sign. From the brilliant and hilarious exterior signage to the ad-supported placemats to the subtly relevant posters in the bathroom, it's all part of a package. No spoilers from me though. Look around and discover it for yourself. It will take many visits to take it all in.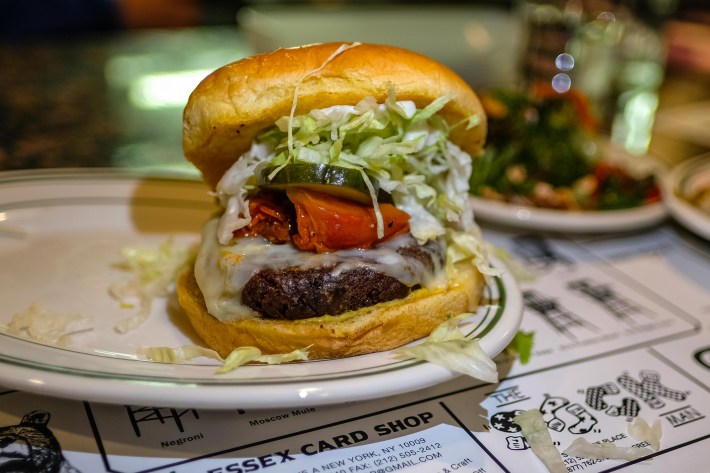 Which is good news, because while the food at Superiority Burger was always stellar, the food at the new Superiority is somehow even better. The eponymous veggie burger, for example, which I first ate on Christmas morning in 2014, when Headley did a pop-up in what was then the old Dirt Candy space and would later become SB1, seems sturdier, more robust (the roasted tomato really punches this thing up) and more perfectly balanced than ever.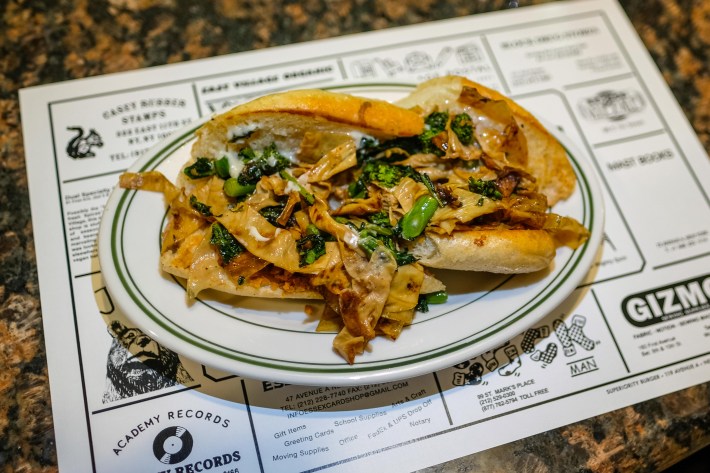 That said, my favorite sandwich at the old place is probably still my favorite sandwich at the new place, the Yuba-Verde hero: a soft, toasted roll packed with chewy tofu skin, bitter broccoli rabe, crumbly grilled chickpeas, and Matouk's mayo for some gloppiness. I always forget that it's spicy too! This used to be an infrequent special, then an off-menu item; now it's a front-and-center superstar.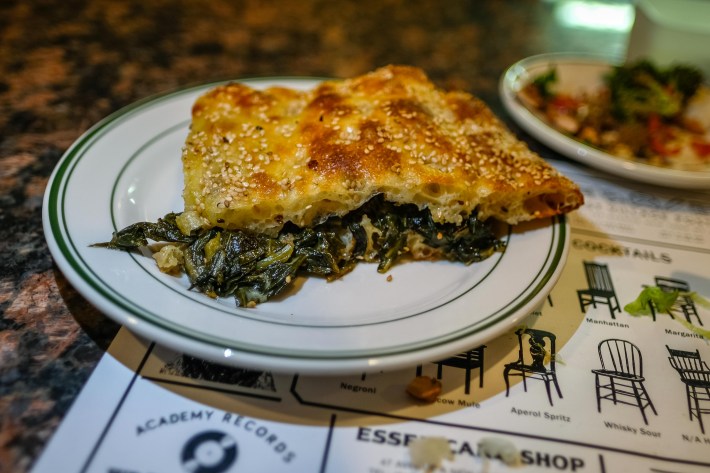 But maybe the collard greens sandwich is my favorite? This is another monster, a slab of Superiority's famous focaccia overflowing with tender braised greens and melted Cooper Sharp cheese, which is like an American/cheddar hybrid. So creamy and sexy. The fourth sandwich on the opening menu here is the Sloppy Dave (née Sloppy Joe), an OG Headley classic.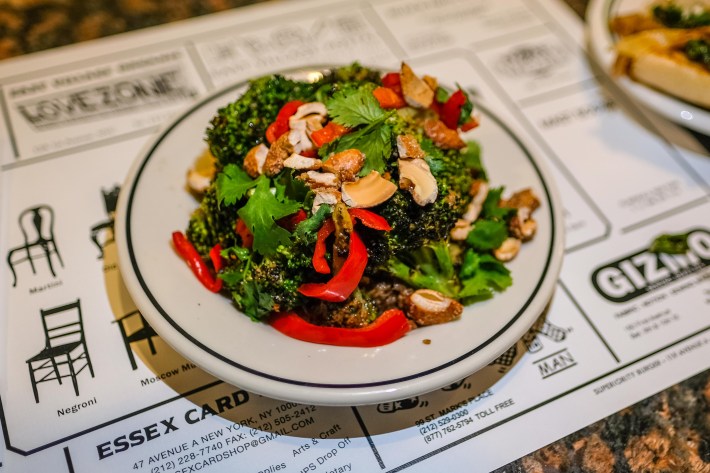 There's a ton of action in the side dishes area of the menu. The delicious burnt broccoli salad has made the trip over to Avenue A and is looking fly piled high on an actual dish. It's a little jarring to be honest, but wholly welcome, to be served these familiar items on real plates and bowls and while sitting on a chair, when for so many years we wolfed everything down from cardboard containers while squatting on that tree box on Ninth Street.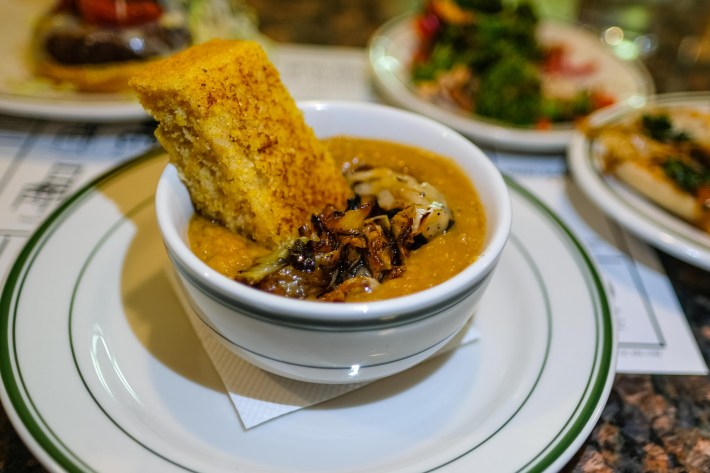 I also loved the new-to-me spicy lentils with charred cabbage and cornbread, which ate like a soup. There are two potato dishes that look equally rad, a weird-sounding beets concoction with pretzels and cream cheese, some cute lettuce cups stuffed with ground soy burger, and fried rice and beans, which is pretty much a guaranteed winner. 
And so many desserts! Pastry chef Darcy Spence has really upped her offerings at the new space. There are about a dozen different treats available, including a gelato/sorbet combo; a couple of cakes; a malted date shake; fried-to-order funnel cake; griddled banana bread; a slice of superb peanut butter pie; and the showstopper of the night, the "pearl pie," made with a graham cracker crust, coconut custard, mango, pureed plum, and spoonfuls of tadpole-egg-looking tapioca spilling all over the place.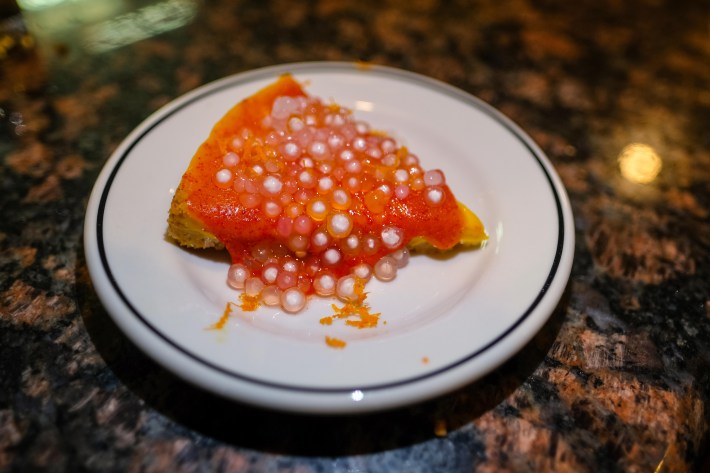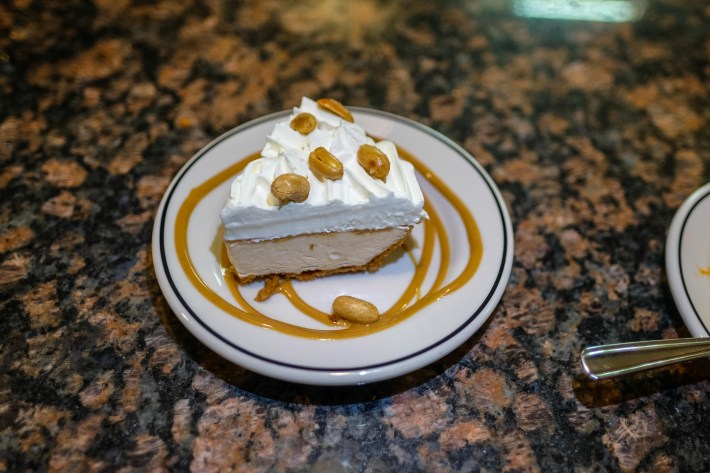 A note on the prices: Superiority Burger was maybe a genuine $20 Dinner sort of spot when it first opened in 2015, but even before the pandemic, I always spent considerably more than that here, getting at least three things and also dessert. And the prices on Avenue A, unsurprisingly, are higher, with even more great stuff to tempt you to over order. Nothing is more than $19, but nothing is less than $10.50. Plus, there's booze, if that's your thing. Cocktails are $17, glasses of wine start at $10, bottles top out at $75, and beer averages around $7 a can.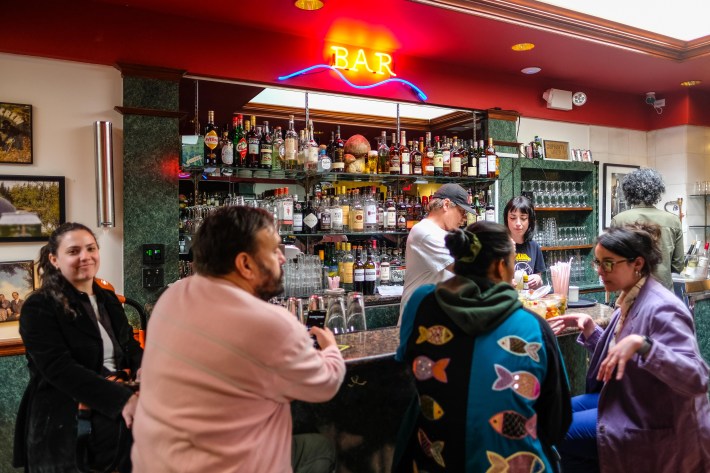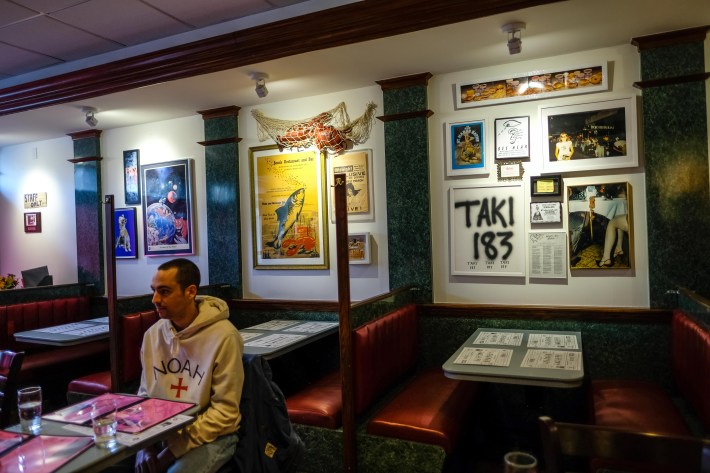 But even if it costs "regular" restaurant prices to eat here now, it still feels like a miracle that there's this exciting, expansive new Superiority Burger that we can all go to and sit down and stuff ourselves silly with all this incredible food and it will still be here tomorrow too, and the day after that, and maybe even forever. It's really good news, and I'm going to enjoy it. 
 Superiority Burger is located at 119 Avenue A, between East 7th and St Marks Place, and is currently open on Thursday through Monday from 5:00 p.m. to 12:00 midnight. Expect these hours to expand in both directions in the coming weeks and months.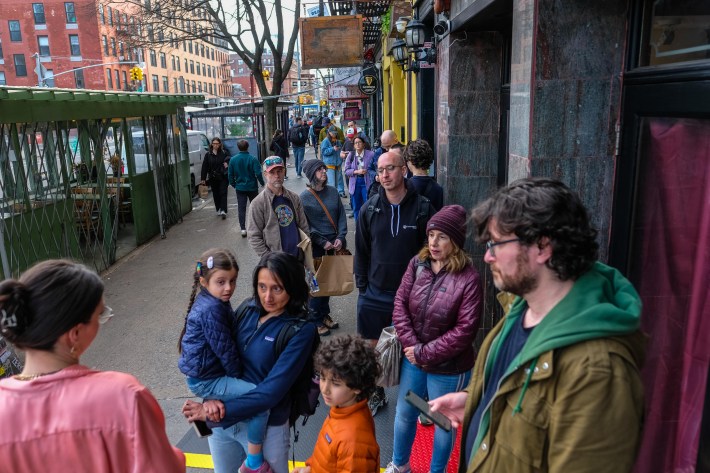 Scott Lynch is a freelance food writer, photojournalist, and preschool receptionist. He loves New York City.
Stay in touch
Sign up for our free newsletter