Locked Up
A Sommelier Almost Torched His Future. A Diversion Court Gave Him a Second Chance
Caleb Ganzer, who set fires to outdoor dining structures in Lower Manhattan, is back at work thanks to a new courts initiative.
12:20 PM EDT on August 11, 2023
The drinks menu at Nolita wine bar Compagnie Des Vins Surnaturels now features a phony Negroni from Brooklyn, a sparkling rosé from the Rheingau, and "brews without booze," non-alcoholic aperitifs more reflective of the man behind the menu, a lauded sommelier reassessing his life. 
Two years ago last month, Caleb Ganzer was arrested on arson charges for setting fire to a pair of outdoor dining structures—crimes that became irresistible tabloid fodder (the Post's lede invoked "fiery reds"). He avoided jail time by successfully completing a court-mandated treatment program last May. 
When Ganzer asked to meet me for an afternoon drink at a cafe table outside his restaurant on Centre Street in July, he looked uneasy. He's accepted responsibility for his actions, but he's still making sense of why he set those fires in the first place. "And it's tricky. I don't remember going back to those restaurants multiple times. It doesn't sound right to me," he said.
He's back at work, curating the wines and spirits that led to his undoing, but is quick to clarify that he's two years into his sobriety journey, not two years sober. And Compagnie's own unscathed curbside dining shed stands as a constant reminder of the damage he had done outside neighborhood restaurants Forsythia and Prince Street Pizza.
"I'm not the victim here; I fucked up," Ganzer said. "I'm so grateful nobody got hurt and I can have the presence of mind to acknowledge I did wrong, and I want to do right."
***
The first time this happened—the excessive drinking, criminal destruction of property, court supervision—Ganzer, was still a student at the University of Illinois Urbana-Champaign. Ganzer was a hard-partying undergrad, and his underage drinking had gotten out of control; he told me that once, he broke a window on campus, which led to a temporary suspension from his future alma mater. He eventually righted course, he said, and graduated in 2009. He also continued to drink.
None of that prevented Ganzer from joining Daniel Boulud's Dinex group after he moved to New York City, or joining the team at Daniel Humm's Eleven Madison Park during its heyday, when the one-time World's Best Restaurant was elevated from one to three Michelin stars. (I ran into Humm at this year's "World's 50 Best" awards and asked him to comment about his former sommelier; Humm asked me to repeat my question before walking backwards away from me.) 
In 2014, Ganzer and fellow Eleven Madison Park alum Eric Boylard set off on their own, taking charge of the U.S. outpost of the Parisian natural wine bar Compagnie des Vins Surnaturels in Soho, where they found success in liberating the uptown image of wine culture. In 2017, Food & Wine magazine named Ganzer a Sommelier of the Year for his creative methods of customer engagement, Beaujolais tastings that doubled as tracksuit parties replete with breakdance crews, and port tonging–the process of heating the neck of an older wine bottle with red hot iron tongs. At Eleven Madison Park, Ganzer removed bottlenecks with a cold cloth; at Compagnie, he invited customers to take aim at the heated bottles with water guns.
Throughout the COVID-19 pandemic, Ganzer and Bolyard, managing partners of Compagnie's New York locations, did what they had to do to survive. They applied for PPP funds and opened a pop-up bed and breakfast in the Finger Lakes. At their Soho location, they even put together their own high-design dining shed, which featured a cistern for collecting rainwater. But while the business stayed afloat, Ganzer soon found himself underwater. 
"I would be here until midnight or so, often drinking and working, and I wasn't in a good headspace," Ganzer told me. "I was drinking way too much and smoking marijuana and I would literally black out and lose consciousness, while I was still walking, and that's when I lit these things."
Ganzer said his substance abuse began about six months prior to the first fire he attempted to light outside of Forsythia in January 2021. Per the New York Times, Forsythia owner Jacob Siwak claimed Ganzer attempted to burn down his dining shed four times that January, before one night unpacking what the Times described as "kindling" from his backpack to get a blaze going.
While Ganzer couldn't explain his thought process behind packing a firestarter on that final go, he said it was only natural in hospitality to have a lighter and matches on hand. "You're always lighting candles," he said.
At 3 a.m. on July 13, 2021, Gazner was caught on video lighting up two napkin dispensers at opposite ends of Prince Street Pizza's dining shed. Ganzer says he had no personal animus toward Forsythia or Prince Street Pizza. "The only thing that either of those places had in relation to me was that they were on my way home," he said. If that's true, I asked him, didn't he notice on his way home that someone had been setting restaurants on fire? "I was lying to myself," he admitted. "I completely disassociated. There were things I wasn't owning up to in my own mind, and that led to issues that I experienced, and something I never want to go anywhere near again."
Two weeks later, Ganzer was arrested by a fire marshal while opening up Compagnie for Tuesday night service, and taken to the nearby Fifth Precinct. Ganzer provided the police with a written confession to his crimes, which also included igniting a June trash fire at the corner of Broome and Centre Streets, and he was charged with two felony counts of arson. The next day, he consulted with the attorney who handles Compagnie's liquor license, who recommended a high-powered criminal defense attorney from the firm Clayman Rosenberg Kirshner & Linder, whose clients have included former CNN anchor Chris Cuomo and Republican congressman Matt Gaetz. A felony conviction would mean that Ganzer would get stripped of his liquor license, as well as the ability to serve alcohol in any future hospitality job.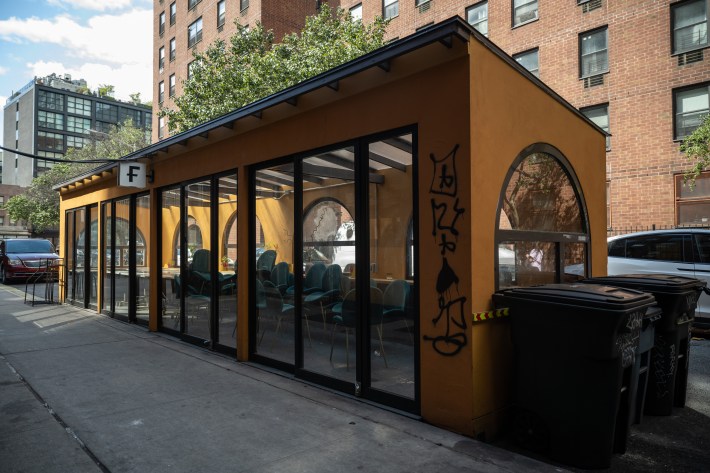 Despite the property damage, and the eye-catching national headlines, from Eater and Grub Street to the New York Times and the Daily Mail, no one was injured in the fires Ganzer started. Ganzer served no jail time, and he didn't even have to plead guilty. Ganzer was one of the lucky few whose cases have been resolved through Manhattan's diversion program, run by the Center for Justice Innovation (formerly the Center for Court Innovation), which was established in 2019 during the administration of former Manhattan District Attorney Cy Vance Jr., and is now championed by current Manhattan DA Alvin Bragg, who has consistently called for more flexibility in sentencing as part of his push for reforms (and has since been used against him by critics of his progressive agenda).
The Alternatives to Incarceration (ATI) court has become a catch-all for cases that fall outside the requirements of Manhattan's long-established Drug and Mental Health courts. According to Joseph Barrett, the program director for Manhattan Justice Opportunities, the ATI court was conceived to build on the strengths of its brethren problem-solving courts, including having a dedicated judge overseeing all its cases, and a dedicated and independent clinical team, here furnished by the Center for Justice Innovation, which develops and oversees the implementation of treatment plans, which engage the resources of more than 150 non-profit agencies to tailor programs based on individual needs. However, eligibility before the ATI court wouldn't be limited to specific charges, as it is with the drug court, or a diagnostic criteria, as with the mental health court.
"There doesn't have to be an agreement about social services before moving to the ATI court," Barrett tells me. "The cases come to us when the prosecutor and defense attorney have agreed they want the person to participate in services instead of incarceration." He says that since the diversion program began, 490 people have gone through the program, 125 people have successfully fulfilled its requirements so far, and there are 360 ongoing cases. 
Ganzer said he felt privileged to have resolved his case through the ATI court. 
"In New York, there are multiple pathways that things can end, people can get thrown in jail and serve their time, and I can't stress enough how grateful I am to New York City for having more progressive policies in place, and participating in one of these programs," Ganzer tells me. "The program allowed me to advocate for keeping my job–and my liquor license, which I would have lost with a felony on my record, because they didn't want me to have less options at the end of this."
In fact, a successful small business owner like Ganzer is not the most obvious candidate for the program.
"Our average participant skews in the other direction," Barrett explained, noting that a third of the court's current participants are homeless and that another third are currently in pre-trial detention on Rikers Island.
But like Ganzer, Barrett says more than half of the participants have been charged with a violent felony. "That's what makes this court unique in this regard—because we have no charge and eligibility criteria [unlike the Drug and Mental Health courts]. In practice, we serve people who have higher needs and who are facing more serious charges," he said. The average participant often otherwise faces a two to seven-year prison sentence, because they have prior felony convictions.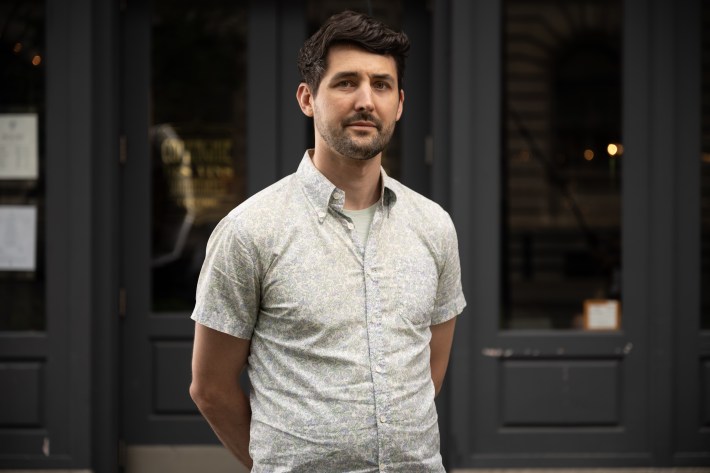 Bolyard, Ganzer's business partner, insisted he never considered the future of Compagnie without him. "I know his true nature, and it's not in our nature to kick someone to the curb," he told me. While he was caught off guard in California on the day of Ganzer's arrest, he returned to New York the next day to address the staff and refocus everyone on a successful path forward. "It was always about building everything back, not from Caleb's incident, but from the pandemic."
Ganzer continued to work behind the scenes as he completed his individually-tailored treatment program, which included therapy and substance use rehabilitation, in the first thirteen months of his fifteen month treatment, at which time his case was sealed. During the process, he also submitted his restitution payments late last year to the DA's office: $3,050 to Forsythia, and $2,250 to Prince Street Pizza. It's unclear if his victims received that cash, though. This past May, Spiwak told Eater he still hadn't received his payment, or an apology. Hell Gate reached out to the owners of both restaurants, and they did not respond to multiple requests for comment. 
The Eater story was an embarrassment for Ganzer and Bolyard, if not a setback. Ganzer had kept his name off of the May press release announcing the opening of Compagnie's second location in the Flatiron district early next year.
"I tied my existence to the business, and my self worth, and I didn't have healthy boundaries in place. When I couldn't do business [during COVID,] I couldn't exist," Ganzer recalled. "I had to learn that I can't tie my self worth to my business and I had to learn that in a painful way."
Paying restitution isn't the same as closure, and Ganzer is still working to deliver those apologies. He claims he attempted to talk to both restaurants' owners on his own, and was met with limited success. "I wanted to reach out very early in the process, but I was advised not to reach out until the end of the court case," Ganzer said. "Jacob [Spiwak] got back to me and said he accepted my apology, and I reached out to Prince Street Pizza through their former spokesperson who said they would let the family know."
Manhattan Justice Opportunities is now working to integrate victim resolution into the program's requirements, including for people who commit felonies.
"Rolling out restorative justice programming as a component of someone's mandated services is a new feature of the program," Barrett said. The program has facilitated dialogues between misdemeanor offenders and their victims for the past two years, he said, but only after "a real gut check on what it's like to sit down together." According to Barrett, these resolutions have included individuals involved in "a couple bar fights, a fight over a parking spot that got very physical, a fight on the subway, and some vehicular-related crimes like hitting a pedestrian."
As for Ganzer's future, with the obligations of the program now behind him, it now falls on him to return to the boundaries he once set for himself. 
"Now I have to clock out and live a life," he said.
Adam Robb is an investigative reporter living in New York. His work has been published by The Intercept, The New York Times, Travel + Leisure, and Food & Wine. He enjoys free meals and hunting bad men. He's on Instagram @thelifevicarious
Stay in touch
Sign up for our free newsletter