Fresh Hell
Saturday Morning With the Park Slope Panthers
If you try to organize a community watch group in Park Slope in 2022, things may get weird.
12:10 PM EDT on September 16, 2022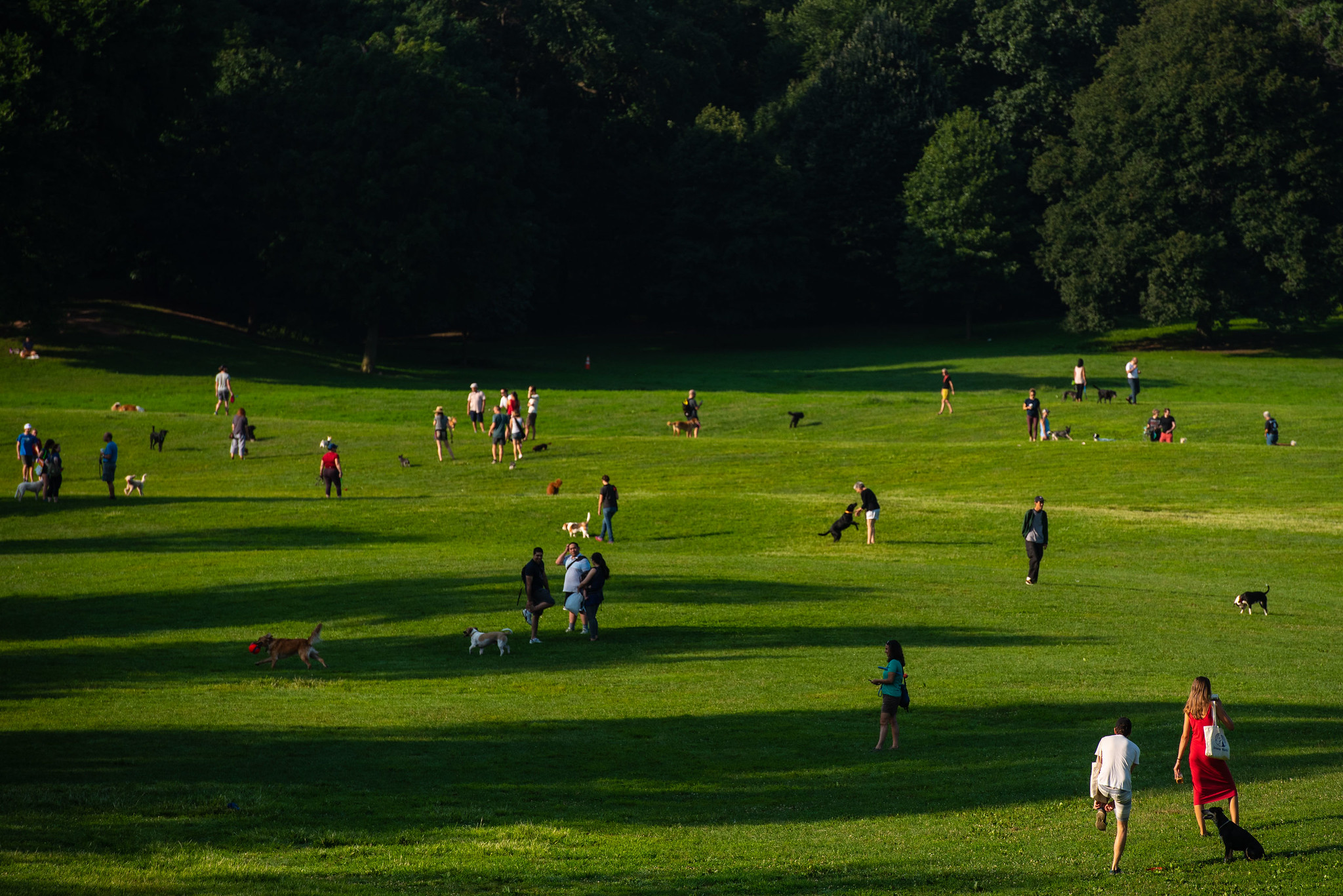 On a recent, balmy Saturday morning, Kristian Nammack was sitting on a patch of grass outside of Prospect Park's Picnic House, dressed in a pale yellow T-shirt with the logo of the Park Slope Panthers, a neighborhood watch group he created in August that had, even before its first meeting, generated no small amount of controversy. 
Kristian had formed the Panthers in response to the death of a dog named Moose—in August, Moose and his owner, Jessica Chrustic, were attacked by a man as they walked through Prospect Park, and Moose later died from his injuries. Moose's tragic death had stirred up a considerable amount of outrage and debate in the neighborhood's Facebook groups and Nextdoor message boards, a conversation of keyboard warriors that fell along predictable lines—a dead dog was now a symbol of rising crime and of the movement to defund the police, or, alternately, of the inability of the NYPD to keep people safe and the failures of our beyond-frayed social safety net. Weeks after Chrustic and her dog were attacked, the cops had done little more than circulate a poster of the alleged attacker, who appeared to be a longstanding unhoused resident of the park known to harass dogs and their owners, though they had found the time to falsely arrest at least one man, according to one woman who reached out to the precinct for an update. 
Dissatisfied by what he viewed as the lackluster police response, Kristian decided to act. "Do we want to organize a community safety patrol, and take our park back?" Kristian wrote in a Nextdoor post, adding, "Think what the Guardian Angels did to take back the subways in the 70s/early 80s. We may also get to wear cool berets."
Kristian works in sustainable finance, and says he was a member of ACT UP in the '80s and, more recently, a co-founder of Occupy Sandy; in 2018, he made some waves when he resigned from the board of the Queens Museum after the museum hosted an event with the Israeli delegation to the UN, citing his "opposition to the human rights abuses of the Israeli occupation of Palestine." It was Kristian who had come up with the name Park Slope Panthers, in an homage to the twin panther statues that greet visitors at the park's entrance on Third Street. He stuck with the moniker even after several people raised concerns that the name evoked the Black Panther Party, a dubious association for what appeared to be a group of mostly white residents organizing themselves into a neighborhood patrol. ("The casual use of the Panther name is so incredibly wrong it's ironic," one woman wrote on Nextdoor after he suggested the name.) One person was so incensed by the idea as well as the name that they had purchased the domain parkslopepanthers.com, writing on the page: "PROSPECT PARK DOESN'T NEED YOUR RACIST BS, THANKS!"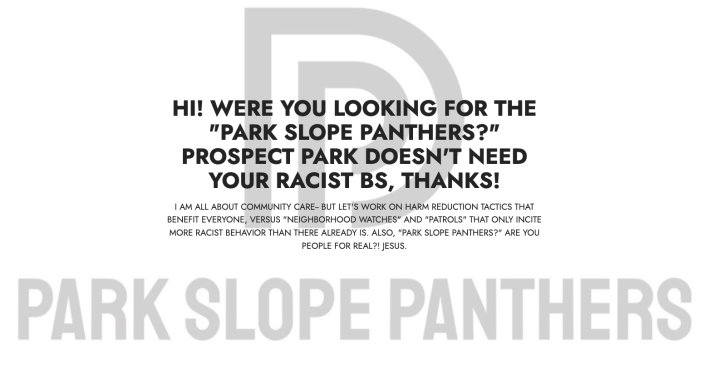 The Saturday meetup was the first official meeting of the Panthers. Forty people had RSVPd, but half, according to Kristian, were bots, "like people from Abu Dhabi." What did Kristian envision the group would do? "Look for unusual situations, just get people to be alert," he said. "And if they see stuff, then what do you do about it? I think that's the hard part." Despite his earlier reference to the Guardian Angels, Kristian was no fan of Curtis Sliwa, who he said had expressed an interest in attending the meeting. "I said he's not welcome here," Kristian said. Sliwa wasn't the only rightwing demagogue who had become interested in the group—according to Kristian, a booker for Tucker Carlson's show had called him as well; he had told them to "fuck off." 
Lauren, a middle-aged catsitter, arrived, bringing the total number of attendees to three at this point, and the conversation quickly turned to the NYPD.
"It's like they don't want to do their job. What's that about?" Kristian said of police officers. 
"Despicable," Lauren replied. 
"If this initiative does nothing more than get the police off their ass, and hold the police accountable, if that's the only thing this does, I'm happy," Kristian said.
"I don't think they care, I think they're lazy," Lauren added. "Some people just go into it because it's a nice cushy job," she said, including a "dear friend" of hers in Long Island who "made a fortune and then retired at 50."
By now, a few more people had made their way to the circle, including Suzy Weiss, the younger sister of Bari Weiss and a writer for Bari's Substack publication. "I walk in the park every day. And I love this park. So I'm interested in ways I guess to make it better," Suzy said as she introduced herself, before noting that she was once part of the Park Slope Food Coop until she "got kicked out."
"I don't feel particularly safe in the park anymore," Lauren said. Recently, she had been in a car with a friend when they saw three men walking toward them. The men pulled out guns and started shooting down the street. "People say crime is down but I've been seeing it all over the place," Lauren said. 
"It's not down," Kristian agreed. 
The first meeting of the Park Slope Panthers was proceeding as anticipated—and then a group of four twenty-somethings, the lower half of their faces covered by surgical and KN95 masks, strolled over. Three of them gave their names as Snow, Leaf, and Sky (the fourth gave no name at all) and they were there to perform an intervention.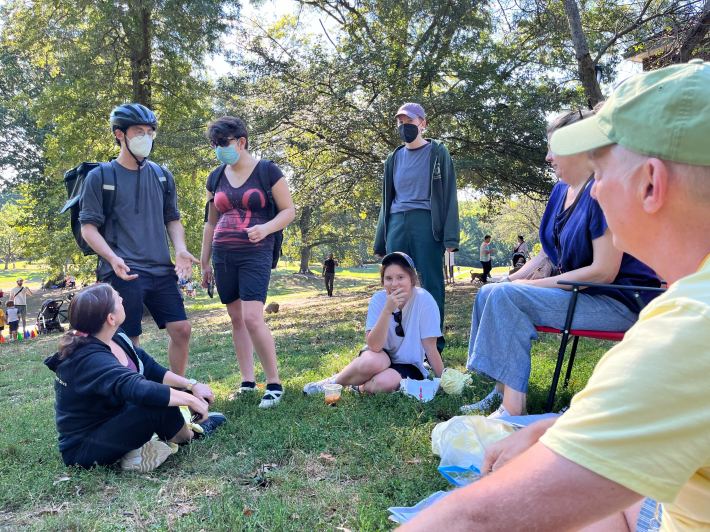 "Are y'all the Park Slope Panthers?" asked Snow, a bespectacled 25-year-old, who was dragging a rolling speaker. 
"Yeah," Kristian said. 
"We are super not into you guys having your meeting, or doing anything in the park," Snow said. "I'm from here. The opposite of what we need right now is more cops in this park and more people who want to be helping the cops in this park, when people are already being, like, chased down by the cops." He was, he continued, alarmed that the alleged attacker's wanted flier was being distributed on Nextdoor by people like Kristian, which he believed promoted a sort of vigilante mindset.
"He killed a dog and attacked a woman," Kristian replied. 
"Is that going to bring that woman's dog back?" Snow asked.
"Do me a favor and move on," Kristian said.
"Yeah, we're not gonna do that," Snow said.
"You're watching too much Fox News," Kristian said, laughing, before suddenly switching tactics and inviting the four to join the meeting. "Please join us, because I want to hear your voice." He added, "We're not a vigilante group. I'm left of Lenin, I mean, fuck that. We're about safety."
Snow considered the invitation. "I'm not super into abiding by the structure that you're setting," he said.
The four went off to huddle. "I don't know what the solution is," Kristian said to the rest of the group. "I agree with those kids that I don't want to turn the park into a police state."
The masked quartet came back. "We decided to sit down," announced Sky. "I think maybe we have some similar underlying cares here, which is about feeling held in community and connected to each other and, like, we can believe that people in our neighborhood will keep us safe."
According to Snow, who had grown up in Park Slope, the four of them had met through a network of people supporting unhoused residents of the park, work that at times entailed helping people move their belongings in advance of an NYPD sweep of an encampment. To him and his compatriots, community safety stemmed from mutual aid—handing out free water, getting to know the unhoused residents of the park, learning self-defense and how to intervene as a bystander. "If this guy goes to jail, you haven't solved the problem of keeping each other safe," Snow said. 
​​One point on which everyone appeared to find common ground? Curtis Sliwa sucks. This didn't sit well with one woman who had joined the meeting, but stood on the outskirts, not saying anything. Now, she'd had enough. "I just wanted to say, I'm Nancy Sliwa," she told Kristian—Curtis's wife—before stalking off. (Suzy Weiss, however, stayed, remaining quiet but at times scribbling notes on a handout Kristian had passed out.)
"If we can, like, think about maybe providing resources to people in our community and building relationships so that we know that person who got upset and killed the dog," Sky said. "If we see people as we work on getting to know our community, I think we have the best chance of being able to step into situations and be like, 'Hey, John, like what's going on? Are you okay? Do you need something?' and like, 'John, trust me, because we're, like, friends.' And you know, that's the sort of thing that I would really love to have in our neighborhood and have as many people who want to be part of it as possible."
An hour in, Kristian seemed eager to wrap up the meeting. There had been some testy back-and-forths, and no decisions about the future of the Panthers had been made, but there was, at least, seemingly widespread agreement that relying on the NYPD was counterproductive, even if the alternatives were still unclear, or insufficient. 
What about forming some working groups, Kristian proposed. Sky was dubious. "I think we could probably use another conversation on community agreements and where we're starting from and ideas around safety," they said. Kristian still wasn't over the tenor of the intervention. "I felt really unsafe when you four approached us and attacked us. And in Occupy we had a community agreement, that would have been so uncool," he shot back. 
A few days after the meeting, I caught up with both Kristian and Snow. Both of them were pleased. 
"I felt like our intervention was a success," Snow said. "I felt hopeful about our capacity to pull people in the meeting into a shared understanding of what actually constitutes community safety." But he was still wary of Kristian: "I'm keeping an eye on what he's been up to, because it's a red flag to me."
Kristian, for his part, saw some of his younger self in Snow and the others. "I remember being that age. I used to have a button that said 'question authority' and I wore it with pride," he said. "I'm really glad that after they got their little disruption out of their system, they came back to the group and sat down and participated in a constructive way." But he was back to posting on Nextdoor and calling for the NYPD to arrest the man who had attacked Jessica and killed her dog. ("Yes - Rikers Island sucks - but we need him out of the park for good ASAP," Kristian wrote.) The Panthers, he said, would continue to meet, ideally without further interference from the disruptors. "What I really hope happens is that they form their own group, and I'll gladly collaborate with them. But what I'm not willing to do is have them and their agenda hijack my agenda."

Prior to Hell Gate, Esther was a senior politics reporter at Jezebel and a columnist for the New Republic.
Stay in touch
Sign up for our free newsletter