Power
Sarahana Shrestha, DSA's Hudson Valley Primary Winner, Has a Message for NY Progressives
"There's just too much focus on New York City. There's no other way of putting it. And the fact is, if we don't have a statewide strategy, if we don't have a statewide movement to broaden our progressive coalition, we're not going to win."
11:21 AM EDT on August 5, 2022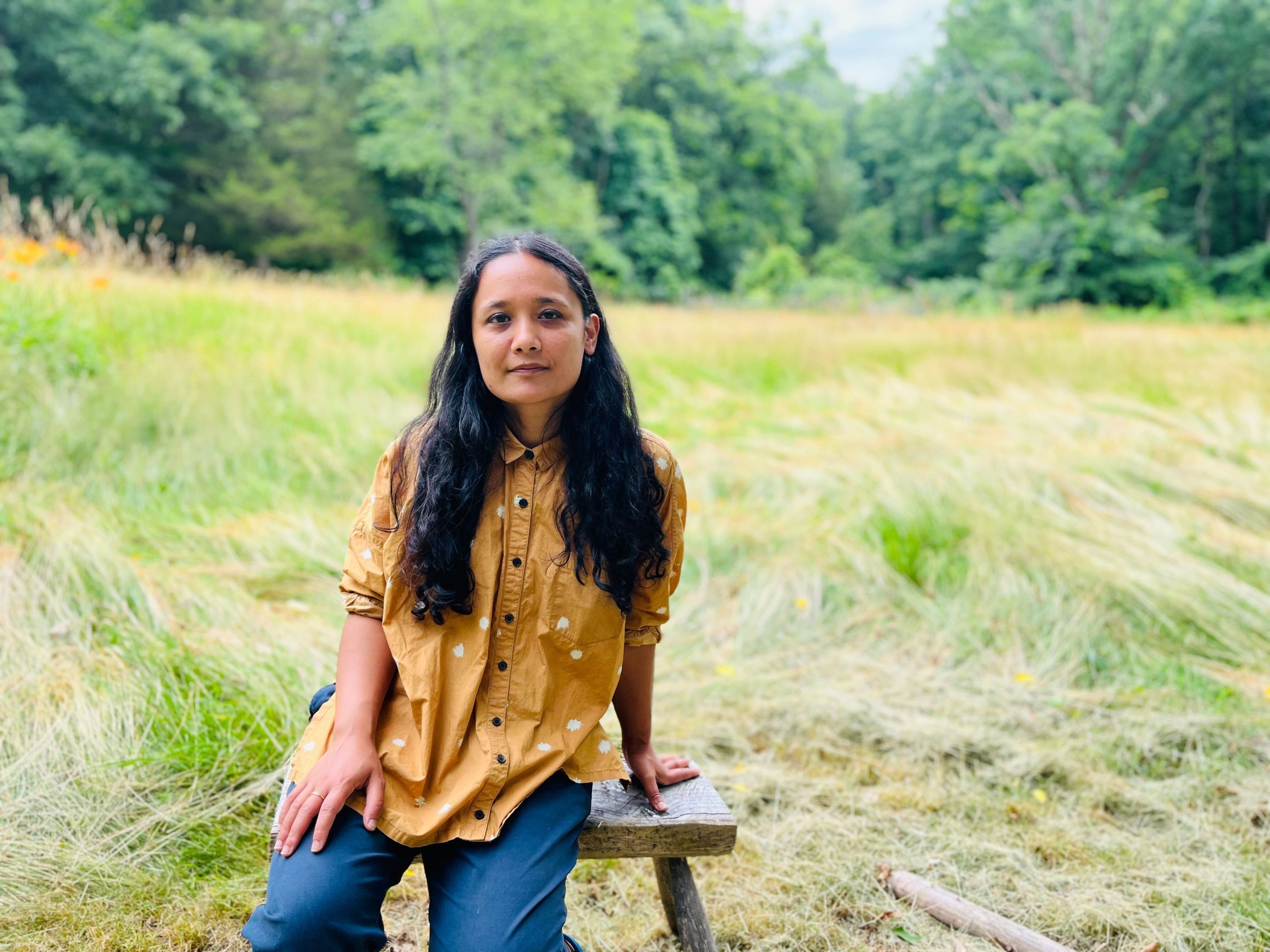 A few days after Sarahana Shrestha defeated a long-time State Assemblymember in the Hudson Valley's most hotly contested Democratic primary, the two of us are sitting on the deck overlooking her yard. A chicken coop is tucked into one corner.
In 2018, Shrestha and her husband moved from New York City to their slightly ramshackle farmhouse-style home in Esopus, a small town seven miles outside Kingston. "Pockets like these are under the radar and not under scrutiny, because so much attention is on the city," Shrestha told me, as a way of explaining her stunning upset in the 103rd district, which includes the city of Kingston, as well as the towns of Woodstock, New Paltz, and Rhinebeck. "But I knew there was a lot of potential here—people are friendly toward a progressive agenda, especially older people."
Shrestha is the co-chair of the mid-Hudson Valley chapter of the Democratic Socialists of America, and was the only new DSA-backed candidate to win their assembly race statewide during the June primary, out of the five candidates that the famously choosy organization supported. (Several current officeholders also endorsed by the organization won their primaries.) Shrestha defeated the incumbent Kevin Cahill by less than 600 votes, out of a total of 15,000 cast. A constant refrain from voters, she told me, was that it was time for Cahill, who had been in office for more than 20 years, to go.
"There's just too much focus on New York City. There's no other way of putting it," she told me, referring to progressives' strategic failures in the past. "And the fact is, if we don't have a statewide strategy, if we don't have a statewide movement to broaden our progressive coalition, we're not going to win." 
Shrestha, a soft-spoken 41-year-old, has the vibe of a poet more than a politician, which I suspect quite a lot of the people who voted for her would likely say is a mark in her favor. A graphic designer by trade, she's also dabbled in fiction writing; in a short story published October 2020 in the Drift, Shrestha has her unnamed narrator muse, "Someone once told me it was embarrassing to be rich in a country like this. Name one country where it isn't embarrassing to be rich." 
Originally from Nepal, Shrestha moved to the U.S. in 2001 to obtain an undergraduate degree in computer graphics at the New York Institute of Technology on Long Island. "I have politicians in my family, but they were not necessarily on the left," she said. She is, she added with a wry laugh, "Very different." She left Nepal months after nine members of the country's royal family were murdered, an event that threw the country into even more political turmoil, only to arrive in New York a week before 9/11. "One of the first things I experienced after landing in the U.S. was," she said, "literally watching the towers, from a distance."
Until she became a citizen during the Trump administration, Shrestha was hesitant to throw herself into activism due to concerns over her immigration status, though she paid close attention to movements like Occupy Wall Street. "I never thought I would get involved in politics, professionally, or in any full-time capacity. I intentionally always kept my livelihood separate from politics, as a way of keeping it honest and authentic."
What changed her mind was seeing how Albany works up close during the 2021 legislative session. Shrestha and other organizers in the Public Power NY coalition, including her DSA chapter, pushed for the passage of the Build Public Renewables Act, a bill that would allow the New York Power Authority to build its own renewable energy facilities. (This year, after a last-minute push, the BPRA passed the state senate but died after Assembly Speaker Carl Heastie declined to bring it up for a vote.) "I just was very disappointed in having confirmation of how Albany works—how we're dealing with the same sort of dead ends and roadblocks when it comes to pushing for things that we really need," she said. "We had a Democratic supermajority, and we absolutely did not utilize that even in our response to the pandemic."
Other legislative priorities pursued by progressives, like universal healthcare or Good Cause eviction, fell by the wayside during the 2021 legislative session.
In their post-mortem, members of Mid-Hudson Valley DSA identified that a key next step would be to challenge what Shrestha described as "middle-of-the-road" Democrats. "We knew that it would be great if we were in a position to primary somebody, but we honestly believed that we were not," Shrestha recalled. It was a member of a local Democratic committee who first brought up the idea of Shrestha challenging Cahill, during a meeting on the public power bill. Shrestha had commented on her disappointment that Cahill wasn't supporting the bill. (In a June 2022 New York Times report, Cahill said he was now one of the bill's supporters.) "Maybe you should primary him," the local committee member joked. "We kind of laughed about it," Shrestha said. "I was honestly like, I'm only going to do it if we absolutely can't find somebody else."
Surprise, surprise: No one else wanted to run. The best politicians are the most reluctant ones, she was told. So Shrestha set aside her plans to have a child and jumped in, putting her graphic design skills to use in designing her campaign materials and bright yellow and red lawn signs. "I was like, it's not about me," she said, echoing Bernie Sanders's campaign message during the 2020 presidential campaign. "I believe so much that the window is closing on some of the shifts we need to make in our politics."
Shrestha and her staff, composed initially of two other DSA members, came up with an ambitious game plan: reach every single voter, no matter how rural their corner of the district or how long their driveway was. She kicked off her campaign in an op-ed for the River that quoted the ecosocialist Jason Moore ("Shut down a coal plant, and you can slow global warming for a day; shut down the relations that made the coal plant, and you can stop it for good") and spoke of the need to "fight for a beautiful future." Shrestha had just read "The Evolution of Beauty," and had been struck by the idea of beauty itself as a necessary quality to life. "To me, that was very inspiring," she said.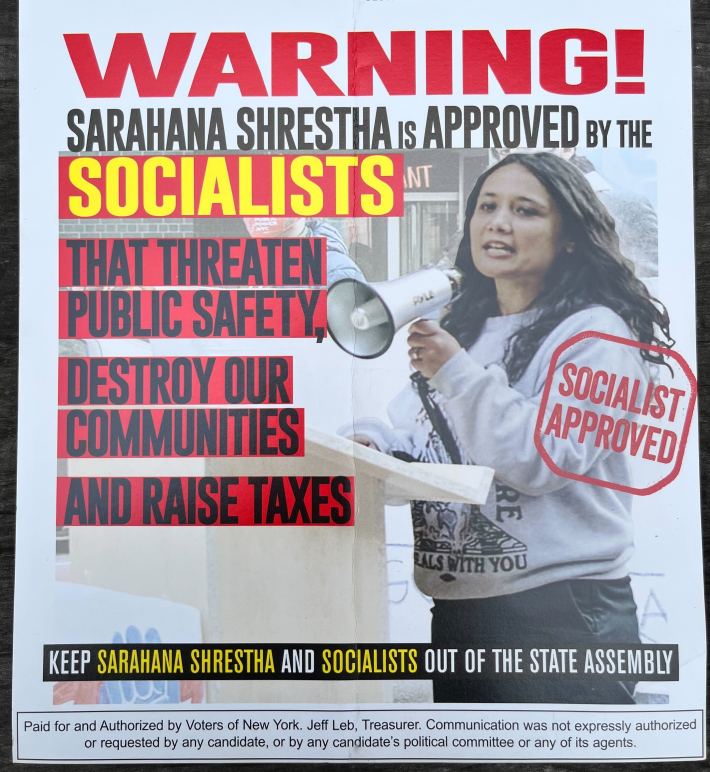 If she had any doubts that a campaign by an unabashed democratic socialist who freely quoted a Marxist ecologist would have traction in the Hudson River Valley, those concerns were dispelled once she began talking to voters. An ice storm that knocked out power in Ulster County for days in February, which was followed by Central Hudson hiking up utility bills, became an opportunity to talk about the climate crisis and energy as a public good. "We never talked about climate as a single-lane issue. We talked about it as an economic issue. We talked about it as a corruption issue," Shrestha said. The fact that she even made the effort to speak to people was a plus, if a somewhat depressing one. "Many people voted just because we came to them, and they were like, you came to my door. And I don't see anybody ever," Shrestha said. (As one Rhinebeck resident told a local news outlet, "I was so surprised when they came to my door in April. I've always voted for Cahill, but he's never shown up here. I switched my vote this year because Sarahana's people bothered to show up, which I think speaks volumes.")
Ultimately, her campaign knocked on more than 32,000 doors. Shrestha raised about $170,000 for her campaign; Cahill raised at least $100,000 more, according to Board of Elections data. "Even if our supporters were like 30 percent in that town, we were like, Let's go find them," Shrestha said. "I think what was behind our win, is that we did not run a templated campaign, we didn't run a cookie-cutter DSA campaign, or a cookie-cutter Working Families Party campaign." It wasn't, she said, "based on just getting new people who live in urban areas."
Shrestha will likely win the general election in November—her district is solidly blue, and her Republican opponent has engaged in little to no campaigning. I asked her what her priorities will be in office: "Climate, health care, and housing." 
In addition to passing Good Cause Eviction, Shrestha has her eye, yet again, on championing the BPRA, now from the inside. She has already been in touch with Assembly Speaker Carl Heastie, who congratulated her on her primary victory. "I have dropped [BPRA] two times in our conversations," she said. "He knows where I stand."
Shrestha told me the story of a young man in his thirties that she had canvassed at his home during her campaign, who had only ever worked part-time jobs and who told her that he didn't see a future in which he could grow old with dignity. He probably didn't vote at all, Shrestha told me, but she hoped to knock on his door again, to speak with him not merely as a potential voter, but as someone who just might be inspired to, as she put it, join this political project. She's going to keep organizing, even when in office: "If we don't, we're just setting ourselves to fail."
Update (8/15/22, 10:15 a.m.): This piece has been updated to better reflect Shrestha's role in Mid-Hudson DSA. Additionally, Shrestha and her husband did not move to Esopus with their dog, who was adopted on a later date. Hell Gate deeply regrets the error!

Prior to Hell Gate, Esther was a senior politics reporter at Jezebel and a columnist for the New Republic.
Stay in touch
Sign up for our free newsletter