Fresh Hell
SantaCon: Why?
On Long Branch! On Great Neck! On, Islip's young stars! On Hoboken, Teaneck, and other points far!
9:21 AM EST on December 12, 2022
New York City is so big that you can't always see trouble coming. Take, for example, the healthy number of families and tourists and tourist families who ventured out on Saturday morning to the Bank of America Winter Village at Bryant Park. They didn't expect to find anything at the Bank of America Winter Village at Bryant Park other than ice skating, Cake In a Jar, and some unattractive crafts. Right around 9:30 a.m., though, you began to see little knots of young men emerging from the subway tunnels, dressed in garish red jumpsuits. Like the very first bedbug plucked from a pristine mattress, it was a sign of impending doom. 
The worst place in all of New York is Times Square. The worst thing to do in New York is to go to that area's awful bars. The worst people in New York are the drunk ass bridge-and-tunnel crowd who make that area unfit for human habitation, on certain occasions. If you put all of these elements together in a blender with some Fireball Cinnamon Whiskey and a candy cane, you get SantaCon: The single worst event of the year. It is the day when thousands upon thousands of Rutgers frat boys and their spiritual kin inexplicably dress up in Santa outfits and occupy large swaths of Manhattan to day drink and remind those of us who grew up in Real America what it is that we moved to New York to escape. The official purpose of SantaCon is "charity," in the same sense that Vladimir Putin invaded Ukraine to "save it."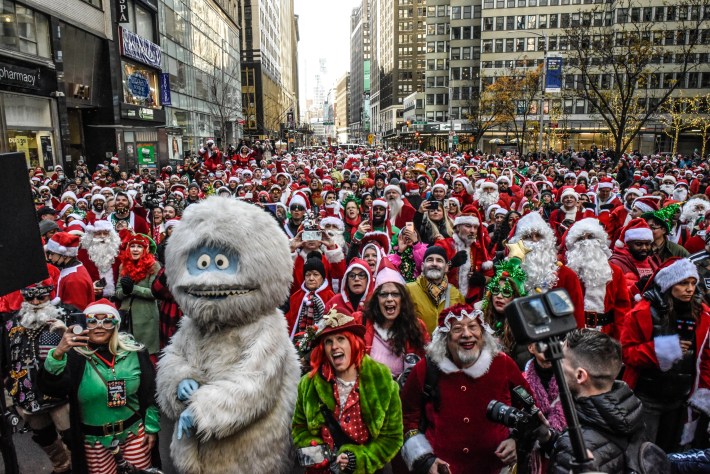 On Long Branch! On Great Neck! On, Islip's young stars! On Hoboken, Teaneck, and other points far! To the PATH Train! To the Uber! To the LIRR! 'Tis SantaCon morning! It's time to go hard! By 10 a.m., the plaza on Broadway between 39th and 40th Streets had filled with these naughty pilgrims. Serving as the stage was a bus parked on 40th Street, draped with a "Merry SantaCon" banner and topped with a platform upon which stood a motley assortment of SantaCon dancers, flanked by Christmas-themed inflatable wavy tube guys.
I am being reductive by saying that SantaCon is only people dressed as bright red Santas. There were also a fair number of people dressed as green Grinches and brown Rudolphs. Most of these outfits were plush jumpsuits—Snuggies, really, which I assume are for easy shitting in cramped bar bathroom stalls. The guys who are too masculine for jumpsuits opted for Funny Christmas Sweater or just Cool Guy With Santa Hat. Most of the young women pursuing the Sexy Miss Claus red skirt look wore tights, an unsexy acquiescence to the freezing weather. Regardless of outfit, the crowd's demographic was very much, "Ready to burn cars to celebrate a big win by Seton Hall." A visible portion of attendees were a little older, SantaCon veterans in their 30s or 40s, but clearly they had bought into the ethos of chaos, rather than serving to leaven it. Everywhere around us, tall boys were being hefted in paper bags, and vodka was poured stealthily into Dunkin' Donuts cups. "I'm still hung over from last night," I heard more than once.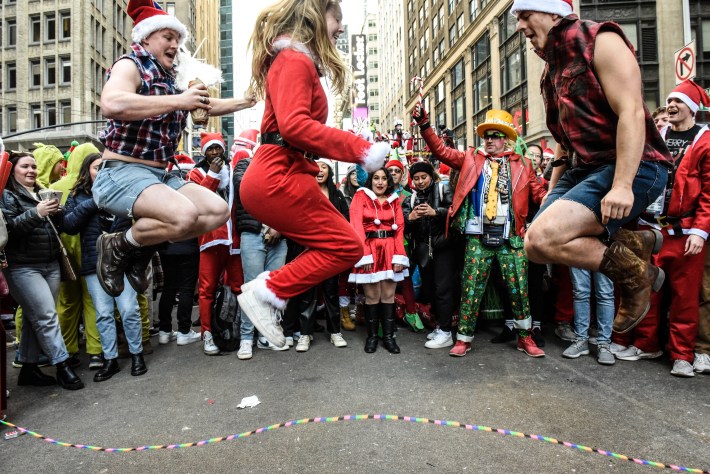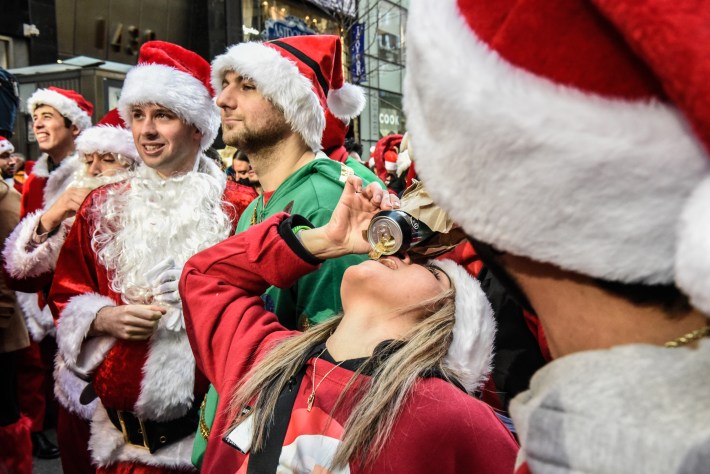 Atop the bus, the emcee of SantaCon, a man with a Colonel Sanders-style Van Dyke and a white suit, exhorted the crowd. "Let me get a ho, ho, ho! We are ho-ing for charity! Twenty one years ho-ing on the streets of New York!" he hollered. In an attempt to set a positive frame, he kept bringing up the fact that SantaCon had raised a million dollars for charity in the past ten years. Given how many people flood the streets for the event, that didn't seem like very much. (Not to be ungrateful.) He went over the five rules of SantaCon, the first of which was, "Don't freak with kids." Odd that that was a rule necessary to emphasize over and over again. 
The air throughout the entire plaza smelled like cologne. Gripping a bullhorn and leading a Santa mambo contest was a quasi-host named Rob Laser Pants. He sported red Timberlands, a red leather jacket, and a tinsel-draped yellow rubber top hat that looked like a dirty piece of cheese.
One of the women on the bus took the microphone and performed an original song, "Santa Makes Me Want to Shake It." Her compatriots were dancing very suggestively against the railing, but the volume of the backing track was too low, and no amount of ass shaking could catch the crowd's attention. Sensing a lull in the action, the emcee came back for a duet version of "Jingle Bell Rock," in which he replaced the word "rock" with "cock."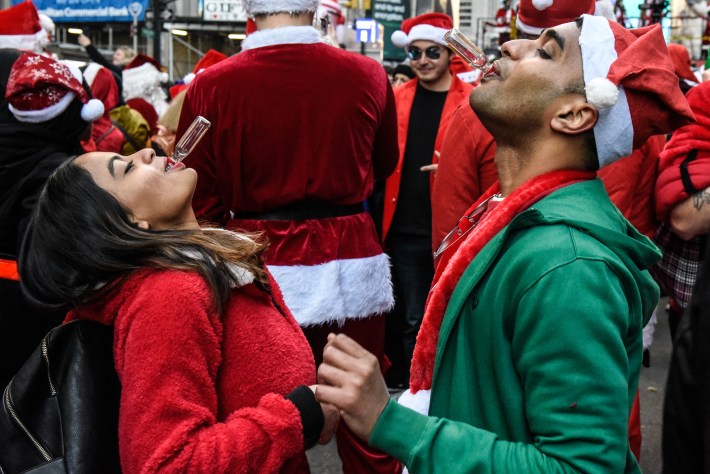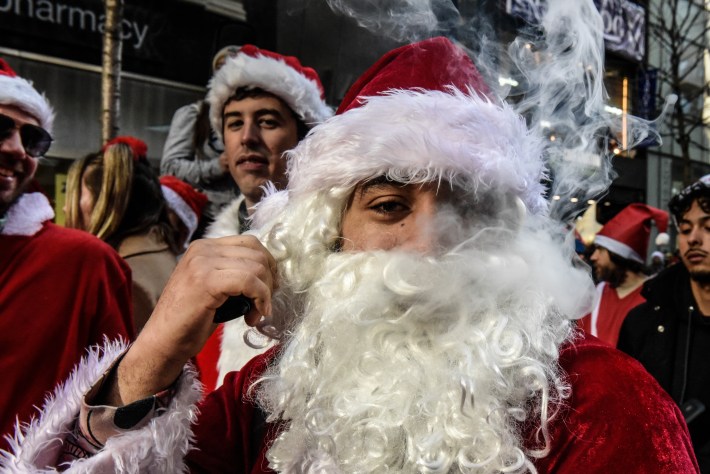 Watching a pink-cheeked young man in a red and white candy-striped coat and a rubber Rudolph nose dance forcefully to a techno version of a Christmas carol made me fear for the attendees' long-term health. Something about the underlying menace of grinding, percussive beats jammed under "It's Beginning to Look a Lot Like Christmas" could cause some deep emotional trauma to those who had already done more than three or four hits of molly. Nevertheless, by 11 a.m., it was time to drink (more). All the revelers peeled out in different directions, led by different factions of the SantaCon mafiosi. I followed a brass band as it marched straight down Broadway trailing a hundred or so staggering Santas, like a second line that was happening in hell, rather than New Orleans. 
The largest concentration of revelers migrated a block over to Seventh Avenue, and formed enormous, mirror image lines outside of Margaritaville and Yard House, two cavernous, multi-level bars that would seem fun if you were the sort of person who also believed that SantaCon was fun. There in the throng, just kind of standing still, was a very tall, young guy holding up a poster that read "IM FROM FLORIDA." He'd come up from Tampa, he told me, for this cultural experience. Was it worth it? "Oh yeah, totally," he said. But his eyes were nervous. They kept darting over to the NYPD officer who was, absurdly, writing someone a ticket for drinking in public, in the line in front of Yard House. This was not the vibe that Santa had promised.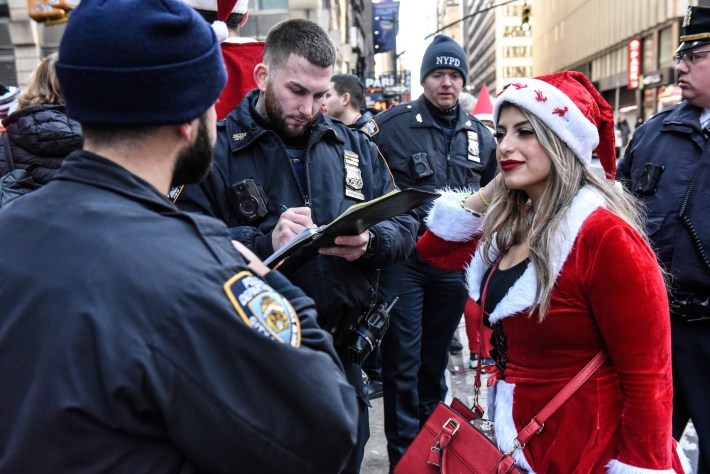 Both bars blocked our photographer from entering, citing a "no press" policy that makes you wonder what dark things SantaCon is hiding in these venues. I went into Yard House myself and discovered the answer: hundreds of 23 year olds nursing watered-down vodka cranberries and telling their girlfriends to be quiet so they could watch the World Cup game. A secret revealed at last.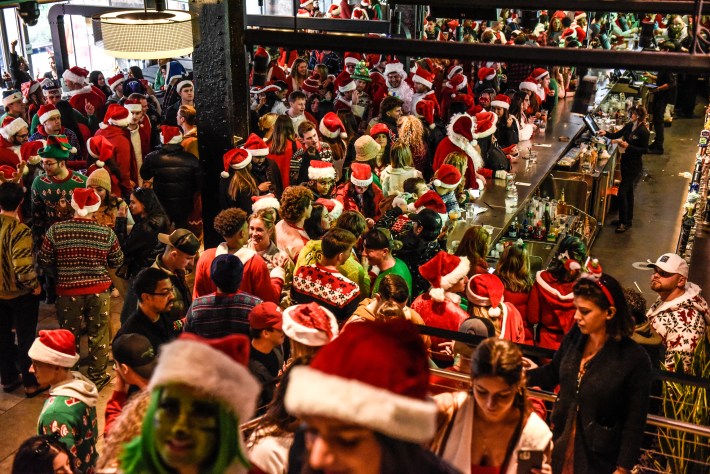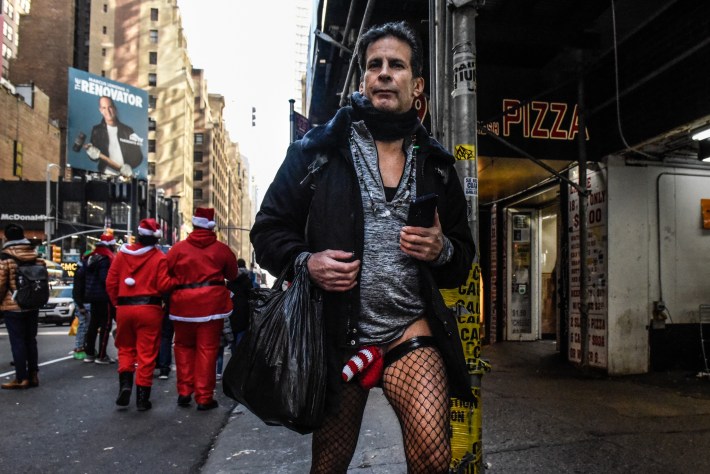 As hours ticked by and the day grew darker, the mood of SantaCon itself darkened as well, the giddy tingles of the bright morning drinkers giving way to the sodden surliness of those who have descended into the bewilderment of costumes mixed with hard alcoholic haze. The unlucky may have lurched their way directly into the testosterone-buzzed midnight crowds emerging from the Teofimo Lopez fight at Madison Square Garden, perhaps finding that the Santa jumpsuits offer little arm mobility in a street fight. (Santa Claus may always be watching, but he never seems to jump in to help if you're getting your ass kicked.)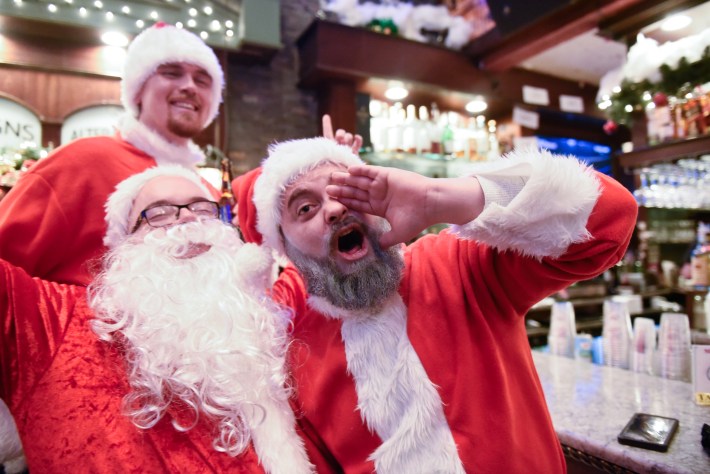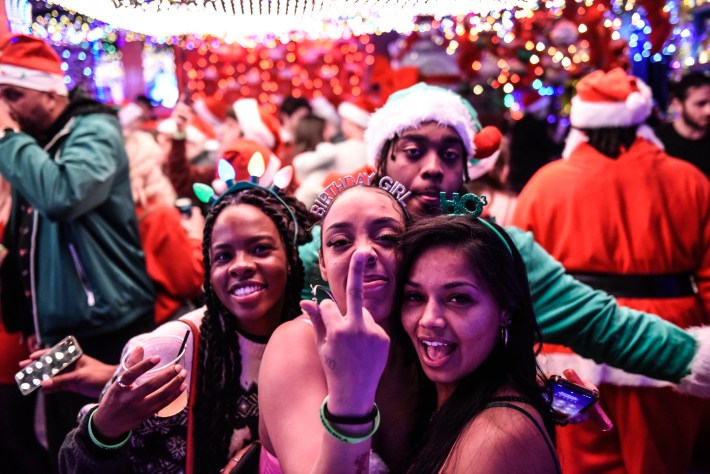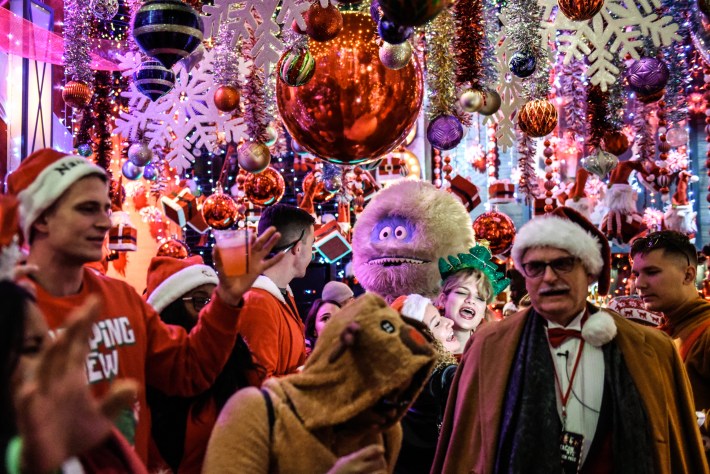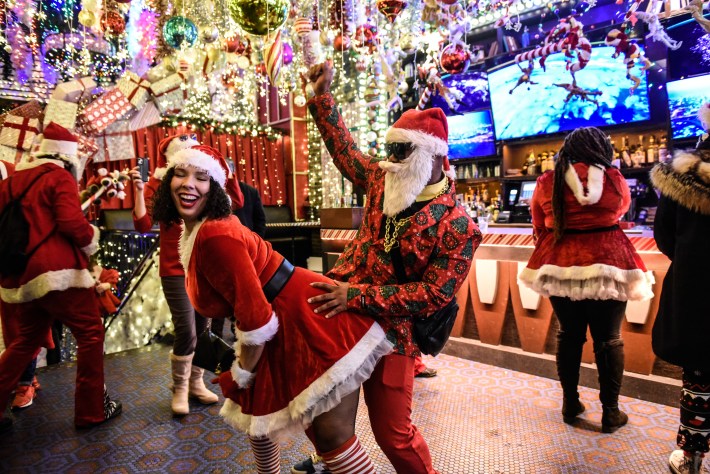 My favorite moment of SantaCon 2022 came on the corner of 40th Street and Seventh Avenue, when the Santas were rushing to fill the sidewalks around Margaritaville's glassy facade. Marching towards them from the south came an entire pack of a dozen or so Jesus people, all in matching red vests, toting a big cross that read "Jesus Is Savior" and a sign that read "Repent or Perish." Was this a clever SantaCon counterprotest? A bold move by the religious freaks to claim the offensive momentum in the War on Christmas? I don't normally care for the evangelicals, but the enemy of my enemy must be given their due consideration.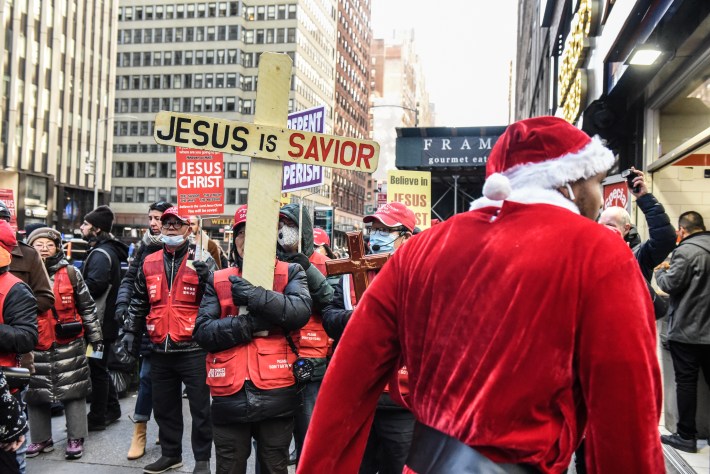 The two groups, only yards apart, faced off: the Bible fanatics on the south side of the street, and the equal and opposite SantaCon fanatics on the north side. It was unclear who would give way first. Right at that moment, barreling down 40th Street between them, came a New York City garbage truck, out on its daily rounds. As it braked hard to avoid flattening anyone, the driver leaned his head out the window and said, to everyone at once, "MOVE!"
And you know what? They did. The garbage truck—the ghost of New York City past, present, and future—rumbled on, triumphant. You've had your fun, you blundering Christmas zealots. Now don't come back 'til DICKmas of Twenty-TwentyPEE.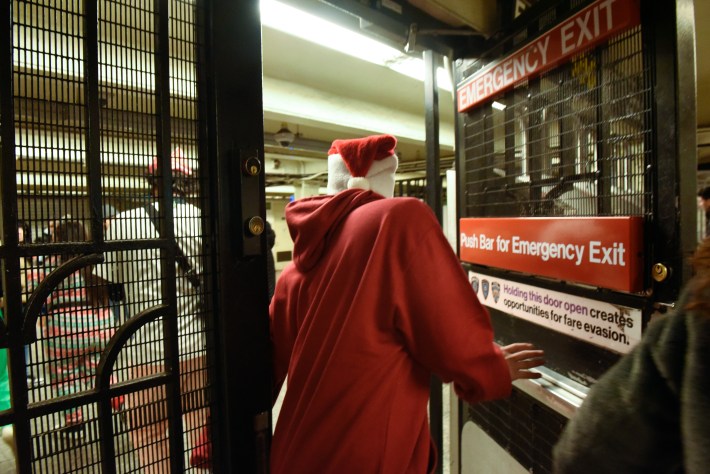 Hamilton Nolan is a writer who lives in Brooklyn. He's writing a book about the labor movement.
Stay in touch
Sign up for our free newsletter