Porcelain New York
Rockaway Beach's Breezy, Rusty Modular Bathrooms Turn 10
The modular units were designed and installed in under 12 months—lightning speed for restrooms in the city.
1:54 PM EDT on August 21, 2023
A version of this article first appeared in the New York Review of Architecture, an independent publication worth subscribing to.
On a sunny summer Sunday at Rockaway Beach, the people are in a generous mood, and ready to rave about the modular restrooms installed above the dunes, which have been a fixture at the beach since post-Superstorm Sandy.
"It looks like something from Star Wars," Nora Bourdin told me approvingly, as she left the facilities at Beach 115th Street. Bourdin was visiting with her aunt Maryse, who was in town from Chicago. "They look like a camping car," Maryse said approvingly, in a thick French accent. "They are very clean, tres, tres, good."
When the structures were installed ten years ago, some members of the community (homeowners, mostly) complained that the City had "betrayed" them—the modernistic buildings blocked the view, and looked funny against the suburban bungalow aesthetic of the rest of the neighborhood.
"As far as the locals, they didn't want them because they attract people. And sometimes they're not the best types of people," Tom Nanni, who has lived in the Rockaways for 15 years, told me as he walked his dog Sammy down the boardwalk. 
The walkway beneath our feet was once itself a topic of intense controversy. After Superstorm Sandy wiped out the old wooden boardwalk, the City announced that it would not use tropical hardwoods for its replacement. (Rockaway Beach's paper of record, the Wave, reported at the time that one resident "firmly stated that he will not refer to the new concrete structure as a boardwalk but as a concretewalk.")
Eventually, people accepted the premise that ripping out trees from the rainforest so they can be installed thousands of miles away next to an ocean, only to be swept away by another storm in a few decades, was unwise. Plus, concrete is so much easier to bike, rollerblade, and run on. The "concretewalk" is now more or less beloved. 
Nanni explained that the modular bathrooms are now just another part of the landscape, if only because of the laws of nature that govern us all.
"People need a place to go take a piss or a shit. If you don't give them a place, people will do it straight off the boardwalk, in broad daylight," Nanni told me. "Give 'em somewhere to go. Keep it clean. Hose it out."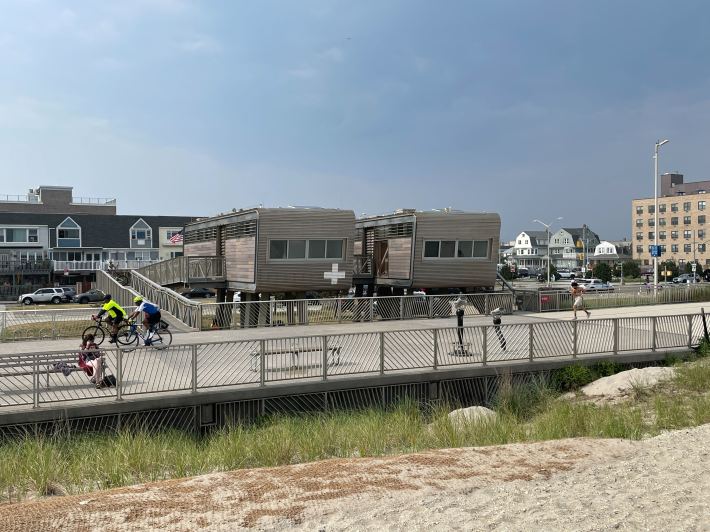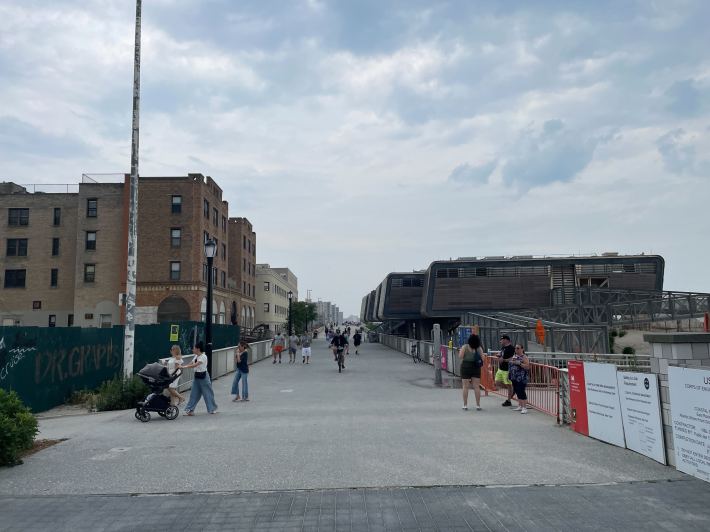 In a town where even modest public bathrooms cost upwards of $1 million to build, if they aren't NIMBY'd to death first (don't forget about the 15 pay-per-use public toilets that have been sitting in a warehouse since 2006, waiting to be installed), the "NYC Parks Beach Restoration Modules" were a marvel of speedy implementation.
Superstorm Sandy hit New York City in late October of 2012, and killed 44 New Yorkers, cut off power in Lower Manhattan for the better part of a week, and inflicted billions of dollars of damage. The modules, which also include lifeguard stations and maintenance offices, were part of a political pledge by the administration of then-Mayor Michael Bloomberg that the City would not retreat from the waterfront.
Designed by Garrison Architects in six weeks, the 37 units, spread across 15 public beach sites in Staten Island, Brooklyn, and Queens, had to be ready in five months for beach-hungry New Yorkers by Memorial Day. And while that target wasn't quite met, most were in place by the end of that first summer, one year after the second most powerful storm in U.S. history hit our shores.
The restrooms have a modular design—which means they were manufactured in a factory off-site and assembled quickly on-site—and their arrival seemed to mark the beginning of an important new era for New York City: a shift to pre-fabricated buildings, which would make construction faster and more affordable. But with some notable exceptions, like the SHoP Architects-designed 32-story building at 461 Dean Street, which is the tallest modular building in the world, modular still hasn't really taken off, and building anything in the Big Onion is still as difficult and costly as ever. A housing development with 168 modular units in East New York, all of which qualify as "affordable," has been in the works since 2018, and is still deep in the planning process.
And while the Rockaway Beach modular units are raised 17 feet above the sand to dodge the swells of the next 500-year storm, they are showing their age and proximity to salt air. Their surfaces have been kissed by a gentle coat of rust, from the corrugated facades to the hand dryers. Some of the legs of the bathroom stalls are now an alarming bright orange. On the day we visited, a cartoonish mix of PVC pipes and scary-looking wires protruded from the undercarriage of one of the lifeguard stands. ("Horrible, bro," one lifeguard told me, when I asked him how his station was holding up. "Just look at this.")
But the cumulative effect of these flaws is like gray hair on the snout of a salty dog. The cross-ventilation systems in the modules mean that a sea breeze is constantly keeping things in the restrooms fresher than they could reasonably be expected to be. Beach sand coats the floors, which feels texturally weird until you realize that it's sopping up lots of unpleasant liquids and providing some much-needed traction. The outdoor, exposed walkway between the men's and women's rooms makes the structures feel like a classy beach house—squint a bit at the whole thing and you're on some crypto-millionaire's Fire Island retreat. 
There are also windows in each bathroom looking out towards the sea—how many public bathrooms have an ocean view? But this also means that people on the boardwalk can catch a glimpse into the sink area of the restrooms, which I discovered when, deep in critical appraisal, I was surprised to notice a little girl waving at me from inside. Suddenly embarrassed, I made an about-face towards the ocean.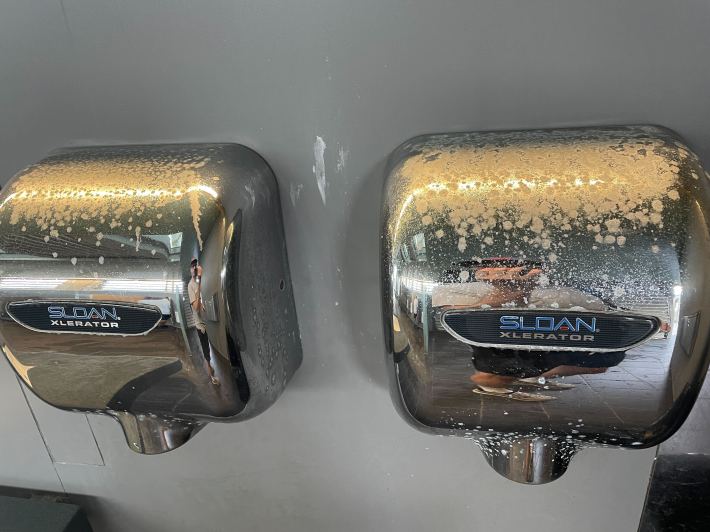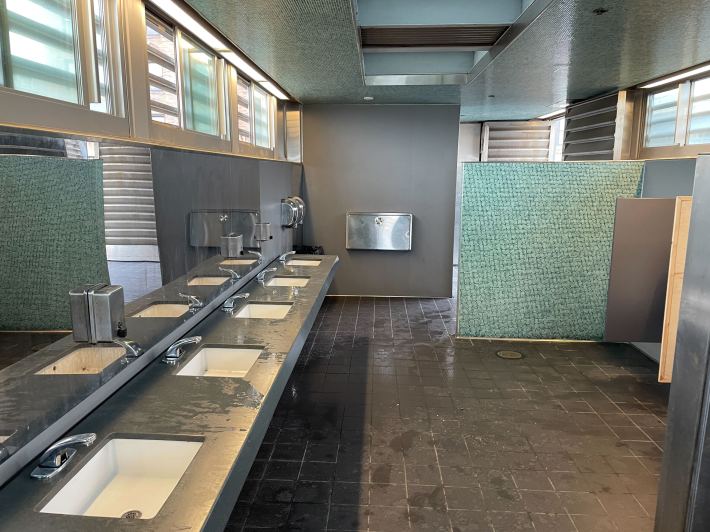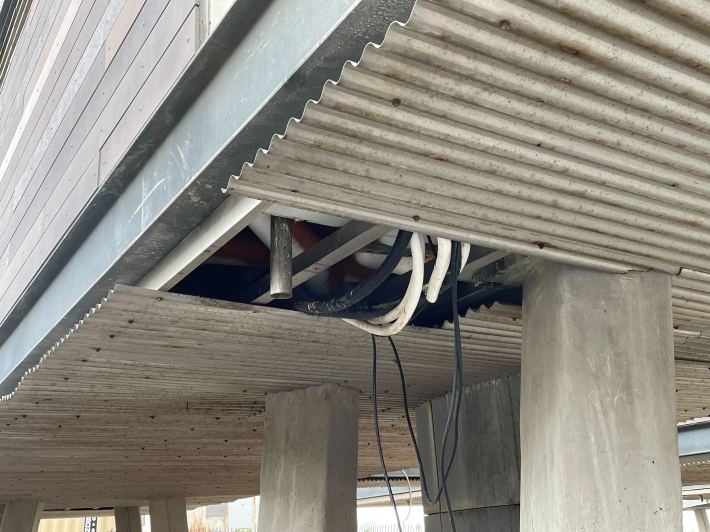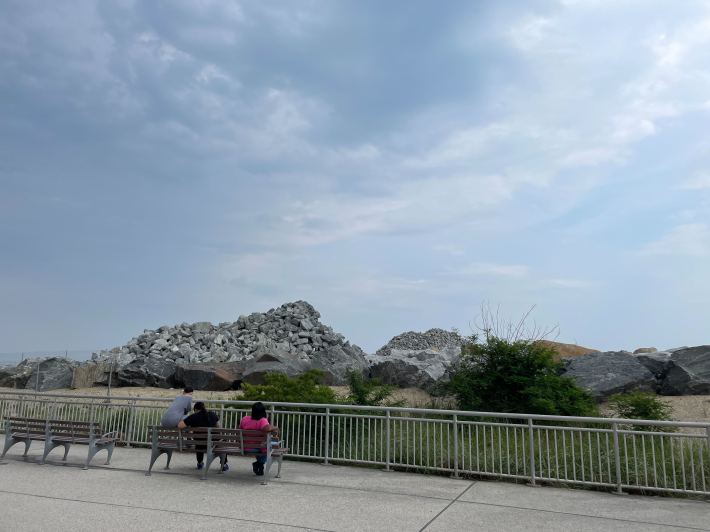 If you've visited the Rockaways recently, you've probably noticed the giant heaps of earth and boulders sitting next to backhoes and heavy machinery. Or you're pissed because your favorite section of the beach is closed. It's all part of a multi-year, $336 million U.S. Army Corps project to keep the sand where it is, so we can keep playing in it. 
Last year, the Army Corps announced a $52 billion flood protection plan for the New York/New Jersey region. This plan manages to be both exhausting in size and scale and also absolutely deranged—oh, you're just gonna slap up some 12-foot walls all along the city's coastline? Peak late-anthropocene brain. After much debate, we have managed to figure out the answer to questions like, "How high should our modular beach urinals be?" but many larger existential dilemmas are still addressed with the idea that you can't see a problem through a wall.
Meanwhile, we have made good on Bloomberg's promise, and waterfront development continues—including a 116-acre, $1 billion "net-zero emissions community" right on the beachfront, from Beach 44th Street to Beach 30th. (Sadly, it is not modular.) 
Around Beach 67th Street, I started chatting with Aitana, whose bathroom experience was mixed. "Today, they were very dirty, but they're sometimes in really great shape when they're clean," she explained.
Aitana fell in love with the Rockaways during the pandemic. "I'm in the process of maybe getting a spot out here. But I wouldn't live here. It's just more of an investment," she told me, and added that she especially appreciated how the boardwalk connected different communities on the peninsula. 
"This is a unifying structure that no matter where you live, you can access this and do your sports or whatever. And it doesn't matter what socioeconomic class, or where you're from," she said.
The bungalow she's in the process of buying was damaged during Sandy, but Aitana said she wasn't planning on raising it up on stilts. "You can't really control what might happen," she explained. "I'm just, you know, I don't know. It's hedging my bets, I guess."
Chris is an editor at Hell Gate. He spent a decade working for Gothamist, and his work appears in New York Magazine and Streetsblog NYC.
Stay in touch
Sign up for our free newsletter