Going Places
The Bizarre and Riveting Sport of Race-Walking in NYC
"It's a contest to see who can whisper the loudest. You're flirting with running, just gotta keep getting right up to the edge."
1:56 PM EST on November 29, 2022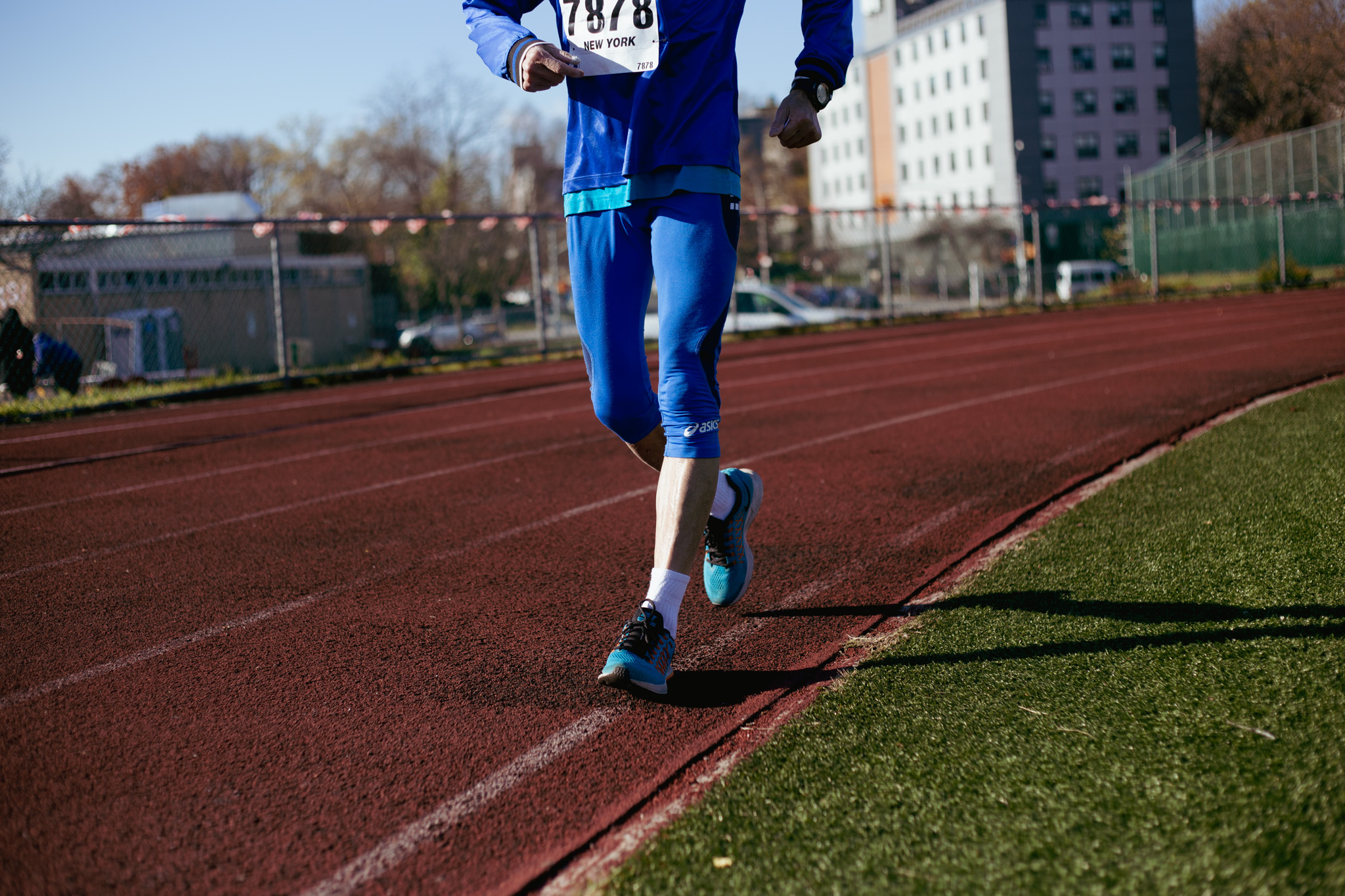 The weekend before Thanksgiving, an eclectic mix of children (including two National Junior Olympics champions), young adults, and seasoned masters (a class for the 35+ crowd) toed the start line on the track behind the Bronx's Cardinal Spellman High School with nary a shiver, despite temperatures hovering around 28 degrees Fahrenheit. The wind gusted around 18 miles an hour, but many contenders were clad in mere shorts. 
Mia Priore, a young woman on the Marist College race-walking team, wore bun-huggers—track parlance for racing briefs—and wraparound shades for the first event of the USA Track and Field New York Race Walking Championships, the one-mile. Her mother, Dawn, a clinical social worker and a seasoned track mom, had spare gloves and thermal mylar blankets on hand for the woefully unprepared (See: this reporter).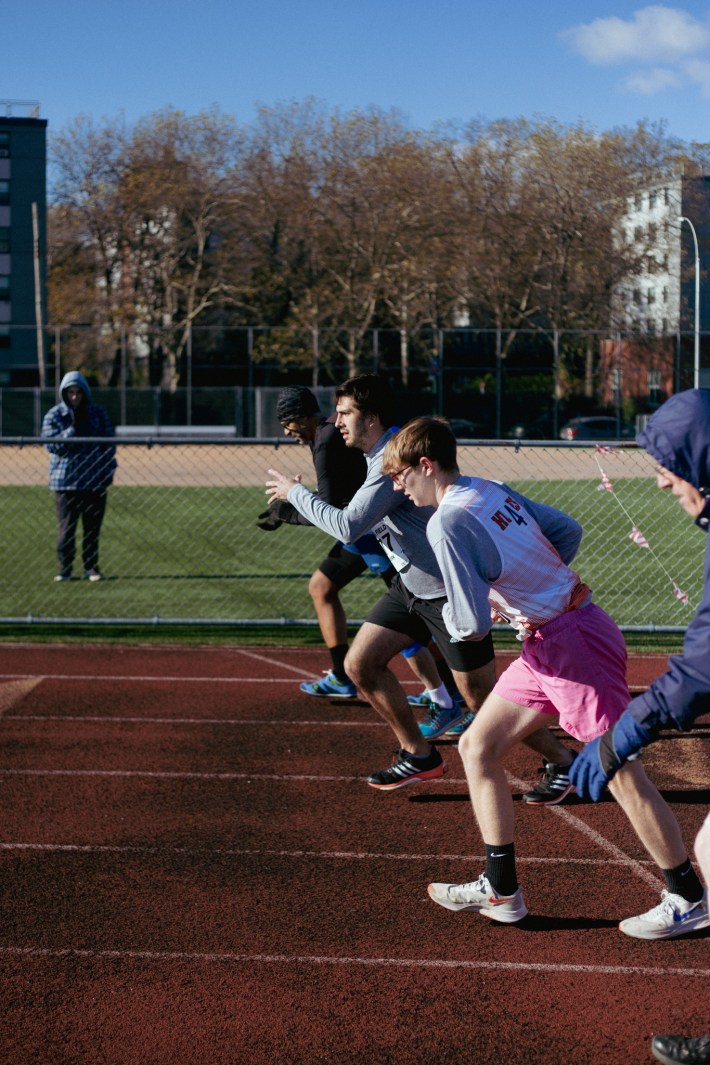 In fact, the conditions were so harsh that two race-walkers weathered nosebleeds, tilting their heads skyward and taking nasal swipes with their shirt sleeves while maintaining a brisk pace, until Dawn sprinted across the infield with tissues in hand. Bruce Logan, who's been competing around the globe for over 37 years told me, "This has to be the coldest track race I've ever done." While race walking has a long history of being ridiculed for looking funny and has faced allegations of cheating, the athletes in this community are serious about their sport, and willing to brave the cold.  
Though "race walking" has been an Olympic sport since 1904—and traces its history back to Victorian-era England, when nobleman placed bets on whose footmen, walking alongside their horse-drawn carriages, could outpace and/or outlast one another—it doesn't get nearly the same hype as other track and field events. You'll never see throngs of spectators like those that recently mobbed sidewalks for the NYC Marathon. But to watch these athletes in action is to be riveted. The brain wants to categorize what it's seeing as running, because the movements are so familiar, but the straight line they walk, paired with the exaggerated side-to-side of the hips and swinging arms, appears almost cartoonish, a comedic scurrying.
"You ever hear the quote about race walking?" USATF President Tom McTaggart asked during the 5k race walk, raising his voice over the sound of my foil blanket crackling in the wind. "It's a contest to see who can whisper the loudest. You're flirting with running, just gotta keep getting right up to the edge."
The gist of the rules are: Race walkers must maintain strict contact with the ground at all times, and the leading leg must be straightened as the foot touches down. Athletes sometimes win a race and find out en route to the podium that they've been disqualified—proper form is crucial in this technical event. At this event, five judges analyze the hip-swiveling saunterers as they plot their course, and it takes three red cards from three different officials to get disqualified. Before you get even one red card, however, each judge will give two chances with either of their yellow paddles, one a squiggle signifying loss of contact, the other an arrowhead for a bent knee—it's a warning, giving the athlete an opportunity to fix their form.  
"This is our only opportunity to communicate to them," chief judge Shawn Frederick said, referring to how officials wave their paddles at errant race walkers. As in other judged sports, like gymnastics and figure skating, "having to be conscious with every single step that you are under the eyes of judges," he said, is "a mental strain." (The sport gets tricky every Olympic cycle when it's widely televised and freeze-frames show walkers with both feet in the air. Still, judging decisions are based on the unaided eye.)
This rigorous decorum extends to an athlete's clothing: One man arrived in blue jeans, and was told he could not compete unless he changed into leggings (he hadn't brought any) or shorts—"you can put Vaseline over your skin if you're worried about that," officials told him, meaning the brutal cold. He opted for the latter, paired with a winter parka and gloves. As the judges explained, it's important to be able to clearly see an athlete's gams to make sure they aren't flexing or bending that front leg. One athlete was disqualified during the championships, and even the winner of the day's final race, Colombia's Federico de Lima, received a couple of warning paddles on his way to medaling—after catching his breath at the finish line, he practiced a few paces in front of one of the judges, who gave him feedback and advice on his technique. 
Sisters Tiarra and Karly Jackson were also on the start line for the one-mile race, four laps around the track. The elder Jackson sister, 15-year-old Tiarra ("The Race Walk Princess of the Bronx"), wants to pursue the sport on the collegiate level, which is only offered at a handful of schools. Her father, KenDell, a former sprinter, coaches the girls himself. He taught himself everything about the sport, and while he waited for his daughters to pass the backstretch of the track, joked that he's "the Richard Williams of race walking."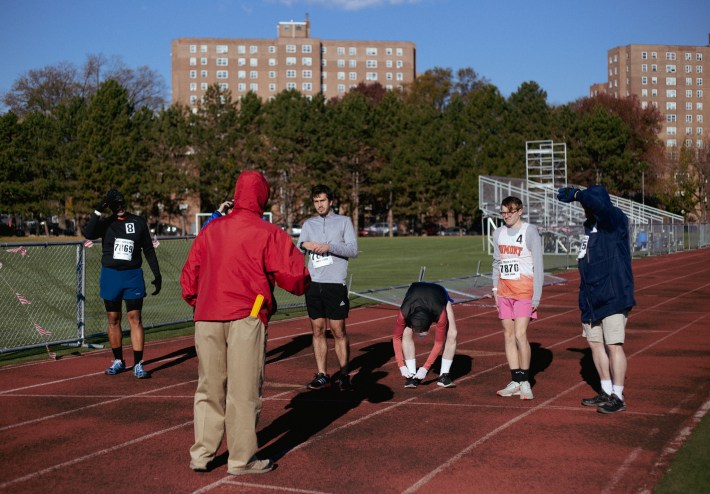 As Tiarra advanced, Mr. Jackson shouted encouragement her way, "That's college level! You getting in the flow there." Karly, 9, who picked up race walking because she was inspired by her older sister, followed in her footsteps, breathing audibly with the effort. "Reel 'em in!" yelled her coach.  
Priore, the Marist athlete, went on to win the one-mile race in 8:31—not a personal best, but she finished about 45 seconds ahead of her closest rival. She thanked the organizers for providing the opportunity to compete; her options to do so are limited.
Israel Soto Duprey, a Bronx history teacher and veteran of the sport who's been competing as a race walker since he was a kid in Puerto Rico said he couldn't pass up the rare opportunity to compete in the Bronx. He took first place in the men's open category for both the mile, with a time of 9:14, and the 5000-meter (12.5 laps) championships, which he walked away from with a time of 30:19.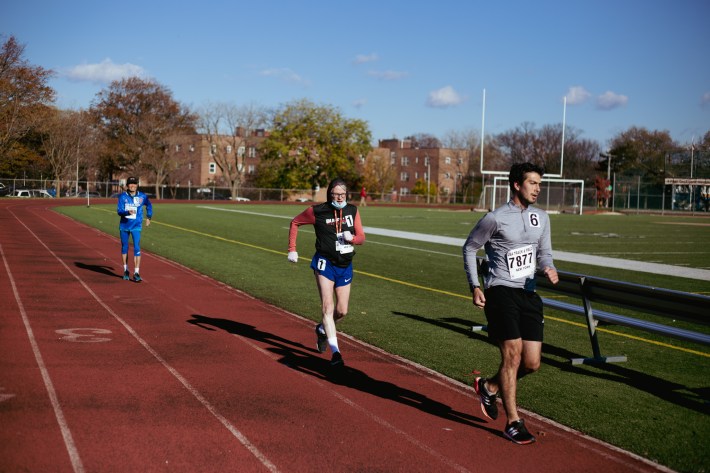 "It was very important to me to do this race for a few reasons," he said. In about 30 years in the NYC racewalk scene, "this has been one of the only races in the borough I call home." He also saw a few young male names on the list of participants and as an educator and coach, wanted to show up and be a role model for them. Because the Public School Athletic League doesn't offer the event for boys, Soto Duprey says it's considered a girls' sport. "So I wanted to show that if a 52-year-old old man can do this," he says, "so can they." 
Zakia Haywood, the race director and USATF New York's race walking committee chair, organized the competition and wants to create more opportunities for race walkers to compete and improve their form at workshops and coaching clinics. It's difficult to find such opportunities, and she endeavors to change that. Olympic judge and Hall of Famer Gary Westerfield and his group Walk USA have a stronghold in Long Island, where he's helped produce Olympians and national class race walkers. But Nassau County is largely inaccessible for folks in the outer boroughs.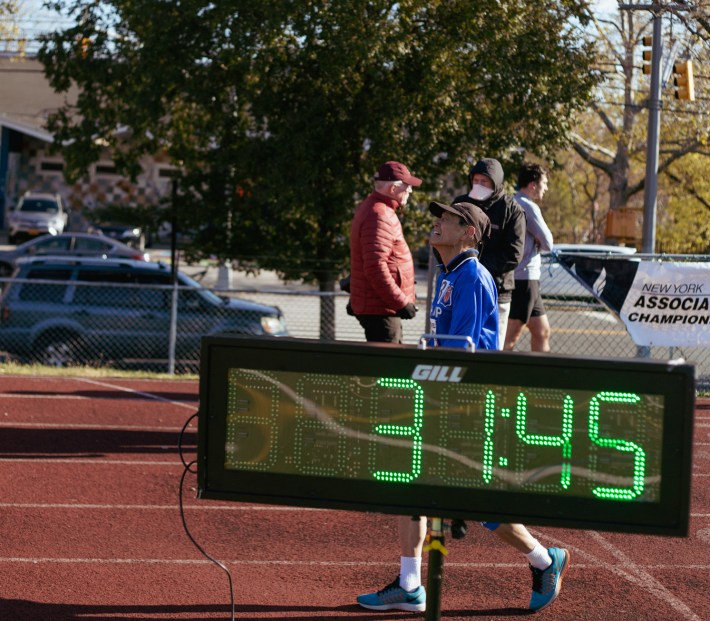 Colin Graham, who won first place in the boys' 17-18 age category, said he found the sport after getting injured while running at a track meet. He decided to try walking instead, since it didn't require bending his knee as much. It's a common pathway into the sport: retired and injured runners are the backbone of the race walking community. Once he started winning in his acquired sport though, there was no turning back. He still runs, but race walking is where he shines. As Frederick, the chief judge, said, the sport is the perfect opportunity for underdogs to get their turn in the spotlight. You might not be a top contender in a running event, but switch over to race walking, and you might be surprised how far you can go.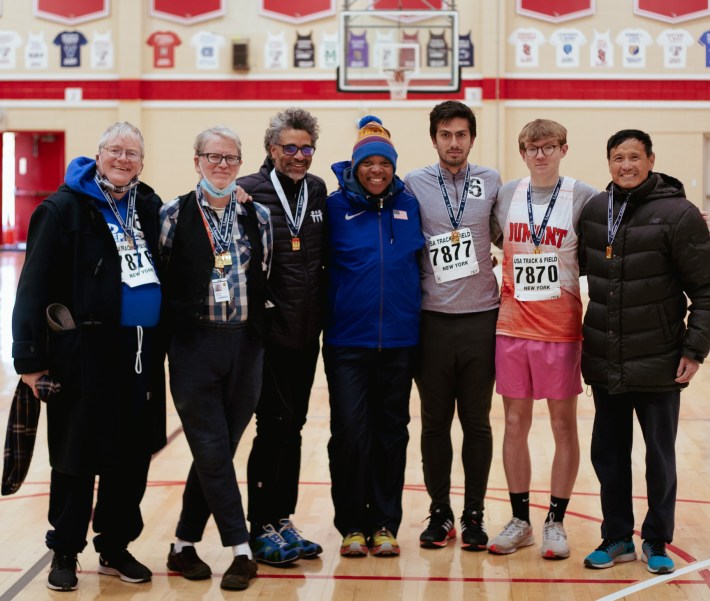 Abby Carney is a writer in East Harlem. She covers culture and characters and besides Hell Gate, has written for The New York Times, The Guardian, Eater, and other publications. 
Stay in touch
Sign up for our free newsletter