Going Places
The QueensLink Is Back From the Dead to Bring Relief to Queens's Transit Deserts
Despite City Hall throwing its weight behind another plan, and the MTA's deep disinterest, advocates are still pushing for the intra-Queens connector—and finally gaining political support.
12:09 PM EDT on September 7, 2023
A year ago, things were looking bleak for advocates of the QueensLink, a proposed extension of the subway system that would utilize the abandoned and overgrown Long Island Rail Road tracks that conveniently connect the Rockaways with Elmhurst. 
Turning these old tracks over to the MTA would finally unite a borough that currently requires commuters travel through Manhattan by subway to get from, say, Rego Park to the Rockaways—or worse, to take a car on overpacked roadways. For years, parks advocates and people suspicious of a possible incursion of public transit into sleepy bedroom neighborhoods pushed a competing vision for the tracks, which would instead turn them into a High Line-style park. 
Those activists got a big cosign last September when, with little warning, Mayor Eric Adams threw his weight behind the parks option, setting aside $35 million to design a sliver of park, called "Met Hub," that would ultimately grow into the first part of what park advocates had dubbed the "QueensWay."
Suddenly, as if awakened from slumber by a $35 million slap, local politicians began signing onto the long-gestating effort to build a much-needed subway connection for a transit-starved borough. 
"It made us wake up, it got more attention on our rallies. We did a big event in the Rockaways, and got a bunch of elected officials to sign on, ones that weren't paying attention to the project before," QueensLink counsel and legal advisor Mike Scala told Hell Gate.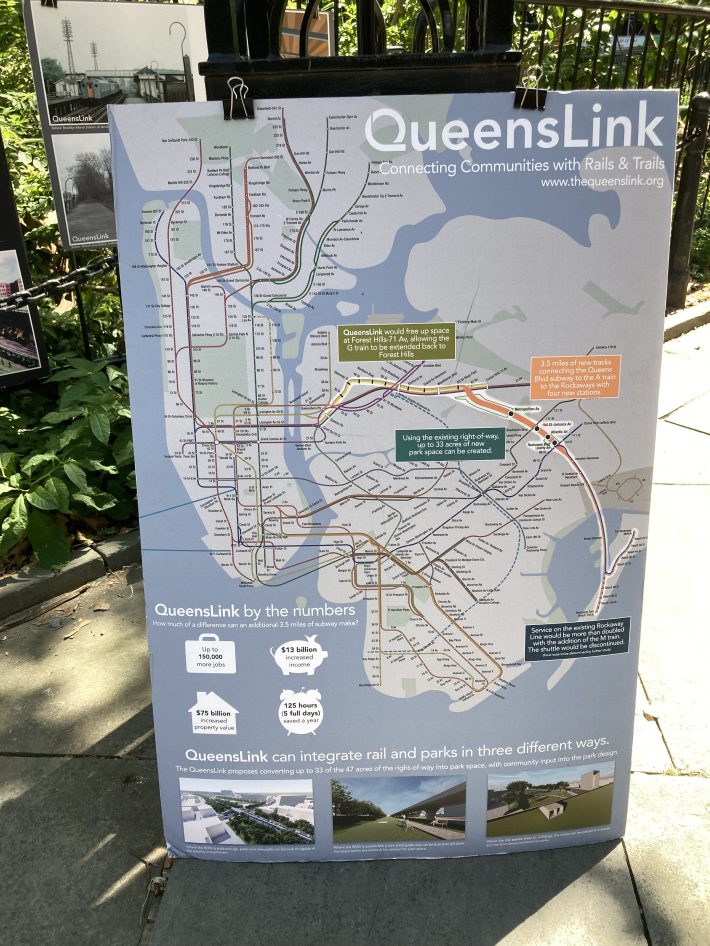 Last fall, Queens Borough President Donovan Richards began to champion the QueensLink, as did State Senator James Sanders Jr. and Assemblymember Khaleel Anderson. The politicians seized on the fact that while the Rockaways may be directly served by the A train, it's impossible to go directly from the peninsula to central Queens—if you have jury duty, court dates, anything that needs the imprimatur of your county, or if you even want to study at its flagship college, you need to commit to a several-hour commute. The QueensLink would cut down on that journey by as much as forty minutes, advocates claim.
Elected officials as politically disparate as Public Advocate Jumaane Williams, democratic socialist Assemblymember Zohran Mamdani, and noted anti-congestion pricing zealot and migrant-basher Bob Holden were all on the same page at a rally yesterday—sure, there could be a park, but as part of the park, they argued, there had to be some form of transit, ideally, according to the QueensLink plan, an extension of the M train through Forest Park. Rails and trails. Richards had even appeared at last September's event with Adams announcing the $35 million park investment, but even then was floating the idea that the much-needed transit infrastructure could coexist with a park.
On Wednesday, advocates for the QueensLink, including Jumaane Williams and James Sanders Jr., united in front of City Hall, to call on Mayor Eric Adams to lend his support to the coexistence option.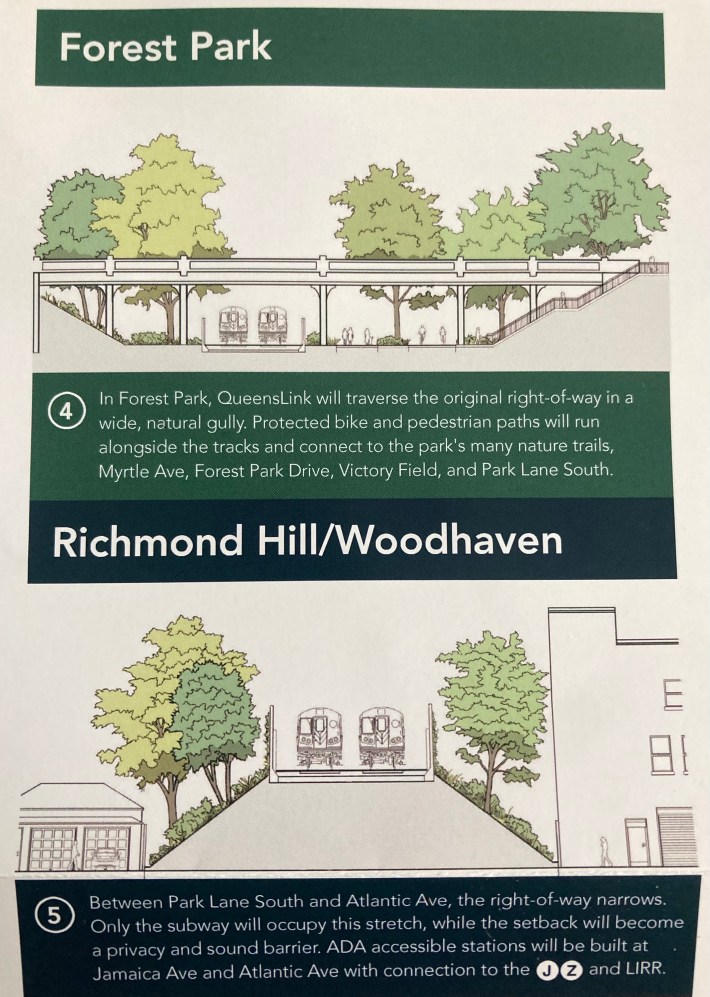 "There's a false dichotomy here, that you can either have transit, or you can have the park. I say do both!" said State Senator Sanders, who represents the Rockaways. 
"If anyone is talking about only building one option? It's not the QueensLink folks! We get to respond to communities that are being ignored and are in transit deserts," Public Advocate Williams said. "This is a win-win."
The timing of the rally was meant to put pressure on the MTA, as well as Adams, ahead of the transit agency's release of its 20-year needs assessment plan in October, where it will announce which capital projects it intends to focus on over the next two decades.
That 2025 to 2029 capital plan will be supercharged by billions in new funding from congestion pricing, opponents of which crashed Wednesday's rally, shouting down Williams and forcing him to end his comments early. (With a lackadaisical smirk, Councilmember Holden announced he too was opposed to congestion pricing and thanked hecklers for letting him speak.) 
While the Long Island Rail Road deactivated the line as car-use increased mid-century, the population around the tracks have boomed—and advocates estimate that 50,000 people would use the reactivated line each day. Turning the former LIRR tracks back into mass transit isn't such a far-fetched idea. In the 1990s, then-Queens Borough President Claire Schulman fielded offer after offer for the property to be used for non-transit purposes, explained the Queens Economic Development Corporation's Seth Bornstein, who worked in her office at the time. 
But Schulman wouldn't budge. 
"She always said, 'Over my dead body,'" Bornstein recalled. "She always knew that someday, somehow, that it would be reactivated for transportation." 
Other elected officials in Queens have pushed for the reactivation of the old LIRR tracks over the years. In 2016, at the behest of Queens lawmakers, the MTA studied the feasibility of reactivating the line, only to then bury the report for years. The study finally emerged in 2019 with an eye-popping $8 billion price tag, which QueensLink advocates derided as inflated and indicative of an agency that had no interest in reviving the line. (QueensLink advocates then paid for their own study, which found reactivation possible at nearly half that cost.)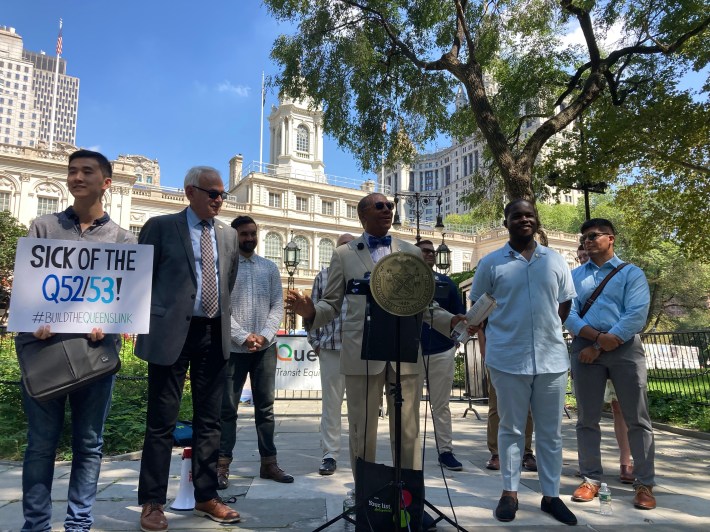 One factor that is in favor of QueensLink proponents: rail reactivation is in the air. Governor Kathy Hochul is currently throwing her political weight behind the Interborough Express, a much-needed utilization of an existing rail road line to serve as a connector between the east-west alignment of the city's outer borough subway lines—sweeping from Bay Ridge to Jackson Heights and connecting 17 different subway lines . 
City Hall has said it will hold off on putting any shovels in the ground for the initial Met Hub park until the MTA releases its needs assessment, and the City is aiming to complete its environmental review for the park in 2024. 
"As we've always said, the proposed Met Hub does not preclude an MTA project if they determine one is feasible, and we are ready to partner with them if they decide to move forward," a mayoral spokesman told Hell Gate. 
Currently, the MTA has the Rockaway Beach Branch reactivation (AKA, the QueensLink) listed as a possible project to be included in its needs assessment, along with the Interborough Express and other system expansions, like an extension of the Utica Avenue line in Brooklyn. 
But a slow-moving behemoth like the MTA doesn't do anything without a little pressure—hence Wednesday's rally, which took place on a blazing hot day during the tail end of the hottest summer for the planet on record, which could be the coldest summer of the rest of our lives. 
"What can we do to take action on the climate crisis?" asked Assemblymember Mamdani. "We need to build out light rail in every single part of this city. QueensLink gives 50,000 New Yorkers the option to take public transit."
The idea of a park duking it out with a public transit project may seem absurd, but QueensLink advocates said they've reached out to QueensWay proponents over the years, with little luck. 
"There was a meeting a couple of years ago, and the borough president tried to officiate it. He sat us down, and they weren't willing to give us much by way of compromise. We're saying we can have it all. So the impression from that, that we got, is that they're trying to obstruct the rail line," Scala said. 
In a statement, Karen Imas, with Friends of the QueensWay, said they were excited for the park, and did not respond to questions regarding possible coexistence with a rail option. 
"This is low-hanging fruit, this is the path we need to take," said Jeanne DuPont, from the environmental advocacy group Rockaway RISE. "Queens is home to the most diverse communities in the world, and we should be finding ways to connect our communities. QueensLink is the key to making that happen." 
Max Rivlin-Nadler is a co-publisher of Hell Gate. He's reported for Gothamist, The New York Times, Village Voice and NPR. You can find him walking his dog, Stiva, or surfing in the Rockaways.
Stay in touch
Sign up for our free newsletter