Paying Rent
A Private Equity Firm Bought This East Village Apartment Complex. A Year Later, Most of the Original Tenants Are Gone
Good Cause Eviction laws would have helped keep those tenants in their homes, and made life for remaining tenants easier.
2:39 PM EDT on October 26, 2023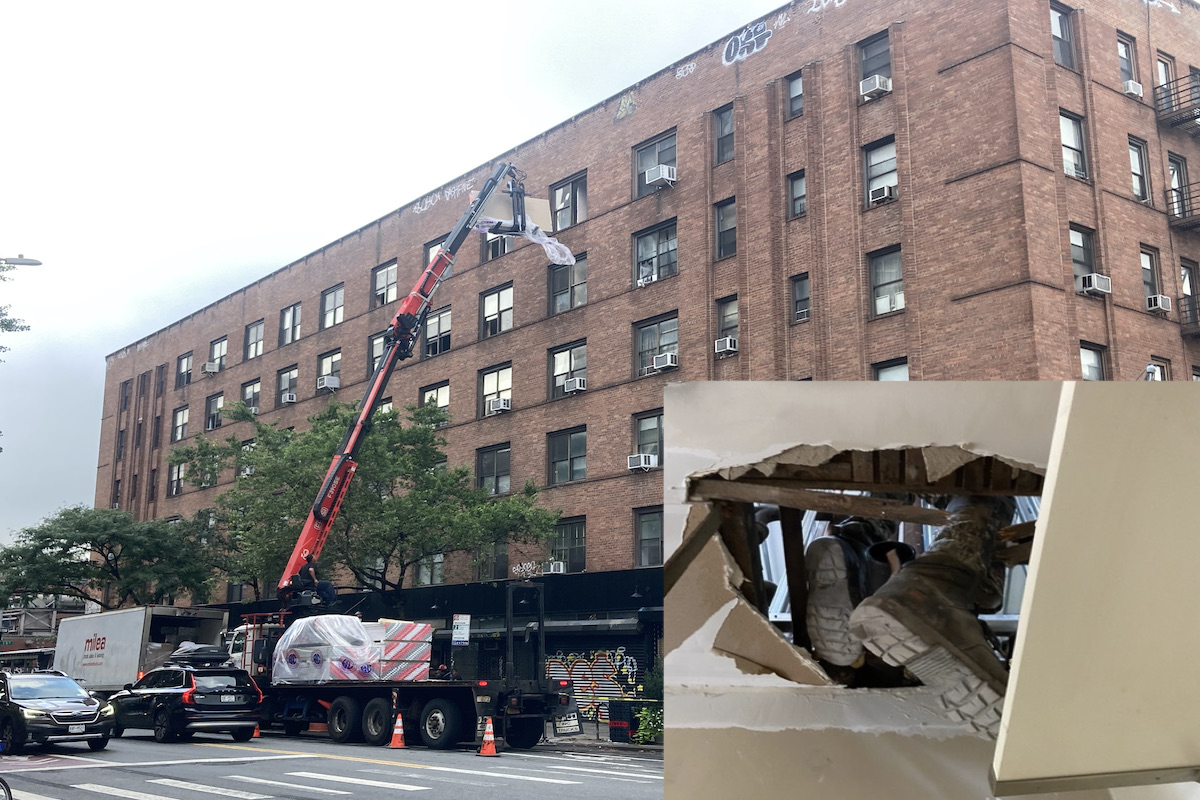 One morning this past July, Ellen Dudley was at home in the rent-stabilized East Village apartment she shares with her husband Matthew. A few days earlier, a renovation in the apartment above her had caused water to rush into her bathroom and collapse its ceiling, and a patch that the construction company had hastily put up wasn't holding. The apartment complex's management company told Dudley to take some photos of the failing patch job, so Dudley walked into her bathroom with her phone out. 
And that's exactly when a construction worker fell through the ceiling. 
"I just had to laugh, because I don't know what else you could even do in that situation," Dudley recalled. She then took a photo of where the leak had been, and where a large man was currently stuck.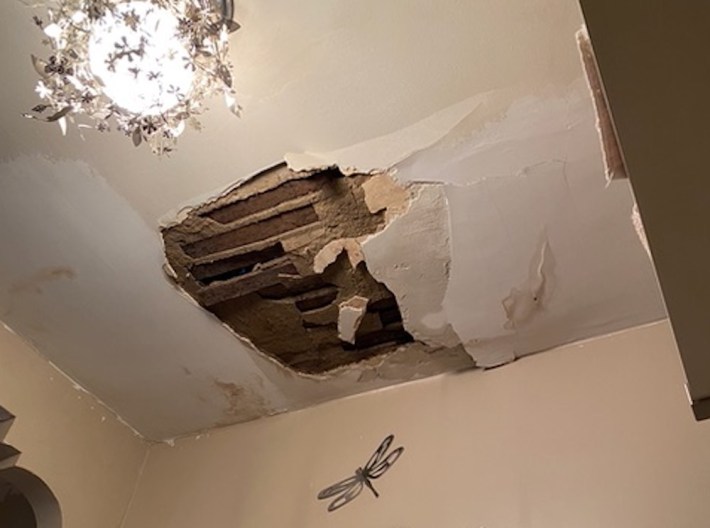 "This was a tall guy too, and he had fallen all the way down to his shoulders," Dudley told Hell Gate. "Imagine if I had been on the toilet…what a way to go that would have been." (The construction worker quickly came downstairs to apologize.) 
The Dudleys live in one of three connected buildings on Avenue A between Fourth and Fifth Streets. In September of 2022, the family that had owned the tenements for decades sold the buildings to a private equity firm, Derby Copeland Capital. Tenants told Hell Gate that while the previous owners had slowly deregulated the buildings over the years, these new owners had turbo-charged the process of removing tenants—within a few months, their home became a chaotic construction zone, with dust, debris, and constant noise. Renovated units, formerly one- and two-bedroom apartments subsequently carved up by the new owner into three- and four-bedroom apartments, are now listed for up to $9,500/month. Before then, those apartments had been renting for just south of $5,000/month. (Already, several of these carved-up units have been rented, according to Streeteasy.) 
Through the early months of 2023, the building complex began to clear out. Of the 77 units that are spread across the three buildings, 22 are rent-stabilized. The tenants at the other 55 units disappeared one by one as their leases expired or they were let out of their leases early by the new owners. Today, no market-rate tenants from before the sale remain. "It was like this drip, drip, drip," Douglas Fountain, a rent-stabilized tenant in the complex, said.
In an alternate universe, one in which the state legislature passed tenant protection laws like Good Cause Eviction, 52-78 Avenue A would have been part of the thousands of buildings across town where even market-rate tenants would have been able to stay in their apartments indefinitely. But no such laws were passed, so buildings like these are now attractive investments for private equity firms with the primary goal of extracting as much value as possible—if old tenants leave, fleeing construction dust and noise, all the better to make room for new tenants, and increase the bottom line.
"Their entire proposal is to turn this into a money-maker," Matthew Dudley told Hell Gate. "And we're just caught up in the grind of their real estate empire."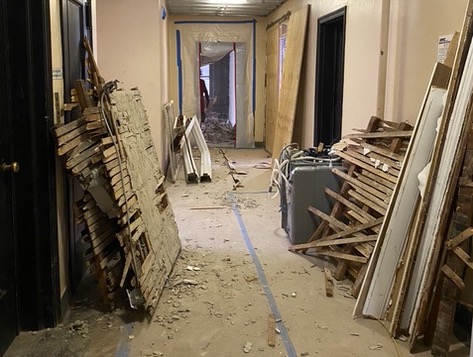 If you've spent a decent amount of time in the East Village, you would recognize the three buildings on Avenue A from the New York Magazine-branded awning near Fifth Street. Below it was Ink, one of the few bodegas that still stocked new issues of glossy magazines, and international newspapers.
Over the summer, according to the local blog EVGrieve, Derby Copeland Capital took the owner of Ink to court, citing money owed to the building's previous owners. The store closed down this summer, and currently sits vacant. 
Fountain, who has lived in the building complex since 1985, described the older tenants as teachers, artists, and East Village characters who had come to the neighborhood decades ago, and the previous landlords, the Zinberg family, as fairly standard for the area: not quite absent, but not going out of their way to improve the 80-year-old buildings.
"I wasn't totally surprised when the building was bought, you know. It was ripe for the picking," Fountain told Hell Gate.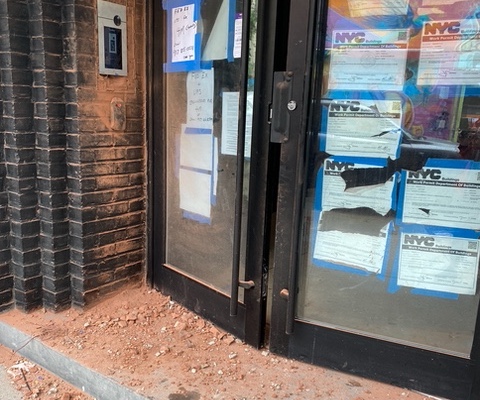 The Zinbergs, who had owned the buildings for over a half century, had sold the building to Derby Copeland Capital for $64 million.
The private equity firm hired a management company, Monday Morning Management, to communicate with tenants. The management company listed improvements that were coming to the complex, from a new intercom system, to heat pumps replacing the boiler, to a renovated backyard and lobby. 
"But the feeling, really, was that none of these improvements were meant for us, the rent-stabilized tenants," Fountain recalled. 
In March of 2023, the renovations in the building complex began, and longtime tenants told Hell Gate that they were subjected to a litany of construction-related disturbances—unplanned water shutoffs, electricity outages, broken elevators, uncollected garbage, and a massive amount of dust circulating through the building. The buildings have racked up more than a dozen Department of Building complaints, over the aforementioned broken elevators, the unpermitted use of a crane, the improper disposal of construction materials, and the placement of sharp spikes along the exterior of the building complex—an apparent effort to deter squirrels from taking up in new planters. (Three of those complaints resulted in violations from the DOB.)
The company outlined a two-year renovation plan. Fountain worried about the older residents making it that long, many of whom were well into their 80s and 90s. 
"So you ended up with no dust control, workers banging through walls, days without elevator use, heat and electricity turned off," Fountain said. "You know, the types of things older people really can't work through."
Derby Copeland Capital told Hell Gate that it's not rushing through repairs—and that the buildings needed immediate work, some of it required by environmental standards like Local Law 97, which is mandating buildings to replace their gas boilers. 
"While we understand that the construction activities required to modernize an 85-year-old building can cause temporary inconveniences and disruptions, we are taking every possible measure to minimize these disruptions and to ensure the safety and well-being of our residents during the construction process," said Steve Spanolios, the chief operating officer of Derby Copeland Capital, in a statement to Hell Gate. "We believe we're delivering lasting benefits to the existing and future tenants of the building and community by creating new amenities, enhancing public spaces, and improving the building's environmental efficiency."
Spanolios stressed that the improvements to common areas are intended to benefit all residents, not just newer ones.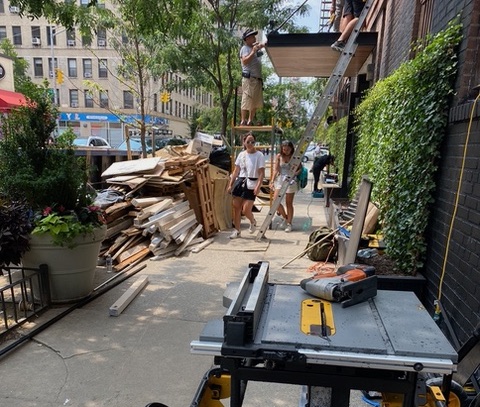 Once the market-rate tenants were gone, Fountain and other remaining tenants began to get worried. "We realized all of a sudden that we had a target on our backs, and so we got together and said, 'OK, let's all look at our leases right now,'" he said.
The tenants, after years of being mostly just friendly acquaintances, figured they needed to start working together to log what was happening, including all of the construction that was disrupting the lives of people who could not afford to leave, and under the law, had a right to stay. 
"We began meeting and sending emails to one another, sharing stories. It brought us together in a way," Fountain said. They logged complaints and formed a quasi-tenants' union that mediated communications between the tenants and management. 
Tenants were shocked when one particular neighbor showed up to a meeting—the sister of the building complex's former owner. She said she wasn't even sure what was going to happen to her own apartment. 
"Her own sister had taken the quarters out of the laundry room before she left, but here she was showing up, not knowing what was happening," recalled Fountain. "And neither did we, really." 
Derby Copeland Capital was started in 2015 and focuses on both loans for multifamily residential buyers, as well as purchasing properties itself. According to the company, it has never sold a property it has bought, and believes in the inherent long-term value of New York City—not flipping a property just to make a buck. 
When an individual or business wants to buy a property using more money than they have on hand, they usually need to go to a bank for a loan. And for many of Derby Copeland Capital's transactions, that's what they've done. But for their $64 million purchase of 58-72 Avenue A, Derby used what's known as a Real Estate Investment Trust (REIT) for their loan.
REIT loans are a form of financing for multiunit buyers that has slowly become more popular in New York City, a process that bypasses a traditional bank who might view transactions like this one as too risky—especially as interest rates remain high. 
Derby Copeland Capital's lender, a REIT known as MF1, was started in 2019, eager to take advantage of low interest rates to help borrowers purchase and flip large residential real estate properties ("MF" is for multifamily, "1" for industry leader, according to its founders). Where MF1 makes its money is by then bundling those loans it gives out into investment vehicles for large, institutional investors like mutual funds or pensions. What MF1 does isn't all that different from a bank—it gets money from investors (like a bank with depositors) and then uses that money to give out loans (like a bank). 
The loans offered by REITs are a bit riskier than those that a bank would offer, and come with more unfavorable terms for debtors—like a floating interest rate, which means if interest rates go up, the loan becomes that much harder to pay back. As a Real Deal analysis found this summer, MF1 is already running into headwinds as interest rates remain high and rents nationally have begun to cool off.  
Researcher Patrick Spauster looked into the growing role of REIT financing in New York City and the impact they've had on tenants, for City Limits. 
"The fact that we're seeing REITs in New York City be more active, is a sign that it's percolating into even tighter housing markets," Spauster told Hell Gate. "It's a sign of just how broken our housing system is—it's an outlier still, but investors are seeing potential profit. If it happens enough on the margins, it really starts to add up."
Spauster noted that reforms to the state's rent-stabilization laws in 2019 were meant to stop transactions like this from being attractive to both private equity firms and REITs, by making it harder to remove apartments from stabilization. "This really wasn't supposed to happen in a post-2019 world," Spauster said. But because so many of the units on Avenue A had become market-rate using the old rules of destabilization, the building was still attractive to a company like Derby Copeland Capital, which could opt to not renew leases on units, and then jack up rents in much of the building. 
While 2019's reforms kept rent-stabilized tenants in their homes, the rest of the tenants had no recourse when their leases weren't renewed. Many market-rate tenants lack rights when a building is sold like this, rights that could be given to them by legislation like Good Cause, which would give market-rate tenants the right to renew their leases as well as limit rent increases. If Good Cause had been passed last session, a deal like the one for these buildings on Avenue A just wouldn't have made much financial sense—and the pressure on tenants, even under a new owner, wouldn't have been so immense. 
"If people are good tenants, they would only be able to raise the rent only according to whatever the statute allows," said Assemblymember Harvey Epstein, whose district surrounds the building. "So we would have a real ability to maintain community stability in a way that doesn't exist now."
On top of Good Cause, Epstein has also proposed a tax on these types of private equity transactions. That would possibly lower the sale price of buildings by adding additional fees for buyers, and limit the size of a loan that a company takes on to buy a building.   
Speaking generally about these transactions, Epstein said he believes a tax could cool down the market. 
"Without realistic expectations, there's an inappropriate price for the property, and the building is going to be overleveraged, which means that it is going to guarantee that tenants who live there are going feel the pressure of that overleveraging," said Epstein.
New tenants are already moving into the renovated apartments, according to tenants, even as construction continues. 
"I was shocked they were moving people into an active construction site as I was moving out," said a former market-rate tenant in one of the buildings, who said their quality of life deteriorated in the building, even as they refused to be released from their lease. "A guy moving in asked if I was also moving in, and I had to laugh and be like, 'No, I'm being told to leave.'"
Last week, a new sign went up on the side of the building complex—it had been given a new name. In bold lettering, it now read "UNTITLED." On rental listings, the brokers now exuberantly boast, "Your oasis of comfort and elegance awaits you!"

Max Rivlin-Nadler is a co-publisher of Hell Gate. He's reported for Gothamist, The New York Times, Village Voice and NPR. You can find him walking his dog, Stiva, or surfing in the Rockaways.
Stay in touch
Sign up for our free newsletter