Power
Portraits: NYC Nurses on Strike
"It's not about the money, it's about patients' safety and patients' lives."
8:38 AM EST on January 10, 2023
Seven thousand nurses at Montefiore and Mount Sinai hospitals went on strike Tuesday, demanding improvements to their pay and to their working conditions. The New York State Nurses Association had been on the verge of striking at six other area hospitals as well, but called those strikes off after reaching provisional contract agreements with them over recent days. Hospital management at Montefiore and Mount Sinai have told the nurses the hospitals can't afford to meet their demands of better nurse-to-patient ratios. Over the last few weeks, hospitals reportedly spent tens of millions of dollars lining up travel nurses to keep wards staffed as the strike loomed.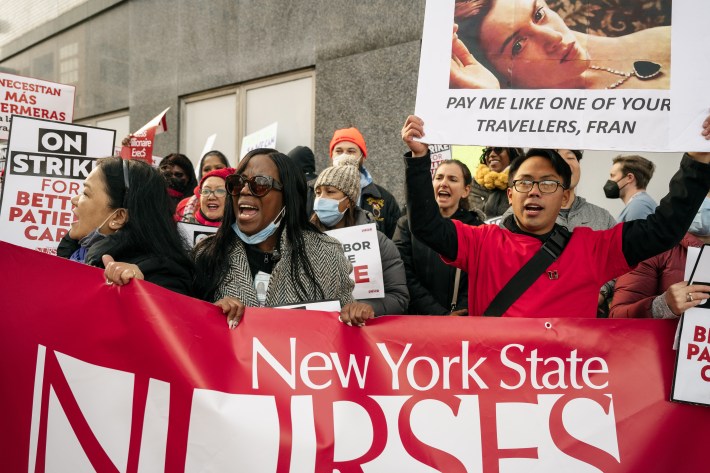 On Monday, Hell Gate visited the picket lines outside Mount Sinai and Montefiore hospitals to talk to nurses about why they have walked out. Here's what they had to say, in their own words: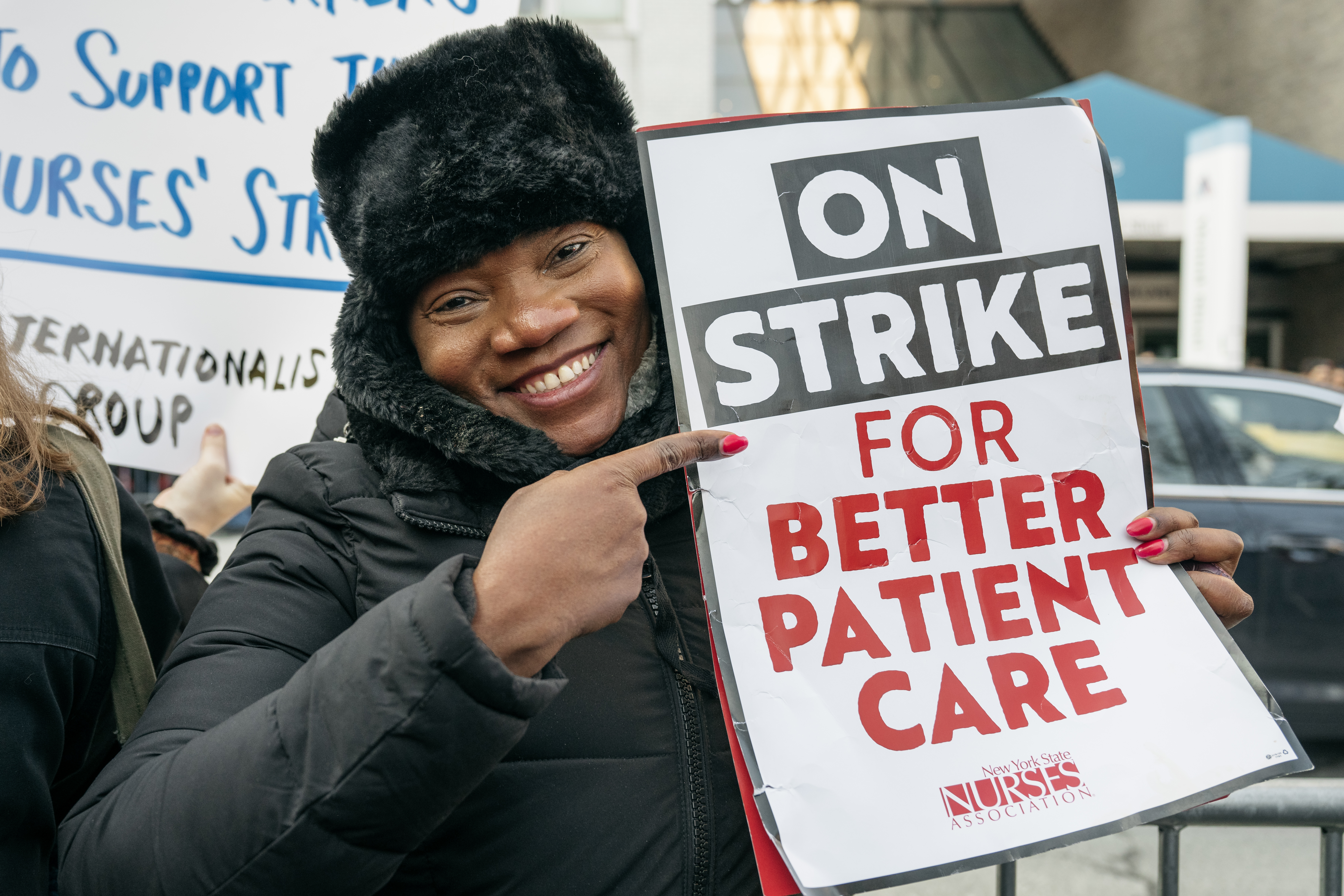 Louise Louanga, emergency room nurse at Mount Sinai Harlem: We don't want to be out here. We're here because we're fed up. We're fed up with a lack of patients' safety and less and less nurses on floors every day. For our patients' safety, we need more nurses on the floor. I've worked in the emergency department for 10 years. The last day I worked there, I had 22 patients. How can you manage 22 patients? I had three people with the same last name, I didn't know who was who. It reached the point where it's not safe, for the patients and ourselves.
[Increasing nurse staffing and compensation] is not too expensive. They have the money. You should see the ER, they renovated it with all the money they got for COVID. Back then I had patients in the bathroom, patients in the hallways. I was giving CPR in the hallways, and this is how they say "thank you" to us. It's not fair to us or to our patients. Some kind of change has to come.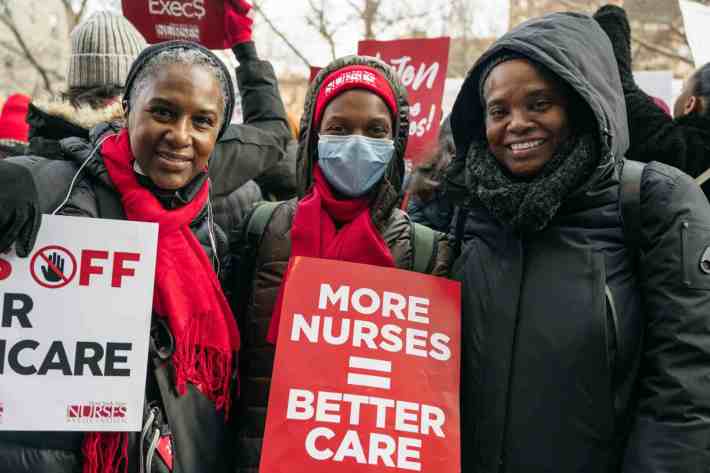 Sandra R., Mount Sinai nurse of 29 years: We are so understaffed. I work on a floor where we have up to nine patients per nurse. It's crazy, it is crazy. We get burnt out so quickly because we are not supported by management, and we have no support staff to help bear the brunt of the loads we're carrying. We were even told by management that nurses were calling out sick too often, and we should take vitamins.
Michelle C., nurse at Mount Sinai of 31 years: The hospital likes to put out there that they care about patients and the community, but the reality is they care about their bottom line. We are saying it's not about the money, it's about patients' safety and patients' lives. I can give you better care if I've got five patients, as opposed to eight or nine patients.
I've been a nurse for over 30 years, and this only is the second time I've been on strike. Having seen and dealt with what we need to deal with, working so much, being short constantly, it's not sustainable. Yes, there is some apprehension, but at the end of the day, you have to do what's right and you have to have some kind of resolve to say enough is enough.
Karon Duff, Mount Sinai, nurse of 14 years: The best way I can describe my feelings is, it's like you've been in an abusive relationship and you finally say enough is enough, and escape. That's how we feel. It is amazing to be out here with everyone. It takes a lot for us to finally stand up and say we can't do it anymore.
Michelle C.: Four patients instead of six means I can talk to you, ask you how your day was, as opposed to just throwing meds at you because someone else needs my help right now. We all became nurses because we are compassionate about our patients, and right now we cannot give compassionate care.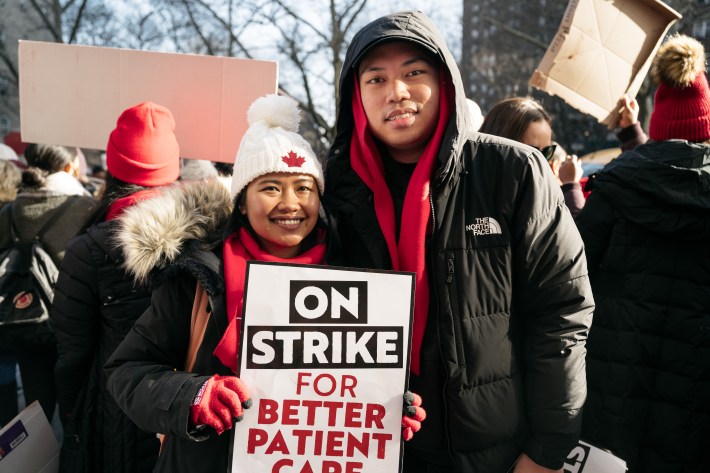 Catherine Desposado, outpatient cardiology nurse, NYSNA strike captain at Mount Sinai: We need accountability. They've been putting staffing ratios on past contracts, but it always falls through. They never follow through with it, and this time we need to make sure that management is penalized for understaffing our units.
JC Gaw, outpatient cardiology nurse, NYSNA strike captain at Mount Sinai: We need enforcement. We can have all these agreements, contracts, words, but if there's no enforcement of rules, then it's all for nothing.
Catherine Desposado: We need things that will help us retain nurses. That's what's going to maintain our ratios and keep our floors safe—having the people.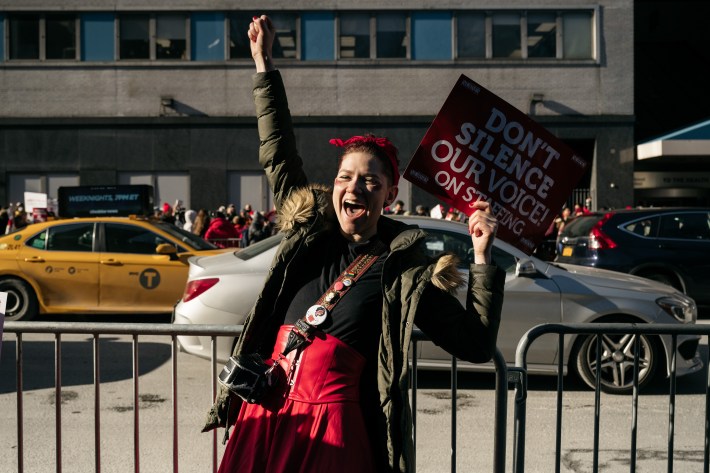 Lyndsey Auge, Mount Sinai nurse: I have seven months experience as a nurse, and Christmas night, I was floated to a unit where I was the only nurse for six patients. You need at least two people to do CPR, ideally at least four, but I was left alone for the entire shift and had no assistant staff for four hours. I had six patients—one month of experience for each of my patients and one month of orientation where Mount Sinai told me patient safety is the number one priority.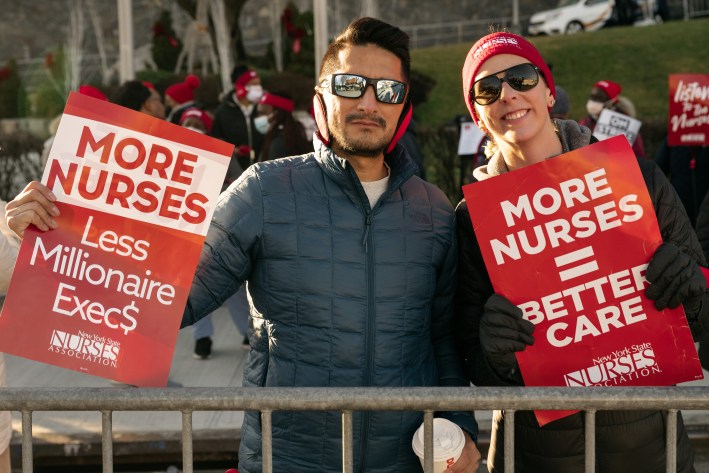 Kerry Sewell, Montefiore Weiler nurse: The patients would benefit the most from a negotiated contract. There'd be more nurses to take care of them. Better outcomes and better care.
Paul Abregu, Montefiore Weiler nurse: For management to let things go this far just shows how unprepared and irresponsible they are.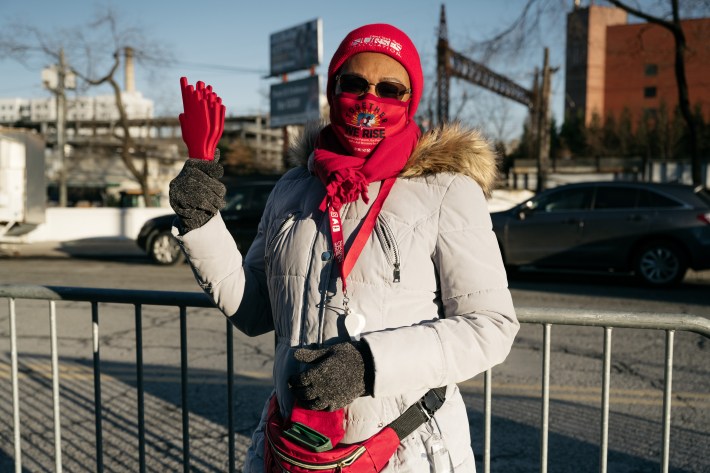 Phiona, Montefiore labor and delivery nurse: We are doing one-to-five, even seven-to-one. That's nurses with 14 people—seven mothers and babies. You don't have enough time to spend with mom and baby. They're new to motherhood, and we have to teach them about the process of physiological and emotional changes that will occur after having the baby. Postpartum depression is real. It's happening, and we have to spend time with our patients to educate them and teach them early signs to look for. We also have new fathers, we have to talk with and educate them.
I love being able to talk to my patients, to get to know and educate my patients. But because of the volume of patients, it's hard to give any extensive education that they need for when they leave the hospital. Sometimes it's a lack of education and time spent that brings them back to the hospital.
A good contract [with adequate staffing] would be a wonder. I wouldn't go home disappointed that I didn't do much for my patients. I've been home crying because I felt I didn't do enough. All I've wanted to be is a nurse since high school. I've been a nurse almost 30 years, all my life. And I just want to be able to do that for my patients.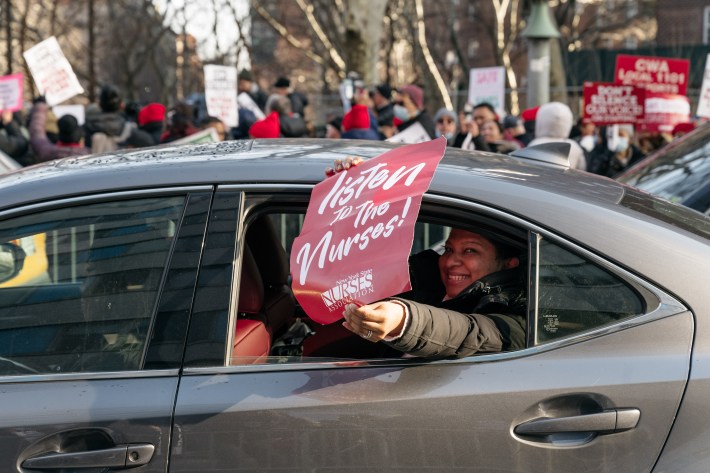 Stay in touch
Sign up for our free newsletter