Fresh Hell
Hell Gate Pool Report: 'It's Not Cool'
Swimmers adjusted to a new, crowded, hot reality, but relief is on the way.
1:39 PM EDT on July 6, 2022
Last Wednesday afternoon, on day two of the outdoor pool season, I biked over to the Kosciuszko Pool in Bed-Stuy and found hundreds of kids and adults waiting on a long line in 85-degree heat. The pool was scheduled to reopen at 4 p.m. for the afternoon session, but staff said they couldn't open the doors until security arrived. When two NYPD officers finally showed up around 4:20, a supervisor announced that due to capacity restrictions, not everyone would get in.
Once inside, I saw only about 75 percent of the pool was open, and it was packed body-to-body. The deep end of the pool, where in summers past I and other adults would unofficially lap swim, was closed off. A lifeguard explained to me that only four lifeguards were working that day, and seven lifeguards were needed to safely open the entire pool.
"It's a bad experience so far," Shane, 17, who had graduated high school that Monday, told me on line. "It's pretty hot and I'm trying to get inside, but there's a lot of people in there and a lot of people out here. I'll give it maybe 30 more minutes, and if [the line] ain't moving, I'm going straight back to my bed, A/C on, ice cold room."
Going to a large, majestic public pool is a New York City summer rite and pastime, like free concerts in the park, outdoor movies, and beach days at Rockaway. Once school lets out, the City's 53 public pools open, offering free, chlorinated relief to heat-crazed New Yorkers until early September.
But this year, while the pools technically opened on June 28, sweet liquid salvation has never felt further away. Donning swim trunks and rolling up to your local watering hole is no longer the carefree summer activity it once was. Now, to do so feels like chaos: waiting on long lines in the heat; showing up to an unexpectedly shuttered pool; being denied entry due to capacity limits; making it in, but then realizing only a portion of the pool is open for swimming; being asked to leave once your timed session is up.
Hell Gate broke the story on the Parks Department's decision this summer to cancel all swim programs, including adult lap swim, senior swim, and Learn to Swim, "due to the national lifeguard shortage"—exacerbated by the fact that NYC lifeguards only earn $16/hour, as well as Eric Adams's failure to allocate one percent of the City budget to the Parks Department, contrary to his campaign promise. (As a recruitment effort for state-run beaches and pools, Governor Hochul increased wages to $20/hour for upstate lifeguards, and $22/hour for downstate.)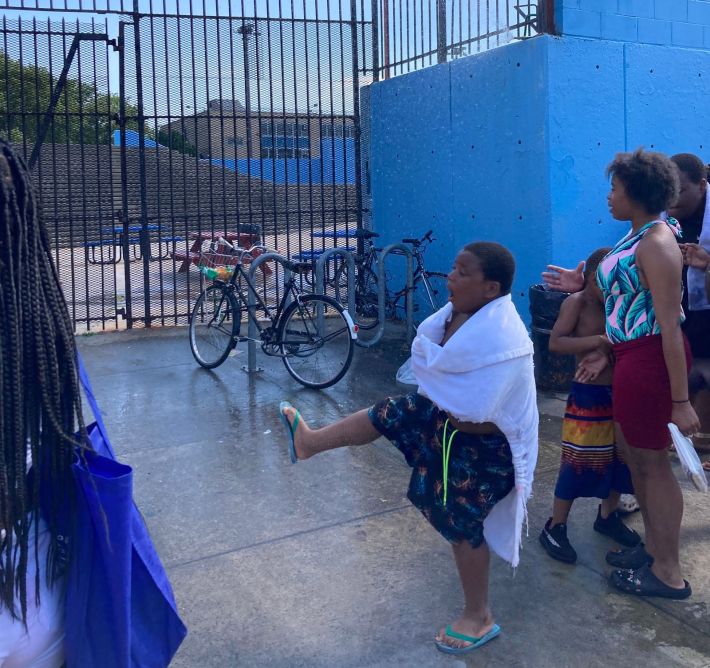 When I returned to try my luck on Thursday afternoon, I found the line was just as long; the temperature was approaching 90 degrees, and the cops were late again. Once they arrived around 4:15 p.m., a supervisor explained a new protocol to combat capacity issues—for the rest of the day until the pools closed at 7 p.m., entry would be split into two 1.5 hour sessions. They would let the first half of the line enter to swim for an hour and a half, then the remainder, and "that's it."
The line erupted in overheated panic. A pool employee from behind the fence turned on a sprinkler to spray onto the sidewalk to cool off the crowd. Two Marinos Italian Ices vendors, accurately reading the situation, set up alongside the line, umbrellas shading their carts. Some parents threw up their hands and left. One teen proposed to his friends, "Should we go to McCarren?"
Niya Burton said she and her four kids had already waited an hour and a half to get into the pool the day before, and didn't know if they could repeat the wait. Burton was particularly concerned about her 11-year-old son, who has special needs. "It's too hot. They know a lot of kids are coming to the pool, so they should be prepared," she said. "And I feel like they need more accommodations for kids who are special needs. I was just about to tell my kids, 'I know you don't want to but there's a park right there with the sprinklers,' because to stand in line for an hour and a half isn't fair to the kids. It's not cool."
Heading into the long holiday weekend, I found a full line by 10:30 a.m. on Friday waiting for the pools to open at 11 a.m. The cops arrived at 11:15. I spoke to Theresa Dylan, a photographer and bartender who said she's been coming to Kosciuszko Pool for ten years. Dylan prefers to swim laps, but this summer has had to make do with the far end of the pool closed off, so she gets to the pool as early as possible and then swims "as fast as I can." Beyond her personal frustration, she expressed concern for "all the kids who come out in full blown glory to swim—they need it."
"It's a real bummer, and a real fail on the mayor for cutting the [Parks] money because people live for this," said Dylan. "It's only two months of the year, it's so short. They should make that money available for people to be able to enjoy that. I'm furious at the mayor. I mean, I want de Blasio back, I can't believe I'm saying that."
This morning, the City announced a breakthrough with the lifeguard union, stating that it would "raise starting wages for lifeguards to $19.46 per hour," and would create a training program to fully staff the City's mini-pools, which are housed in parks around the city, in order to relieve some of the demand from the already-packed Olympic-sized pools. The City will now also pay a "retention bonus in September to guards who work every week through the end of the summer season." This is quite the change from Mayor Adams's earlier stance, which was that lifeguards should do the work for low pay "because of the love of the swimming, they do it because of the love of protecting people." Apparently, they also do it for money, and City Hall has seen the light. For an overheated city, relief can't come soon enough.
Kate Mooney has written for Vox, MEL Magazine, The New York Times, GQ and more. Loves seafood and Miller High Life. Born and raised in New Orleans, she now dodges rats in Brooklyn with her dog Phoebe.
Stay in touch
Sign up for our free newsletter