The Cops
NYPD's Stonewalling Attorney Called Out for Lying and Forging Emails
The senior City attorney, who was fired Friday, had been fighting the civil rights lawsuits filed after the 2020 protests.
11:59 AM EDT on May 2, 2022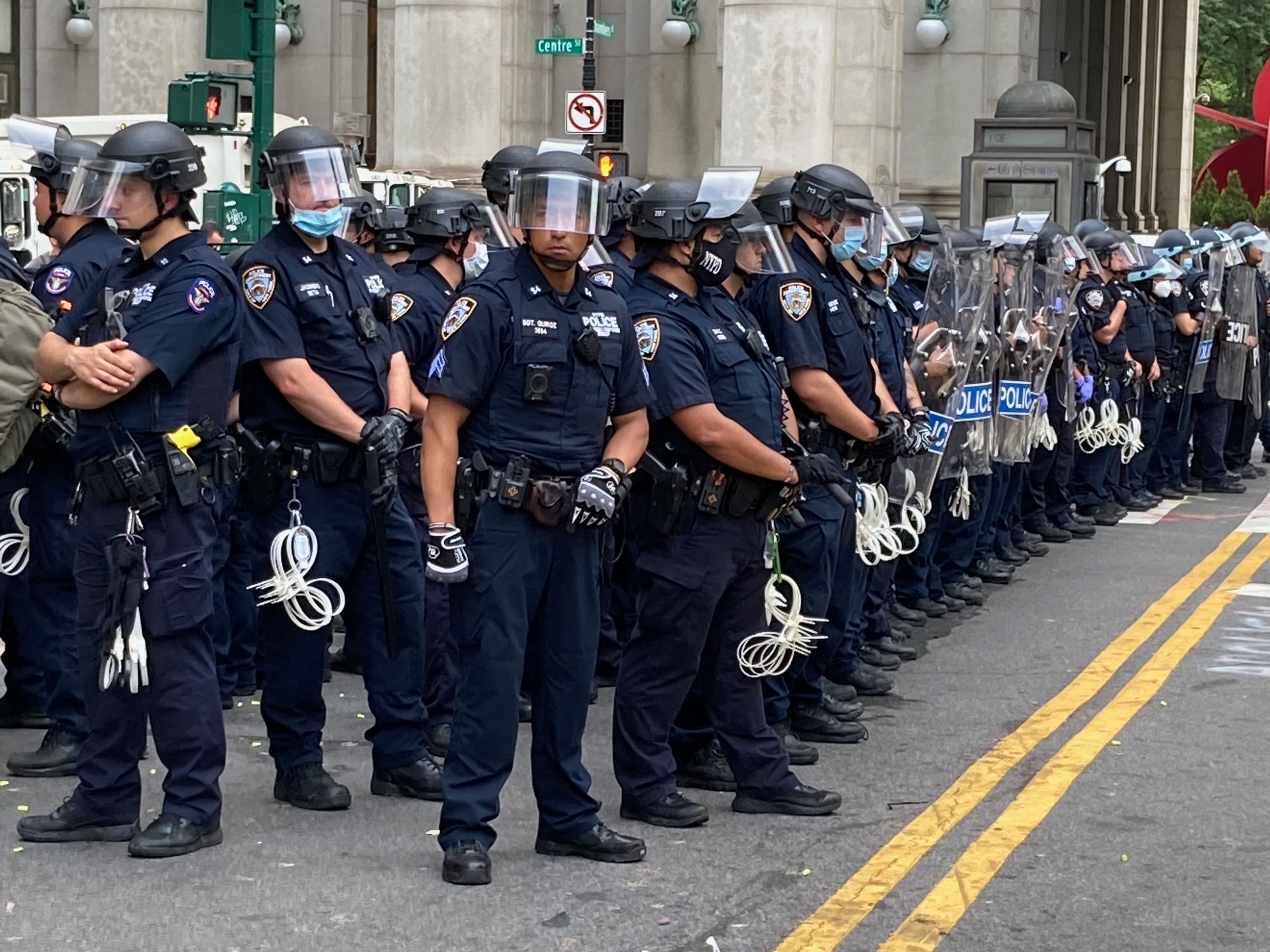 Delay and obstruction have been the primary weapons that the NYPD's taxpayer-funded attorneys have used to fight the package of civil rights lawsuits filed in the aftermath of the 2020 protests against racist police violence. City lawyers have blown deadlines to turn over evidence, and even resisted efforts to make them specify what they will ever turn over.
The City's approach has largely been successful to date, but the court's tolerance is now being freshly tested: Last week, in an effort to avoid sanctions for failing to turn over evidence, Dara Weiss, the NYPD's lead lawyer in the cases, was found to have lied to the federal judge and to have forged multiple documents, mocking up fake copies of an email that she had claimed to send, but never had.
Weiss, an 18-year veteran of the New York City Law Department, which represents the City of New York and its agencies in lawsuits, was fired on Friday, according to court documents.
While Weiss's deception has cost her her job and may yet result in other professional consequences, it is hardly the first time she has been penalized by a court for misconduct related to failing to turn over evidence.
Weiss had already been sanctioned five times in recent months over the police department's failure to turn over evidence the people suing the police need to prepare their cases—a consolidated raft of lawsuits against the NYPD brought by protesters, legal observers, and the New York Attorney General over the policing of the George Floyd protests two years ago.
Some of those sanctions arose from the very same discovery misconduct that was being argued over when Weiss forged the emails: information about what, if anything, the NYPD did in response to the extraordinarily racist tweets and emails of Ed Mullins, the former head of the Sergeants Benevolent Association.
After Weiss and the NYPD had repeatedly failed to turn anything over, Judge Gabriel Gorenstein ordered them to do so by March 3. That deadline came and went with no production.
Gorenstein was irritated: "Any idea why you violated my order?" he asked Weiss and her team at a hearing shortly thereafter.
The judge gave the NYPD and its lawyers a new deadline of March 8. On that day, they produced an incomplete package of materials that was missing obvious documents. On March 21, Gorenstein sanctioned the NYPD and its lawyers for missing his March 3 deadline, and ordered them to meet and confer with the plaintiffs on what they still needed to turn over. Rob Rickner, a lawyer representing people caught in the NYPD's infamous Mott Haven kettle, repeatedly tried to set up this meeting, but Weiss never responded.
It was when Rickner complained to the court that the NYPD's lawyers were once again ignoring the judge's orders that Weiss falsely claimed she had in fact responded to Rickner's emails.
In a letter to Judge Gorenstein sent April 26, Weiss told the court that Rickner had made a false statement when he told the court that she hadn't even responded to his email seeking to meet and confer on an outstanding piece of discovery. In fact, she had responded, she told the judge.
This perplexed the dozens of plaintiffs' lawyers Weiss was claiming to have sent an email to—none of them had received it. That day, Rickner pressed Weiss in emails for evidence that she had indeed offered to meet. On the morning of the next day, April 27, she responded by sending them a PDF file she claimed was a copy of the email. Presumably confused why Weiss would send a PDF as proof she had sent an email, plaintiffs' lawyers wrote back, asking her to "forward the actual email, as an attachment, so it has the metadata intact."
Weiss wrote back that afternoon, this time including what she claimed was the text of the email, though not as an attachment with original metadata. But there were peculiar discrepancies between that email text and the PDF that Weiss said she had generated from the email, according to a letter Rickner later wrote to the court. For one thing, an email address was misspelled in the PDF, but appeared correctly in the second email.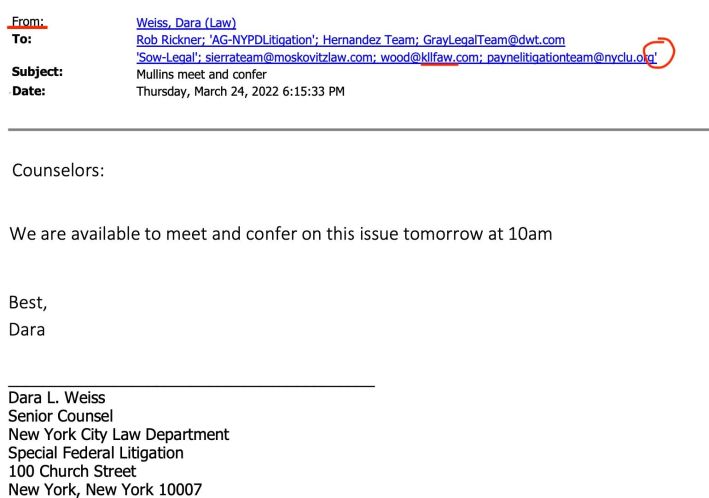 Rickner sent the documents to a forensic expert in electronically stored information for examination, and wrote back to Weiss, asking yet again for a copy of the original email. The morning of April 28, Rickner wrote Weiss again, telling her he'd identified discrepancies in what she'd sent him, informing her he'd hired a forensic expert to examine them, and asking a third time for the original email.
Weiss wrote back within minutes: "While attempting to send the email to you as an attachment, I came to realize that the email was never actually sent, which explains why no counsel never received it. I apologize for this error, and am writing to the Court to advise Judge Gorenstein of my misstatement." Weiss never followed through on this pledge.
Meanwhile, Rickner's forensic expert, Wolfgang Wilke, had composed his report, concluding that "it is highly unlikely that the PDF was printed from a native email" and that "if the email was in the drafts folder, it would have been apparent that it was not actually sent." In short, Rickner wrote, paraphrasing Wilke's conclusions for the court, "Saying the email had been sent, when it had not been, was almost certainly not an accident."
If the analysis was correct, Weiss had not only lied to a federal judge, all while accusing her opponent of having done so himself, she had also then forged multiple documents in an attempt to disguise her deception.
When Rickner wrote to Weiss's superior at the Law Department, summarizing his findings, he didn't receive a response. Instead, on Thursday afternoon, Patricia Miller, the head of the Law Department's Special Federal Litigation Division and Weiss's boss, made a highly irregular request—she asked for a one-on-one meeting with Judge Gorenstein to discuss the matter, without any of the other parties present.
After the judge said he was unlikely to allow that, Miller wrote a letter to him, which Gorenstein then directed her to publish on the public case docket. In the letter, Miller conceded that Weiss's original claim that she had offered to meet with plaintiffs' lawyers on the discovery issue was in fact not true, and that "it has now become clear that additional misrepresentations were made by the attorney involved in those communications."
"This Office takes this matter very seriously and does not tolerate such conduct under any circumstances," Miller wrote. "As a result, this attorney's employment has been terminated. We sincerely apologize to the Court and all the parties for the inconvenience this has caused."
Rickner and other lawyers working on the consolidated protest lawsuits declined to comment for this story. Weiss did not respond to efforts to reach her by cell phone, email, and LinkedIn messages.
Weiss has spent much of her 18-year career at the Law Department steeped in police misconduct litigation, overseeing a team of eight attorneys in the Special Federal Litigation Division. According to her LinkedIn page, she led the defense of the NYPD in more than 80 civil rights cases, taking a leading role in defending the NYPD in the numerous lawsuits arising from its violent suppression of the Occupy Wall Street movement. Weiss also wrote that she "work[ed] closely with NYPD leadership in both developing defense strategies and advising them on the Constitutionality of new and existing public safety policies and procedures."
Weiss's track record of sanctions for discovery obstruction isn't limited to protest cases. She was also sanctioned and fined by a court for withholding documents in a lawsuit brought against the City by a man beaten while detained on Rikers Island.
Civil rights attorneys with experience suing over police misconduct say that, far from being an aberration, delay and obstruction in the discovery process are a keystone of the Law Department's approach to defending claims against the police. While attorneys for the City may sometimes have to fall on their swords and accept sanctions for the failure of their clients in the NYPD to turn over documents, the strategy is effective enough in the aggregate—and the willingness of judges to impose meaningfully deterrent consequences is sufficiently lacking—that it continues to be a favored practice.
The dozens of lawyers representing plaintiffs in the Floyd protest cases are better resourced to fight the tactic than a lone attorney representing a single plaintiff in a police misconduct case. Rather than being worn down by the NYPD's foot-dragging and obstruction, they have adopted a strategy of calling out the recalcitrance at every opportunity. Gorenstein was at first reluctant to impose sanctions, but as the complaints multiplied, he repeatedly pressed Weiss for explanations, and has in recent months begun to issue sanctions.
Still, as the plaintiffs' lawyers contend in the sanctions motions they continue to file over ongoing discovery problems, the judge's actions so far have failed to change the Law Department's approach to the case.
A spokesperson for the Law Department declined to answer questions about Weiss's conduct, its approach to civil rights litigation, or whether it will be reexamining other cases Weiss has worked on.
"We hold our employees to the highest ethical standards and are very disappointed by this individual's lapse in judgment, which is not representative of the excellent work of our dedicated and professional staff," a spokesperson wrote to Hell Gate in a statement. "We promptly informed the court of the issue and terminated this individual's employment with the Law Department. We do not tolerate this behavior under any circumstances. We are taking this matter very seriously and will ensure that the incident has no impact on any ongoing litigation."

Nick Pinto served two tours as staff writer at the Village Voice. His reporting has appeared in The New York Times Magazine, Gothamist, The New Republic, Rolling Stone, The Intercept, and elsewhere.
Stay in touch
Sign up for our free newsletter