The Cops
Why Is 'NYPD Leadership' Partying With a Far Right-Affiliated Real Estate Firm Tonight?
They'll be at a cocktail party hosted by the real estate firm Exodus Capital, which recently hired Gavin Wax, the president of the New York Young Republican Club.
12:33 PM EDT on May 24, 2023
This evening, at a townhouse in the East 30s, a "real estate landlord cocktail reception" will take place to benefit the New York Police Foundation, according to an invitation viewed by Hell Gate.
The event, the invitation promises, will offer "an opportunity to learn about the NYPD's public safety programs," and to "meet and greet members of the NYPD leadership."
This is not in itself remarkable. Real estate interests in particular, their fortunes tied to rising property values and the urban dynamics that produce them, have always had a special interest in the New York Police Foundation, which was formed in 1971 by business leaders looking for a way to sluice private money into NYPD operations, and which continues to function as a somewhat secretive piggy bank for the NYPD, covering costs and buying equipment above and beyond what the department is allocated in the publicly accountable City budget. The foundation's board today is stocked with members of some of the biggest New York real estate dynasties.
But tonight's reception isn't being hosted by titans of real estate. It's being put on by Exodus Capital, a little-known, six-person team of baby-faced realtors that's only a year old and boasts on its website that it has sold "30+" properties.
Why is a small company of young real estate brokers hosting a soiree to raise money for the NYPD? The firm won't answer our emails, so we can't say for sure. One of the six members of the company's team, Andrew Eden, is a former NYPD officer. But Eden isn't the most notable employee of Exodus Capital. That honor belongs to Gavin Wax.
Wax isn't well known in real estate circles, but he's a highly visible figure of New York City's far right. His ascendance as president of the New York Young Republican Club in 2019 sparked a stark reorientation of the group, away from the usual listless assemblage of junior, partisan try-hards to something with a harder edge.
Wax's political exploits are well documented. He opposes all immigration, has called for the deportation of Minnesota Congressmember Ilhan Omar, calls the movement for Black lives a "Marxist anti-white movement hellbent on destroying civil society," and tweets things like "Joseph McCarthy was right." Wax's publication, the Schpiel, responded to a Shaun King tweet about antifascists with the message, "You will swing at the gallows right beside them."
At a gala held by the NYYRC in December, attended by the likes of PizzaGate promoter Jack Posobiec and the publishers of the white nationalist website VDare, Wax declared, "We want total war. We must be prepared to do battle in every arena. In the media. In the courtroom. At the ballot box. And in the streets."
Wax was also associated with the faction of the Metropolitan Republican Club that invited Proud Boys founder Gavin McInnes to speak in 2018. Two Proud Boys were sentenced to five-year prison terms for their part in the street brawl that ensued against antifascists opposed to McInnes's appearance. 
Wax has said he's never been associated with the Proud Boys, though he shares some of their preoccupations, including appreciation of McInnes, concern about the perils of ethnomasochism, and the celebration of triumphant European force over colonized people. Responding to the street fights that led to the prison sentences for the Proud Boys, Wax wrote an article entitled "We Are All Proud Boys Now."
And Wax has exhibited a particular fondness for the Hungarian strongman Viktor Orbán, who has paired anti-immigrant and ethnic purity rhetoric with crackdowns on press freedoms and LGBTQ and women's rights. This spring, Wax traveled to Budapest to praise Orbán at a right-wing political convention. The American right "must move forward with a coherent governing philosophy," Wax told attendees. "And that ideology is on full display every day under the Orbán government." Mainline American conservatism is dead, Wax said, having proved all too willing to "instill some radical and degenerate transgender drag queen filth as our new national religion, elevating it far above the Christian virtues that made our nation great." The American right wing should, like Orbán, embrace the use of state power, Wax said, because "we must use every tool available to dispatch our anti-American opposition."
Wax did not immediately respond to a phone call and an email seeking comment.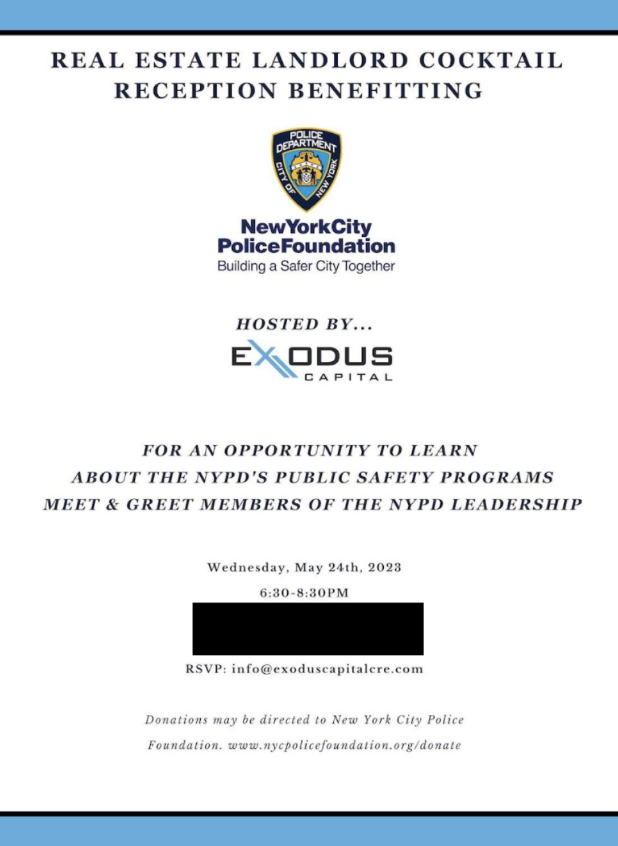 Why did Exodus hire Wax? Presumably not for his experience in real estate, of which he had little to none. It might have something to do with the fact that one of the founding partners of Exodus, Haley Hasho, is a member of the New York Young Republicans Club and sits on its social committee with Wax, according to the club's website. ("I'm new to commercial real estate. I first got introduced to it by a good friend of mine, Haley," Wax says in a promotional Instagram video.)
Is Hasho doing Wax a favor? Is Wax a rainmaker, bringing in clients from among New York's election skeptics and admirers of Hungarian authoritarianism? "We've embraced controversy as a good marketing tool," Wax has said of his time at the NYYRC. Maybe Exodus is too?
The bigger question, perhaps, is why the New York Police Foundation and NYPD leadership are rubbing shoulders with Wax. Which members of NYPD leadership will be in attendance tonight? Hell Gate asked both the foundation and the police department what's going on here. Neither responded to multiple requests for comment.
At least one person who received an invitation to Wednesday evening's event was taken aback. 
"What's surprising about this event isn't that the real estate industry is hobnobbing with the NYPD, it's that this upstart brokerage firm is the one hosting it," said the invitee, who requested anonymity because they didn't want to anger Wax and his associates. "Whether Gavin Wax made that happen or not, the fact that both Exodus Capital and the NYPD are comfortable being associated with this fascist suggests that Trumpism endures in some powerful corners of our city."
Wax has clearly heard this sort of thing before. "If defending Western civilization and Judeo-Christian beliefs and our national sovereignty means we no longer get invited to cocktail parties," he said in a 2019 speech, "then so be it."
Fortunately for Wax, it appears that as far as the NYPD and the New York Police Foundation are concerned, he doesn't have to give up cocktail parties after all.
Nick Pinto served two tours as staff writer at the Village Voice. His reporting has appeared in The New York Times Magazine, Gothamist, The New Republic, Rolling Stone, The Intercept, and elsewhere.
Chris is an editor at Hell Gate. He spent nearly a decade working for Gothamist, and his work appears in New York Magazine and Streetsblog NYC.
Stay in touch
Sign up for our free newsletter