Locked Up
NYPD is Illegally Sending People to Rikers Without Ever Seeing a Judge, Lawsuit Claims
"Nothing short of an extrajudicial campaign of terror and kidnapping."
11:07 AM EDT on October 4, 2022
The New York City Police Department and the Department of Correction have been unlawfully taking New Yorkers straight from their arrest to detention on Rikers Island, without bringing them to court as required by state law, according to a new lawsuit. 
The suit, which is being brought by four people held on Rikers without access to a court hearing, characterizes the practice as "utterly lawless" and "nothing short of an extrajudicial campaign of terror and kidnapping." 
In July of 2020, Paul Phillips was driving outside of Albany when police pulled him over for a traffic infraction. When the officer ran Phillips's drivers license, his name came back with an open bench warrant—an open bench warrant from more than 30 years ago. The likelihood of a decades-old bench warrant still being open and unresolved is something close to zero, and indeed, Phillips's bench warrant had long since been closed, as police would have learned if they had taken Phillips before a judge, where the paperwork would be scrutinized. But police didn't take him before a judge, according to the complaint. The state police handed him to the NYPD's Bronx warrant division, which informed him that he'd been brought in by mistake and shouldn't be there. 
The NYPD could, at this point, have simply released Phillips. Alternatively, they could have promptly delivered him to a judge, who would have confirmed the bench warrant was long resolved, and released him. That didn't happen. Instead, the NYPD dropped Phillips off at Rikers Island. Staff refused to allow Phillips to take his prescribed medication for bipolar disorder, opioid addiction, and PTSD, according to the complaint, triggering opioid withdrawal, bipolar episodes, pain, panic, and anxiety.
Three days into Phillips's detention, a Legal Aid Society attorney who had been contacted by Phillips's desperate fiancée called the Rikers jail where he was being held and asked what was going on. According to the complaint, the answer came back: The Department of Correction couldn't release Phillips because the way someone is released from custody is as a result of a court hearing, but Phillips didn't have any future court dates. Eventually, on the fourth day of his detention, Phillips was finally released, according to the complaint, with no paperwork memorializing what had happened to him or why.
Wright's co-plaintiffs in the suit were all also detained on the belief that they had an open bench warrant. A judge generally issues a bench warrant when someone misses a court date, or if they haven't completed court-ordered community service. Unlike ordinary warrants, which lead to an arraignment, and, theoretically, a trial, bench warrants exist solely to get a person back in front of a judge. Once they have returned to court, the bench warrant is cleared.
State law says police, upon making an arrest on a bench warrant, "must without unnecessary delay bring the defendant before the court in which it is returnable." Only if court is unavailable may police bring a defendant straight to jail, and even then they must bring them back to court as soon as it opens. In New York City, night courts run into the wee hours of the morning, and no one brought to central booking should have to wait more than a few hours before being brought before a judge. 
Nevertheless, the NYPD Patrol Guide tells police that they can take people held on bench warrants straight to Rikers "after 1700 hours on weekdays and on weekends," even though courts and judges are available during that time, a policy that the lawyers bringing the lawsuit say is clearly illegal. The NYPD and the New York City Law Department declined to comment for this story.
Other named plaintiffs in the case have their own disturbing stories. 
Khaori Wright was in a car that was stopped by NYPD officers in May of 2020. When the police ran his name, they found a warrant attached to his name. Wright knew that he'd previously cleared that warrant, and it wasn't valid anymore. He told this to the officers, but they took him into custody anyway. They brought him first to Central Booking in Brooklyn, and then, without ever presenting him to a judge, drove him straight to the Vernon C. Bain Center, New York City's notorious jail barge floating in the East River. 
This was doubly inappropriate, Wright's complaint says, because the underlying charge he'd been facing in connection with the old bench warrant wasn't even bail eligible. Not only were police taking him to jail instead of to see a judge, they were doing so ostensibly for a case for which he couldn't be sent to jail pre-trial anyway. 
Nevertheless, Wright found himself on the Boat, locked up in its intake center, a group-cage where people are supposed to stay for a day at most while they're processed. Wright was there in the cage for seven days before he was eventually moved, sleeping on the floor, without reliable access to a toilet, sometimes locked in a shower stall.
Wright had a preexisting injury when the police took him into custody, and his jaw had been wired shut, so he couldn't eat solid food. On the Boat, he asked for something soft, but guards refused to give him anything he could eat, according to his complaint, and made fun of him, offering him soggy, moldy food.
All told it took 17 days for Wright's family to figure out what had happened to him and where he was, to reach his lawyer, and for his lawyer to get a judge to order his release. By the time he stepped off the Boat, Wright says in his complaint, he had lost 20 pounds and was profoundly traumatized, constantly afraid that he might again be plucked out of his life and locked up on the same bad warrant.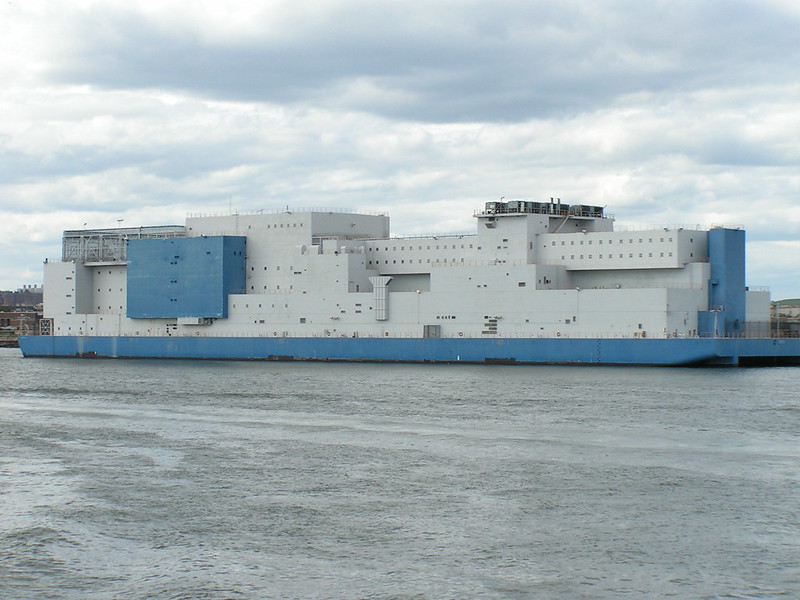 In November of 2019, Kylasyia Thompson was picked up by bounty hunters working for a bail bondsman, who said they were taking her into custody on a bench warrant. They drove her to the entrance to Rikers Island, according to her complaint, where police officers met them and instructed them to drive her across the causeway and turn her over to the Department of Correction.
DOC officials told her she shouldn't be there, and that without a future court date there was no mechanism for them to get her to court to secure her release, according to the complaint, but they put her in a cell anyway, where she remained for five days before she was ultimately able to see a judge. 
How many other people have been sent into New York City jails on bench warrants that may or may not still be valid, without so much as seeing a judge, isn't known to the lawyers bringing the suit. They're not even sure the City knows, given that, without a future court date, such people become a kind of ghost detainee, especially difficult to track through the system. But they do believe that it isn't a handful of unfortunate coincidences. New York City is sending people to Rikers without seeing a judge, in violation of state law, as a matter of policy, they maintain in their lawsuit, which is why they are seeking certification as a class action to represent others in similar situations.
For one thing, the City has been on notice that this is happening. In December of 2020, public defenders at the Legal Aid Society of New York wrote a letter to senior judges and to the Correction Department, alerting them to "numerous incidents" in which people were locked up on bench warrants without access to courts or a lawyer. Among those copied on the letter was the senior counsel for the Mayor's Office of Criminal Justice, which set up a phone call with Legal Aid and promised to "make sure there are better processes in place."
Those efforts have been unsuccessful, Arielle Reid of the Legal Aid Society's Decarceration Project told Hell Gate. "We are continuing to see it happen," Reid said.
The stories of the named plaintiffs illustrate some of the very practical issues arising from this practice, according to Remy Green and M.K. Kaishian, two of the attorneys working on the case: If someone is brought straight to jail, there is no opportunity to sort out whether the records showing an open bench warrant are even correct, opening the door to people being held in a deadly and dangerous jail because of an administrative mistake. Without coming through a courtroom, someone taken to Rikers won't have been in contact with a lawyer, either, so they won't have anyone advocating for them. Indeed, neither their lawyer nor their family may even know where they are or what has happened to them. If a case isn't dismissed outright and the defendant released on the spot, appearing before a judge will at least result in the setting of a next court date, a time when the Department of Correction must present them to fight their case. Taken to jail without seeing a judge, defendants have no future court date, and therefore no easy mechanism to ever get off of Rikers Island.
Beyond these practical consequences, there is also a fundamental principle at stake,​​ says Green. "The difference between a society that has meaningful constitutional rights, and one that has paper promises that the regime ignores, between a liberal democracy and a fascist state, is that the police of the state cannot just throw people away and call it a paperwork problem," Green said. "There really is no greater or more important right than the right to continue living at liberty, without the state interfering."
Nick Pinto served two tours as staff writer at the Village Voice. His reporting has appeared in The New York Times Magazine, Gothamist, The New Republic, Rolling Stone, The Intercept, and elsewhere.
Stay in touch
Sign up for our free newsletter