$20 Dinner
NYC's Hottest Club Is This Bonkers Hong Kong-Style Diner on Doyers Street
Don't let the grumps tell you differently: Mabu Cafe is fun.
12:29 PM EDT on May 18, 2023
Cecilia Huang, the manager here at Toronto import Mabu Cafe, said she was stunned by the long lines that appeared on Doyers Street a few weeks ago when this Hong Kong-style cha chaan teng, or casual "tea restaurant," first opened in the subterranean space that used to be Sanuria.
"We didn't do any type of advertising yet," Huang told Hell Gate. "This is a soft opening, and we were so surprised that so many people showed up that we got caught short-handed. We have a second floor [at street level] that we haven't even used yet because the kitchen and team want to make the food really good, instead of just making more money."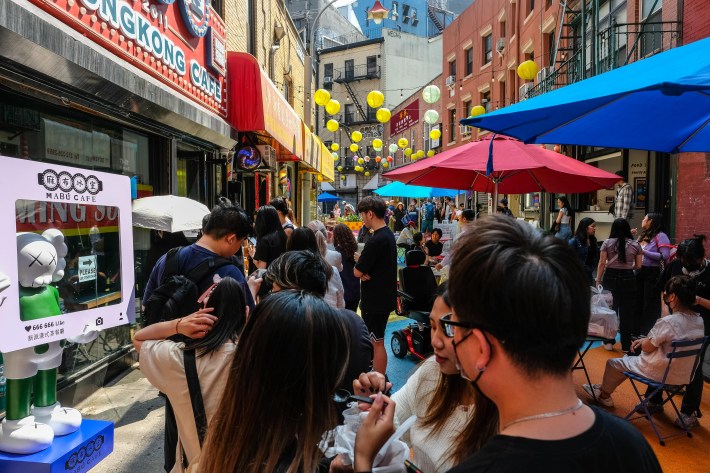 A good plan! Especially since the literally, physically massive menu at Mabu Cafe is packed with dishes that not only feature three or four things all piled on top of each other, but everything is also assembled to look as cute as possible.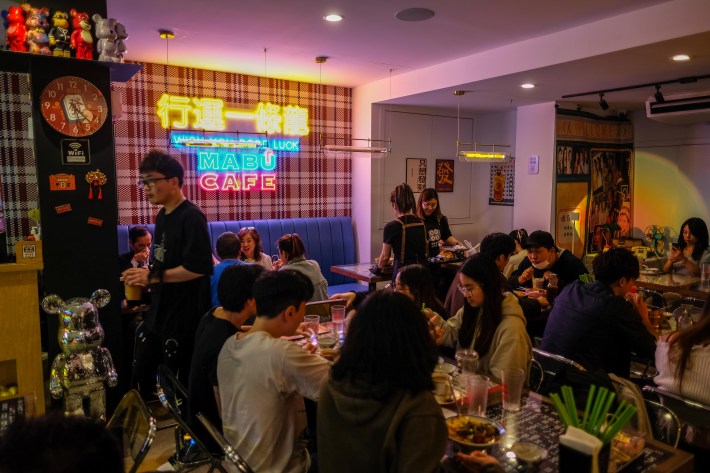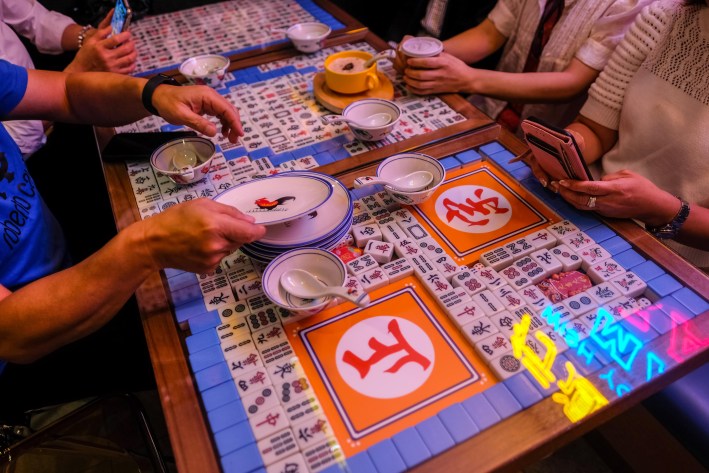 It's a high-wire act for sure, but for the most part, they pull it off. This place serves some first-rate stoner food, usually involving some sort of gimmickry, in a room that leaves no opportunity for sensory overload left unexplored. If you're not cracking a smile throughout your meal here, I don't know what to tell you. Live a little!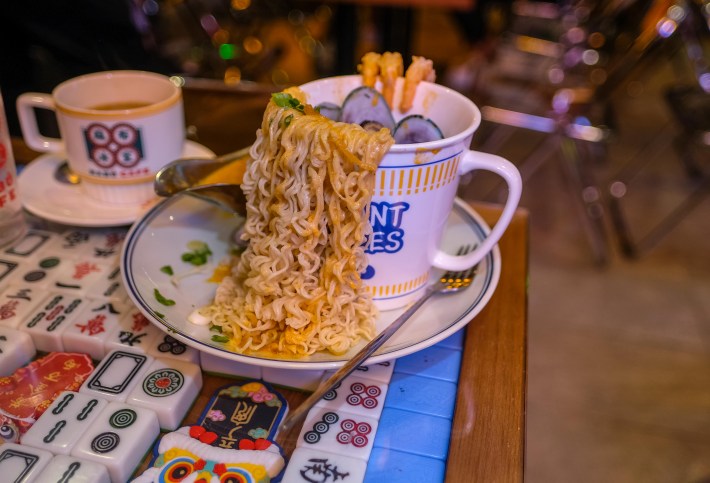 My favorite dish, and I tried a lot of them, was probably the seafood instant noodle soup, which arrived cascading, in frozen, gravity-defying fashion, from its faux Cup Noodles container. The mussels lurking within were plump and tender, and the shrimps hanging from the side had a nice snap to them.
My friendly server told me to dump everything out on the plate and pour on the orange tom yung goong sauce, which she warned me was spicy but really was only moderately so. It basically ate like a mountain of chewy, gloppy pasta, and it made me happy. It's a silly dish for sure, but you could tell that someone was paying attention in the kitchen. And there are, like, ten other variations of this dish too, the noodles laden with items like pork cracklings, satay beef, or cuttlefish balls.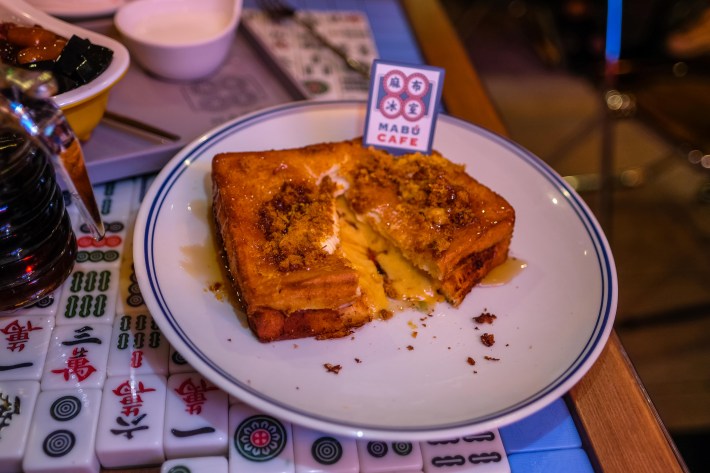 There's a lengthy Hong Kong-style French toast / pineapple bun section of the menu, everything under ten bucks and stuffed with stuff like "assorted meat" or vanilla ice cream or molten salted egg yolk strewn with pork floss. This latter sandwich was terrific, all oozy and seductive with big flavors.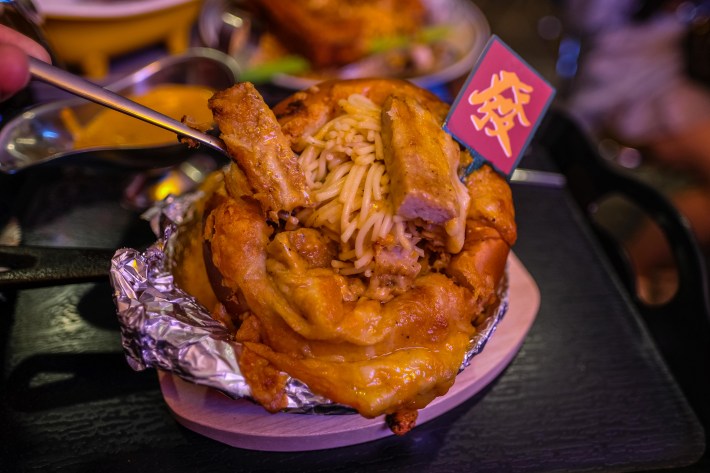 Want more carbs? There are a half-dozen different cheese baked bread bowls available. I ordered mine loaded with spaghetti and an entire pork cutlet, hacked into bite-sized pieces, which turned out to be a little overwhelming, actually, but again, I was impressed with how much care they put into each individual component.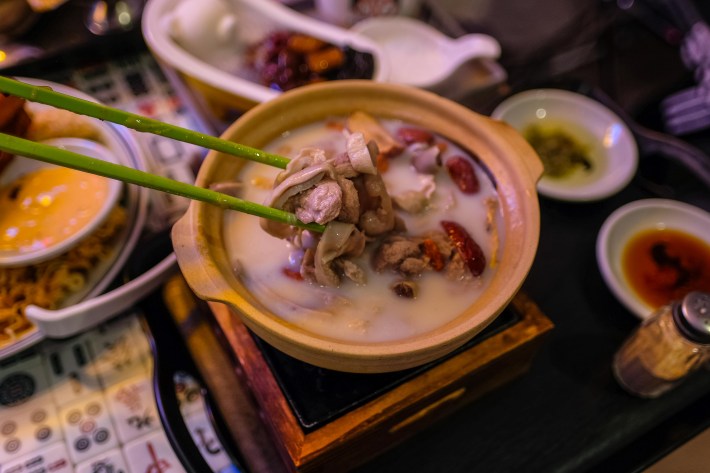 Mini hot pots are such a good idea that I'm surprised more places don't have them, though at Mabu Cafe, since all of the ingredients (a bunch of good, funky hog maw; some bright red jujube, or Chinese dates) are already burbling away in the broth when it gets to your table, it's more like a big bowl of soup sitting on a pedestal of live flames. A little dicey to have perched at the edge of your overcrowded table to be honest, but we all made it through the meal without catching fire.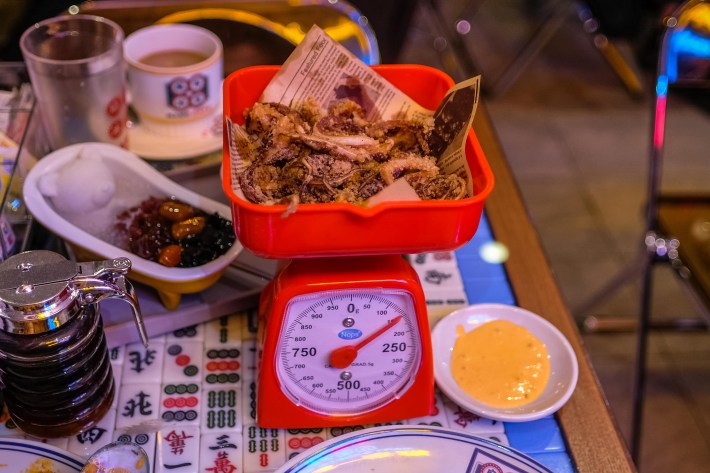 Did you think we were done? We are not done. The snacks section features rice rolls; cheese fries; and many deep fried things, including milk custard, chicken wings, and squid tentacles, served somewhat charmingly on a plastic toy of a scale. Handle these latter guys with care! The top tray part is not attached to the bottom scale part, and if you just start grabbing it haphazardly, you, like me, may end up with a lapful of cephalopod.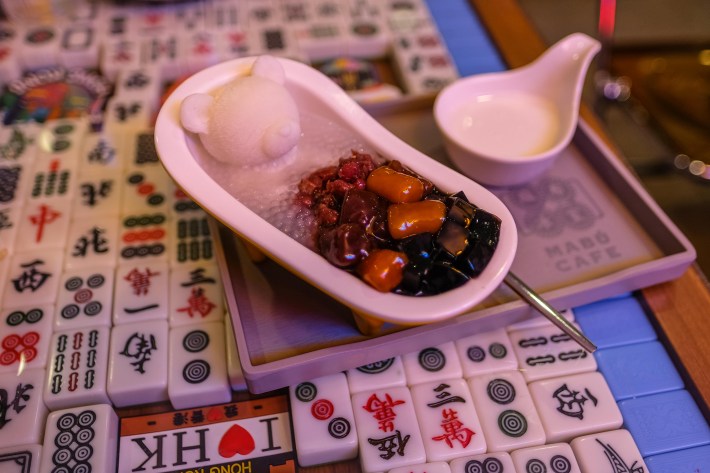 And before any of the above was eaten, dessert was served, an adorable ice bear (as in, a little teddy bear made out of ice) soaking in a bathtub of coconut milk and various jellies. A delicious and refreshing way to start a meal. There's so much more here, too, but I'll let you discover the rest.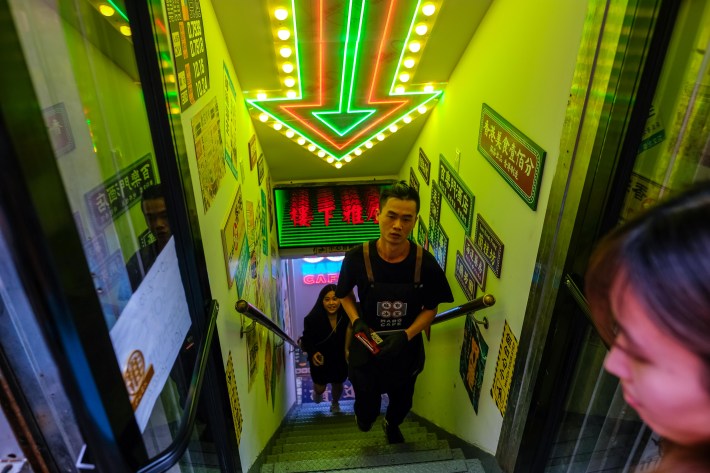 The basement dining room (and the stairwell down to the basement dining room) is a riot of neon, random toys, advertisements, murals, posters, newspaper clippings, and accessories by brands and artists with vibes similar to Supreme and Bear Brick and Kaws. The tables are covered in mahjong tiles under glass. The bathroom is behind a refrigerator door labeled SMEG. "The theme is like if you go to Hong Kong, this is what it was like there in the '90s," said Huang. "My husband is from Hong Kong, and he said this looks exactly like the old times."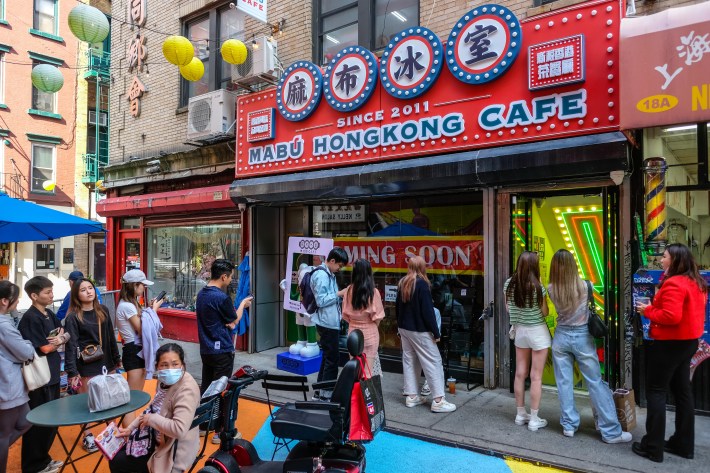 Mabu Cafe is located at 18 Doyers Street, close to Pell Street, and is currently open from 10:00 a.m. to 6:00 p.m. daily, with dinner hours coming soon. I waited over an hour for a table starting at 2:30 in the afternoon on a weekday.  
Scott Lynch is a freelance food writer, photojournalist, and preschool receptionist. He loves New York City.
Stay in touch
Sign up for our free newsletter