Paying Rent
'My Water Smells and Tastes Like Poop': Tenants of NYCHA's Riis Houses Reveal Ongoing Squalid Conditions
Riis residents have been living with discolored water, leaks, gas outages, mold, and vermin for months.
6:00 AM EST on December 11, 2022
Maribel Soto and many other residents of the Jacob Riis Houses were not shocked when the New York City Housing Authority announced that arsenic had been detected in their drinking water. 
The Lower East Side tenants have been buying bottled water for years because they are afraid of what comes out of their taps.
"I've been calling and complaining for five years," Soto said. "Every time I open the water it smells like sewage."
She said she's long spent about $37 every two months on jugs of water for a cooler. 
Soto, 55, a former Parks Department worker who suffered a debilitating stroke in 2008, lives with her 30-year-old son and her 10-year-old granddaughter in a second-floor apartment overlooking the FDR Drive. They use the cooler and bottled water for everything from brushing teeth to doing the dishes. Like many of their neighbors, they only use the apartment's water for cooking and bathing.
"All I want is some clean water in my taps," Soto said, adding, "I also want gas for my stove. The whole building hasn't had gas for six months."
In September, public housing officials said that every Riis household was entitled to $200 as compensation for the cost of bottled water and pre-made meals during the week residents were told not to use the tap water. The initial September 2 warning, first reported by THE CITY, was based on a botched test by a private lab, officials said a week later.
Shortly after the announcement about compensation, a NYCHA representative knocked on Soto's door asking her to sign a receipt in exchange for the money. She rejected the offer, which she called "blood money." According to NYCHA, Soto is one of 200 residents who have refused the money, while 1,500 others have accepted it. 
"Two hundred dollars? For what?" Soto said, recalling her response to what she considered an amount that was too little and too late. "Are you crazy?"
For Riis residents who have been living with discolored water, leaks, gas outages, mold, and roach and rodent infestations for months—and sometimes years—the arsenic fiasco was all too familiar. 
"I am constantly having nervous breakdowns," Soto said as she sifted through the pages of receipts and court documentation about her apartment's problems that she has amassed over the years. "It bothers me, because I don't know what four or five years from now will happen to my kids and my family and my grandchildren."
NYCHA representatives are still calling Soto to encourage her to accept the payment. She remains steadfast in refusing. She and other tenants said they've had to spend much more than $200 to buy water over the years—or pay for takeout when cooking gas service gets cut off.
Residents interviewed for this story received responses to some ongoing, unanswered complaints only after this reporter made inquiries to NYCHA.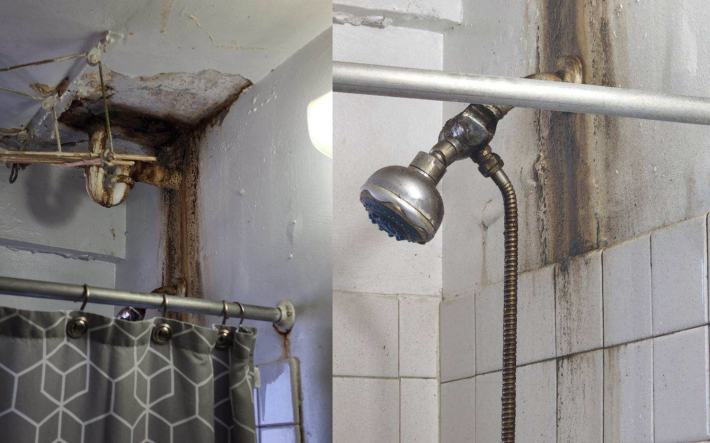 At City Council hearings about the arsenic scare in late September, NYCHA officials said the authority's call center had received 93 complaints about cloudy or brown water at Riis, beginning in May. That was an incomplete answer to what the council was asking for: data on water complaints going back to January 2017. 
Soto is one of ten Riis residents who have taken NYCHA to housing court since May, when NYCHA said the complaints that prompted the testing of the water began. Half of those court cases describe leaks, mold, pipe damage, and the erosion of walls and floors from flooding.
As a measure of last resort, public housing tenants can seek to legally compel NYCHA to address issues that have gone unresolved after appeals to local management. At the Riis Houses, local management has received an average of more than 7,500 work orders from its nearly 3,800 tenants every month in 2022. 
In the past six months, tenants from 102 of the 335 NYCHA complexes across the city have filed civil complaints against NYCHA to obtain repairs. According to New York City's electronic court database, only two public developments have more civil cases than the Riis Houses, NYCHA's eighteenth largest complex.
The nine cases filed electronically in NYCHA housing court against Riis since May 2022 appear to be more than is typical for a development of Riis's size, according to attorney Justin La Mort, who frequently represents NYCHA tenants on behalf of the nonprofit Mobilization for Justice legal services group. 
"The vast majority of people don't make HP action cases," La Mort said, referring to the NYCHA housing court. "They just stop paying rent until they are sued by NYCHA. Or they just live in those conditions."
NYCHA's historic shortcomings have continued under a federal monitor.
"NYCHA is as unresponsive as they always are," said State Assemblymember Harvey Epstein, a Democrat who represents the district that includes the Riis Houses. "We've had problems with them for decades. It's not like their failure to do repairs just happened since the pandemic or since we had the recent problem at Riis. It hasn't gotten worse or better, it is just continuing to be really bad."
Soto has had ongoing conversations with Councilmember Carolina Rivera, whose district includes the Riis Houses. Rivera said that NYCHA needs to step up—as it has long promised—on answering tenants' pleas for repairs.

"They put in ticket after ticket and nothing happens, or someone will show up to the apartment, maybe take a couple pictures, and there are no repairs to follow," the councilmember said at a City Hall rally last month. "So it is really smoke and mirrors."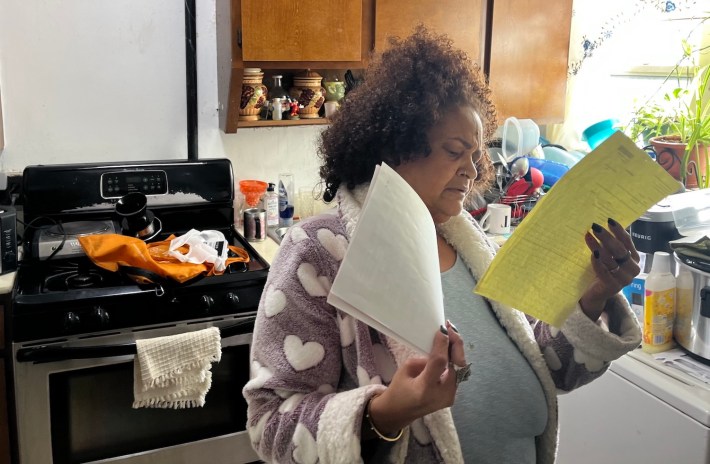 In addition to the putrid smell and lack of gas, Soto is also hoping to finally fix the flooding in her bedroom that she said occurs when it rains. She first started complaining about this flooding in 2017. 
There is a two-foot-long hole where the floor meets the wall that exposes her room to the outdoors. 
"My bedroom turns into a lagoon," Soto said. 
Under the 2019 federal monitoring agreement, NYCHA is obligated to inspect units within five business days, and remove a mold condition within five to 15 days, depending on the severity of the repair. The same agreement mandated that emergency leaks must be abated within 24 hours.
In response to a request for comment on these conditions, a NYCHA spokesperson acknowledged that developments across the city, including the Riis Houses, struggle to meet expectations. She also expressed optimism that 2021 internal reforms would reverse recent trends that have seen response times worsen, yet could not provide a timeline for when residents would actually see improvements.
NYCHA also said that officials are not aware of an active leak in Soto's apartment, saying there are no outstanding work orders to correct leakage—even though she says she calls every time it rains, pleading for repairs to the  gaping hole in her wall.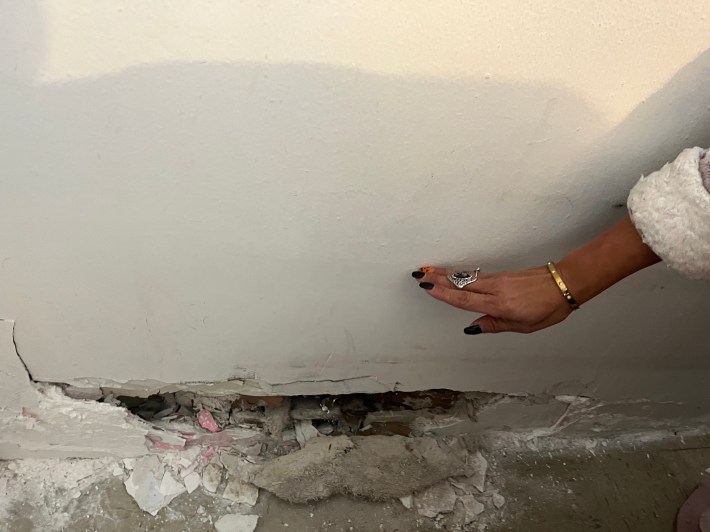 Like Soto, when Lucia Javier, who has lived in an adjacent building for 32 years, was told there was arsenic in Riis tap water, she did not have to change anything about her daily routine.
"I wasn't even scared," the 66-year-old Javier, who is now retired, said in Spanish. "Because I only use the water from the apartment to wash the dishes."
When we spoke, she had just returned to her first-story unit from the grocery store, where she had bought a pre-made hot meal. 
"I cannot cook," she said. "My water smells and tastes like poop."
When brown water started leaking from the ceilings in her kitchen and bathroom months ago, Javier complained through the NYCHA call center. She also complained of mold and an electric socket that no longer worked due to water damage. She received no response.
"I called five or six days a week," Javier said. She then connected with Good Old Lower East Side, an advocacy group for public housing residents, "who told me I had to take NYCHA to court."
In an email, NYCHA denied the existence of the leaks and mold in Javier's apartment, in spite of contradictory photographic evidence. A broken water tank was cited as a potential cause for the foul-smelling water in September, but many residents not serviced by the tank have raised similar concerns. 
As she walked from her kitchen to her bathroom, pointing to the stains from the brown water that trickles down the walls near her plants and dishes in the kitchen, Javier coughed repeatedly. 
"I've had asthma for years," she said. "But I've never had to use my pump more than this. The humidity from the constant leaking makes it so much worse."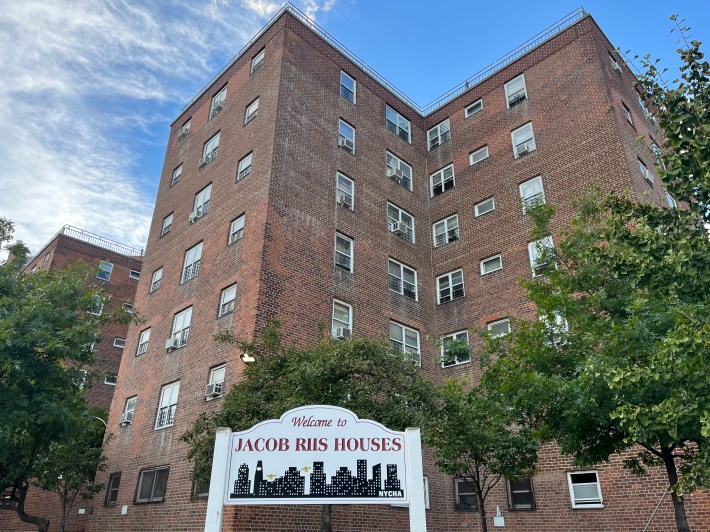 On the morning of September 2, the same day Mayor Eric Adams joined housing officials who flocked to the Riis Houses to distribute bottled water, Bridget Tuck returned to her apartment from Mount Sinai Beth Israel Hospital. She had battled recurrent infections over the summer and was worried that bacteria in the Riis tap water was responsible. 
Tuck, 59, who spent most of her working life as a social worker, was most recently employed by UPS. Illnesses related to her HIV-positive status forced her into early retirement four years ago. 
She must closely monitor the bacteria levels in her blood, urine, and stool because of her compromised immune system. Tuck uses water from a cooler for most purposes. She bathes in tap water and occasionally drinks from the faucets to wash down medication. 
"When I came home from the hospital, I knew nothing about arsenic," Tuck said. "But the water was yellow, there were pebbles coming out of the sink. I even took the water to the hospital" to show her doctor.  
The doctors could not definitively attribute Tuck's health problems to her water, especially because her HIV-positive status makes her prone to infections. They did strongly advise her against using the discolored water from her bathtub tap and to avoid the dark mold that had formed around the tub.
In mid-October, a judge ordered Riis management to remove the mold in Tuck's bathtub, stop the constant leaking of brown liquid in her kitchen, and repair the crumbling plaster and loose tiles in her bathroom and kitchen floors. The mold has been mitigated. 
But it took NYCHA more than a month to replace the showerhead after workers had removed it. That action came two days after this reporter asked NYCHA about the showerhead.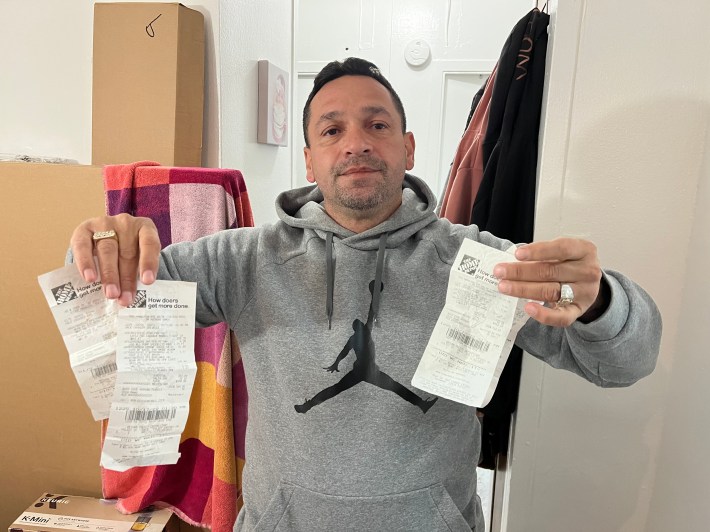 At the council hearings, housing officials apologized to residents and promised to do better going forward. From October 6 to 19, NYCHA said it hosted five in-person meetings and two virtual meetings with tenants. Additionally, water tests have been conducted every two weeks since September, with each test meeting the applicable water quality standards, NYCHA said.
"Residents' health and safety is our top priority," Lisa Bova-Hiatt, NYCHA's interim chief executive officer, said at the opening of September's council hearing.
Lifelong Riis resident Jose Serrano, 53, does not feel like a priority. This year, even after filing a housing court case in October, Serrano paid $2,000 out of his own pocket for a contractor to redo the "shoddy" repairs NYCHA made to his bathroom walls and tile floors in the kitchen. 
Serrano, a former construction worker, sustained a career-ending injury while completing an outdoor job at the Riis Houses in 2013. He appeared in court on September 6—the same day NYCHA announced the water was safe to drink—to ask a judge to get NYCHA to fix bathroom and kitchen leaks and mitigate the mold that developed from it. 
His biggest concern remains the safety of his drinking water. 
"If a pipe is behind a wall and it's leaking, that means something's coming out, right?" Serrano said. "You don't think all that bacteria, all that brown build up…don't go back in the pipe, into the drinking water?"
Serrano acknowledged he could not know for certain whether the leaks were compromising the safety of his water. But ultimately, the effects were all the same.
"This has been getting under my skin," he said. "Like it's really getting into my psyche."
Safiyah Riddle is a freelance reporter raised in the Lower East Side. She is the Reuters Fellow at the Craig Newmark School of Journalism at CUNY.
Stay in touch
Sign up for our free newsletter