Critters of New York
What I Learned at NYC's Rat Academy
"You've got to think of the sidewalk as a dining room."
2:09 PM EDT on July 29, 2022
It's a Tuesday night in the middle of summer, and I'm looking at lecture slides featuring a carousel of rodents: a rat gnawing on an unidentified food scrap, a skinny tail peeking out from a hole in some cement, a cartoon rat in scuba gear clinging to the inside of a toilet bowl. This is Rat Academy—a New York City Health Department education initiative on rats. 
There are 22 other participants on the webinar, though I can't see or hear them. Anyone can sign up, but the Health Department says the training is particularly helpful for supers, property managers, and members of community gardens. During the lecture, my fellow rat scholars drop their questions in the chat: Can they use peppermint to deter rats? (No.) How do they report a vacant lot overrun with them? (311, baby.) Do sound repellents work? (No, you have to starve the rats.) The "ratmosphere" on the call is much like our planet's rapidly warming one—the problem is overwhelming and systemic, and our individual power seems limited. Presumably, that's why we're all on this call, trying to figure out how to wrest a little control over our daily environment in the face of existential forces.
In New York, we make certain concessions for superior food, culture, and vibes, and among them is the prolific rat population. Right now, the city is having one of its worst summers on record, with rat complaints among the highest they've ever been in the last decade, according to City data. Up through July 15, 14,686 complaints of a rat sighting were lodged with the City's 311 service request line—over 2,000 more than the same period in 2021, and up 43 percent from the same time in 2020. The rat situation has grown so dire that city council members have proposed a five-point Rat Action Plan in an effort to squash population growth.
Fittingly, it's also feral girl summer. In the tradition of hot girl summer and 2021's hot vax summer, this year's seasonal sobriquet encourages people to embrace chaos and generally act with abandon. Because rats are chaos—and who am I to disavow the good people of the internet who decide these trends—I sent an email to ratportal@health.nyc.gov and ten minutes later, I was signed up for several hours of secondary education on rat prevention, rat management, and rat mythology. 
The uptick in close encounters of the rat kind this year is being blamed on park picnics and outdoor dining, both popular in the days since the onset of the COVID-19 pandemic. Food trash—scattered scraps, empty pizza boxes in parks, grease stains outside restaurants—is a major problem, especially when left out overnight. "You've got to think of the sidewalk as a dining room," said Caroline Bragdon, the Director of Neighborhood Interventions for Pest Control Services, who was teaching the course. She added, "There may be microdroplets of rat urine left behind" on outdoor dining tables and chairs where rats are foraging. (Yes, dear reader, "microdroplets.")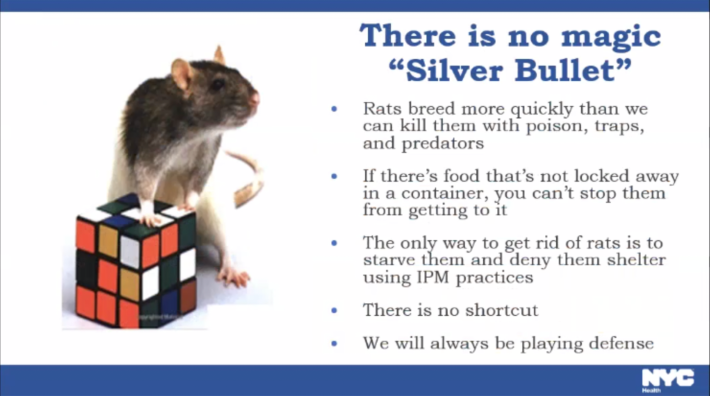 Rats, I quickly learned, are as much about math as they are a science. The average Norway rat—New York's only species—lives about a year; in that time, the most procreationally gifted can birth up to 84 descendants. This astronomical growth is the reason we're struggling with the rodents. "It's hard to do a census of humans, it's impossible to do a census of rats. We really don't know how many rats there are in New York," Bragdon told us. 
We're also schooled in rat lore and legend. "A lot of times people feel like the rat is gigantic," Bragdon said. "People say, I see rats now, they're as big as a dog or as big as a cat." False: The mostly fur critters are typically a pound or less. The other popular misconception? A rat, which can't see beyond the CDC social distancing recommendation of about six feet, is not actively, vindictively, or intentionally chasing you down the sidewalk, much as it may appear so. 
Slowly, I began to see the appeal of the rat lifestyle. Rats "live in very close proximity to their food, and they don't want a long commute," Bragdon told the class. She described the furry vermin as "creatures of habit," and I could relate. I, too, strive for a balanced diet, although unlike the rats, I require more than one ounce of sustenance per day. The feral girl summer was taking hold—at one point, I started to feel a kinship with these food-driven, neighborhood-loyal New Yorkers. 
But ultimately, the rat race is bleak, according to the Rat Academy. "We will always be playing defense," one presentation slide read, just below another message: "There is no shortcut." Rats cause "millions and millions of dollars" in property damages each year, Bragdon reported, and carry disease. It's absurd that New Yorkers would be expected to mitigate these issues in their own communities. 
Mayor Eric Adams recently announced a multimillion-dollar pilot program to make rat-proof trash cans. And the Health Department currently recommends all garbage be containerized, stored in a sealed vessel that a rat can't chew through. But that's rare. Scores of buildings still leave their refuse in standard garbage bags—an "outdoor buffet" for the critters. 
Would a recent change to the Department of Sanitation's garbage set-out time—from 4 p.m. to 8 p.m.—alleviate the burrow-to-borough pipeline? Unlikely. 
"I honestly believe that if everyone put their garbage out at 4 a.m. and then Sanitation picked all the garbage up at 6 a.m., we probably would have many many fewer rats. The problem is, operationally and logistically, that's a very hard thing to execute," Bragdon told me. 
Still, there's one borough where rats barely reign: Staten Island. Bragdon told the class that the lower population density and the borough's many single-family homes make it less hospitable to rodents: "The fewer the humans, the fewer the rats." 
Bragdon wrapped up Rat Academy by outlining methods the City already uses to curtail the rat population: inspections that can result in costly fines, dry ice, and BurrowRX—the City's carbon monoxide-pumping program that suffocates the rats in their own burrows. (Notably, left unmentioned is then-Borough President Eric Adams's infamous toxic sludge death bucket). As regular citizens, we're encouraged to "disrupt the triangle of life": food, water, and shelter. 
After the course, I called a professional to see whether anything I'd learned in Rat Academy—or anything on the table in the city council—would make a dent. Paul Calabrese, an exterminator with Abolish Pest Control in Brooklyn, told me that any real attempt to address the vermin supremacy would have to be a joint effort between the City and property owners, but he wasn't optimistic. 
"I've been doing it 35 years and it's always been bad in the city, but lately there's been a lot of activity," he said. "I don't see anything ever solving the problem, because you can't stop a guy walking down the block and throwing a slice of pizza on the ground."
Ruth Weissmann is a writer and reporter from Upstate New York. She likes tiny museums, grocery shopping, and voice memos in the group chat.
Read More:
Stay in touch
Sign up for our free newsletter