Fresh Hell
NYC's Pandemic Running Boom Is Real—and Really Annoying
Forget the marathon, have you tried to sign up for a 5K recently?
12:11 PM EDT on October 30, 2023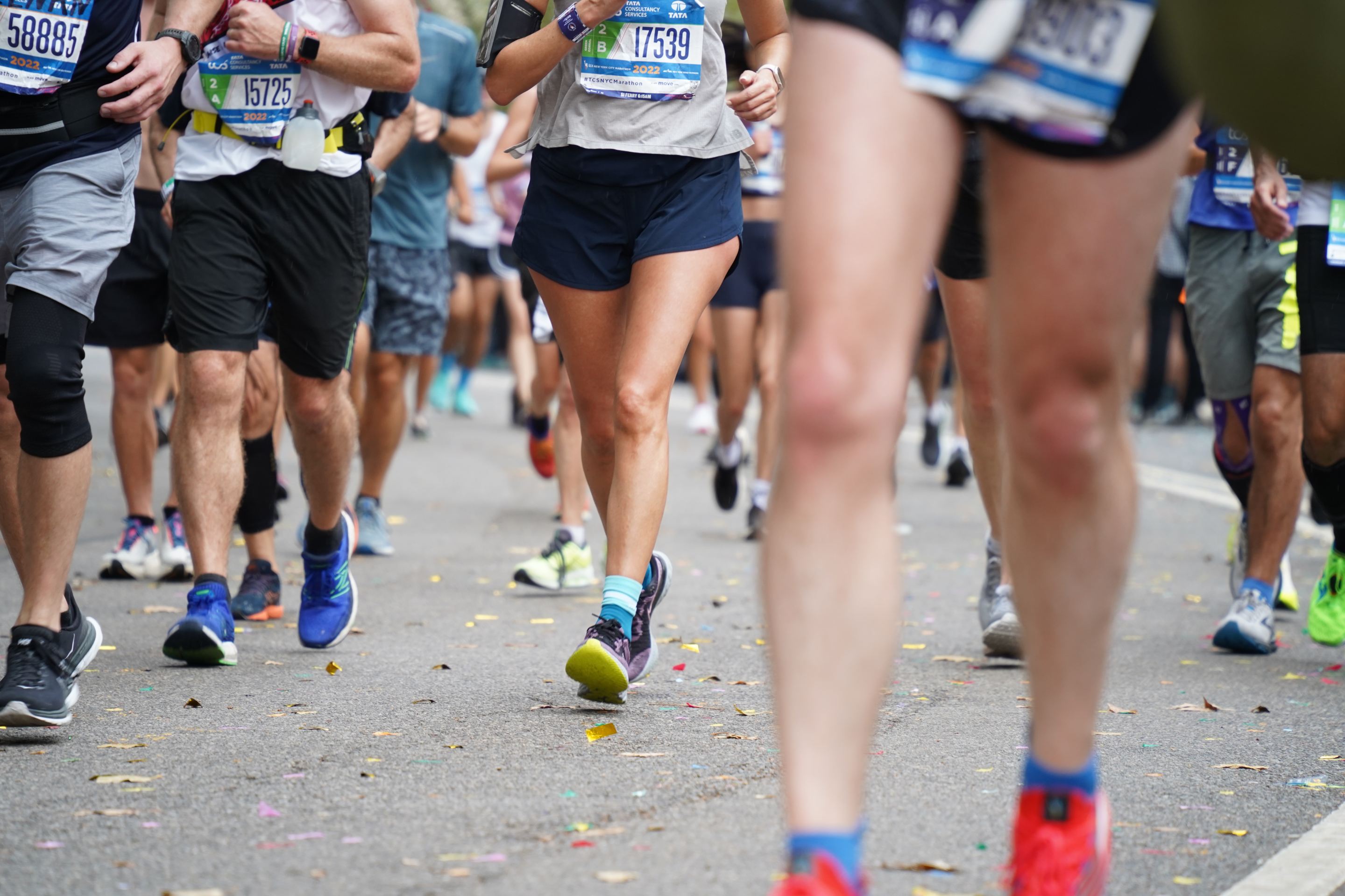 If the marathon is the top dog in New York City's competitive running scene, costing hundreds of dollars to participate and attracting tens of thousands of runners, then on the very opposite end of the spectrum is Brooklyn's Al Goldstein Speed Series 5K. The Goldstein is the platonic ideal of a low-key, unfussy summer race. It's on a weeknight, on the same simple course in Prospect Park, and in a world where races routinely charge a hundred dollars or more, it remains stubbornly cheap: $10 a race, or $45 for all seven in the summer. 
For years, the idea of the race selling out was unthinkable.
But that's exactly what happened this summer—the Prospect Park Track Club, the organization that runs the 5Ks, announced ahead of the July 19 edition that the race was at capacity at around 700 runners, a true first for the series according to race organizers. (An earlier 2023 Goldstein race had also sold out, but that's because runners could roll their bibs over from a June race that was canceled because of smoke from Canadian wildfires.) 
Determined to run, one of my friends, let's call him Seamus, headed down to the park on July 26 to race anyway, sans bib. "I asked the race organizers if I could buy a bib, and they told me, 'There's none, you can't race,'" Seamus recently recounted. "Some guy overheard me, a British guy visiting with his family, [and he] offered me his bib." Seamus ran under the British guy's name and was caught almost immediately. He was subsequently banned from all PPTC races for the rest of the year.  
Seamus, and the competitors he bamboozled by running under an assumed name, are victims of one of the stickiest trends of the COVID era—the popularity of running exploded during the pandemic, and has never really leveled off. Now, registering for New York City road races has become its own competitive sport, even for races like the Al Goldstein Speed Series 5K or Williamsburg's Brooklyn Mile, which sold out for the first time in its history this August. For higher-profile races, it's even harder to get a spot—nearly every major New York Road Runners event now sells out weeks or months before the gun goes off. Talk to longtime runners these days, and you'll hear a lot of grumbling—the citywide club competition is skewed by who can manage to sign up for what race, marathon hopefuls can no longer sign up for enough NYRR races to automatically qualify for the city's marquee running event, and normies (like me) will moan about now having to sign up for a 5K months in advance. 
"It's been a fucking nightmare," said Toby Zitsman, the captain of my running club's competitive mens team, of the suddenly cutthroat signup situation. 
Data provided to Hell Gate by NYRR, the nonprofit behemoth that puts on the New York City Marathon and dozens of other races, makes the trend clear. According to an NYRR spokesperson, 95 percent of races have sold out this year, up from 89 percent in 2019, the last "normal" year before the pandemic. (Only one NYRR race didn't sell out this year, April's SHAPE Half Marathon, which is limited to women runners.) Even races that in the past tended to have open spots on the day of are full—this year, the organization's Mini 10K ran out of bibs, a first in the race's half-century history. 
While that might not seem like a huge jump, NYRR's races are also selling out far more quickly now than they used to. NYRR says that its average race sold out in 87 days in 2023, a record. A March 5K in Washington Heights sold out in January, far earlier than normal, and the trend continued all year.
David Alm, a local runner and writer (and another running buddy of mine) who has put together popular local, independent races like the East River 5000 series, pins the blame on the "massive cultural pull" of the marathon. "All these new runners gravitated to the marathon and the '9+1' program," Alm said, referring to the NYRR program that allows guaranteed entry to the marathon for anyone who completes nine qualifying races and volunteers at one event in a calendar year. He's uncomfortable with the effects of New York City's running boom. "They want to accommodate all these new runners, but the effect is that you get the type of people who can afford to throw away 50 or 60 bucks on a race a few months out, and don't mind missing the race if they get injured or anything else comes up in their lives," Alm said. 
The insatiable demand for races has trickled down to smaller events, like the aforementioned Al Goldstein races and the Brooklyn Mile. Sarah Stafford, the marketing director of the Brooklyn Running Company, which puts on the latter race, told Hell Gate that after years of slow and steady growth, registrations for the mile exploded from 1,200 in 2022 to nearly double that in 2023. Doug Olney, who helps organize the Al Goldstein series, said the PPTC was surprised that races sold out this summer, and that they're actively planning how to accommodate more runners next year. (As for why they banned my friend Seamus, Olney explained the issue: "The big problem with banditing—especially as races get bigger—is liability issues. If someone gets in our race without our knowledge, we don't know who this is, but we're still responsible if he gets hurt.")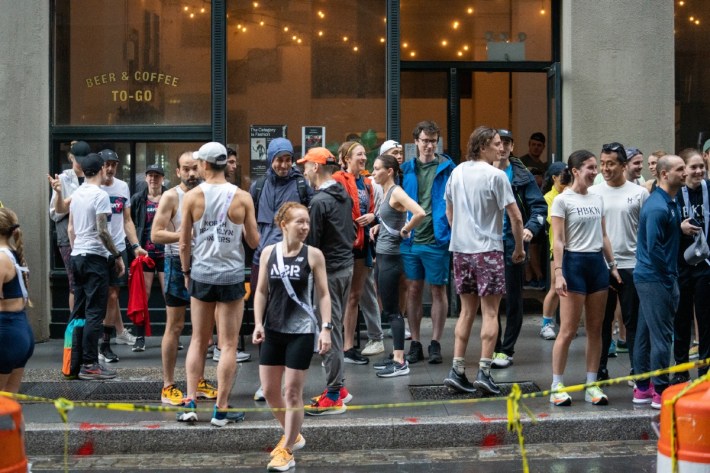 Unlike smaller races, the NYRR events are big, and expensive. Both September's Bronx 10 Mile and October's Staten Island Half cost $55 for non-NYRR members. (Members could register for $45.) The Bronx race sold out in June and attracted 11,000 finishers; the Staten Island Half sold out in July and saw over 9,000 runners cross the line.
In an email, NYRR CEO Rob Simmelkjaer said that his organization is "embracing the current running boom and seeing it as a major opportunity." 
"So many people found running during the pandemic and have stayed with it to better their mental and physical health and find community," Simmelkjaer said. "We are thrilled to help them keep up this beautiful habit."
Most members of the running community generally pride themselves on being welcoming to athletes of all abilities, and no one I spoke to for this story directly or indirectly complained about new COVID runners. But experienced amateur runners are definitely feeling the effects of running's increasing popularity. I posted a question about the phenomenon on the listserv of my club, the North Brooklyn Runners, and my inbox was flooded with responses, particularly from frustrated runners who were accustomed to qualifying for the marathon through the "9+1" program and suddenly found it much more challenging. One guy said he pulled it off, but only after creating a spreadsheet to track upcoming races and monitoring it like a hawk; another runner told me she came up one race short, between races being sold out and an injury. "I haven't been burned, but it required me paying a lot more attention than a few years ago," said Graham Siener, the spreadsheet guy.
"We can't transfer bibs, or get a refund, so what can we do?" said Molly, who only wanted to be identified by her first name. "Just feel guilty, that we took a spot in the race we aren't attending that could go to someone else if NYRR had a policy where we could cancel race registrations."
Zitsman, my running club captain, recalled that, as recently as last year, he was able to register for NYRR races that counted toward the club competition the week of the race. In 2023, the entire calendar of those races, including December's Ted Corbitt 15K, sold out by August. "It's worth questioning if NYRR is trying to phase out the team racing component of their races completely," Zitsman said.
There is one big thing that NYRR could do, and a bunch of small things. The obvious solution to exploding demand would be to increase the supply of races. In the current race ecosystem, they could legalize bib transfers, which some U.S. races already allow, and to fix the club situation, they could simply formally guarantee a few spots to every club for every points race. I asked Simmelkjaer about all of these solutions directly.
"We are in the midst of a comprehensive review of our technology platforms, a key step to allow NYRR greater flexibility to change the ways people register for our races," he said of allowing bib transfers, but cautioned that it would take time. "We are excited to see the demand for race entries keep increasing, and we remain open to new possibilities in the future should they align with our strategic priorities and race regulations."
Meanwhile, organizers of smaller races are trying to figure out ways to meet growing demand. Olney told me that his group would be seeking a permit for more runners from the Parks Department next year. But races large and small run up against logistical barriers that limit how big they can get—there is limited space on the roads, and often these groups don't have the capacity to handle medical emergencies, or the budget to pay for cops' overtime.
Perhaps part of the solution is to remember that runners don't need to be beholden to hugely popular events, that NYRR and other organizations do not own the sport of running in New York City. 
Putting on independent events is not easy; getting permits and park time without major organizational backing can be a grind. But Alm and others also put on unsanctioned events that sometimes feature the thrill of navigating open roads. His sanctioned, permitted ones over the last four years have also largely been successful.
"I think as runners, we cede way too much power to a small handful of juggernaut organizations," he told me.
"I put on the first East River 5000 because I felt like it was the type of event I wanted to see. I wanted an event with that DIY ethos, with a T-shirt that actually looked good, that felt like the little bar 5Ks I grew up watching my dad run in the '80s," he said. "I realized that if I wanted to have the type of event I wanted—not corporate, not in Central Park—I would have to do it myself."
Stay in touch
Sign up for our free newsletter